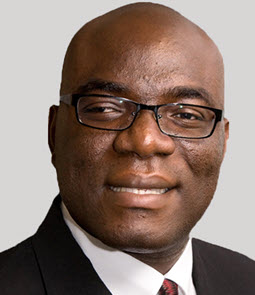 Frank Mawuli Amenya, P.E., F.ASCE, a professional traffic operations engineer at DAVENPORT, a transportation engineering and site/civil services firm, has been named a fellow by the ASCE Board of Direction.
Amenya, with 20 years of experience in engineering consulting, has helped form his firm's reputation for high-quality solutions that enhance communities. He has instilled in DAVENPORT's culture the connection to humanity that engineering services such as traffic, parking analysis, traffic operations, and safety provide.
His primary passion is problem solving by utilizing a user-centered approach to pursue innovative transportation solutions. Amenya's clients and co-workers alike appreciate his honest brevity and relentless work ethic.
During his career, Amenya has provided life-cycle management on large-scale projects, including City of Winston-Salem two-way conversion, NCDOT express design projects, master plan development for the Raleigh Civic Center, and traffic impact analyses for the Amazon Fulfillment Center, FedEx Distribution Center Expansion, Steven Tanger Center of Performing Arts, and Greensboro International Airport's Rental Car Facility Relocation.
In addition to directing the traffic group, Amenya is also involved with DAVENPORT's operations, strategic management, business development, and client management efforts. His current role as integrator of the firm involves fusing skill sets, client communication, schedule, and budget so that every department at the firm delivers quality projects.
Aside from faithful service to clients, Amenya is affiliated with the Institute of Transportation Engineers (ITE), International Council of Shopping Centers (ICSC), Triad Real Estate & Building Industry Coalition, American Council of Engineering Companies (ACEC), and several committees for his alma mater. As a member of the Report Card Committee, he contributed to the ASCE 2006 North Carolina Infrastructure Report Card and Media Package.
He also shares his passion for engineering by leading mentorship programs for next-generation engineers of all ages, which includes his decade of service on the NCSITE Scholarship Committee. Amenya considers currently managing some of the high school students he once mentored to be a major joy of his career.
Amenya earned his bachelor's and master's degrees in civil engineering from Kwame Nkrumah University and North Carolina A&T State University, respectively. He is a licensed professional engineer throughout the Southeast and is a certified PTOE.