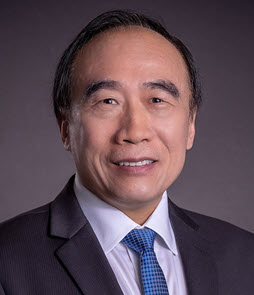 Daniel Dianchen Gang, Ph.D., P.E., F.ASCE, a distinguished full professor in the Department of Civil Engineering at the University of Louisiana at Lafayette (UL Lafayette), has been named a fellow by the ASCE Board of Direction.
Gang is founding director of the Center of Environmental Engineering and Protection (CEEP) at UL Lafayette. He is an internationally recognized leader in environmental engineering whose research has focused on physicochemical water and wastewater treatment and environmental chemistry as well as fate and transport of contaminants in engineered and natural aqueous systems. He has been actively involved in numerous research projects for NSF, NASA, USEPA, DOE, and state agencies, with over $18 million in grants and contracts.
He has authored or co-authored more than 200 papers in leading peer-reviewed journals and conference proceedings and has presented his research work worldwide. Gang is well-recognized as an innovator, and four times he was awarded the Certificate of Achievement in Innovation. He also has several U.S. patents. Because of his recognized expertise in environmental engineering, he has been selected to serve as a panel member many times for the National Science Foundation (NSF). He is also active in or serves on numerous regional and international professional societies, editorial boards, and review panels.
Gang's research outcomes have been widely applied in the water and wastewater industry. He has provided process-engineering expertise for the planning and design of water and wastewater treatments in municipal and industrial facilities. His book Modeling of THM and HAA Formation in Surface Waters upon Chlorination has had an impact on the drinking water industry for its disinfection byproducts (DBPs) control model, and this model has been adopted by U.S. EPA and American Water Works Association (AWWA). Much of Gang's work has been community-impactful and has been reported on by Discovery Channel Canada, FOX 8, KATC3, The Daily Advertiser, Fast Company magazine, and other outlets.
In addition to his research, Gang is an outstanding educator. He is noted by his students for his passion, expertise, and devotion to teaching. He has offered 12 different courses for both graduate and undergraduate programs. Over his 30-plus years as a career academic, he has mentored more than 70 doctoral graduates, master's graduates, postdoctoral associates, and numerous undergraduate students and researchers.
Gang was awarded the University of Louisiana Distinguished Professor Award in 2019. His other awards and honors include the LEF Engineering Faculty Professionalism Award, Louisiana Engineering (2020), Phillip J. Burguieres/BORSF Endowed Professor of Engineering (2020), BORSF Endowed Professor in Water Studies (2018), Research Excellence Award (2017), SLEMCO/BORSF Endowed Professor in Engineering II (2016), SLEMCO/BORSF Endowed Professor in Engineering I (2015), Research Enhancement Award (NASA/ Louisiana Space Consortium, 2011, 2013), and Distinguished Honorary Professor (WIT, China, 2009).
He received his professional engineering license in Missouri in 2003 and his West Virginia license in 2005. He earned his master's and doctoral degrees from the University of Missouri.