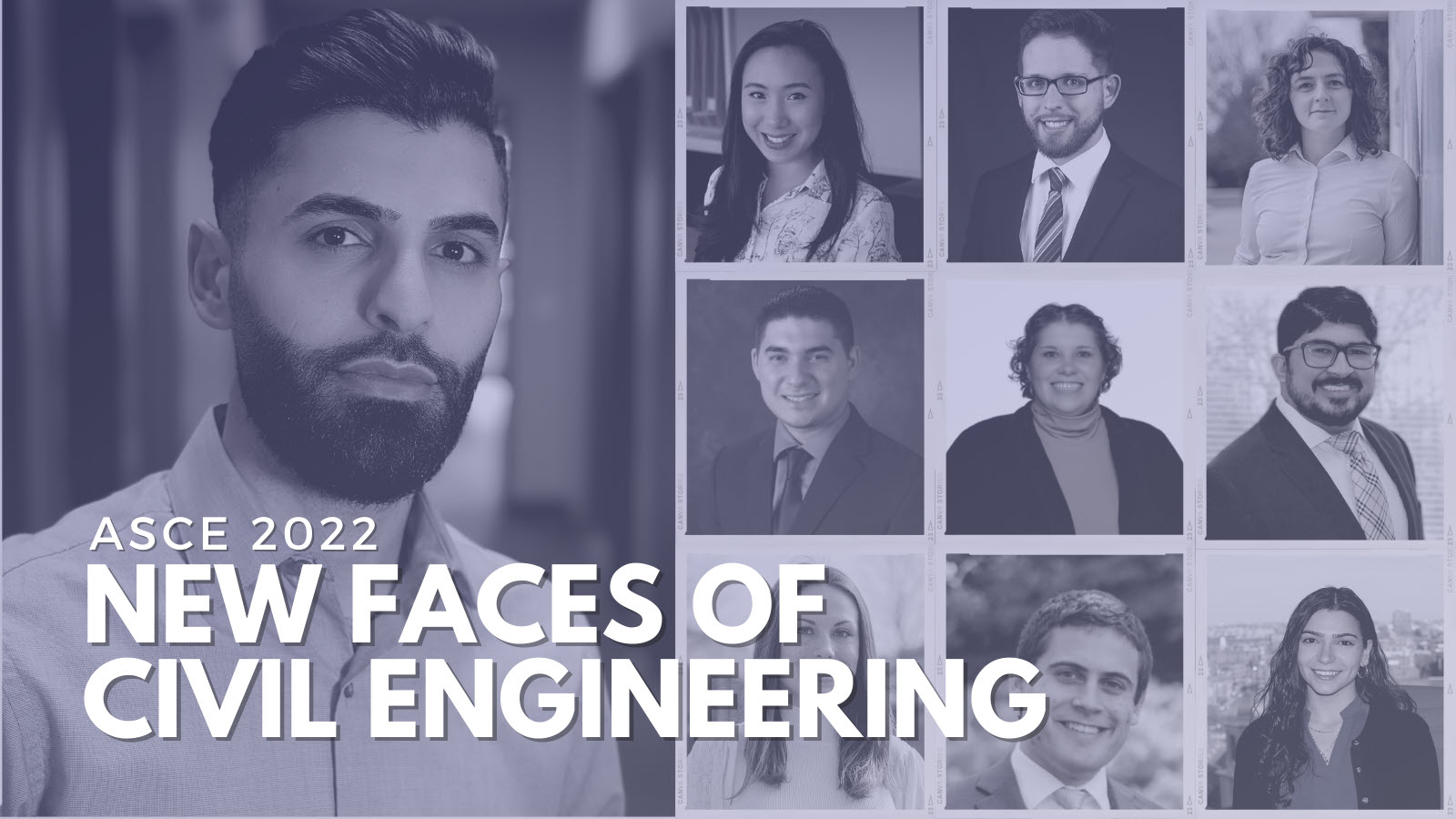 Name: Abbas Kazan
Credentials: EIT, A.M.ASCE
Job title: Bridge and highway engineer
Employer: Barton & Loguidice
Location: Syracuse, New York
Current ASCE role: Syracuse Section treasurer, Scholarship Committee member, precollege outreach champion, 2022 New York state infrastructure report card author
College: Duchess Community College – an associate degree in engineering science; SUNY Polytechnic Institute – bachelor's degree in civil engineering (dual concentration: structural and transportation)
Abbas Kazan loves being in the United States. Loves the upstate New York region he's called home for nearly eight years.
But on Aug. 4, 2020, when an explosion struck the Port of Beirut, it was suddenly very difficult to be 6,000 miles away from the place where he grew up.
"I don't wish that on anyone, feeling helpless and feeling like you can't do anything. You're just kind of trapped," said Kazan, who now works as an engineer for Barton & Loguidice in Syracuse, New York, but whose family primarily lives in Tyre, Lebanon, south of Beirut.
Kazan's family was safe, but his heart still ached for the people of Lebanon dealing with loss in the explosion's aftermath. He turned those feelings into action, setting up a fundraiser with the help of his social media network and his company's community service program.
"A lot of people lost their homes, lost their loved ones and their jobs. I can't fully comprehend what they went through and are still going through, and I don't know if what I did was enough," Kazan said. "But I'm happy that we could help in some small way even though I wasn't able to be there physically to extend a helping hand."
It's a heartfelt engineering approach that is consistent with Kazan's entire career – valuing community and helping when and where he can, whether it's his old home in Lebanon or his new home in Syracuse. His project work with Barton & Loguidice serves his local community. And he puts a lot of time into his ASCE community, having just finished a term as director of the Syracuse Section, while also working as an author on the 2022 New York state infrastructure report card.
ASCE has honored Kazan as a 2022 New Face of Civil Engineering. He recently spoke with Civil Engineering Source about his career:
Civil Engineering Source: What's the civil engineering accomplishment you're most proud of so far in your career?
Kazan: As both a bridge and highway engineer, I have worked on projects that involved bridges of various sizes and roadways ranging from three-quarters of a mile to almost 3 miles. And I have had the opportunity to work on a few outside-the-box projects. One recent project is a combination of a sheet piling design that includes a riverwalk stretch along with a 500-foot recreational dock system.
It's different from typical projects I am involved with on a daily basis, and it was a very unique experience from the design to the drafting part. I can't wait to see it fully constructed.
And of course, I can't forget the projects that are purely bridge or highway. The first project that I worked on was local here in Syracuse. A 1.2 mile re-pavement project providing improvements for signals, signage, drainage, and roadway stripping – pretty much the whole package. It was the first project I worked on after graduating, and I didn't realize, because I was new to area when I moved here for work, that it was very close to where I lived at that time. I remember I was running errands one day when I realized I was driving on it. I pulled over and facetimed my family to show them, "Look, this is my design!"
That's the cool thing about working for my company, the ability to work on various local projects – things that I get to use or see other people using. Pretty much every day I pass by projects on which I've worked. It's just a great feeling knowing that I get to serve my community and contribute to the wellbeing of our infrastructure.
Civil Engineering Source: What's something about you that might surprise most civil engineers?
Kazan: I guess something that surprises a lot of people is the fact that I'm French-educated and that I only started speaking English in 2014 when I moved to the U.S. for college. I'm originally from Lebanon in the Middle East. I received a scholarship from an organization in Lebanon that focuses on engineering education – based on academics.
It was the first time for me living away from home. I didn't know what to expect living in a whole new country on my own, especially for someone who spoke no English at all and learned French for most of my life on top my native language that's Arabic. Back in Lebanon you have the choice to enroll in a school in either English or French education. It's a little different from the education system here. It's not like a second language; it's pretty much the main language for most subjects. Like all the STEM subjects – from biology to chemistry, physics and math – are all in the language you choose to be in. My mom is French-educated as well, so she decided to also put me in the French-focused school system. From kindergarten up until high school, that was pretty much the language I learned things in.
So I moved to the U.S. and started my engineering journey. I assumed since the two languages are somewhat similar, equations were not going to look different in either language. I didn't know the difference until I sat in my Chemistry 101 class and none of the things that I remembered from high school made sense or even sounded the same.
Often, I had to think and solve calculus and chemistry problems in my head in French before I put my answer on paper. It was an interesting time – just moving to a new country by yourself, not knowing the language, living the college life where you're supposed to evolve and make friends. It was a little tough in the beginning. I didn't speak the language, so it was terrifying having a roommate who I didn't know how to communicate with. Luckily, after one semester, I was able to speak English and by spring 2015, I was able to speak it fluently, pretty much.
Now, a lot of people just assume that I was born here or lived here since I was a kid. And usually my answer "No, I moved here when I was 17," is followed by shock. If I look back in time, I would do it all over again because this experience has allowed me to mature and evolve into the person I am today. Being away from family is sometimes difficult, but you learn to adapt and keep the family bond while also building a future. It's been a crazy journey, but I wouldn't trade it for anything.
Source: What makes you excited to be a civil engineer in the 2020s?
Kazan: Civil engineers have influenced our lives for centuries with new and innovative structures, like the iconic Brooklyn Bridge in New York or the Egyptian pyramids. Growing up in the 4,000-year-old city of Tyre, I was always fascinated by all the Roman and Phoenician ruins that still have a lot of their influences today in the city.
So, I would argue that it's always exciting to be a civil engineer. But it's especially exciting for me in 2020s for a few reasons; I will be able to sit for my PE exam in a year, and hopefully, fingers crossed, I pass it. I think, a lot of engineers would agree, that's when your career really takes off and you start having a lot more responsibilities, and I'm excited for that.
Another reason is to be part of an organization that advocates for a more diverse industry. ASCE has taken the initiative to encourage diversity, equity, and inclusion. It is a topic that is very important to me because I don't often see engineers who look like me or come from a similar background. So to have a major organization in our industry advocating for diversity, equity, and inclusion makes me feel hopeful as an engineer during this decade because that's how you get a broader perspective and much deeper and broader solutions to a lot of engineering problems.
Lastly, being part of the workforce that will improve our infrastructure not only locally, but statewide and nationally is my driving force to be an engineer in the 2020s.