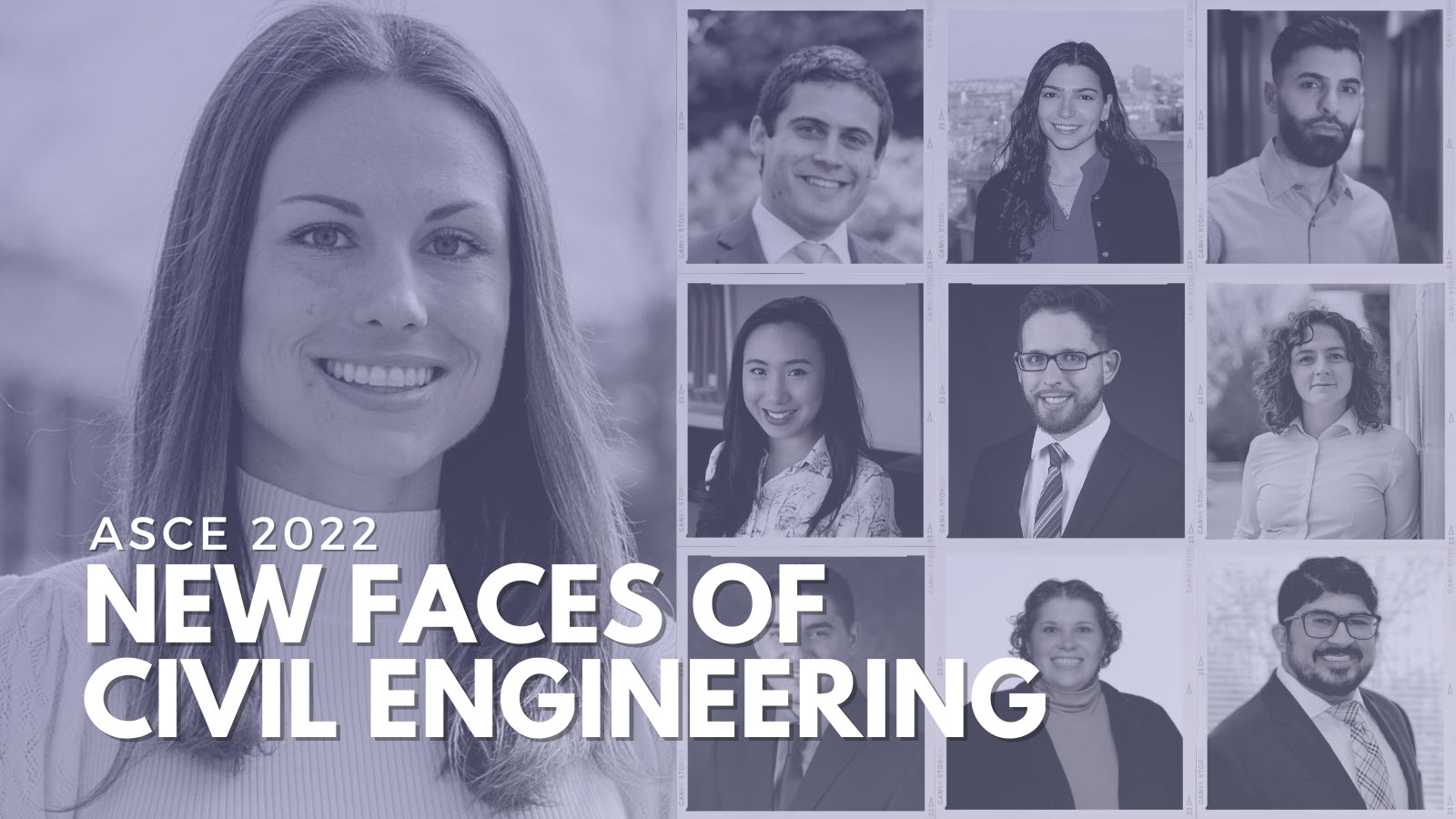 Name: Katie Bowman
Credentials: P.E., M.ASCE
Job title: Graduate research assistant
Employer: University of Memphis
Location: Memphis, Tennessee
Current ASCE role: West Tennessee Branch vice president, Region 4 governor at‐large
College: University of Memphis – doctoral candidate of philosophy; University of Memphis – master's degree in civil engineering; California State University, Fresno – bachelor's degree in civil engineering
It all started during Engineers Week 2006. Katie Bowman was participating in the Future Stars engineering competition with her fellow junior high students. The task at hand? Building a free-standing tower with paper, Scotch tape, toothpicks, and dental floss.
That's what inspired her lifelong interest in STEM. So, she got to work.
Bowman's civil engineering career began like many others in the profession. Go to college, graduate with a degree, then right to work as a professional engineer. She was checking off her goals one by one.
But then came a major reality check – she wasn't happy with her work.
"I was really struggling with work-life balance. I was just working so much, was overloaded, and not focusing on myself as a person," said Bowman.
"Working as an analyst at the time, I wasn't in love with what I was doing. I knew I wanted to make a difference in the world but didn't know exactly how to tackle that obstacle."
As a firm believer in lifelong learning, she turned to the academic side of the profession. It's where she believes she can have the most impact, through research and by shaping future engineers.
Now, Bowman is eager to do what she can to truly make a difference in the world. She recently spoke with the Civil Engineering Source about her career.
Civil Engineering Source: What's the civil engineering accomplishment you're most proud of so far in your career?
Bowman: My biggest accomplishment in research involved collaborating with 23 state departments of transportation. The Tennessee Department of Transportation launched a project to better understand and enhance the diversity and inclusion landscape within DOTs across the country.
Stephanie Ivey, Ph.D., associate dean and professor at the University of Memphis, is my advisor and the principal investigator in the research case. I was responsible for connecting with other state DOTs to find out how they addressed diversity and inclusion.
The interview protocol and questionnaire were developed by the [University of Memphis] research team and TDOT. It focused on topics such as administrative structure for DEI initiatives, hiring strategies that support inclusivity, best practices for recruitment and retention, and more.
We analyzed the departments' responses and then provided recommendations and strategies to TDOT. We later dispersed these to the other DOTs to help them assess diversity and inclusion in their department.
My biggest accomplishment while working in the field was leading a team of engineers to design an 80-acre site warehouse in Arkansas. I designed the drainage system for a relatively flat lot. That was a huge challenge, but leading the team was a bigger effort that really enhanced my personal skills.
Source: What's something about you that might surprise most civil engineers?
Bowman: I was in the field for four and a half years but decided to go back to school for my master's. Professor Ivey offered me an opportunity to work on her team as a graduate research assistant when I was struggling with work-life balance. I immediately accepted the offer. Even though it was a huge pay cut, I needed the change, and I've been loving it ever since.
Now that I'm a doctorate student and I've started my work on my dissertation, I've decided that I want to follow in Professor Ivey's footsteps. She's heavily involved in research but still makes time to care about her students on a personal level. It's just amazing to watch her juggle so many projects but still be put together. She is my role model.
Ultimately, I'd like to become a four-year university professor because I want to enhance the future workforce and be a support system like Professor Ivey has been to me.
Source: What makes you excited to be a civil engineer in the 2020s?
Bowman: I'm excited about the advancement of STEM in K-12 schools. When I was a kid, I didn't know anything about STEM. So, I believe it's important to teach students about STEM careers and possibilities and show them a pathway they may have not known about before.
Our department has an amazing program called West Tennessee STEM hub, where I oversee 30 undergraduate ambassadors. We provide STEM activities and resources to K-12 schools. We have a lending library where teachers can check out kits, such as K'NEX cars, Cubelets, snap circuits – and it's all free. We even provide lesson plans for the teachers who don't know how to address STEM.
K-12 STEM outreach is big outside my research duties as well. Through ASCE's West Tennessee Branch and Younger Member Forum chapter, I ran the Memphis Canstruction Jr. competition and the Girls Experiencing Engineering 2021 summer camp. Here, I spoke with young girls about the benefits of becoming an engineer.
I also recently made STEM@home kaleidoscope kits for a United Way Trunk or Treat event. Typically, people hand out candy at these events, but handing out STEM kits instead can be more impactful.
I'm a huge STEM person. So if there's anything I can do to give back to the community, I'm all for it.