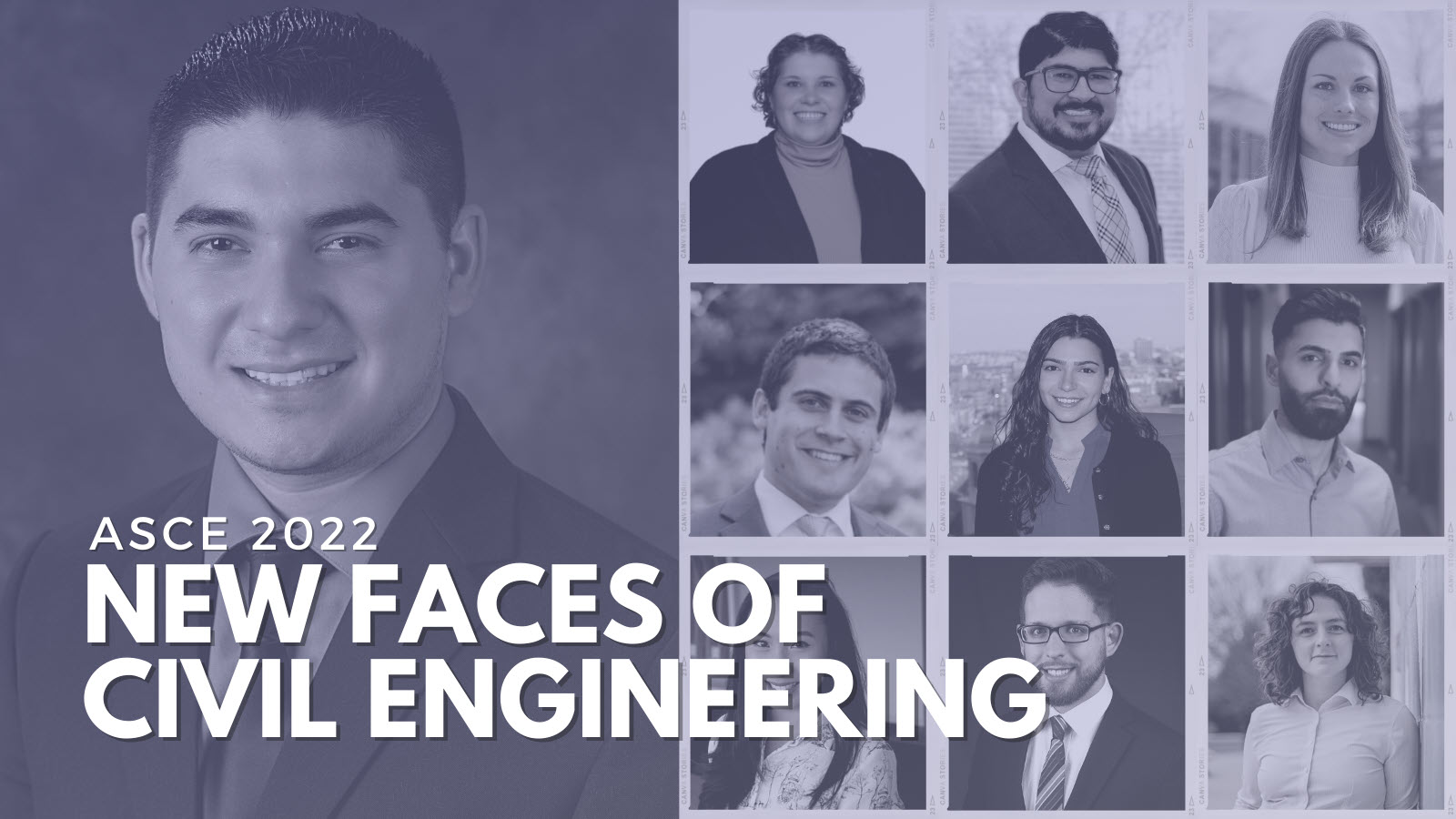 Name: Justin De La Rosa
Credentials: P.E., M.ASCE
Job title: Civil engineer
Employer: HDR
Location: Corpus Christi, Texas
Current ASCE role: Texas Section Corpus Christi Branch vice president
College: Texas A&M University–Kingsville – bachelor's degree in civil engineering, master's degree in civil engineering
Rich is the person who can't find room on one piece of paper to list all the friends and family who have helped them along the way.
Justin De La Rosa knows. He tried to make such a list. There wasn't nearly enough room.
He fit Grecia Diaz (fiancée), Amando De La Rosa (father), Jeannie De La Rosa (mother), A.J. and Tony De La Rosa (brothers), Jeannie Marie De La Rosa (sister), Samuel Saldivar Jr. (boss/mentor), the ASCE Corpus Christi Branch, and finally the cleverly efficient "all my friends" to close the list.
It's been a team effort toward success for De La Rosa, who now works as a civil engineer for HDR in Corpus Christi, Texas. ASCE has honored him as a 2022 New Face of Civil Engineering.
"I wouldn't be where I'm at today doing what I'm doing without, I guess you can say, the three F's: fiancée, family, and friends," De La Rosa said. "My fiancée is a civil engineer too, and even now she pushes me all the time to achieve more. She'll say, 'You have such huge potential that you need to show the world a little piece of your brightness. I know you, and whatever you set your mind to, you achieve.' And then my friends too. Even through my tough times, my friends were always there to say, 'Hey, we got you. We can help you no matter what.'"
Growing up in Kingsville, Texas, it was only Justin and his mother at home for his first three years of life. His mother met and married Amando De La Rosa, who adopted Justin at age 3 and became his father.
It was during high school that Justin worked for his father's construction company, where he found his love for building things. Meanwhile, it was his mother who would teach the children math from workbooks at the kitchen table. Justin knew his multiplication tables before he even started elementary school. Ultimately, it was both his parents' support that led Justin to study civil engineering in college.
"I had both my parents instilling values in me and helping me in different ways my whole life," De La Rosa said. "It all just came together, and I think it worked out so perfectly."
De La Rosa spoke recently with Civil Engineering Source about his career:
Civil Engineering Source: What's the civil engineering accomplishment you're most proud of so far in your career?
De La Rosa: A project that I worked on early in my career was called Chaparral Street here in Corpus Christi. I feel most accomplished about that project because that stretch of roadway is used so many times throughout the year for festivals, for gatherings, for events, just so many things for the city. So, any time I hear of an event that's happening along that stretch of road it just takes me back to all those long hours that I worked on that project. But at the end of it, I felt so accomplished and so happy to know, "Hey, I did that. I designed that, and a lot of people in Corpus Christi use it throughout the year."
I remember one instance; we were celebrating my fiancée's birthday in a nearby building. The restaurant was on the 20th floor, and we went up to the balcony and they were actually having an event down Chaparral Street. It was funny because she told her family, "Hey, there's this event that's happening and Justin did that roadway."
One of the cool things about this project is that it was originally a one-way street and the sidewalks on either side were 5 feet wide. Through the design, we were able to convert it so that there are now 17-foot major sidewalks on either side, traffic now goes both ways, and there's still on-street parking. So I really feel that we improved it, and the city thinks so too, and so does everybody who works along there.
HDR is a global company, so we can work on projects all over the world, but my passion is for projects that are located right in my backyard to help make Corpus better.
Source: What's something about you that might surprise most civil engineers?
De La Rosa: I almost was not an engineer and that wasn't by choice. When I started college back in 2009, I attended Texas A&M University–Kingsville in my hometown. And I was enjoying it, but I wanted to see what a bigger city had to offer – Kingsville's population is around 28,000 – so I went to UTSA in San Antonio. But by me transferring over there, I did forfeit some of the scholarships that I received at TAMUK, and I didn't get as much financial aid as I thought I would, so that forced me to work to at least pay for bills and food. It got to a point where I was actually working 40-plus hours weekly, from 5 in the evening to 11 at night or even midnight. I would get home and be too exhausted to study. So that led me to stop attending school in the spring of 2013. And I said, "Well, I guess this is going to be my life now."
But then something clicked in me. My roommates at the time would be studying for mid-terms and finals while I was working so much and not going to school. I thought, "Wow, what did I pass up?" So I transferred back to TAMUK that summer. They told me, "We can't give you financial aid right now, but if you can prove to us that you can maintain good grades, we can in the fall." That summer I paid my way through school while living at home with my parents. I took four classes, I got all A's, and I showed them, "Hey, this is what I can do." And after that, I sat in the front of all my classes, I got all A's the last two years of my college career, I was awarded scholarships, and I had three internships.
Every time I feel like I might be defeated, I go back to that time, and I use it as motivation for me to say, "Hey, you've been through worse than this and you overcame it. This is nothing compared to that." So, yeah, I almost wasn't a civil engineer. But ever since that one point in my life, I think I have put my foot to the pedal, and I've never eased up on the gas or looked back.
Source: What makes you excited to be a civil engineer in the 2020s?
De La Rosa: Technology is something that excites me. I know that 30-40 years ago a lot of engineering had to be designed or drawn out by hand. But now with technology you can model different aspects in 3D, so whenever I do a roadway or do a drainage ditch or channel, I model it three-dimensionally, and I can see all those components put together into one and just look at it 360 degrees all the way around.
And technology is just going to keep on advancing and, I think, making everybody's lives and jobs better and easier at the same time. Hopefully that translates into better projects at a lower cost. That's what I'm most excited for now, because I can see where we've come over the last 10-15 years, and I'm excited to see what the next 10-15 years has to offer us.