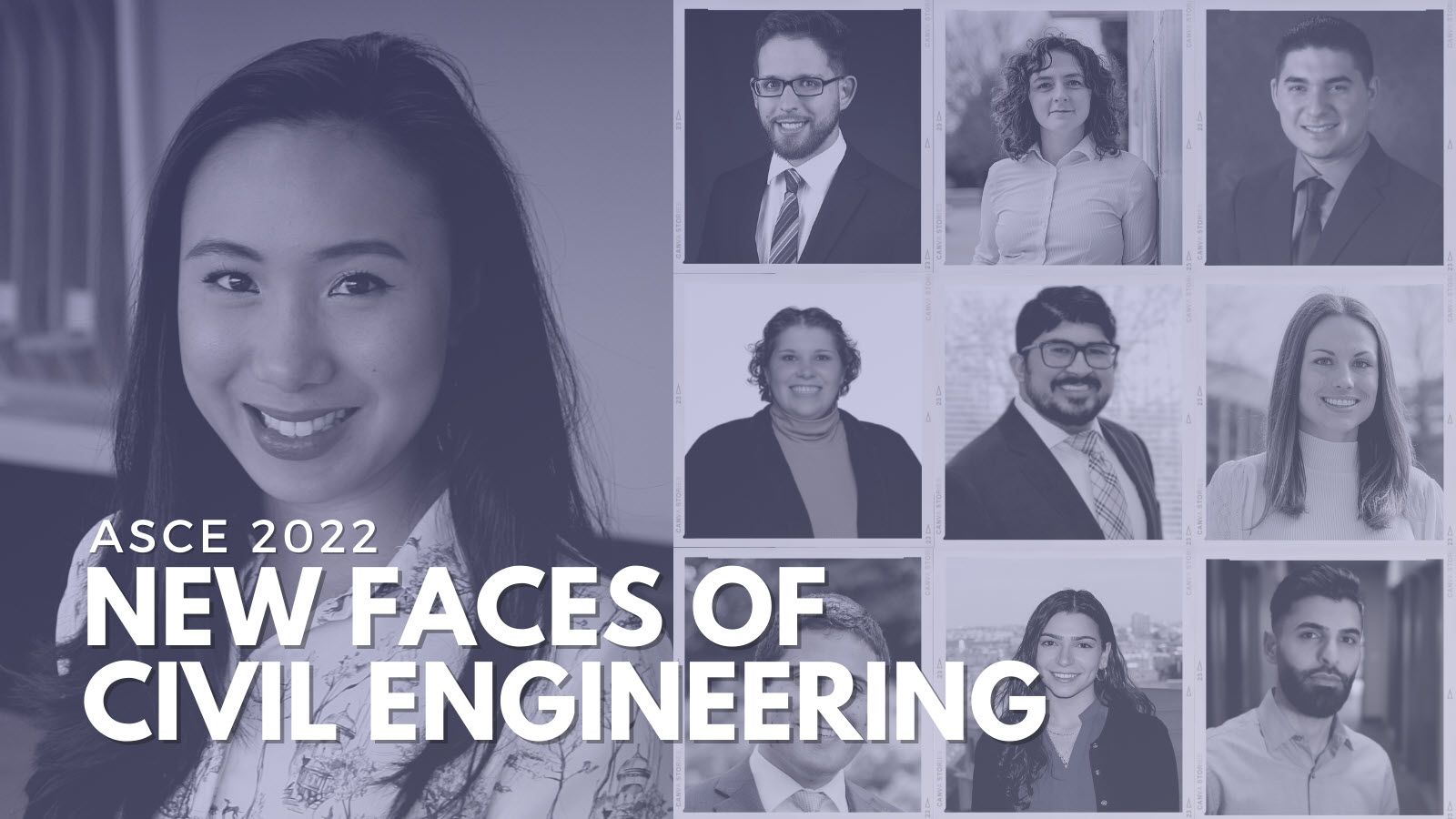 Name: Vanessa Eslava
Credentials: EIT, A.M.ASCE
Job title: Assistant transportation engineer
Employer: T.Y. Lin International
Location: San Diego, California
Current ASCE role: San Diego Younger Member Forum president, Committee on Younger Members corresponding member, CYM Visibility Committee member, Precollege Outreach Committee member
College: San Diego State University – bachelor's degree in civil engineering
Vanessa Eslava's introduction to civil engineering could almost be summed up in one word: unexpected.
As a high school student, Eslava was training for a dance performance with her Filipino American Cultural Society, and the choreographer's grandfather mentioned one day that, because of her talent for math and science, civil engineering might be a good career pursuit for her.
It was an insightful and important observation. Eslava has gone on to a remarkably successful career as a transportation engineer in San Diego. And now, in addition to all her project work, she's reaching out to students to connect them to engineering in a way that takes "unexpected" out of the equation.
"Giving back through K-to-12 outreach is one of the main things that drives me," Eslava said. "Being able to see children's faces and how excited they get about engineering is really one of the driving factors for my outreach."
Eslava serves as president of the ASCE California Section San Diego Branch and has been a leader of the group's outreach activities for years, including a stint as vice president of community service and organizing "Engineering at the Mall" events pre-COVID. When the pandemic struck in early 2020, Eslava's outreach work didn't stop; she simply pivoted toward the virtual space.
She began focusing her Instagram account (@itsvnessa) on engineering posts, and it now boasts more than 4,000 followers. Her "Day in the Life of a Civil Engineer" video on the EngineeringGals YouTube channel has nearly 40,000 views. She's even featured in San Diego STEMecosystem's women in engineering coloring book.
Virtual outreach, meanwhile, has allowed Eslava to connect with students all over the world, including a memorable video call with civil engineering students in the Philippines.
"Although we are thousands of miles apart, it has been great to connect and give advice to students about my experience as a civil engineer," Eslava said. "As a Filipino myself, I felt very connected with those students."
ASCE has honored Eslava as a 2022 New Face of Civil Engineering. She recently spoke with Civil Engineering Source about her career:
Civil Engineering Source: What's the civil engineering accomplishment you're most proud of so far in your career?
Eslava: I think what I'm most proud of is just being able to be a civil engineer and show young people that they can do it too. Because growing up, I personally didn't see someone like me doing what I'm doing. And I'm proud of myself for being who I am, but I'm also proud of the people who have reached out to me saying they were inspired by what I do, that they want to pursue civil engineering.
Through social media, having people message, thanking me, saying, "I feel the way you feel as a woman in engineering. Thanks for being real about your struggles," or "Thanks for telling me about the process of engineering." Those types of messages are what really drive me, and I hope that I'm able to continue to connect with people in such a way.
I think we're in this new society of using social media for that influence. And sometimes it can seem a little silly, but that's the way to connect with the next generation.
Source: What's something about you that might surprise most civil engineers?
Eslava: Something that might surprise other civil engineers who don't know about me is that I also like to dance. And I don't think I show that too much on my [social media] platforms or anything like that, but outside of work or especially before the pandemic and in college, I would take dance classes. It's my hobby, and I just really love to dance. I mostly do hip hop, but I haven't taken classes during the pandemic. I just kind of like to do it more for fun now.
Source: What makes you excited to be a civil engineer in the 2020s?
Eslava: Especially with the new infrastructure bill, I'm really excited to know that there's so much more that we can do and improve in our society. It's exciting to get really into understanding how government relations and politics relate to civil engineering. We're going to need more civil engineers in the future. So I really try to promote our industry because I know that we're going to need so much more to be able to build back America through this infrastructure package.