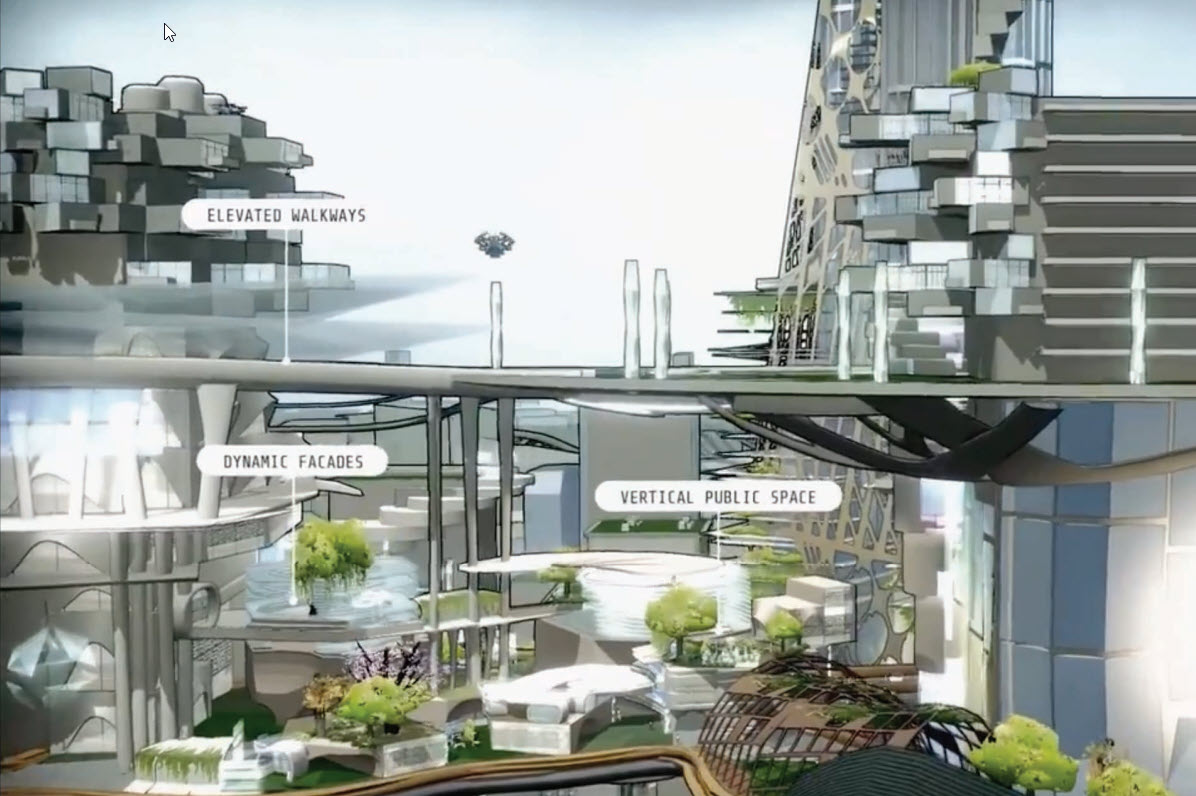 The next phase of ASCE's Future World Vision has arrived, and this future is available as a free download on your computer.
ASCE launched the Future World Vision desktop app Tuesday, Feb. 22, with a new website and a special webinar event, Experience Your Future: Mega City 2070.
"The world in which we live is becoming more complex and changing at an accelerating pace," said ASCE President Dennis D. Truax, Ph.D., P.E., F.ASCE.
"Understanding the drivers of change is more critical than ever. Our future will require a new way of doing things. Mega City 2070 helps connect the dots and ensures all systems are integrated in the future."
Future World Vision and Mega City are the result of a multiyear collaboration between ASCE, global future analysts, subject-matter experts, visionary experience designers, and leading application developers.
The desktop app gives users the chance to explore Mega City 2070, a plausible city built on deep research. The immersive, 3D digital model puts you at the heart of the city, where you can experience how the future might look and feel, learn what infrastructure is essential, and study the evolution of this space over a 50-year span.
"The leaders of the future will be those who understand the dynamic environmental, technical, and socioeconomic systems that shape our world," said David J. Odeh, P.E., S.E., F.SEI, F.ASCE, principal, Odeh Engineers Inc. "The Future World Vision is a window into how these systems can interact to impact the places we will live and work. It's a way to interact with experts from around the globe to help imagine the story of the future."
The Experience Your Future: Mega City 2070 webinar featured Odeh, Eva Lerner-Lam, M.ASCE, founder and president of Palisades Consulting Group; Mehmet Egemen Ozbek, Ph.D., A.M.ASCE, professor and Joseph Phelps Endowed Chair, Colorado State University; and host Elizabeth Ruedas, P.E., ENV SP, M.ASCE, project manager at Michael Baker International, discussing Future World Vision topics live before a virtual audience of hundreds of future-focused engineers.
Alex McDowell, creative director and co-founder of Experimental, and creator of Future World Vision, kicked off the webinar with an allegory about the platform's unique combination of research and imagination: "Storytelling is a tool for a way in which we think about the future. Stories have been a key to the evolution of society. They've helped us make sense of the world."
Ozbek spoke during the webinar of how the new Future World Vision platform can influence infrastructure's future at a grassroots level.
"I fully believe Future World Vision will be a game changer in the way we educate the next generation of engineers," Ozbek said. "I think the platform has the potential to draw a significantly more diverse group of students into college. … We have this vision of 2070 with a lot of out-there ideas. The question of, 'How do we get there?' will require a lot of research. I could definitely see how this could be an incubator for professors of different backgrounds. They get together and try to answer those different questions."
The Future World Vision desktop app is a free download. The new website also features a user guide to help people get started.
The rest is up to the engineers, as Odeh said during the webinar, offering a passionate rallying cry for the Future World Vision in-platform community.
"This is your project," Odeh said. "Now it's going to be up to all. Get involved in Future World Vision. Download the app. Jump right in there. No matter your interest… it's up to you to get involved.
"Create your own vision of the future."
Learn more about Future World Vision and download Mega City 2070.