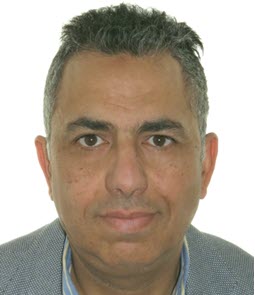 Mohamed Gamal El-Din, Ph.D., P.E., F.ASCE, a professor of the Department of Civil and Environmental Engineering at the University of Alberta, has been named a fellow by the ASCE Board of Direction.
Gamal El-Din is an internationally recognized leader in the environmental engineering community. His research focuses on the fundamentals of advanced and innovative treatment approaches for water and wastewater (municipal and industrial such as oil and gas). Notably, he has developed effective wastewater treatment and reclamation strategies to protect the environment and public health. He has made fundamental contributions to the science and engineering of water and wastewater treatment, maintaining a strong focus on providing reclamation solutions that can immediately benefit environmental engineers and the water and wastewater treatment industry.
His work has also focused on the development of cost-effective and simple, yet highly efficient treatment systems for rural communities in both industrialized and developing countries. Gamal El-Din's research and consulting work are practical and relevant to the engineering profession and essential to the preservation of our water resources. His recommendations have informed government and corporate decision-makers (nationally and internationally) for over 21 years.
Since 2011, Gamal El-Din has held an NSERC Senior Industrial Research Chair (IRC) in Oil Sands Tailings Water Treatment, intended to develop innovative engineered and passive treatment approaches for the safe release of treated process water into the environment. He is also one of the theme leads of the Future Energy Systems (FES) theme on Resilient Reclaimed Land and Water Systems, a 75-million multidisciplinary research project from the Canada First Research Excellence Fund.
In 2013 Gamal El-Din was awarded the Killam Annual Professorship, University of Alberta. For his contributions in the area of oil sands process water treatment/reclamation, in 2017, he received the Alberta Science and Technology Leadership (ASTech) Foundation Award for Innovation in Oil Sands Research. In 2019, he was appointed Jinshan Distinguished Professor at Jiangsu University and in 2020 he was awarded Research Chair in Environmental Engineering, College of Environmental Science and Engineering at Tongji University (China).
Over a period of 21 years, Gamal El-Din has supervised 30 postdoctoral fellows, 40 Ph.D. students, 66 master's students, 16 research assistants, 7 research associates, 5 technicians, and 21 summer students. His research has resulted in 278 refereed journal papers, 94 refereed conference papers, 386 conference and workshop presentations, 56 technical reports, 7 book chapters, and a number of other articles. The quality of these publications can be confirmed by his number of citations, which has increased steadily over the years. His current h-index is 60, with 11,550 citations as per Google Scholar.
Gamal El-Din holds a bachelor degree in civil engineering from Cairo University, a master's degree in civil engineering from Wayne State University, and a doctoral degree in environmental engineering from the University of Alberta.