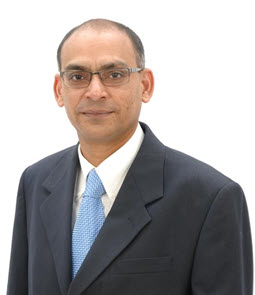 Jaideep Chatterjee, Ph.D., P.E., D.GE, F.ASCE, a geotechnical engineer currently serving as vice president of engineering at a large ENR Top 500 geotechnical consulting firm based in Houston, has been named a fellow by the ASCE Board of Direction.
Chatterjee's professional experience encompasses a variety of practice areas, including heavy industrial onshore and near-shore oil, gas and chemicals projects, large commercial developments, directional drilling, flood control, slope stabilization, ports and marine structures, and large transportation projects.
In a previous role, while working on behalf of a prestigious large JV, Chatterjee helped the U.S. Army Corps of Engineers with geotechnical design of numerous hurricane and flood protection systems constructed in the New Orleans area post–Hurricane Katrina.
He is actively involved with the ASCE Houston Chapter, the Geo-Institute, and many other professional organizations. He is a frequent speaker at various technical meetings and geotechnical engineering conferences, presenting practical geoetchnical engineering topics helping the geoetchnical engineering community learn from expertise, research, and industry knowledge. He has also made technical presentations at various past ASCE Geo-Congress conferences.
In recognition of his expertise and contribution to the geotechnical engineering profession, the Academy of Geo-Professionals of ASCE inducted him to the prestigious list of Diplomates in Geotechnical Engineering (D.GE). He is an ASCE board-certified geotechnical engineer.
As a part-time adjunct faculty in the Department of Civil and Environmental Engineering at Jackson State University, Jackson, Mississippi, Chatterjee previously taught graduate geotechnical engineering courses on Advanced Soil Mechanics, Advanced Foundation Engineering, Earth Dams and Slope Stability, Finite Elements in Geotechnical Engineering, Soil Dynamics and Earthquake Engineering, and Structural Dynamics.
His Ph.D. research work at the University at Buffalo resulted in numerous of his publications in the field of computational geotechnical engineering, enabling new methods of solving practical geotechnical problems.
Chatterjee holds master's and doctoral degrees in civil engineering, specializing in geotechnical engineering, from State University of New York at Buffalo. He is a registered professional engineer in multiple states in the United States.