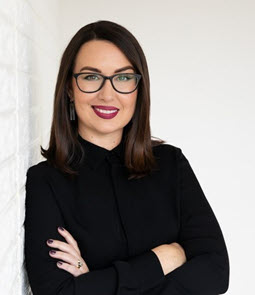 Lindsay A. O'Leary, P.E., CAE, F.ASCE, the director of technical advancement for the American Society of Civil Engineers, has been named a fellow by the ASCE Board of Direction.
For a decade, O'Leary supported technical projects working for several civil and environmental engineering consulting firms, including Geosyntec Consultants. Her most significant achievements are not project-based, nor a result of her broad technical knowledge, although she considers herself a generalist, a jill-of-all-trades. Joining the small staff team of ASCE's Texas Section and working as the first-ever full-time executive director for five years (2016-2021) is a highlight of her career to-date.
O'Leary's contributions to the civil engineering industry are a result of her business acumen and passionate leadership. She consistently brings a culture of camaraderie to each team she joins, striving to drive employee and volunteer engagement, improve retention, and increase productivity. Whether she is leading a team or joining as a member, she brings an unmatched level of energy and enthusiasm to the task at hand. She encourages collaborative communication, has a keen eye for operational details, and is only successful if her team is successful.
In her role as a director, she supports one of ASCE's five standing Society committees, the Committee on Technical Advancement (CTA), and it's nine constituent committees and divisions. CTA covers a wide breadth of specialty technical topics, from aerospace, computing, cold regions, and energy and forensic engineering to climate change adaptation, infrastructure resilience, and sustainability. CTA is also home to the Codes and Standards Committee, which is responsible for the oversight and administration of ASCE's 70+ technical standards produced in collaboration with ASCE Institutes.
Since joining ASCE in 2007, O'Leary has built and refined her management skills through hands-on experience and continuing education activities. She often pulls from lessons learned during her time as an engineering consultant, with experience in environmental, general civil, geotechnical, and water resources engineering. She also interned in transportation engineering while attending the University of Central Florida, in Orlando.