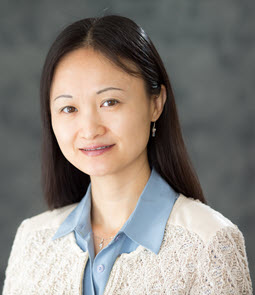 Yiying Xiong, P.E., PMP, D.WRE, F.ASCE, associate director for Great Lakes Bioenergy Research Center (GLBRC), has been named a fellow by the ASCE Board of Direction.
Xiong is an internationally known executive leader, entrepreneur, business strategist, business developer, program manager, and technical lead in global renewable energy and water resources sectors. GLBRC is one of four U.S. Department of Energy (DOE)–funded bioenergy research centers in the country. Prior to transitioning to the bioenergy industry, Xiong held various leadership roles in the hydropower industry. She also owns a small consulting business practice.
During her 20-year career, she has led over 100 projects in hydropower studies and designs, climate change, technology commercialization, dam safety and rehabilitation, dam removal, fish passage, reservoir operations, flood forecast and watershed management, licensing and permitting, financial facilitation, and energy asset acquisition, in nearly 20 countries on four continents. Many of these programs were funded by the Bill and Melinda Gates Foundation, National Science Foundation, U.S. DOE, U.S. Trade and Development Agency, and U.S. Agency for International Development.
Xiong has promoted cross-industry collaborations between multiple renewable energy and water resources sectors. She has held leadership roles at numerous domestic and international professional associations, such as the International Commission of Large Dams, Midwest Hydro Users Group, and Society of Women Engineers, as well as served on technical committees at ASCE's Wisconsin chapter, America's Watershed Initiatives, and U.S. Society of Dams. In addition, she has instructed engineering professional development courses at the University of Wisconsin and worked with top Chinese researchers on English-Chinese translation of technical books and papers. She is an editorial board member on the international journal Energy Nexus and has been a peer reviewer for multiple ASCE and other international technical journals and conferences since 2006.
She is a strong advocate for women in leadership, knowledge sharing, and diversity. She is a steering committee member and mentor in the international Women in Hydropower program and a mentor in the Global Women's Network for the Energy Transition program. She is founder, steering committee chair, and mentor for the Wisconsin Energy Institute (WEI)/GLBRC mentorship program and a member of multiple Equity and Diversity Committees at the University of Wisconsin–Madison. She leads GLBRC's diversity, equity, and inclusion initiatives as well as its outreach and training program. Over the years, she has mentored over 50 early-career professionals and students in many different industries from the U.S., Canada, Africa, and Asia.
Xiong was the first Chinese recipient of the international Women with Hydro Vision award by Clarion International (2021) and the ASCE Wisconsin chapter's Young Civil Engineer of the Year award (2009).