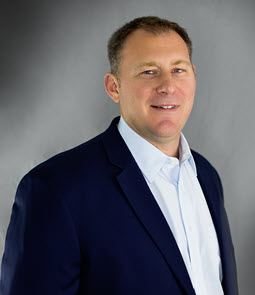 Michael Joseph McLaren, P.E., F.ASCE, the chief operating officer for RLG Consulting Engineers, has been named a fellow by the ASCE Board of Direction.
McLaren, whose professional mission is to promote a career pathway aligned with the goals of sustainable development, encourages students to pursue an education in STEM, surrounds young engineering professionals with tools and resources to learn and grow, and then provides them with opportunities to apply their skills to projects that contribute to the well-being of people and communities and reduce impact on the environment.
Many of his projects achieve this mission, but none as much as two: the Caterpillar Visitors Center (CVC) in Peoria, Illinois, and the Major General Emmett J. Bean Federal Center, General Services Administration in Indianapolis.
Caterpillar commissioned the CVC to showcase its commitment to community and sustainability and to demonstrate the importance of math and science to children. This project catalyzed redevelopment of the downtown and riverfront area and draws visitors of all ages from around the world. Where once a dilapidated parking deck and vacant retail space stood for 10 years contributing to urban blight before its demolition, the Caterpillar Visitors Center is nearly 50,000 square feet and houses several exhibits, an orientation theater, merchandise center, and VIP conference and dining areas. Exhibits include Energy & Power Systems businesses, among them industrial, rail, marine, petroleum, electric power, solar, large power systems, which showcase the work that Caterpillar's global customers do every day to make sustainable progress possible.
Sustainable design was an objective from the CVC's inception, with the building obtaining LEED Gold certification. Sustainable components include energy efficient mechanical systems, rainwater irrigation, native plant landscaping, solar power, and recycled content of construction materials.
The General Services Administration's Major General Emmett J. Bean Federal Center was targeted by the Recovery Act of 2009 to meet President Obama's initiative to turn federal buildings into high-performance green buildings and to move toward energy independence. Con¬tractors installed 6,152 photovoltaic panels on the roof of the 1.6-million-square-foot building. The $23 million project, which in¬volved reinforcing and replacing about two-thirds of the roof with a R-50 IMRA roof – nearly 320,000 square feet – generates 2.0 megawatts of renew¬able power. A portion of the roof serves as a solar test lab for the U.S. Department of Energy's Sandia National Laboratories to research which solar technologies work best in Midwestern climates.
This project also included four solar hot water heating systems with renewable energy systems, a geothermal heat pump, and shallow ground energy recovery analysis contributing to reduce the building's operating costs by $509,000 annually. DOD made security improvements to the perime¬ter security zone, the regrading and resurfacing of existing parking, stormwater management modernization, new truck dock and vehicle sallyport/security station, new energy efficient windows meeting blast protection specifications. The design of the main entrance and public areas reflects the standards of GSA's Design Excellence Program and achieved a LEED Silver rating.