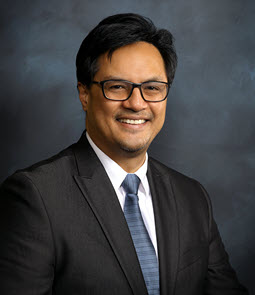 Emmanuel C. Battad "Cris" Liban, D.Env., P.E., Dist.M.ASCE, chief sustainability officer for the Los Angeles County Metropolitan Transportation Authority, has been honored with inclusion by ASCE in its 2022 class of distinguished members for eminence as a trailblazer in advancement of the principles of sustainability and resiliency in engineering and construction practice and his international recognition as an expert in resource management, energy technology, transportation, environment, and sustainability.
Liban is a new type of civil engineering leader, one for the 21st century. He is a thought leader on sustainability issues and is helping to advance sustainable thinking in civil engineering. As the former chair of the ASCE Committee on Sustainability, he led the effort to develop a global sustainable infrastructure standard and guidance document that incorporates climate science into both the practice of civil engineering and the procurement and execution of sustainable infrastructures.
In his current position at L.A. Metro, Liban is advancing sustainable infrastructure daily through innovative projects that tackle climate change mitigation and adaptation, water conservation and management, renewable energy, and resiliency. His group has been one of the profit centers in L.A. Metro, generating almost $150 million of revenue in the past four years through monetized environmental benefits and reinvesting those into sustainable infrastructure.
Liban is working to ensure that $140 billion in capital projects that are programmed for the next 40 years are resilient, climate-adapted, and robust for the more than 10 million people of Los Angeles County. Many of these are to be completed in time for the 2028 Olympics.
Many civil engineers gain prominence only among their civil engineering peers, but Liban has showcased his leadership-forming and collaboration-fostering skills by working with elected officials, public health practitioners, environmental and business group leaders, and multitude of global stakeholders. His work has further influenced engineering practice in Europe, Asia, Australia, and New Zealand, and South America. He has been the point person on many issues of importance to the profession and exemplifies the qualities of character and achievement worthy of distinguished membership.
Liban holds concurrent appointments in the State of California Green Bonds Development Committee, Los Angeles County Beach Commission, and the City of Los Angeles Board of Transportation Commissioners. He is currently the chapter lead in writing the transportation chapter of the forthcoming "Fifth National Climate Assessment."
His previous appointments included the USEPA's National Advisory Council for Environmental Policy and Technology.
In 2019, he conceptualized and co-led the formation of the International Coalition for Sustainable Infrastructure, which has now become a global coalition of almost 200,000 engineers in some 10,000 cities across the world.
Engineering News-Record presented Liban its Award of Excellence in 2020. ASCE further recognized him in 2021 with its Henry L. Michel Award for Industry Advancement of Research. The National Academy of Construction elected Liban as a member of its class of 2021.
ASCE will honor the 2022 class of distinguished members during the ASCE 2022 Convention, Oct. 24, in Anaheim, California.