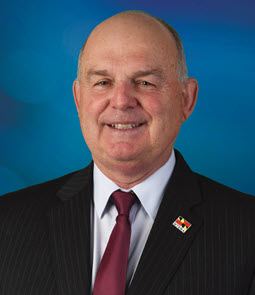 Terry F. Neimeyer, P.E., BCEE, ENV SP, Dist.M.ASCE, past chairman of the board of KCI Technologies, has been honored with inclusion by ASCE in its 2022 class of distinguished members for eminence in innovative design as well as environmental and construction industry practices, and for exemplary and tireless service and leadership in national, regional, community, and charitable organizations.
Neimeyer is a visionary and compassionate leader and engineer who makes a positive difference in everything he does. He is not only a champion of change but one of its agents, and an exceptional one. He was instrumental in the creation of the Institute for Sustainable Infrastructure, working as a representative of ACEC along with leadership from ASCE and the American Public Works Association. He served on ISI's initial board and then as its chair, and has delivered outstanding presentations on engineering ethics, including a series funded by the United Engineering Foundation.
He steers KCI, a 100 percent employee-owned, multidiscipline engineering/construction firm with 61 offices in 21 states. Throughout his nearly 20 years as its leader he has held many leadership roles, among them chief engineer, president, chief executive officer, and chairman of the board. The firm's prosperity over the years can be attributed to Neimeyer's ongoing commitment to KCI's people and customers and KCI's promise to offer the highest level of service. His helmsmanship, being by example, moved KCI headquarters into a LEED Gold–certified green building, securing companywide ISO certification to document that KCI runs its business using international standards for products, services, and quality processes, and spearheading their growth through strategic acquisitions to expand the company's geographic reach and technical expertise.
Two years after he became KCI's president (1995), his passion for sustainability and resilience were seen in the stream and restoration projects that began in 1997 under the new subsidiary, KCI Environmental Technologies and Construction. In 2007 KCI created Resource Management Discipline to focus on natural and water resources restoration and remediation planning and design. In 2012, Neimeyer's growth strategy continued with the acquisition of Triplett King in South Carolina.
KCI, almost synonymous with his name, was ranked 48th among the top 500 engineering firms in the country by Engineering News-Record in 2021. KCI was ENR's Mid-Atlantic consulting firm of the year in 2017, and it was named the Baltimore-based large firm of the year for the same year in a contest by the Baltimore Sun.
Neimeyer currently serves as past chairman of ASCE's Industry Leaders Council and was an at-large director on the Society's Board of Direction 2016-2019. He currently chairs two committees of ASCE, the Committee on Professional Advancement and the Committee on Sustainability. When 2021's honors were due, ASCE awarded him its OPAL leadership award for management. Other awards include the Icon of the Industry Award (Maryland Society of Professional Engineers), ASCE's President's Medal (2015), ASCE Maryland's Civil Engineer of the Year (2001),the University of Delaware Alumni Wall of Fame (2008) and the Johns Hopkins Whiting School of Engineering's Neimeyer Family Annual Scholarship.

ASCE will honor the 2022 class of distinguished members during the ASCE 2022 Convention, Oct. 24, in Anaheim, California.