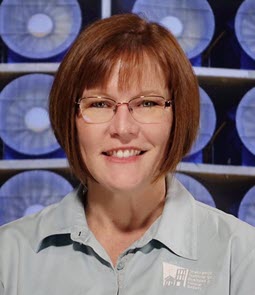 Anne D. Cope, Ph.D., P.E., F.ASCE, chief engineer for the Insurance Institute for Business & Home Safety, a nonprofit organization sponsored by the insurance industry, has been named a fellow by the ASCE Board of Direction.
Cope leads the development of research programs at IBHS to improve the performance of structures in hurricanes, wildfires, severe thunderstorms, and hailstorms; she also leads the team of engineers, scientists, and skilled craftsmen who conduct research on full-scale homes and commercial buildings.
She joined IBHS in 2009, just prior to the groundbreaking for the organization's world-class Research Center in South Carolina. The impact of this institute facility on building code development and adoption has been significant in the 12 years that the facility has been in existence, and the team looks to the future of code development with a focus on climate adaptability.
Cope's research encompasses topics ranging from the full-scale simulation of wind effects on buildings to detailed studies of the vulnerabilities of buildings to natural hazards and the development of damage prediction models. New wildfire mitigation standards coming from IBHS this year will provide the first comprehensive, voluntary standard that goes beyond local codes to address the unique and increasing threat of wildfire.
Often referenced in the news media, Cope's research has been published in the Journal of Structural Engineering and the Journal of Wind Engineering and Industrial Aerodynamics, and she has spoken at national and international conferences that advance the work in this field. She participates in the ASCE 7 Main Committee and the ASCE 7 Wind Load Subcommittee.
Prior to joining IBHS, Cope was a project manager and structural engineer with Reynolds, Smith & Hills Inc., designing projects for NASA, Department of Defense, and commercial launch operations. Her projects included the design of the LC39B Lightning Protection System, the tallest structure on Kennedy Space Center.
Cope is a proud veteran of the United States Army and a past member of the board for the American Association of Wind Engineers. She is a registered professional engineer in Florida and South Carolina. She earned her bachelor and master's degrees in civil engineering from Clemson University, and her doctorate from the University of Florida.