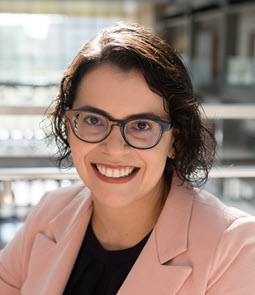 Fernanda Leite, Ph.D., P.E., F.ASCE, a professor in the Cockrell School of Engineering at the University of Texas at Austin, has been named a fellow by the ASCE Board of Direction.
Leite has served as an Associate Editor of the journal Automation in Construction, the top journal in her field. Her built environment research program sits at the interface of engineering and computing. Most of her work has been in building and infrastructure systems information modeling, scan-to-BIM, and circular economy in the built environment.
In her John A. Focht Centennial Teaching Fellowship in Civil Engineering at UT-Austin, Leite teaches courses on Building Information Modeling, Project Management and Economics, Construction Safety, and Sustainable Systems Engineering. She is a leader in the computing in civil engineering community.
Leite has chaired important technical committees within ASCE, such as the Visualization, Information Modeling, and Simulation Committee. She co-chaired the 2019 ASCE Computing in Civil Engineering Conference. She now sits on the ASCE Computing Division's Executive Committee, an honor reserved to those who have extensively served the Computing Division and will set the agenda for the division's technical committees for years to come.
Leite belongs to the ASCE Texas Section's Austin Branch.