ASCE members expressed their confidence in Marsia Geldert-Murphey when they voted to tab her as 2023 president-elect in this spring's Society election.
And now, in the annual Civil Engineering Source "get to know your new president-elect" Q&A, they will learn more about Geldert-Murphey's personal story – from wild raspberries in the Black Hills of South Dakota to cheering for the Los Angeles Rams.
Civil Engineering Source: Of what are you most proud in your career?
Marsia Geldert-Murphey: Mentoring. The only practicing civil engineer I knew before going to college was an environmental engineer who presented at a public meeting in my hometown. And once enrolled in college I realized many of my fellow students had a parent or grandparent who was a civil engineer, and it felt like they had a leg up in a sense, because some aspects of the profession they were previously exposed to were still shrouded in mystery for me.
At that time, neither of my parents had a college degree, so even being in college was new for our family. So, I have always been committed to mentoring others – especially people like me who do not readily have access to that kind of institutional and professional knowledge.
It has been a source of great joy to mentor students, young engineers, and colleagues and see what they achieve in their careers. I can't take any credit for their accomplishments. It is solely due to their intellect and efforts. But I am grateful to have helped level the playing field for them so their efforts are able to achieve the results you would expect. I am most proud of what I have been able to give back to others in our profession.
Source: Favorite book?
Geldert-Murphey: This is a tough one for me because I am in three book clubs and a real bookworm. I read constantly and have many favorite books depending on the genre, and I read all almost all genres except romance. However, there is one historical fiction book I have read several times because I love the author's writing style and the story, The Shadow of the Wind by Carlos Ruiz Zafron, and one nonfiction, self-help I have read and refer to frequently which is a process to resolving conflicts peacefully, Nonviolent Communication by Marshall Rosenberg.
Source: Are you a cat person or a dog person?
Geldert-Murphey: This is a "both/and" answer. I have always had both a cat and a dog almost all my life. I currently have a three-legged cat named Guppy that I rescued after he lost an encounter with a metro train as a stray kitten. I also have a pit bull rescue named Sophie who happily greets me with one of her toys in her mouth each day when I arrive home.
Source: Favorite food?
Geldert-Murphey: Unfortunately, all food! I am a vegetarian, so I love creative plant-based dishes. However, my mom's tostadas were always my absolute favorite, and she would make sopapillas for dessert. My mom was an amazing cook and always made everything from scratch.
Source: Favorite sports team?
Geldert-Murphey: We love sports in my family. I was raised in an NFL-obsessed family, so my favorite team was the Los Angeles Rams. I was born in L.A., and that was who we were raised to support. And then luckily the Rams relocated to St. Louis shortly after I moved to the metro area from college. It was bittersweet when they moved back to L.A.
My favorite hockey team is the St. Louis Blues; my favorite baseball team is the St. Louis Cardinals; and my favorite basketball team is the Chicago Sky, which won the 2021 WNBA championship.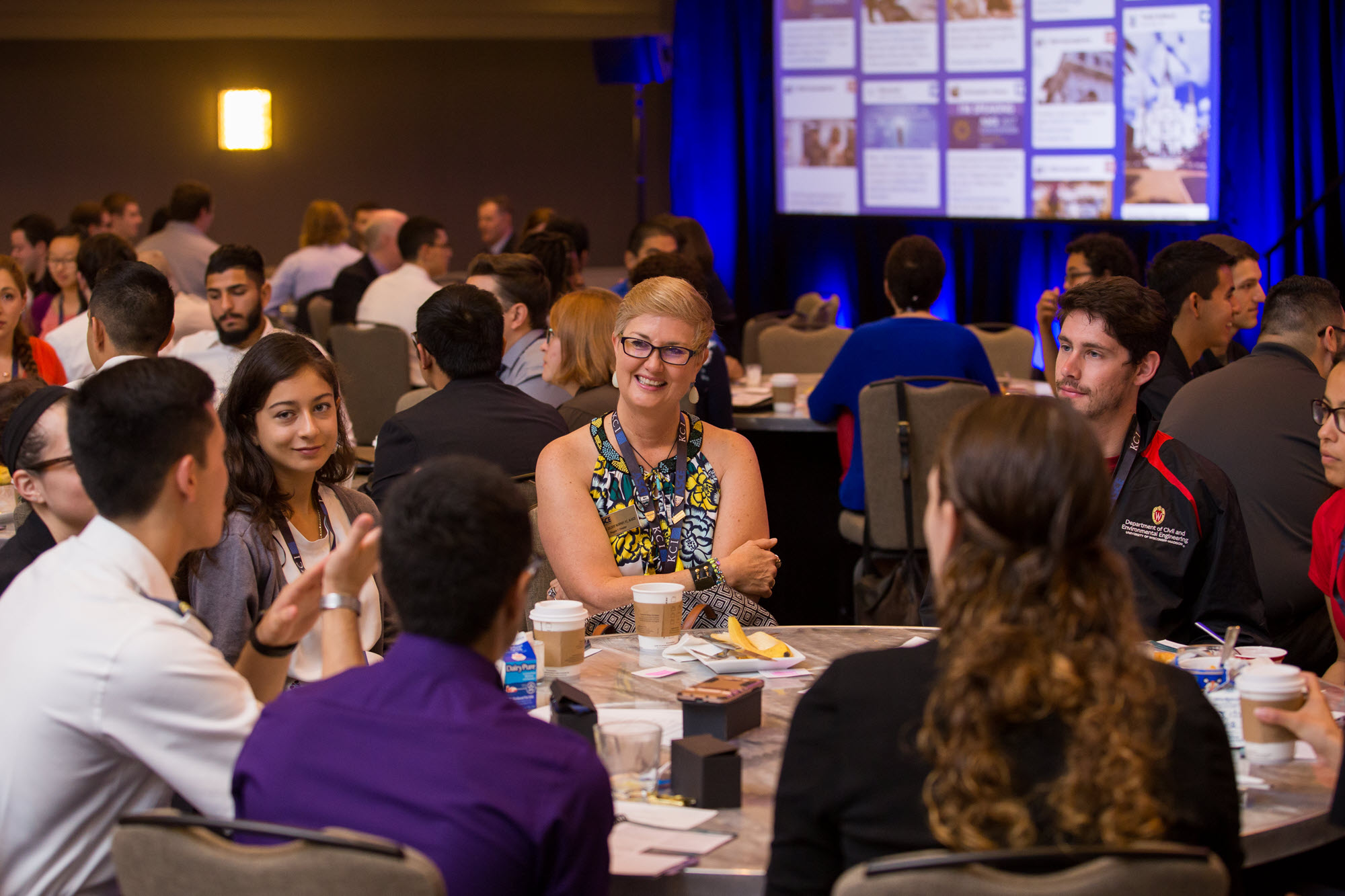 Source: What was your hometown like?
Geldert-Murphey: I consider Rapid City, South Dakota, my hometown. We moved there when I was in second grade, and I stayed there until I went to college. It was an ominous start when we moved there. After being there only a few months, a flood hit the town. It was devastating, and hundreds of lives were lost. We lived in a mobile home near Rapid Creek and lost everything – all our baby photos and family memorabilia. Luckily, we all survived. But rebuilding a life from scratch – and we were not affluent to begin with – was very difficult.
I went to a Catholic school where many of the kids had lives I could not imagine. They lived in incredible homes or on ranches with horses, and they owned more than one car. It was incredible to be able to visit places like that while growing up.
I loved being in Rapid City near my grandma and grandpa. My grandpa was a carpenter and was always building something. They had a vegetable garden, and my grandma taught me to can the vegetables they grew. She made the most amazing jams and pies from scratch. We would go into the Black Hills and pick chokecherries and wild raspberries for her to make jams and pies. My favorite was her strawberry rhubarb pie.
My grandma had a consignment shop, and I worked for her after school most days. I have very fond memories of growing up there but had to leave to find a job after graduating with my civil engineering degree because there were just no job opportunities in the state when I graduated.
Source: Do you play any musical instruments?
Geldert-Murphey: I used to play the flute in middle school. I must admit I wanted to play the trumpet, but my mom wasn't able to find a used trumpet so I had to play what instrument she could find and afford. So, I wasn't very committed from the start. We loved to listen to music in our house. My dad always had the stereo cranked up, and we all would dance. It was wonderful, but we did not as a family play musical instruments.
Source: What initially sparked your interest in civil engineering?
Geldert-Murphey: I attended a public meeting in the Black Hills back in the early 1980s where an environmental engineer who oversaw the Whitewood Creek Superfund cleanup shared how they were going to restore and reclaim this Superfund site involving 18 miles of creek that at that time would not support plant or aquatic life because of tons of gold-mill tailings and hazardous substances discharged from the Homestake gold mine. The result was a disgusting, turbulent gray sludge. I honestly could not imagine it could be reclaimed. He described the long road ahead to bring it back to a condition where plants and animal life could return.
At the end of the meeting, I walked up to the man and asked how he came to be in this role. He explained that he was a civil engineer. I was in awe of this amazing profession that serves our communities. It was the catalyst that sparked my passion for this career, and I ultimately chose to go to college and study civil engineering. So, the profession I love was sparked by a chance encounter with a civil engineer.
Source: At the end of a long workday, how do you relax?
Geldert-Murphey: I take long walks every evening with my pit bull Sophie, and I usually listen to a podcast. ASCE Plot Points is one of my favorite podcasts, along with Smartless, Stuff to Blow Your Mind and The Civil Engineering Podcast.
Source: What was the last movie you watched?
Geldert-Murphey: Where the Crawdads Sing. I read the book, and it was great to see it on the big screen. I like seeing movies after I have read the book because you have so much more knowledge about the characters and the back story. It makes the movie a more interesting experience.
Source: What is your favorite civil engineering landmark?
Geldert-Murphey: I drive over it every day I go to work in our St. Louis office – the Eads Bridge. It amazes me that this bridge in East St. Louis built in 1874 by a man, James B. Eads, who had never built a bridge before, using pneumatic caissons embedded to a depth of 123 feet, is still in use today to carry multiple modes of transportation – light rail, pedestrian/bike traffic, and vehicles. I am always in awe of this bridge and love driving over it into the city for work.
Source: Go-to pizza topping?
Geldert-Murphey: Mushrooms and the more the merrier. My favorite is the wild mushroom pizza at Peel Wood Fired Pizza in Edwardsville, Illinois. It has crimini, shiitake, and oyster mushrooms and is delicious.
Source: What's the word you use the most?
Geldert-Murphey: "Absolutely." My next commonly used phrase with two words is "Of course."
Source: When you were younger what did you want to be when you grew up?
Geldert-Murphey: I wanted to be an auto mechanic. My dad loved cars but could never afford anything he admired. So, I wanted to work on cars with my dad and give him the car of his dreams. My dream restoration project was to restore a 1964-1/2 red Mustang convertible with him. Unfortunately, I was never able to make that happen before he passed away.
Source: Ideal vacation spot?
Geldert-Murphey: I love going to Maui, where my mom's two sisters – my aunties – have lived for decades. The beaches, hiking, food, and family are the perfect combination for an ideal vacation.
Source: If you could only keep one streaming service subscription, what would it be?
Geldert-Murphey: Discovery+. I love the Food Network, HGTV, and the History Channel.
Source: What's your favorite time of day?
Geldert-Murphey: The morning. I love my morning walk, seeing the sunrise, and having my cup of coffee while sitting out on my patio.
Source: What was your first car?
Geldert-Murphey: 1974 Mercury Comet. I paid $250 for it in 1985. We affectionately called it Fester.
Source: What is one thing on your bucket list?
Geldert-Murphey: To see the pyramids in person in Egypt. I am absolutely fascinated by the engineering and construction methods that were used and the tools of that time used to build these amazing structures.
Source: One thing ASCE members would be surprised to learn about you?
Geldert-Murphey: I am pretty much an open book, so I am not sure what would be surprising to most members. Perhaps that I published a book this year? It's a memoir titled Cross, Yield or Burn: Navigating the Bridges of Life. It's about three years of my life that were particularly challenging. I was raising a family, running a consulting business I founded with a partner, and found out my parents were both diagnosed with terminal cancer. It's a story of heartbreak, determination, and, ultimately, growth.
Source: Favorite song?
Geldert-Murphey: "Blessed" by Jill Scott. When I hear that song, it just puts everything in perspective and makes me feel good.
Source: When you spend time with family, what do you all like doing?
Geldert-Murphey: Cooking food and playing games. We love board games, and we are a competitive bunch who love to have fun together.
Source: What is the most challenging project you have ever worked on?
Geldert-Murphey: My area of technical expertise is geotechnical engineering, and we frequently get called in when a flash flood has undermined a roadway, slope, or structure. So there are many challenging situations I've had to address over the years.
Probably one of the most unusual projects that I worked on was with a heavy hauler that needed to transport a combination of seven generators and transformers, each weighing approximately 500 tons, from the port they were barged in on to a power plant that was under construction. The hauler used a military-style mobile bridge to "jump" any drainage or bridge structures it had to cross, but there was one three-span county bridge that was too long. So the hauler proposed building a bridge adjacent to the existing bridge and wanted to hire our firm to do the work. The hauler had a contract with the utility company that would enforce extraordinarily high liquidated damages if the equipment did not arrive at a prescribed time.
When our structural engineer and I explained the process and time required to design, permit, and build a new structure, it was clear they would not meet the deadline required. We proposed temporarily reinforcing the existing bridge with a micro-pile foundation installed under the mud line with columns clamped to the girders to act as temporary bents between the existing span that could be removed after the transport.
The county approved our proposed design, and the system was installed, the transports were completed on time, and everything above the mudline was removed. It was the first and only time one of the designs I was a part of was subjected to the design load in front of me on the first crossing after installation.
Source: If someone made a movie about your life, what actor would play you?
Geldert-Murphey: I would be honored if Salma Hayek portrayed me. She is a very versatile actress, producer, director, mom, and humanitarian.
Source: What is the quality you admire most in someone?
Geldert-Murphey: Integrity. My dad had such a high level of integrity and followed a strict moral code. I think that is why I am so passionate about ASCE and our code of ethics. It really means a great deal to me that we all agree as part of membership to follow the code of ethics. When people can show respect for one another and can value other's opinions, great things can be achieved.