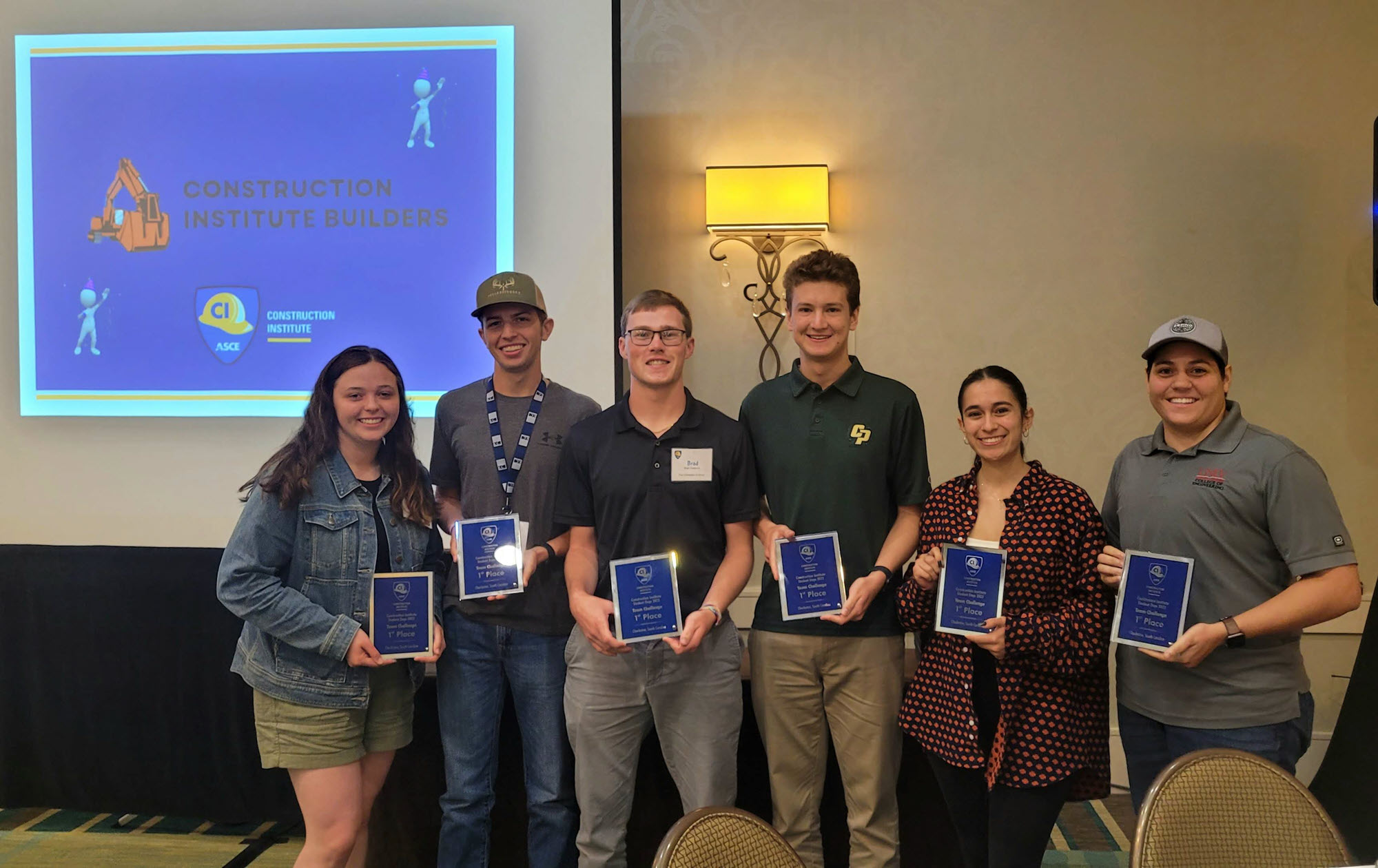 The annual ASCE Construction Institute Student Days program and competition prides itself on creating real-world scenarios for its attendees.
The thing about the real world though? It can be pretty challenging.
"I've never looked at so many drawings of just highways," laughed Alezandria Barreto Santos, a rising senior civil engineering student at the University of Nevada, Las Vegas, and a 2022 CI Student Days attendee. "But yeah, by nature, I'm a pretty competitive person, so I actually enjoy these types of challenges."
All those highway drawings paid off for Barreto Santos, as her team, the "Construction Institute Builders," earned first place in the heavy civil challenge, a centerpiece of the Student Days program.
"It was amazing to meet strangers and then actually work really well as a team," Barreto Santos said. "We all have the same interests in civil engineering. So that made it really easy to talk to everyone, and we all had a common goal, obviously, with the competition."
CI Student Days gathers students from all over the country – through an application process – for a four-and-a-half-day program, which included technical and career development sessions presented by members of CI Board and local industry members, an industry panel on career opportunities, speed networking, a team-building scavenger hunt and a technical post-construction tour – all setting up attendees to thrive when they return to school in the fall or enter the construction profession. This year's event in Charleston, South Carolina, marked the first Student Days in person after two years as a virtual event.
This year's heavy civil challenge gave the student teams a real-life highway widening project that the South Carolina Department of Transportation worked on. The student teams had to build out complete construction timelines and budgets and present their plans to a panel of judges that included some of the SC DOT engineers who worked on the real project.
"It's kind of a logistics nightmare because you still have to keep the flow of traffic during construction," said Barreto Santos. "It's also surrounded by wetlands, so there were some tricky environmental regulations that you had to abide by."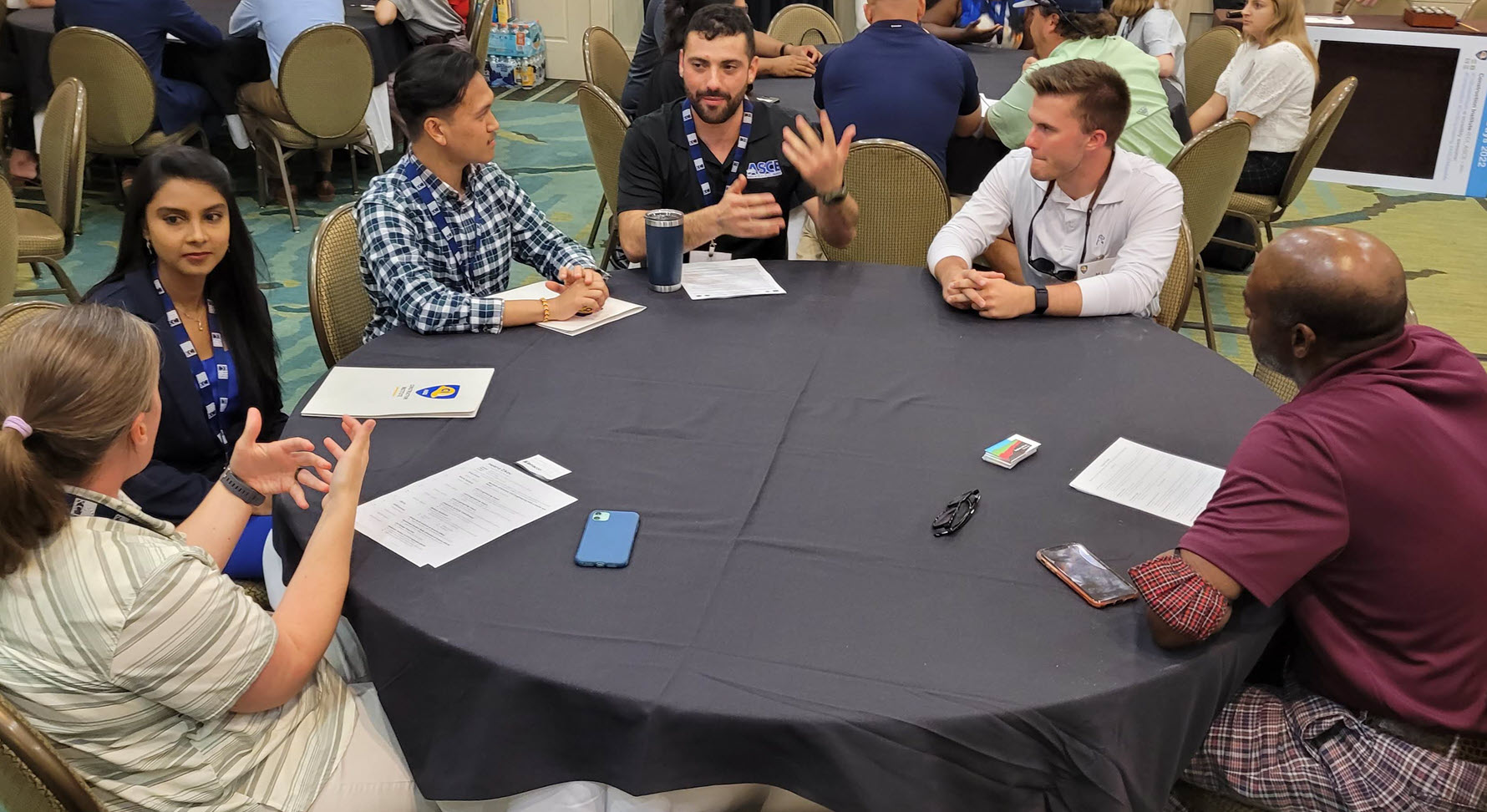 The student teams are selected by six team captains who get a list of the attendees' resumes in advance. So, unlike the ASCE Concrete Canoe Competition or the Student Steel Bridge Competition where the teams represent their schools and prepare for the events throughout the school year, the Student Days teams shake hands at the welcome reception and immediately start working together.
"When assembling the team, I was looking for team members with prior construction industry skills of proposal writing, estimating, takeoffs, safety, environmental, and scheduling experience," said Andrew Rasas, a rising junior at Cal Poly San Luis Obispo and team captain of the winning Construction Institute Builders. "Every single member of our team had at least one such skill from either prior university classes, internships, or other construction-bidding competitions.
"After the competition, we were told that we had one of the most unified teams. There were many exhausting, sleepless nights while working on this project. However, during the nights when we worked until 3 in the morning, we were all present and no one went to bed early. The mindset of 'we're all in this together' kept team morale high."
The Student Days program also connects students with younger members, as most of the planning gets done by recent graduates and Student Days alumni.
One such alum is Nathan O'Donnell, a 2019 attendee who now works as a project engineer for the Weitz Company in West Palm Beach, Florida: "From an ASCE competition standpoint, the Student Days program is unique in that it's run mostly by young professionals. I think that's one of the highlights that the students really enjoy – they get to learn from people who have recently graduated.
"It's definitely challenging, but we try to make it as fun as possible and as realistic as possible."