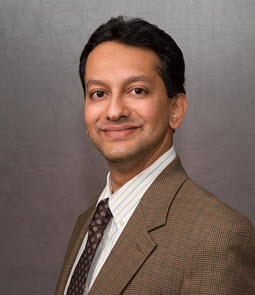 Srikanth "Sri" Dinakaran, P.E., DBIA, DGE, F.ASCE, a geotechnical principal engineer for the Special Projects Group (SPG) based out of ECS Southwest, LLP, has been named a fellow by the ASCE Board of Direction.
Dinakaran works in ECS's Dallas office. He is responsible for leading a team of geotechnical engineers and project managers, overseeing projects, technical reviews, and client development for infrastructure-related projects. He has about 28 years of geotechnical expertise with expansive soils, deep foundation, subsurface treatment, and pavement engineering.
He began his career in 1994 as a staff engineer with Patton & Burke (CTL Thompson after 1995). He progressed from staff engineer to project manager by working on several residential, commercial, and transportation projects. Some of the noteworthy projects included Gerald Ford Stadium at SMU, President George Bush Turnpike, Dallas Zoo Savannah, FM 2499 extension, and Dallas North Tollway extension. In 2000, due to his contributions, he was promoted to associate engineer and became an employee owner of the company.
In 2011, Dinakaran joined Kleinfelder and served as project manager, graduating to program manager by 2019 by managing several large design-build transportation projects. His primary role was to coordinate work activities of the geo-professionals and improve and deliver high-quality work to clients. Some noteworthy projects included The Horseshoe, The Southern Gateway, TEXRail, and I635 E LBJ. He was also designated as an independent technical reviewer (ITR) in November 2013. His responsibilities in this role included reviewing geotechnical engineering proposals and reports to deliver products to meet and exceed the client's expectations.
Dinakaran was elected as a direct owner in February 2015 as he was identified as a key contributor within Kleinfelder. He was elected as a Service Line Leader in 2020 for the geotechnical engineering group. The purpose of the five-member national-level role was to provide leadership and guidance to Kleinfelder's geotechnical communities of practice so they could consistently deliver innovative, practical, best-value, total project solutions and technical expertise growth. Another purpose was to grow the service line and maintain the standard of quality.
Over the years, he has been involved in the ASCE Dallas Branch and served as president of the Geo-Institute.
Dinakaran attained a bachelor of science degree in civil engineering from South Gujarat University in Surat, India, and then came to the United States where he received a Master's degree in civil engineering with a concentration in geotechnical engineering from Texas A&M University, College Station.