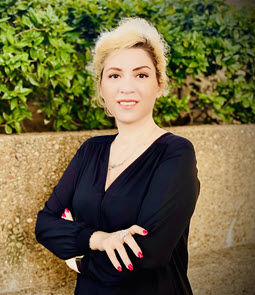 Sharareh (Sherri) Kermanshachi, Ph.D., P.E., F.ASCE, an associate professor in the Department of Civil Engineering, director of the Resilient Infrastructure and Sustainable Environment Lab, and technology transfer director of the Center for Transportation, Equity, Decisions and Dollars at the University of Texas at Arlington, has been named a fellow by the ASCE Board of Direction.
Kermanshachi has published more than 250 books, scholarly articles, conference proceedings, and research reports and conducted several national- and state-level research projects, which were awarded by the Federal Transit Administration, Department of Labor, National Academies of Sciences, Engineering, and Medicine, Texas Department of Transportation, National Cooperative Highway Research Program, and others.
She has received 44 prestigious international, national, and regional awards – the 2022 Leaders in Diversity Award, 2022 Texas Women Foundation Leadership Award, 2022 Mass Transit 40 Under 40 Award, 2022 TPTS Award of Excellence, 2022 TAMU 12 Under 12 Alumni Award, 2022 ASCE Outstanding Reviewer, 2021 Best Paper Award, 2021 ASC Teaching Award, 2020 Women in Technology, 2020 Rosa Parks Leadership Diversity Award, 2020 Mark Hasso Educator of the Year, 2020 ASEE-GSW Outstanding Young Faculty Award, 2020 ASC Regional Teaching Award, 2019 Rising Stars in Civil Engineering, 2018 Design Build Institute of America (DBIA) Distinguished Leadership Award, 2018 Open Educational Resources (OER) Research Fellowship, 2017 ASCE Outstanding Reviewer, and many others.
Further, she was the only academic recipient of the 2017 Texas and Louisiana Engineering News-Record (ENR) Top 20 Under 40 Award, and she was also invited to serve as judge for the 2017 and 2018 ENR Best Projects. Kermanshachi is an active technical member of eight ASCE committees, two Transportation Research Board (TRB) committees, and DBIA and CII committees. She also serves as a board member of the CMAA–North Texas and as an editorial board member of three ASCE journals, including Journal of Legal Affairs and Dispute Resolution in Engineering and Construction (LADR).
She has been invited to serve as a technical panel member for multiple federal research projects (NCHRP, TCRP, etc.) and as an organizer for multiple ASCE and CSCE conferences. Kermanshachi has established three student chapters at UTA and serves as the faculty advisor for these chapters. Along with teaching various undergraduate and graduate courses, she is leading the RISE lab, which has more than a dozen doctoral and master's students. Kermanshachi is fellow of the Institution of Civil Engineers (F.ICE).
She received her doctoral degree in civil engineering from Texas A&M University. She also holds a master's degree in civil engineering, an MBA, and a bachelor's degree in architectural engineering.