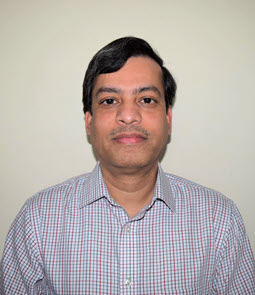 Prabir Kumar Kolay, Ph.D., P.E., F.ASCE, an associate professor of geotechnical engineering at the School of Civil Environmental and Infrastructure Engineering, Southern Illinois University Carbondale, has been named a fellow by the ASCE Board of Direction.
After completing his doctorate, Kolay worked at Boskalis International B.V. (Holland) as chief laboratory technician, then became a faculty member at NIT Agartala, University Malaysia Sarawak in Malaysia, before joining SIUC in 2010.
He has conducted research for more than 23 years in the areas of geotechnical and geo-environmental engineering. His research interests include soft and expansive soil stabilization using chemical stabilizers, geopolymer soil stabilization, characterization of coal combustion by product, leaching studies, heavy metal retention using zeolites, clay liner, characterization of recycled concrete aggregate (RCA) for pavement works, resilient modulus and long-term durability of RCA, conductive concrete, lime sludge stabilized kaoline clay, freeze-thaw behavior of concrete and stabilized soil, thermal and electrical properties of soil, and cyclic behavior of soil and stabilized soil.
Kolay has published a book and more than 100 peer-reviewed journal articles, book chapter, and conference proceedings. He has also received several grants as PI and Co-PI from OSPA, FHWA, EPA, IDOT, DECO, Holcomb Foundation Inc., etc. He has advised 25 master's, five M.E., and three doctoral students and served as an external examiner for 25 Ph.D. students. He has served as a member of ASCE's Ground Improvement and Geo-environmental committee since 2012, is a life member of the Indian Geotechnical Society and a member of ASTM, and has served as an editorial board member of several international journals.
He received his bachelor degree in civil engineering from North Bengal University in 1993, his master's degree in soil mechanics and foundation engineering from Bengal Engineering and Science University in 1996, and his doctoral degree in geotechnical engineering from Indian Institute of Technology Bombay in 2001. He is a registered professional engineer in the state of Michigan.