The just-released 2022 ASCE Civil Engineering Salary Report shows salaries rising among civil engineers.
But what may be even more notable about the report's industry snapshot is what it says about the importance of engineers' holistic job satisfaction in 2022.
Of salary survey respondents, 63.3% reported being satisfied or very satisfied with their financial compensation. That number was even higher, though, when asked about overall job satisfaction: 85.2% said they were satisfied or very satisfied with their civil engineering jobs.
"Money is an important factor, but it's not the only important factor," said ASCE 2022 President Dennis D. Truax, Ph.D., P.E., DEE, D.WRE, F.ASCE.
The high percentage of job satisfaction from civil engineers can be attributed in part to open pathways for career growth. Two-thirds of survey respondents said they were very satisfied or satisfied with the advancement opportunities afforded by their workplace. Personal motivation also plays a role in feelings of job satisfaction, particularly in a field like civil engineering that is often so service-oriented.
"The young people that are coming into this profession want to be impactful," Truax said. "People are in this profession because they want to make change. Civil engineering is all about doing great things that have positive benefits for others."
Job satisfaction can also derive from the various benefits an employer provides. Fully 98% of respondents to the salary survey said they were offered employer-sponsored health insurance, while 79% are vested in a retirement program through their employer. Nearly 83% of respondents are offered at least partial payment of their ASCE dues; nearly 79% have telework options.
Joe DiPompeo, P.E., F.SEI, F.ASCE, founder and president of Structural Workshop LLC, a structural engineering and building firm in Mountain Lakes, New Jersey, that employs 14, sees enhanced benefits as a crucial tool to attract and retain employees.
"I think companies are using those extra benefits to compete because it's been such a tight job market," DiPompeo said.
"Salaries got pushed up, because the only way to entice people was to offer them a higher salary than they were getting where they were. But when companies hit a limit on what they can spend, then they turn to perks and benefits."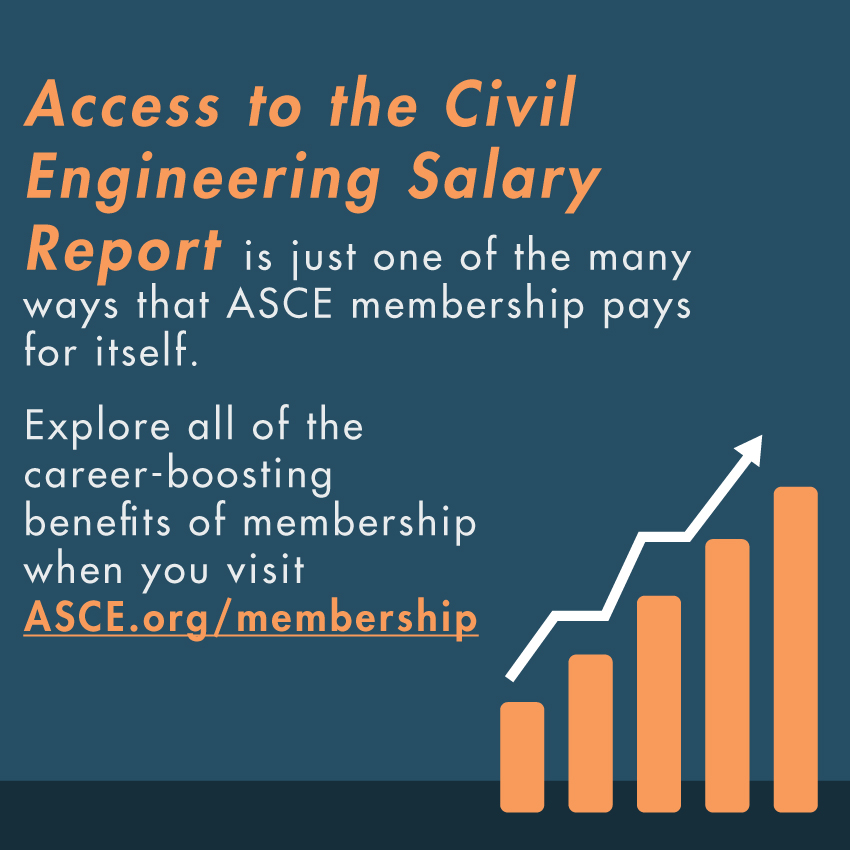 While benefits are useful – for employee and employer both – civil engineering salaries reflected in ASCE's report continue to trend up.
The median pre-tax annual salary (from all sources) in 2021 among survey respondents was $124,296. Base salaries rose by 4.3% from 2020 to 2021. The median primary income for those civil engineers with a Professional Engineer license was $130,000.
"We see from the data that salaries for civil engineers continue to rise, even after the volatile market conditions of the recent past," Truax said. "It's a testament to the value put on what we do for society."
The ASCE Civil Engineering Salary Report is released every fall, culled from responses of Society members about their jobs and financial compensation. This year's report is derived from 3,128 member responses.
Learn more about how to access the entire 2022 ASCE Civil Engineering Salary Report, including unlimited access to searchable survey data, as well as the ASCE Salary Calculator, which allows users to assess how their salary compares with others. ASCE members get five free uses of the calculator and searchable data.