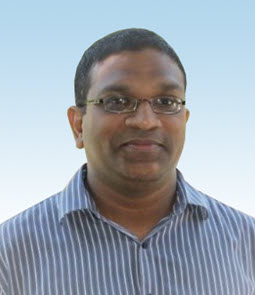 Anand Govindasamy, Ph.D., P.E., F.ASCE, senior technical principal in risk and decision analysis at WSP Golder's Systems Group, has been named a fellow by the ASCE Board of Direction.
Govindasamy has 20 years of experience in performing risk and reliability assessments, performance evaluations, predictive modeling, statistical uncertainty quantification, and geotechnical analysis and design for complex engineering systems. He has worked on projects in four continents covering the infrastructure, energy, mining, technology, industrial, and commercial sectors. At WSP Golder, he is responsible for leading risk and reliability assessments of mine tailings storage facilities, industrial facilities, transportation systems, power generation, transmission and distribution systems, hurricane and flood protection infrastructure, and carbon capture and sequestration programs.
He has contributed to many notable projects both nationally and internationally. His contributions include the development of risk management strategies for the migration control of irradiated groundwater at the Fukushima-Daiichi nuclear power plant in Japan devastated by the Magnitude-9.0 Tohoku earthquake and resulting tsunami in 2011. In 2021, Govindasamy led the risk assessment for a CCS project in Canada aimed at reducing 10 million tons of CO2 emissions over 15 years. In 2022, he led seismic hazard assessments for industrial facilities operated by a major aerospace corporation in the Pacific Northwest. He is co-developer of a probabilistic asset management protocol for the State of Louisiana to prioritize reaches within the New Orleans Hurricane Storm Damage Risk Reduction System for targeted performance monitoring and remediation. He is lead author of a Federal Highway Administration manual for risk-based asset management of metallically reinforced mechanically stabilized earth walls.
Govindasamy has also contributed to understanding the behavior of flood protection systems during natural catastrophes. In 2011, he supported the U.S. Department of Justice in a multi‐billion-dollar lawsuit on floodwall failures during Hurricane Katrina where his development of novel computational models for surge and wave-overtopped floodwalls contributed to improving the understanding of plausible floodwall failure modes. He has served on National Science Foundation (NSF) teams which investigated levee overtopping failures during Hurricane Katrina and the historic Midwest flooding in 2008. As a member of the Hurricane Katrina NSF team, he co-authored a 700‐page authoritative commentary on levee failures submitted to the United States Congress as a guide to federal policymaking following the disaster.
He has managed multimillion-dollar consulting contracts, most notably where he served as Program Manager for a four-year, state-of-the-art earthquake engineering assessment program to evaluate the seismic safety of seven coal combustion residuals (CCR) disposal facilities at five major powerplants in southeastern United States.
In 2018, he was a member of the ASCE Geo‐Institute Task Force on Risk Design Standards. He has served two four-year terms as a member of the Transportation Research Board of the National Academies Standing Committee on Hydraulics, Hydrology, and Water Quality.
He received his bachelor's degree in civil engineering from Universiti Sains Malaysia in 1999, his master's degree in geotechnical engineering from the Asian Institute of Technology, Thailand in 2001, and his doctorate in civil engineering from Texas A&M University, College Station in 2009.