Brian Brenner, P.E., F.ASCE, is a professor of the practice at Tufts University and a principal engineer with Tighe & Bond in Westwood, Massachusetts. Brenner's collections of essays, Don't Throw This Away!, Bridginess, and Too Much Information, were published by ASCE Press and are available at the ASCE Library.
In his new Civil Engineering Source series, "More Water Under the Bridge," Brenner shares some thoughts each month about life as a civil engineer, considering bridge engineering from a unique, often comical point of view.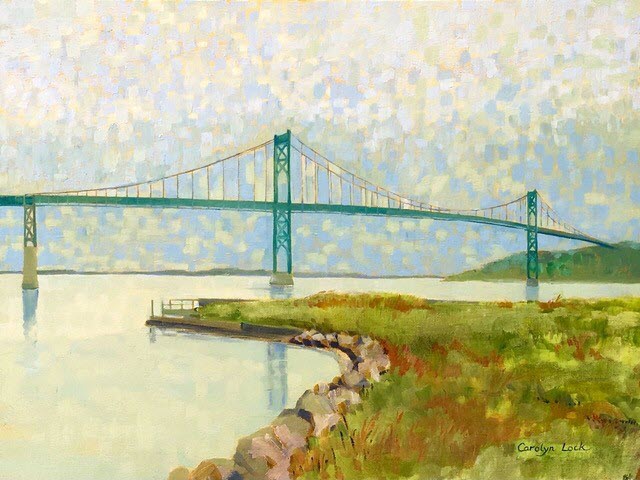 Bridges are completely practical, concrete (as opposed to abstract) creations. The process of designing and constructing a bridge is very prescribed.
But bridges also carry some symbolic and artistic heft. In that sense, the structures transcend many other more prosaic infrastructure facilities. This is why there is less symbolism to, say, a wastewater treatment facility.
It can be interesting for a bridge engineer to contemplate how an artist sees a bridge, and what she creates in her bridge vision. I was browsing at the Four Corners Gallery in Tiverton, Rhode Island, which displayed a group of beautiful bridge paintings.
The subjects were spans in Rhode Island and neighboring Massachusetts. The paintings were of bridges, but not about the nuts and bolts. Each one expressed a mood and told a story about the bridge that differed in form and function. The more I looked at the paintings, the more I understood – or at least experienced – the story that was being told.
I contacted the artist, Carolyn Lock, and had some questions about her work:
Brian Brenner: How long have you been painting? How long have you had your studio?
Carolyn Lock: I've been painting seriously in oils for about 20 years. Before that, I did watercolors; pen and ink architectural renderings; graphic design for a textbook company; and sewing, which teaches you a lot about how things are put together. My physical studio is new as of 2020.
Brenner: What has attracted you to painting bridges?
Lock: When the old Sakonnet River Bridge [in Rhode Island] was in a protracted state of dismantlement, I took photos from underneath. You could see right into the deck where it was disconnected from land, just hanging open and rusting. From that vantage, I could see the truss structure in a way that is not possible when you are driving across. I painted a series of images, some more abstract and some more literal, of the old and new bridges side by side. This created some very interesting negative space and I noticed how the landscape and water were framed by the structures. As I explore other bridge types, I continue to notice how they are integrated with their environment.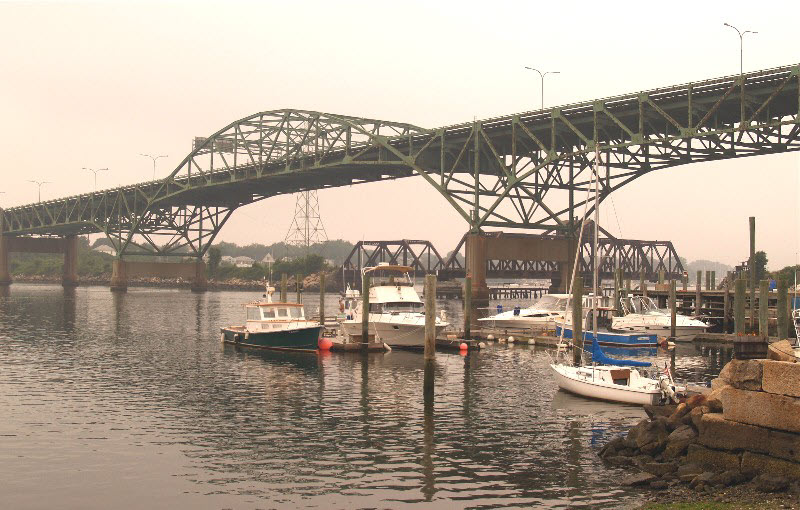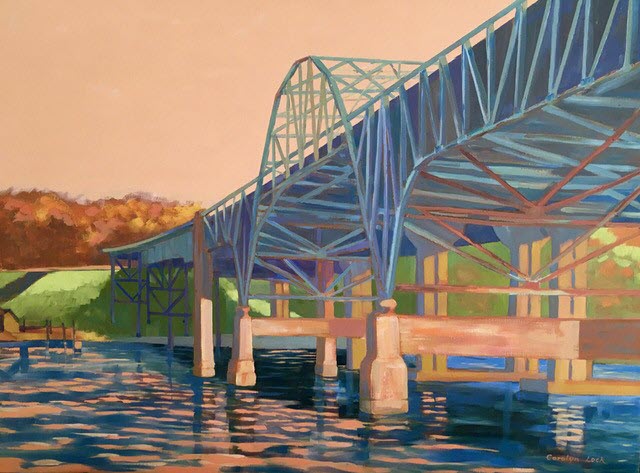 Brenner: What type of bridge structure makes for a best painting? Arch? Cable-stayed?
Lock: I don't believe there is a best bridge type for painting. It's the job of the artist to create a composition that is visually appealing and expresses the essential character of the subject. On character: some bridges seem very ethereal, like the Zakim or the San Francisco Bay Bridge (I have not painted that one); some have a utilitarian feeling, like the Braga Bridge in Fall River [Massachusetts]. The old Sakonnet River Bridge had a central arch, giving it a regal presence despite being a truss. The Mount Hope Bridge [1929] has an art deco design that places it in historical context. Those are the details I look for.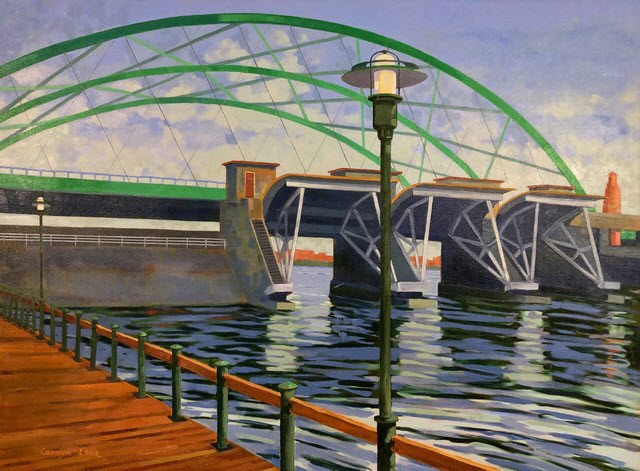 Brenner: Bridge engineers participate in a very prescribed process in designing a bridge. It starts with a "type study," which is an analysis of different bridge types, with a recommendation on which one to proceed with for more detailed design. Do bridge artists have a process for designing paintings, and if so, how does that work?
Lock: That is fascinating. My process for developing a painting is less formal, but not entirely different. I get as close to the bridge as I can on foot, take dozens of photos, and observe the surroundings and the light effects. At the computer, I crop and zoom images to find the right aspect ratio for the painting. Then a layout sketch in pencil on tracing paper, which can be scaled to size; or sometimes a chalk sketch directly onto the canvas. I do an underpainting to get the light and shade areas blocked in. The painting evolves from there.
Brenner: We bridge engineers need to submit our work for review to clients and others who provide us with comments that we have to respond to before moving on to the next phase. Is there a similar process in bridge painting? Or is it a more individual process until you get to the final submittal?
Lock: Very individual, overall. I don't usually do commissions, so there is no client for the art until it is exhibited. Also, the artwork does not promise architectural accuracy and doesn't have to meet technical specs. Thank goodness! Sometimes I do get feedback from friends or a critique from another artist, but generally, I evaluate the work as I go along and hope for the best when it is shown.
Brenner: When I look at your paintings, it seems to me that the color and composition communicate feelings and impressions that are there but are above and beyond the bridge design. For example, the blues and angles of light in Three Arches to me feels like a burst of optimism and brightness that the bridge almost encourages (notice how the light is shown to emphasize blocks and in particular the joints between blocks that support the arch in the middle). When you compose your paintings, do you envision an "emotional structure" to go along with the bridge structure that guides how you see the scene and compose it?
Lock: Wonderful question. This is where intuition and the right brain come in, I think. The emotional content isn't exactly planned, but it does find its way into the painting. So in the painting Detour, the colors are muted and the sky is an overcast yellow. The torn-up bridge is forlorn-looking, even though the shapes are strong. In Standing Guard, the Providence Harbor hurricane doors rise up like protecting hands. I finished it around July 4. It felt like a metaphor that needs no explanation.
Brenner: Your artist statement notes: "Bridges: Their variety, size, and geometry is boundless and full of energy. Truss, Beam, Suspension, Span, Counterweight, Turnstile, Vertical Lift: a bridge can be a link between people, a conduit for ideas and commerce, the beginning of a journey, a landmark, a symbol of power, or a humble way to cross a creek." In what way might a bridge be a conduit for ideas?
Lock: In making that statement, I was thinking of the two big cities nearby: Boston and Providence. Each is crisscrossed with bridges over many rivers and highways, and each is home to great universities and colleges that train people in every field of life and send them out into the world. Commerce could be intellectual property or tangible goods.
Lock's work can be found online at http://www.turtlepondstudio.com/home.