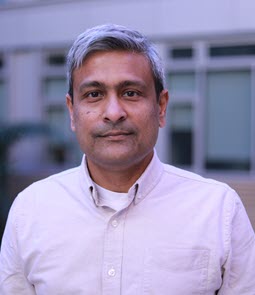 Sriram Narasimhan, Ph.D., P.Eng, F.ASCE, a professor of civil and environmental engineering as well as mechanical and aerospace engineering, has been named a fellow by the ASCE Board of Direction.
Narasimhan's most significant research achievements are in developing technological solutions to assess and mitigate risk in vulnerable critical infrastructure, such as bridges, nuclear facilities, and water mains, against natural and anthropogenic hazards.
Some examples of his work include, but are not limited to, long-term autonomous monitoring for leaks in buried water mains, defect detection and quantification for inaccessible portions of our transportation infrastructure, and digitization of hazardous areas in nuclear power generation and waste storage facilities. These tasks have been enabled through novel autonomous sensing systems, robotic mapping platforms, and probabilistic decision support tools Narasimhan has developed with his team.
His research program has been supported through public and private sector partners in the energy, transportation, and utilities sectors.
Narasimhan has also served for more than a decade in editorial and committee activities, including his current role as editor-in-chief of the ASCE Journal of Bridge Engineering. He is the Canada Research Chair in Smart Infrastructure.
A member of ASCE's Structural Engineering Institute, Narasimhan earned his doctoral degree at Rice University, in Houston.