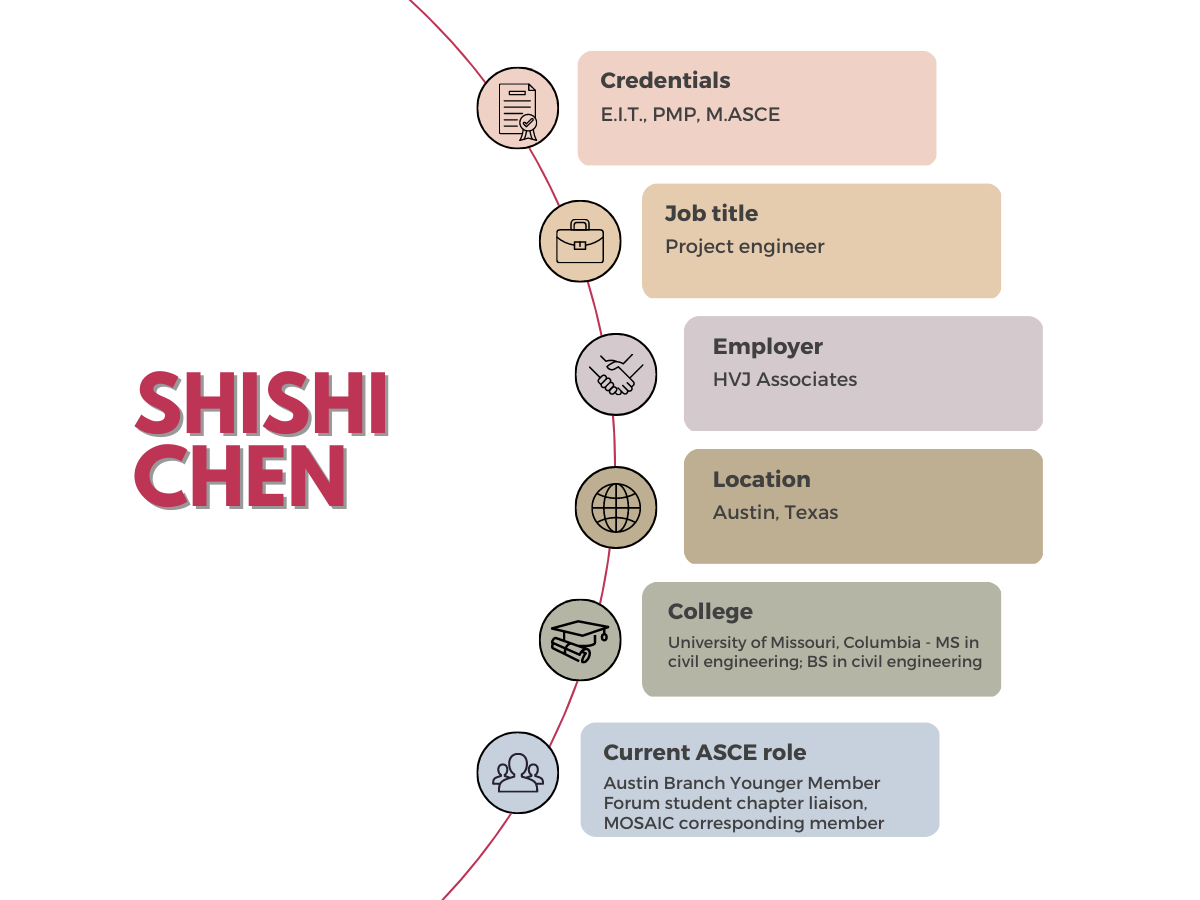 Shishi Chen was in the sixth grade in 2008 when the Sichuan earthquake struck China. Chen was safe, hundreds of miles away with her family at the time, but it left an impression.
"Everyone was so shocked, and even my school was closed," Chen said. "We did everything to advocate for those students. I donated my clothes, allowance, anything to help them."
The tragedy set Chen's life course in motion – first to study civil engineering in the United States at the University of Missouri, then as a materials engineer working on transportation projects in Kansas City, and now as a project engineer for HVJ Associates in Austin, Texas.
She's been an active volunteer for several organizations throughout the first decade of her career, including outreach and student liaison work for ASCE and as a corresponding member this year of the Society's MOSAIC (Members of Society Advancing an Inclusive Culture) Committee.
ASCE has honored Chen as a 2023 New Face of Civil Engineering. She recently spoke with Civil Engineering Source about her career.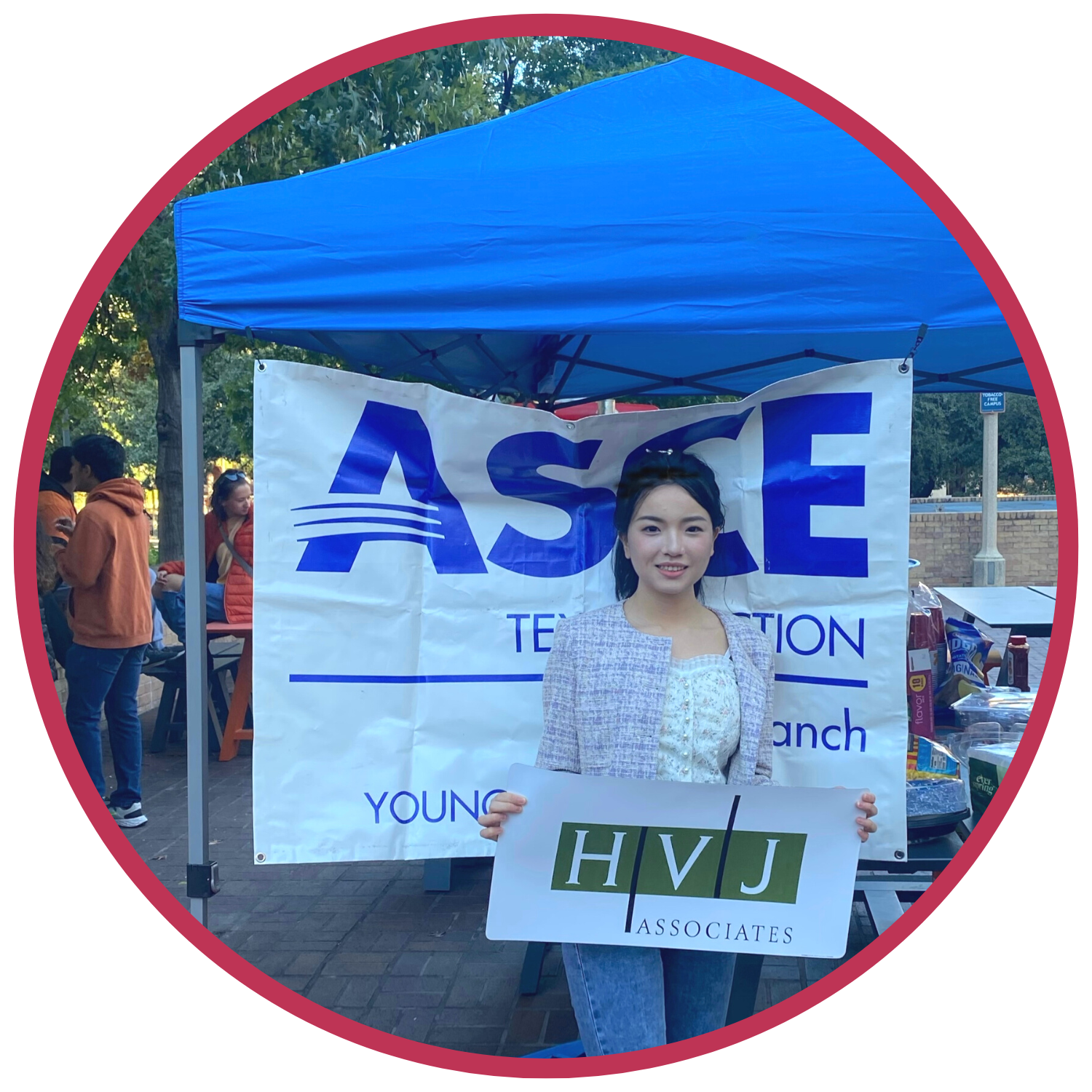 Civil Engineering Source: What accomplishment or aspect are you most proud of so far?
Chen: I knew I wanted to be a civil engineer when I was a kid in school. In 2008, there was an earthquake in China, and more than 100,000 people died. My parents told me those students could not go to school anymore because they lost their lives and many buildings crashed. So, I was sad, and my parents told me that as a civil engineer, I could make more durable schools and buildings to help people when an earthquake happens. That's how growing up, I was inspired.
As a first-generation college student, I appreciated the opportunity to go to college and have the chance to excel as a member of the Chi Epsilon honor society. Right before graduation, I passed my F.E. exam, graduated with honors, and got E.I.T. certified. I began my career as a project engineer working on transportation projects.
I am proud to see myself developing as a civil engineer and building my engineering knowledge by learning many fundamental things. I passed my P.E. exam in April 2021 and got my PMP certification in April 2022. I feel accomplished as I develop my career and finally become a civil engineer as I wanted to be as a child.
Source: As you look at your career what do you hope to contribute to the civil engineering profession?
Chen: I know now with the IIJA [Infrastructure Investment and Jobs Act], we have more projects in the civil engineering industry, and the talent shortage in the industry is an issue for all companies and even the government. I want to continue what I'm doing now as a volunteer for ASCE, WTS International, Engineers Without Borders, and the Society of Women Engineers.
I will focus more on school outreach efforts to reach local school and college students. And I hope to share what I've gone through as a female engineer to encourage and inspire other K-12 students.
In the long term, I believe the school outreach effort can fundamentally help to solve the talent challenge issue in the civil engineering industry.
Source: Can you talk about some of the work you've done with mentoring and students and why that's been so important to you?
Chen: I was originally from China and came to the US for school. I didn't speak the language very well, as I am still learning now. But I was eager to learn new things and enjoyed learning different things from people with diverse backgrounds. I feel so much gratitude to the people who have helped me along the way, especially Bill Buttlar (professor at University of Missouri), Jeff Tan (practice leader at KCI Technologies), and Rezwan Jahangir (department manager at HVJ).
As I develop my career, I want to pass this kindness to others because I know someone else still needs help as I did in college or in their early careers. I know what they might struggle with, and I want to help them and pay back to the community.
I successfully helped one international student to find an internship.
I met a college student at ASCE YMG events in 2021. He is struggling to find an internship and looking for help. As an international student, I can easily relate to his stress and would like to help. We set up a monthly coffee chat, discussed his job interest, built his resume, and shared my interview experience. We also focus on what he can bring to the company. That's kind of a change from a student mindset. We did a mock interview. And at the end, we were able to find an internship that he liked.