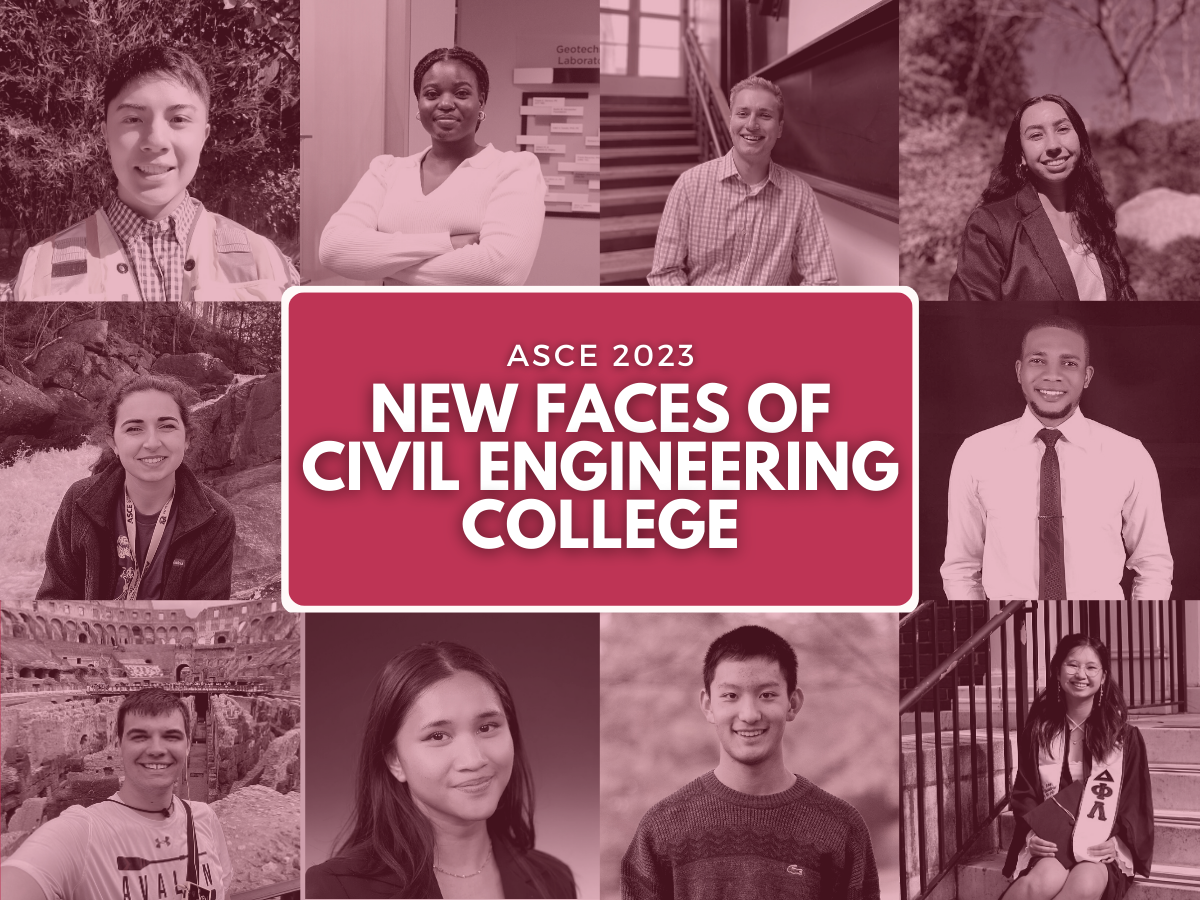 Are you ready for the infrastructure of the 22nd century?
Today's civil engineering students are preparing for just that, destined to design infrastructure that will support the world of 2100 and beyond. The future is on the verge of being created. And it will be by ASCE's New Faces of Civil Engineering–College for 2023. Meet these 10 inspiring young people.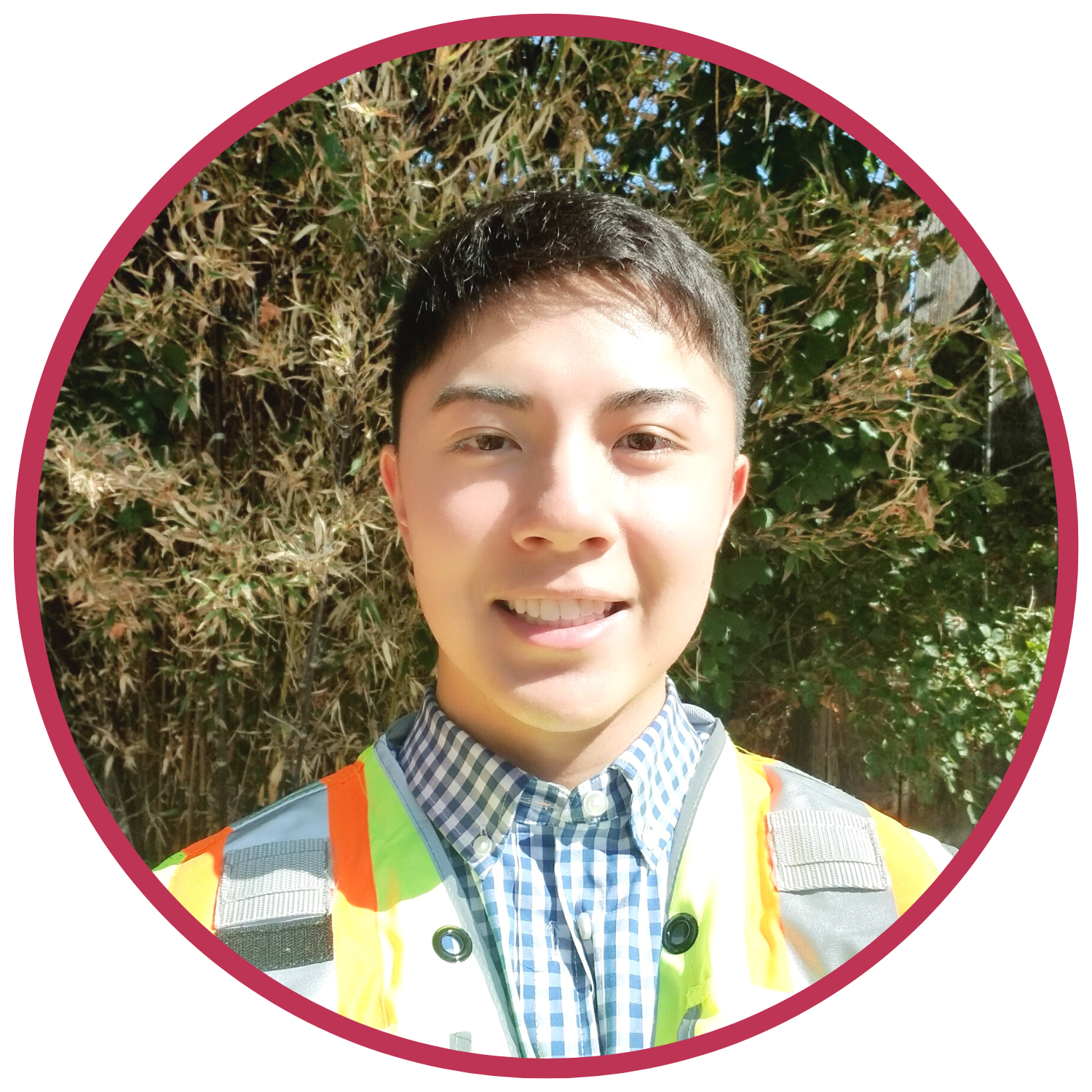 Bryan Docto
California State University, Sacramento
Earning an engineering merit badge as a Boy Scout set Cal State University, Sacramento senior Bryan Docto on his path toward becoming a civil engineer. To him, "it was fun! I was constructing a lot of things, but two things stood out: constructing a toy car for the annual Pinewood Derby and a toy boat for the annual Raingutter Regatta. That was the first time I was finally able to use tools, do calculations and design, and see a project come to life," Docto said.
"As a young kid, I was blown away at how I could apply my creativity, design, ideas, and turn them into reality. I just forgot about the time. I forgot about having to take breaks, I forgot about having to eat, and the time just disappeared. My parents actually had to come find me in the garage and tell me that it was time to eat because I was so immersed and so passionate about it. It is and still is what I love to do!"
At Cal State – Sacramento, Docto is co-president of the ASCE student chapter, where he's credited with reviving and restructuring the chapter after its decline as a result of the pandemic. As a fellow chapter member said of Docto, "where most people quit, he keeps going that extra mile."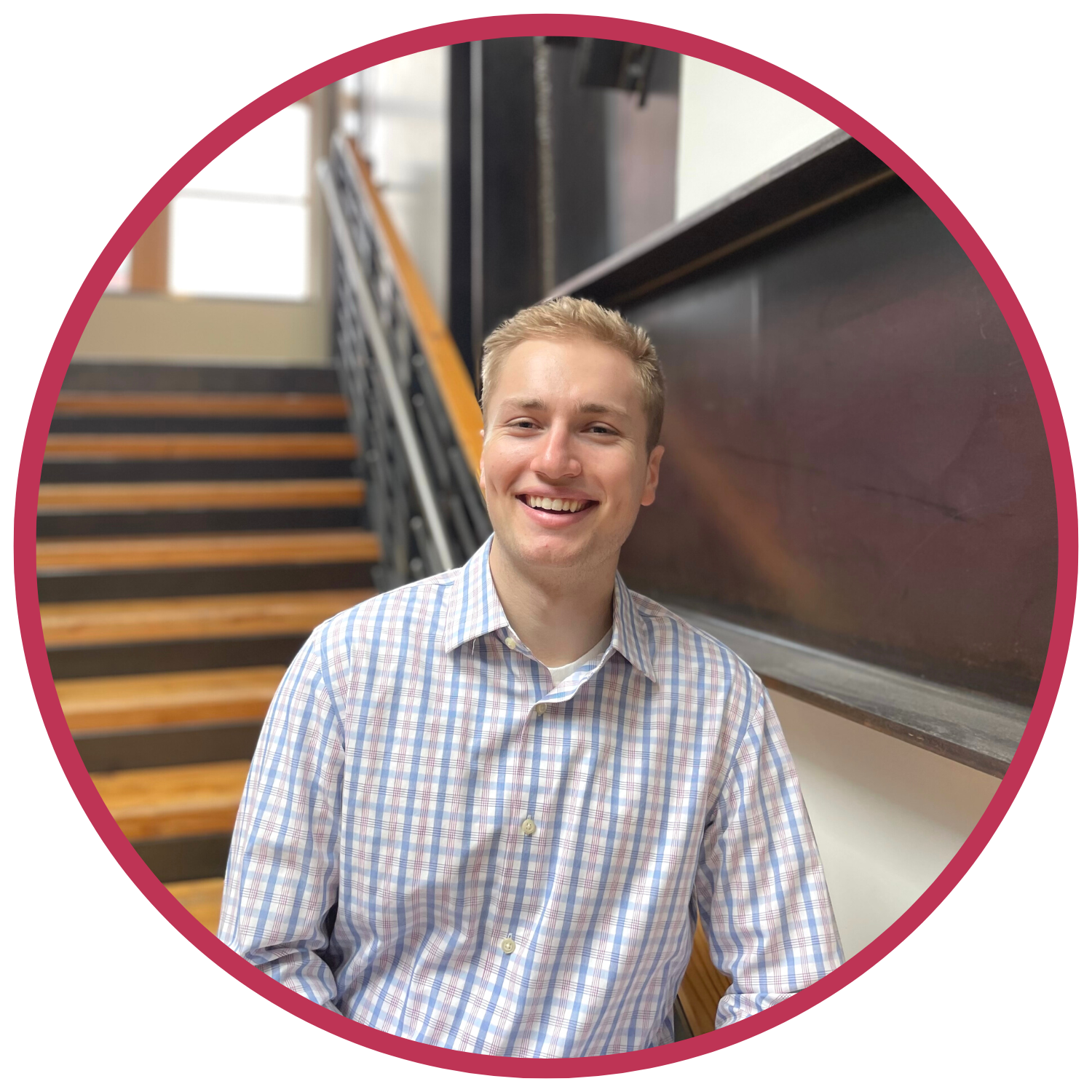 Brendan Gilbreth
Oregon State University
When looking ahead to a civil engineering career, Oregon State University senior Brendan Gilbreth is eager to apply what he's learning to help the profession tackle climate change. Civil engineering needs to be "striving for a more sustainable future," Gilbreth said. "Infrastructure and construction lead to large releases of carbon. We can change some practices of civil engineering to significantly reduce our impact on the environment. Leading this change forward is something that I am excited to get involved in."
To that end, Gilbreth enjoyed an internship last summer with the Washington Department of Natural Resources. "I was responsible for surveying, designing, and planning a large fish passage. Also, I did construction inspection on a large contract where I was responsible for ensuring the contractors were following the specifications that were in the plan set. This internship taught me the importance of sustainability in construction. My plan for the future is to work for an organization whose goal is to ensure the sustainability of civil engineering."
Gilbreth is treasurer and a past community service chair of the ASCE student chapter at Oregon State and has loved having a lead role on his concrete canoe team.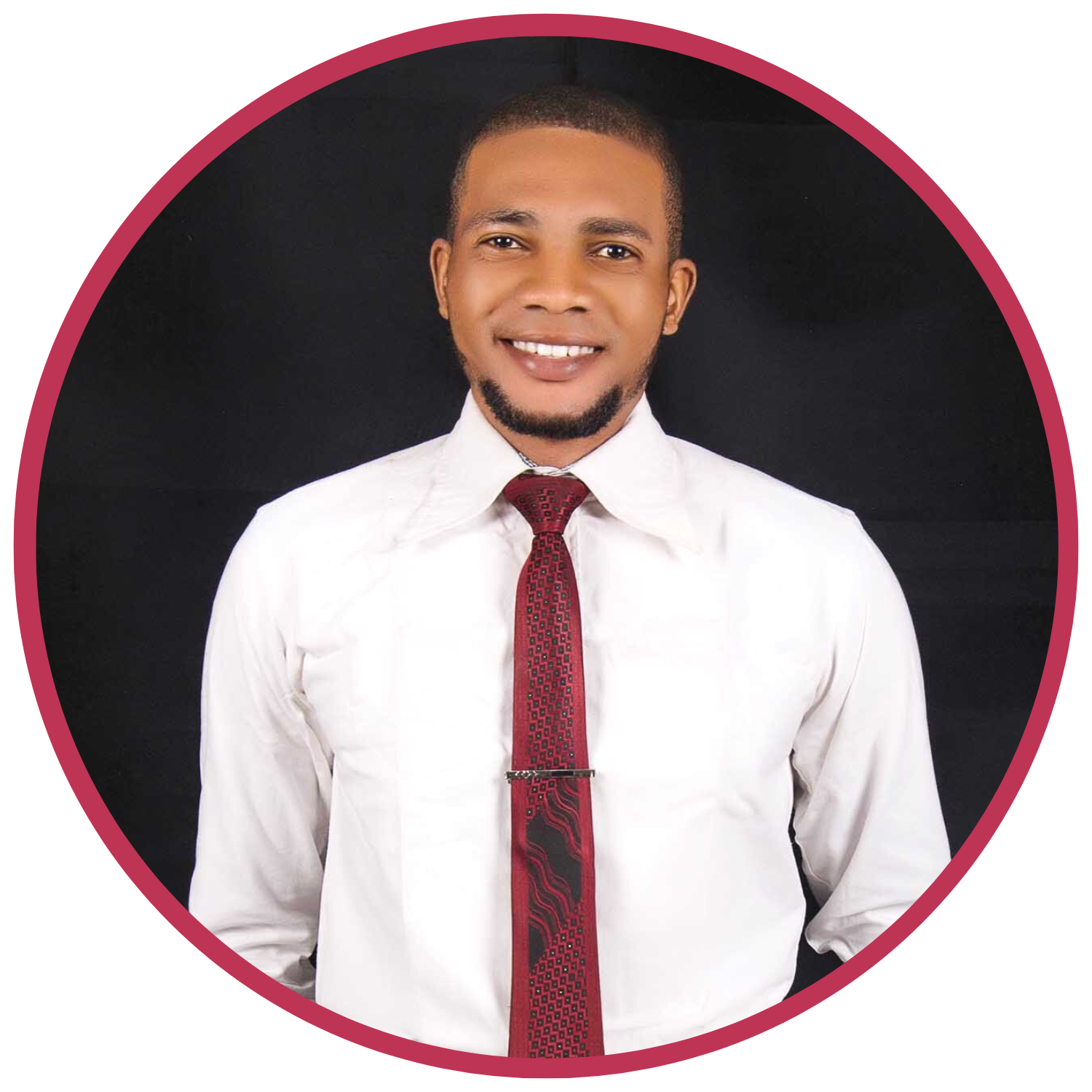 Livingstone Imonitie
University of Maryland
A family tragedy motivated University of Maryland graduate student Livingstone Imonitie to pursue a career as a traffic design engineer, and a quest to make traveling safer for everyone. "My mum was involved in a fatal accident. I was a witness and that incident [has] traumatized me to this day," he said. "That fatality could have been avoided if the roadway had enough streetlights at night and had a speed limit posted on the highway."
"I may not be able to save everyone on the road, but I want to design and recommend solutions that will help reduce the frequency of fatalities on the roadway and help as many people as possible," Imonitie said. "I am working on a project to help understand the contributory factors to the severity of pedestrian-related crashes on the road. This project is focused on the Zero Death Maryland vision to build a community where we can have a safer roadway for the most vulnerable road users."
He's honed his presentation skills as a member of ASCE's University of Maryland student chapter and is eager to apply them as a professional when delivering project status updates to clients and stakeholders. Coming to the United States from Nigeria, Imonitie sees civil engineering as a higher calling. "I strongly believe that service to humanity is the best work of life."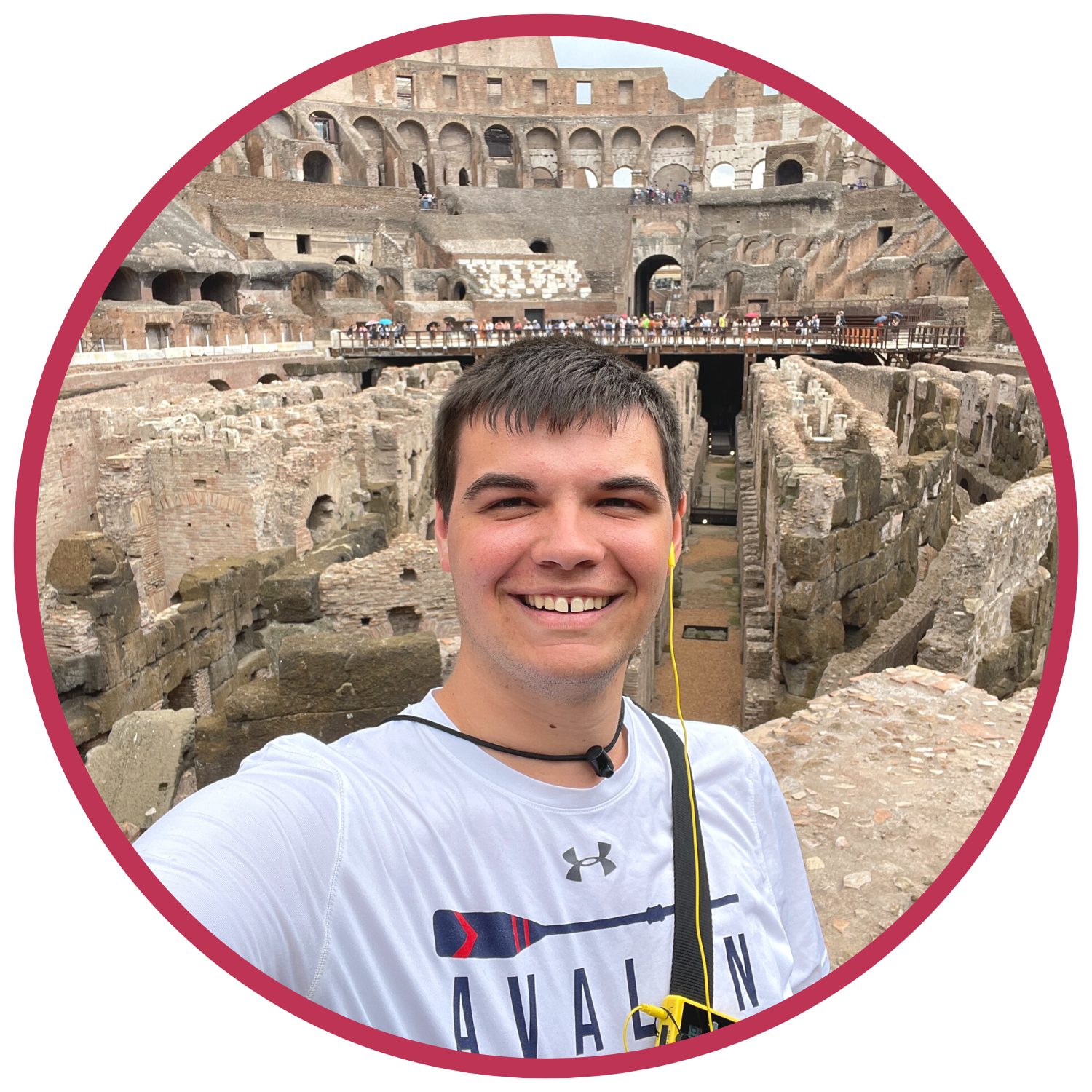 Andrew Kline
Villanova University
Upon arriving at Villanova, current junior Andrew Kline hit the ground running, knowing civil engineering was what he was going to pursue after his parents suggested it to him, having seen him enjoy building with Legos. As a freshman during the height of the pandemic, he joined the ASCE student chapter almost immediately and quickly landed on its executive board. Since then he's risen through the ranks and in January began serving as chapter president.
"ASCE has helped me to grow as an individual and has provided me with countless opportunities as I have begun to get involved in the wider society. Lately, I have been an active member of the Student Ambassador program, and I recently joined the Student Presidential Group," which provides a student perspective to ASCE's Board of Direction, he said.
Kline hopes to join a public agency to apply his talents to serve society. "I was fortunate enough to intern with the Pennsylvania Department of Transportation in the Engineering District 5-0 bridge unit. I found that I enjoy working in the public sector and the impact that public sector work has on every individual's life on a daily basis."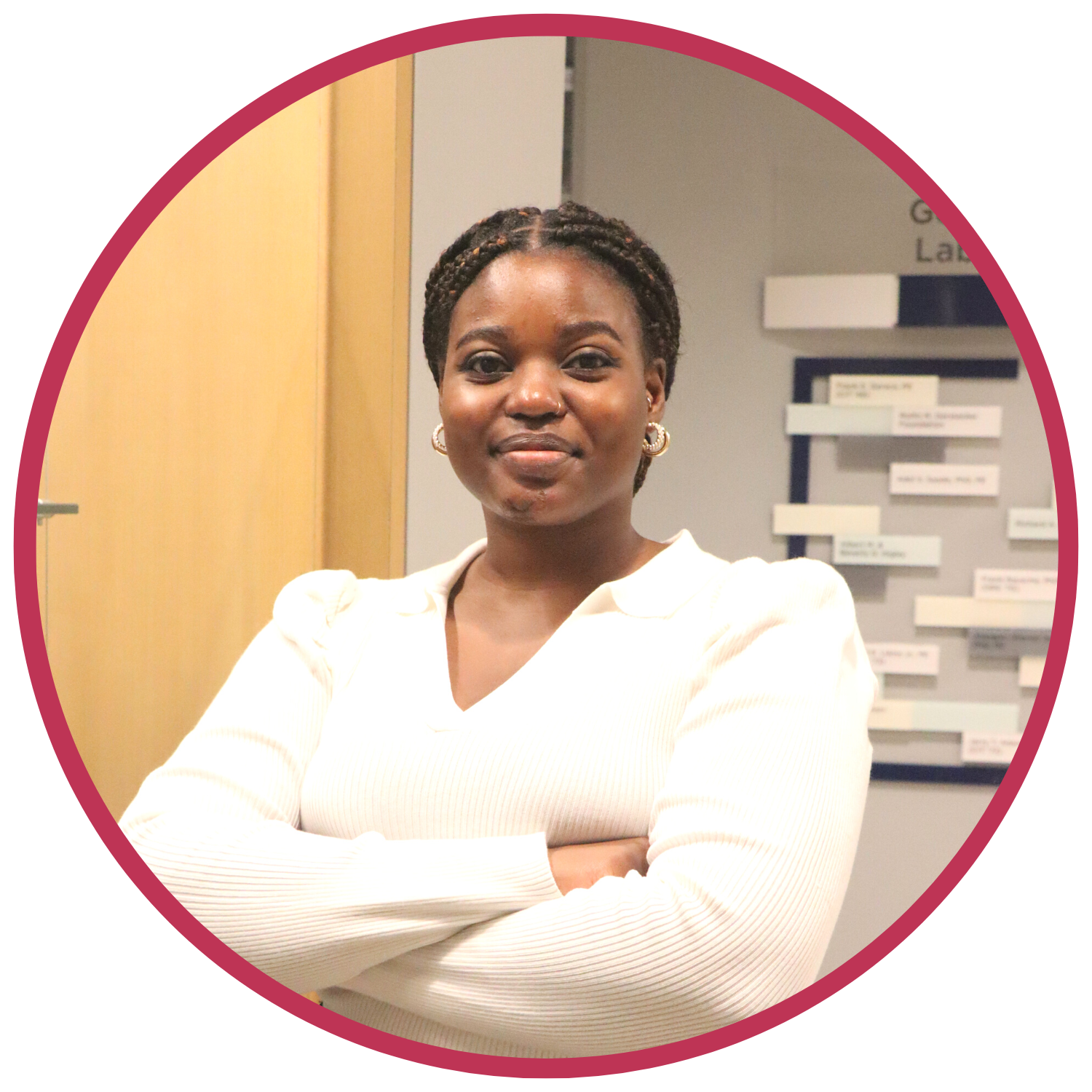 Courage Kusena

Case Western Reserve University
Many budding civil engineers go into the profession wanting to make the world a better place. Courage Kusena, a junior from Zimbabwe at Case Western in Cleveland, wants specifically to be a force for uplifting the lives of Africans. She sees a continent poised for explosive growth in the decades ahead and is driven to apply her talents to provide competent engineering solutions.
"Recently, many devastating buildings collapsed in the three current megacities in Africa, which reflects where we are with our infrastructure development. Part of the issue that is causing the deadly building collapses all over Africa is the construction of buildings that visually resemble those in developed countries. However, we do not have the capacity in terms of skilled labor, materials, or design capacity to be able to create structurally sound buildings," Kusena said. "Africa needs revitalized brilliant solutions that address the problems unique to the African continent. My overarching goal as an engineer is to challenge the current status quo and to continuously question how we can redirect Africa's resources back into the development of African communities."
Kusena's peers in her Case Western ASCE student chapter appreciate her talents as a communicator, having recently chosen her to be their public relations officer. "Being an international student presents a new set of challenges that ASCE here has taken so well and kept in their considerations. I cannot explain how much the confidence my peers and advisor have in me makes me feel."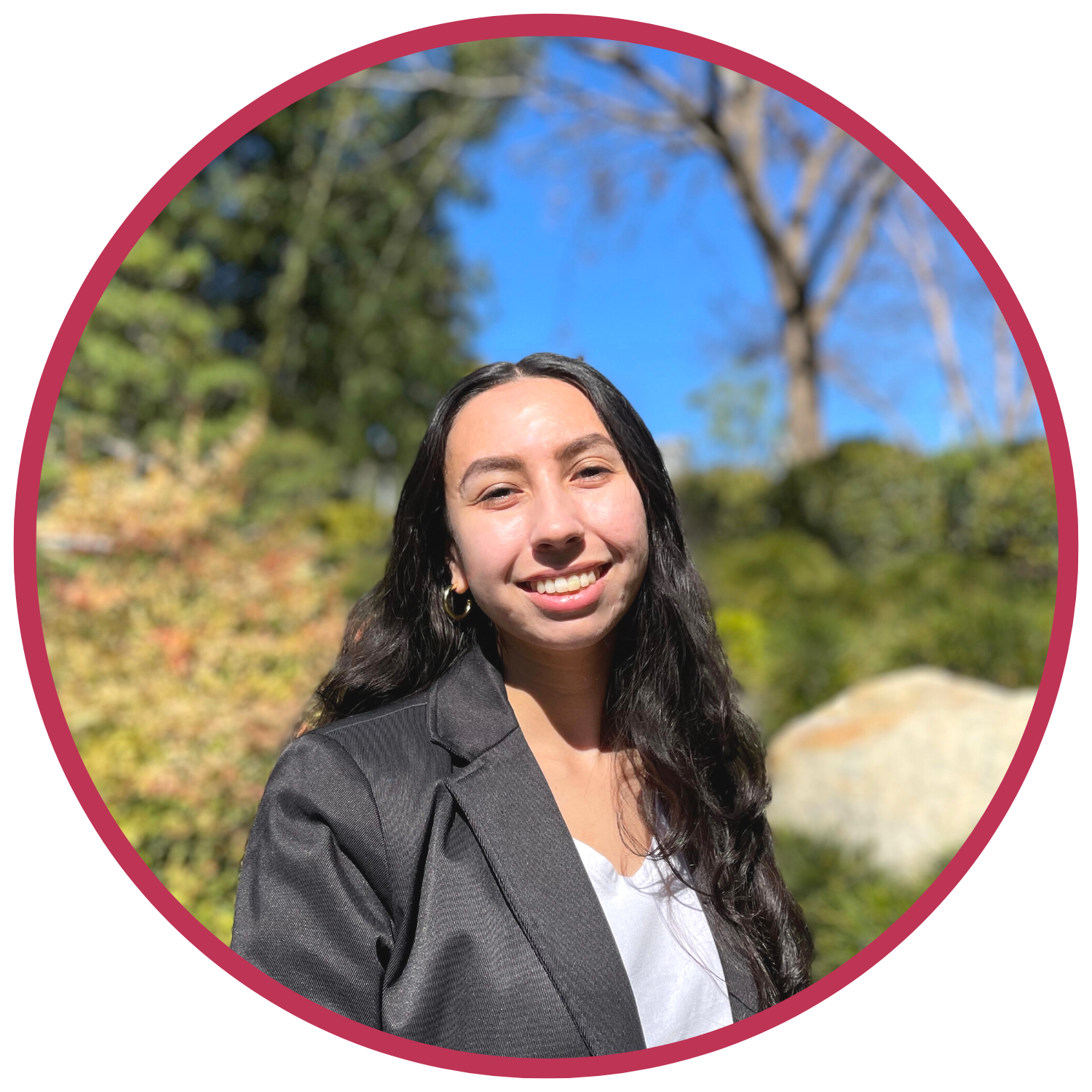 Anndrea Mendoza

California State Polytechnic University, Pomona
From an early age, Cal State Poly, Pomona senior Anndrea Mendoza has found being helpful to others enormously satisfying. "Growing up, I loved when a friend asked me to assist them with their homework, or when my parents took me to volunteer events with them," she said. It's made her a natural leader, and someone seeking to channel that helpful spirit into service as a civil engineer.
It should come as no surprise, then, that she is now president of her ASCE student chapter. She joined the chapter at the start of the pandemic, and with that desire to help, quickly rose to become its outreach and community service chair. During the lockdown, she and her co-chair devised ways to help chapter members give back to the community even from their dorm rooms. Among them was "a trivia game app where each time you got an answer right, food would be donated to help those in need. We organized a video series that instructed engineering activities for kids. We shared these videos on our YouTube channel and distributed kits containing the necessary materials to complete the activity." Her drive to help has extended to organizing the annual campus career fair for civil engineering students.
Mendoza is steering toward a specialty in water resources and hydraulics with a focus on sustainability. With California communities battling drought, for Mendoza, it's a natural way of being helpful.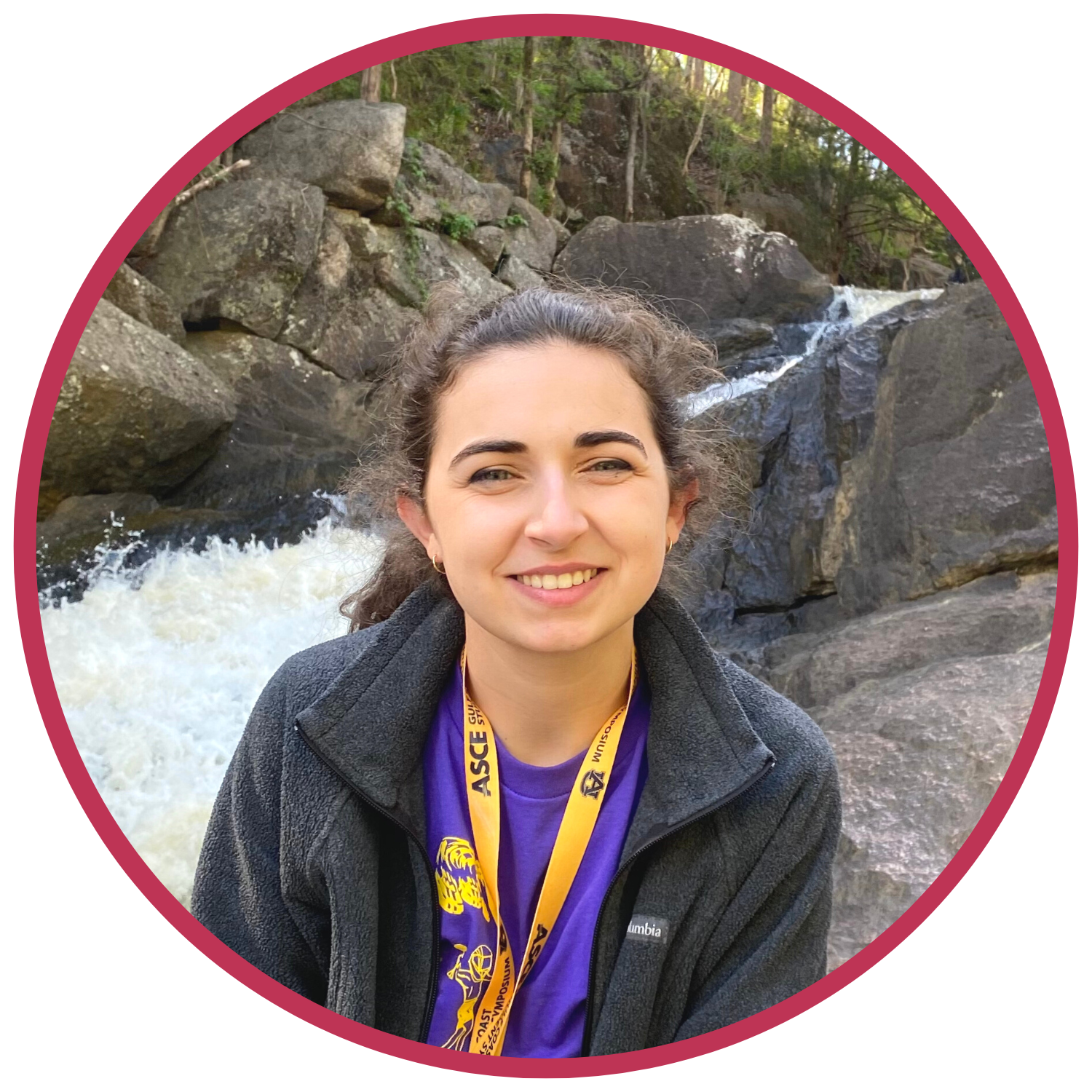 Madalyn Mouton

Louisiana State University
A deep-seated commitment to community and firsthand experience of Louisiana's growing flooding and coastal erosion challenges is driving Louisiana State University senior Madalyn Mouton to seek solutions as an environmental engineer. She remembers her inspiration vividly. It all started one morning while riding her bus to school.
"With each stop, the rain got harder and harder and harder. We made it out of the neighborhood and were on our way to school when the bus driver gets the call to send us home. By then the roads became rivers as the bus driver tried to get us back. I stepped out into water just below my knee," Mouton recalls. "My friend sent me a video of our nearby river, the Vermillion River, engulfing his neighbor's house completely. I had never seen it rain so hard for so long. It was scary. When it finally stopped, our neighborhood looked like how people out of state think Cajun people in Louisiana live: a swamp. It was worse than a hurricane because it was without warning.
"I saw and felt the pain these kinds of storms cause and wanted to do something about it. … We don't have a choice but to learn how to deal with the water if we want to keep our communities and way of life. I can't sit here and do nothing when I know I have the ability to try to help make a change."
Mouton also has a passion for her ASCE-related activities, having risen to president of the LSU student chapter and as concrete canoe team captain for two years. "For better or worse I have learned that I can will anything into existence that I put my time and effort into (I'm looking at you, concrete canoe). Classes alone do not give this same freedom to think, mess up, and learn from mistakes that these competitions give," she said.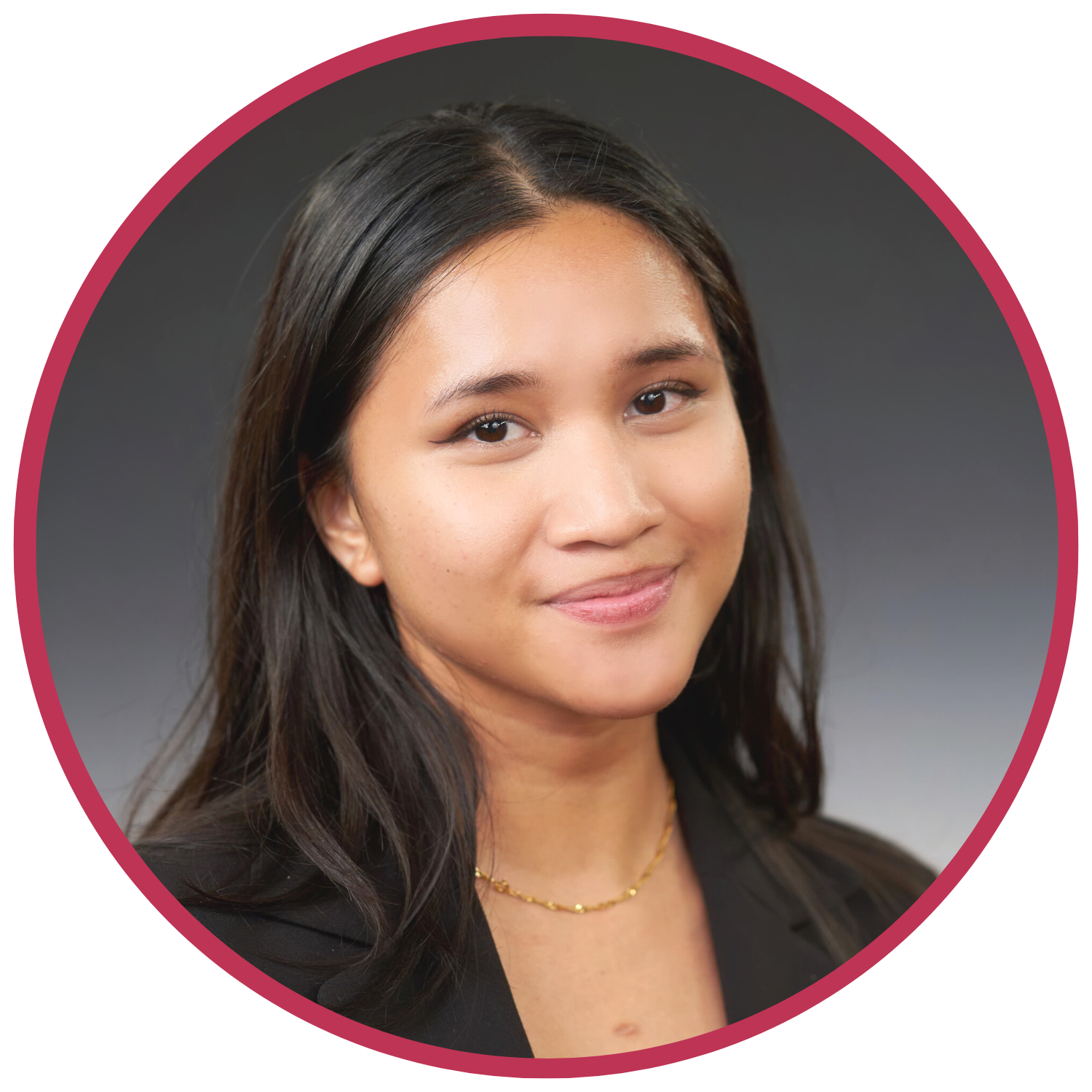 Keisha Rorimpandey

Syracuse University


The 17,000-island nation of Indonesia, with the world's fourth largest population, has just begun an unprecedented undertaking, one that Syracuse senior Keisha Rorimpandey can't wait to help with when she returns to her homeland. Its capital city is moving to Borneo from Jakarta. "I want to be a game-changer for my nation. I want to build the impossible," she said.
For a civil engineer, creating a new city is like starting with a clean sheet of paper. "It is not every day that someone gets such a golden opportunity to build a new capital city, and as an engineer in the making, I am so excited to see the opportunities available for me when I get back home," Rorimpandey said. Eager to apply sustainable innovations to the new city, she plans to work on water resources, landfill management, and more. "I want to build something that lasts."
Upon transferring to Syracuse University in her junior year, Rorimpandey quickly made friends with fellow civil and environmental engineering majors who had been part of the ASCE student chapter. Having learned the chapter had been on hiatus for a couple of years, she stepped in as vice president and helped to restore its official status. "I have cultivated a community by ensuring our organization has daily meetings. We now have around 50 participants at every meeting. … I strive to make ASCE SU an uplifting tight-knit community where civil and environmental students can seek support."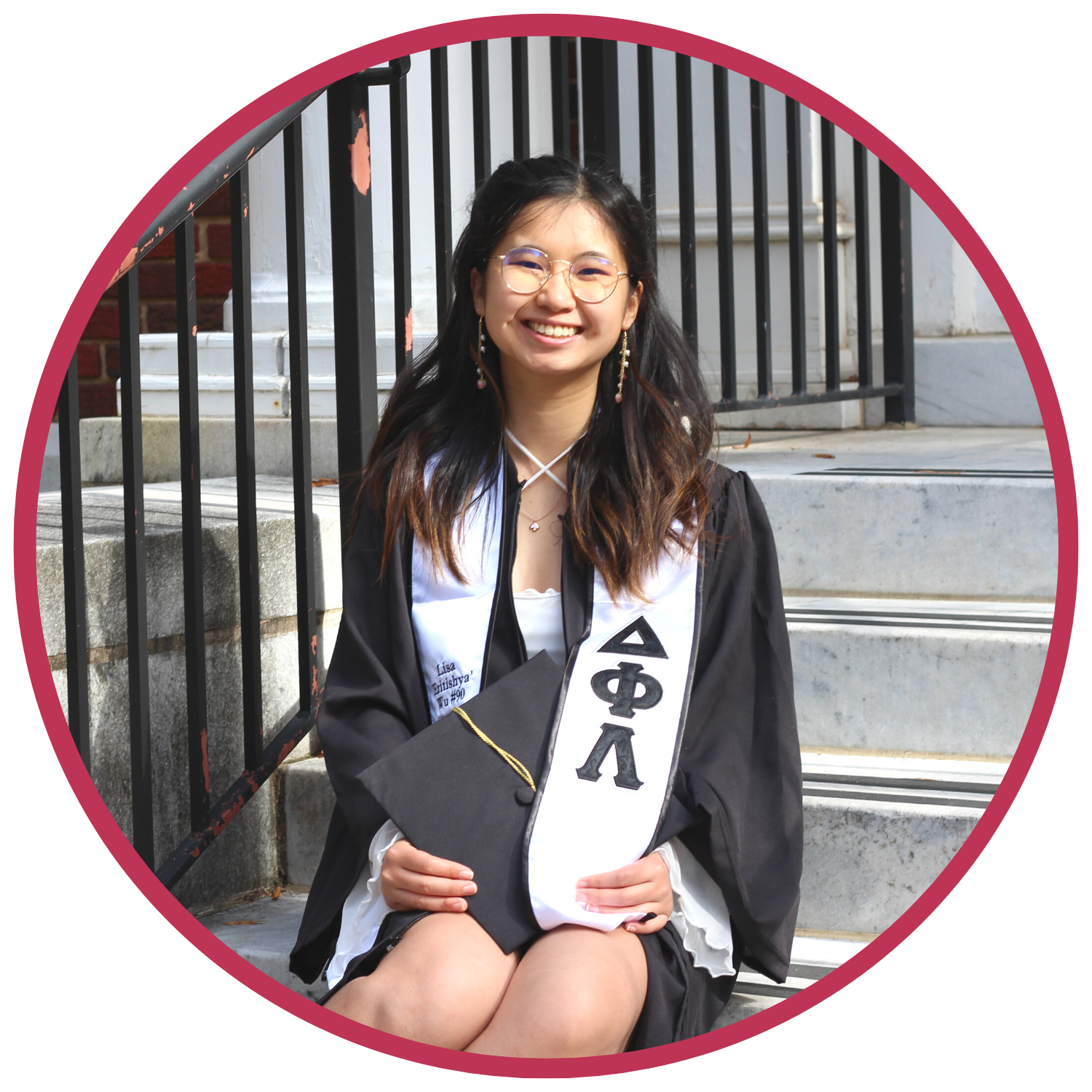 Lisa Wu

Georgia Institute of Technology
An internship with a construction engineering firm in Washington, D.C., cemented Lisa Wu's passion for working with concrete. "It has made me love construction engineering more than ever," said the Georgia Tech senior, leading her to pursue an advanced degree. "I am now mastering in geotechnical engineering in hopes of learning more about concrete and soil for the next 1 1/2 years while working part time with a new general contractor."
She also attributes much of her growth as a budding civil engineer to the camaraderie she's enjoyed serving as vice president and as social and philanthropy chair of Georgia Tech's ASCE student chapter. "As an officer, it is more than just working together as co-workers, we live, laugh, and love in fun times and tough times," Wu said. She has enjoyed a jump on her career as a student member of the Georgia Section's Younger Member Group. "I had a great time networking and communicating with industry professionals who have given me valuable tips in life."
Wu looks forward to working among a new wave of civil engineers striving to make structures more sustainable. "Learning about infrastructure failures and how they can be improved is exciting because it is like working on puzzles, but now working with real building materials. It is amazing to see how buildings change over time, and for every decade that has passed, a new innovation and sustainable development begins," she said. "My dream is to create safe and sustainable infrastructure that will have an everlasting value for the people."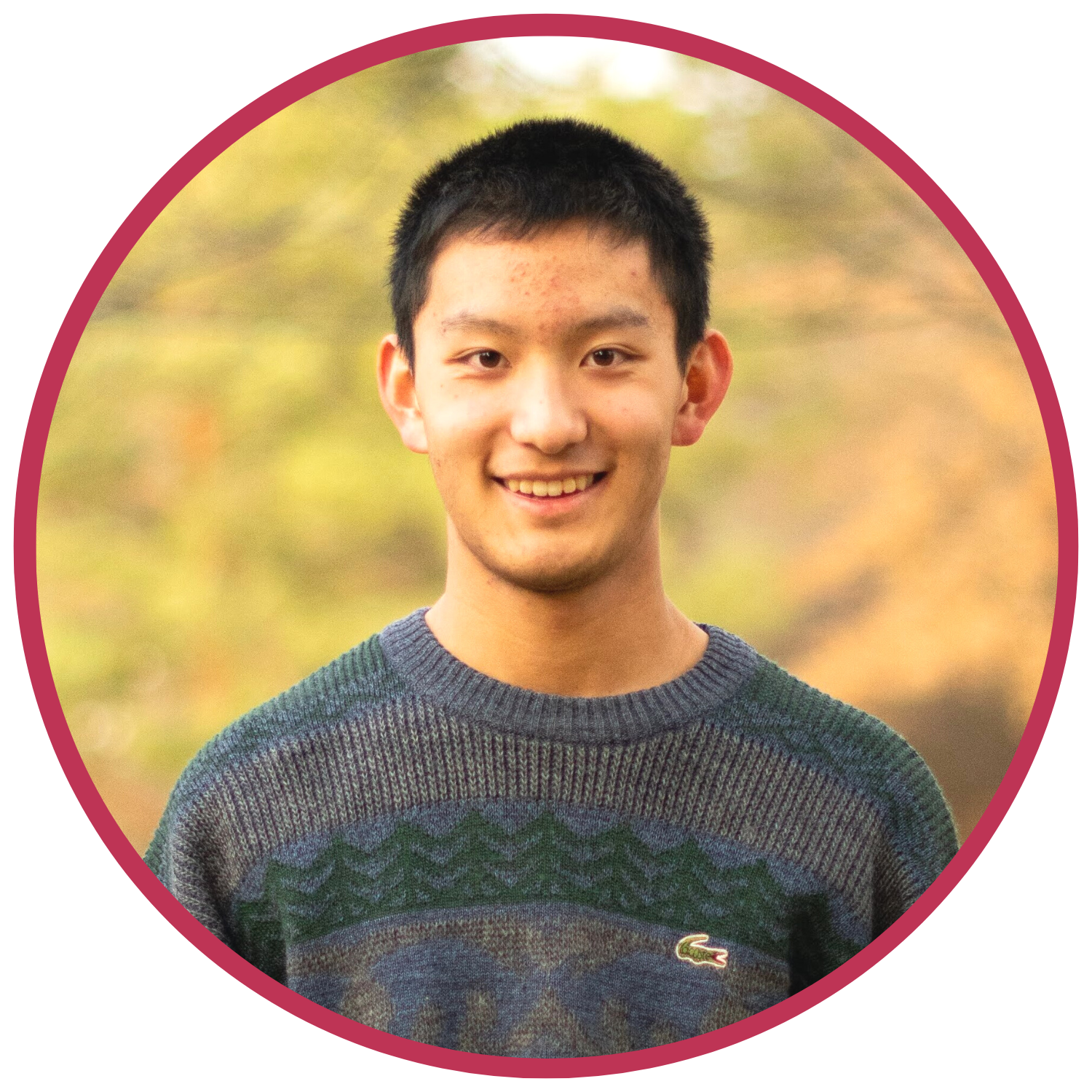 Peter Yu

University of Washington
Meet a rapidly rising STAR of transportation engineering – Peter Yu, a University of Washington junior who works in the university's Smart Transportation Applications and Research Laboratory. As a contributor to pioneering developments in intelligent traffic operations and safety, he's focused on improving highway interchanges.
"Interchanges form the backbone of the entire highway network and force various users to compete for the same space, which makes this work challenging," Yu said. "Nonetheless, simulation test results indicate they show great promise in increasing safety and mobility for people walking, biking, and driving in comparison to state-of-the-art junction designs and control strategies." Yu developed two new interchange designs and novel traffic signal control schemes for them.
With award-winning research that rivals that produced by graduate students, Yu already has presented findings at several professional conferences including last year's ASCE International Conference on Transportation and Development in Seattle and has had several journal papers published. He's looking ahead to earning a doctorate and working either as a professor or a practitioner.
Yu also pulls double duty as president of both the University of Washington's ASCE student chapter and the Institute of Transportation Engineers student chapter. "I am able to make a positive impact in the experiences of other civil engineering students, especially younger chapter members," he said.