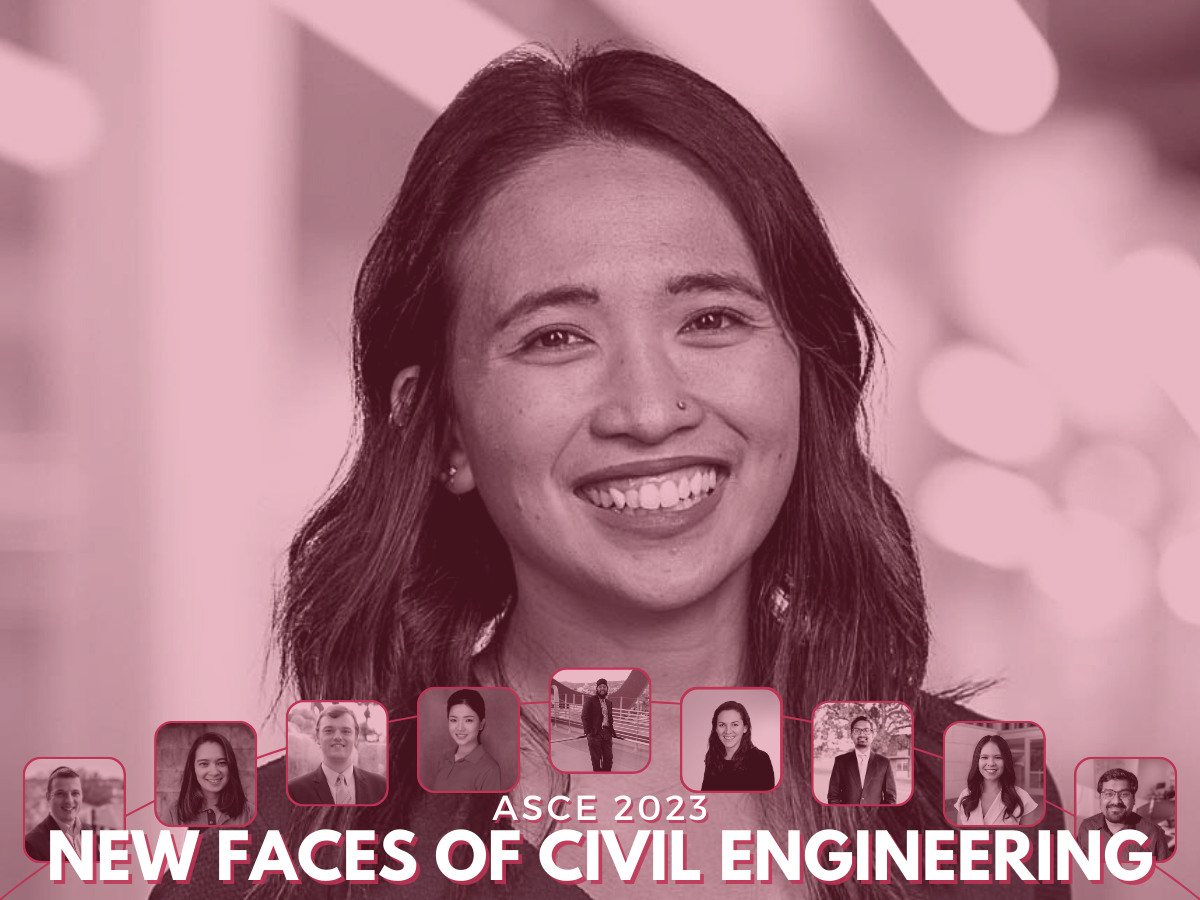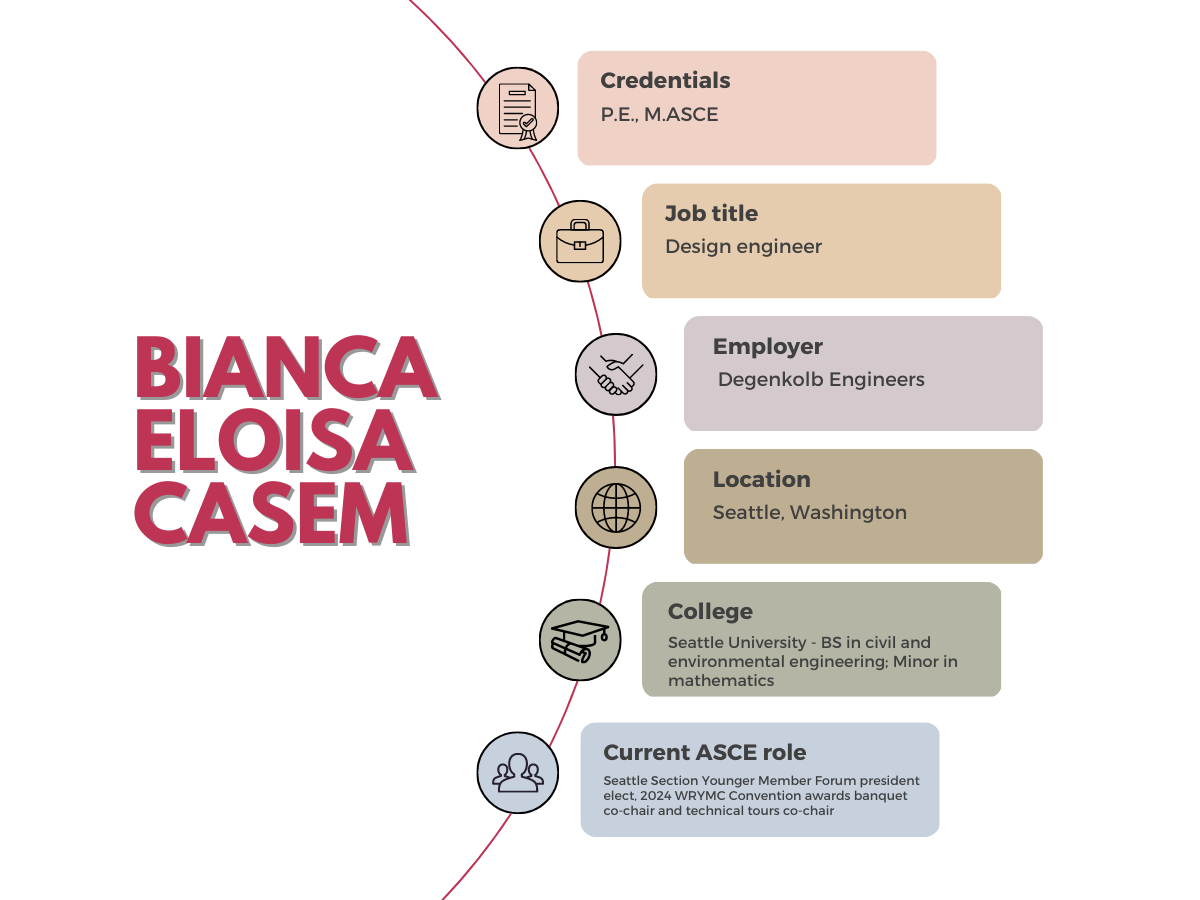 Talk about degree of difficulty.
Testing for your P.E. license can be one of the most stressful experiences in a young engineer's career under normal circumstances. Bianca Casem's experience was anything but normal.
Hospitalized and ultimately diagnosed with a chronic illness in the leadup to the exam, Casem decided to still take the test as scheduled. And, remarkably, she passed.
"It just happened to be the timing when I would normally be taking my P.E. exam, so I went on this journey of 'I'm just going to do it and it's just going to work out fine,'" Casem said. "After months of studying, it was really rough. I was even hospitalized multiple times the week before the exam, and I was admitted after the exam for over a week.
"I still remember when I got the results and I passed, it was probably the only time I can say I cried because of how happy I was."
It's a story of resilience in keeping with Casem's entire life and career. She was born in the Philippines and spent the first 10 years of her life there before moving to Seattle with her family. She spoke English well but still remembers those transition years as difficult.
"It was definitely a culture shock, that's for sure," Casem said. "The first year I was here my mom says I would say I just wanted to go back, that I didn't feel like I belonged.
"I remember how kids would make fun of my accent. It was that sense of imposter syndrome, I think. It definitely took some time to adjust."
Two decades later, she's working as a design engineer for Degenkolb Engineers in Seattle. An active member of the Structural Engineers Association of Washington, she's also president-elect of the ASCE Seattle Younger Member Forum. She helped set up an ASCE career fair for students at her alma mater, Seattle University, in addition to other mentoring and outreach volunteer work.
And yes, she's a licensed P.E.
ASCE has honored Casem as a 2023 New Face of Civil Engineering. She recently spoke with Civil Engineering Source about her career.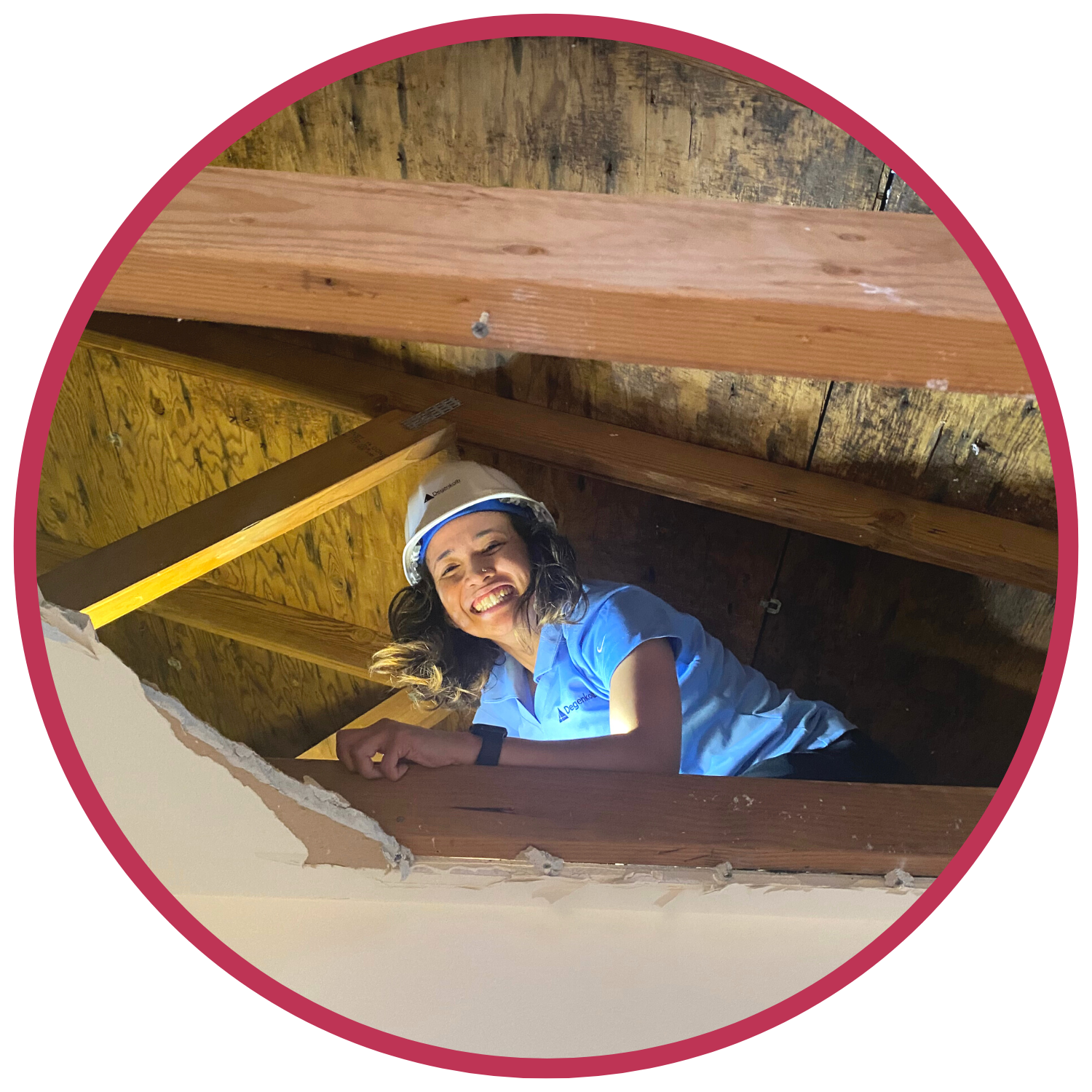 Civil Engineering Source: What accomplishment or aspect of your career are you most proud of so far here in the first decade?
Bianca Casem: What I'm most proud of is definitely when I got my P.E. license. I decided to take that exam a few months after I was first diagnosed with a chronic illness. I was more in a denial stage, and I really wanted to prove to myself that even after being hospitalized and being really physically sick, I was still the same person and could do anything.
Saying that it was stressful is really an understatement, but I think I'm most proud of this because it was a great testament to my character. I showed resilience, strength, and drive, which I think are very important characteristics and things that I value a lot. I would be remiss not to acknowledge my friends and family who supported me at that time, too. I think about it a lot.
Source: How do you want to leave your mark on the profession?
Casem: I want to continue to make an impact through mentorship for younger engineers. It's the kind of work I've done with ASCE, but I also want to continuously advocate for diversity, equality, and inclusion as a woman of color. It's something that I'm passionate about.
I would say my career has been heavily influenced by many mentors, and they're all of different backgrounds, whether that's personal or professional. I wouldn't be where I am today without their guidance. So, my goal is to make the same impact on our future engineers.
When I was a student, my mentors were probably the reason why I stuck with the profession. There were definitely a lot of times when I wanted to quit, but I had a lot of people who were like, "No, you should stick with it. You're going to be good at it."
Definitely, after graduating, I felt some imposter syndrome. I wasn't as confident about going into the field. The mentors that I had when I was doing the capstone program that I'm volunteering for now were so encouraging, and they really impacted how I look at being in the industry.
Now I want to help students transition into the industry and have confidence. I think it's very difficult not to feel small when you're the only person of color, the only woman, in a room. I am still learning how to take space and know that I belong in this industry. I think that's why those two things go hand in hand for me – mentorship but also advocating for more inclusivity.
My first mentor would definitely be my dad [Benjamin Casem]; he's a civil engineer. He encouraged both my sister and me to pursue engineering. Growing up, my dad told us, "There are not a lot of women in engineering, but that's OK, you just fill up that space. Don't feel intimidated."
That confidence and the mindset of not only belonging but also knowing you have something very valuable to contribute was a very good foundation for me becoming a successful engineer. Engineers have to feel confident and comfortable in our own skin, and that's something I would love to encourage in young engineers. I'm certainly not good about it all the time, but it's something I'm trying to learn and be more comfortable with.
Source: Talking about the work you're doing; it sounds like you're getting the chance to work on some very exciting projects.
Casem: It's been great. I started out my career doing a lot of new construction of commercial buildings and multifamily homes. Usually, I can find one thing that I worked on in every neighborhood around Seattle. That's super cool, and I really enjoyed that. It's amazing to see how many people use the space that you worked on.
After my diagnosis, I made a lot of life changes. I didn't feel as excited working on new construction anymore. Even after a little while I did a coding bootcamp, because I wanted to transfer into tech.
And a friend called me up and encouraged me to apply for the position that I have now. I'm really glad I listened to him because I enjoy so much what I do now. I realized why this was more fulfilling than before.
I go into residential homes that have been damaged from fires or tree strikes or any natural disaster and help them rehab the structure. It's a direct impact on someone's life and you know exactly who you are impacting. It feels very personal – especially going to someone's fire-damaged house, you're going in days after the firefighters put out the fires, so all their stuff is still there. You know someone was living there and they are displaced.
I don't know how they feel necessarily, but I think I very much empathize with having your life turned upside down. Knowing how that feels and knowing that I can help is very rewarding.
I know it took me a long time to get back to my status quo, so it feels really nice to get someone else back to their status quo.