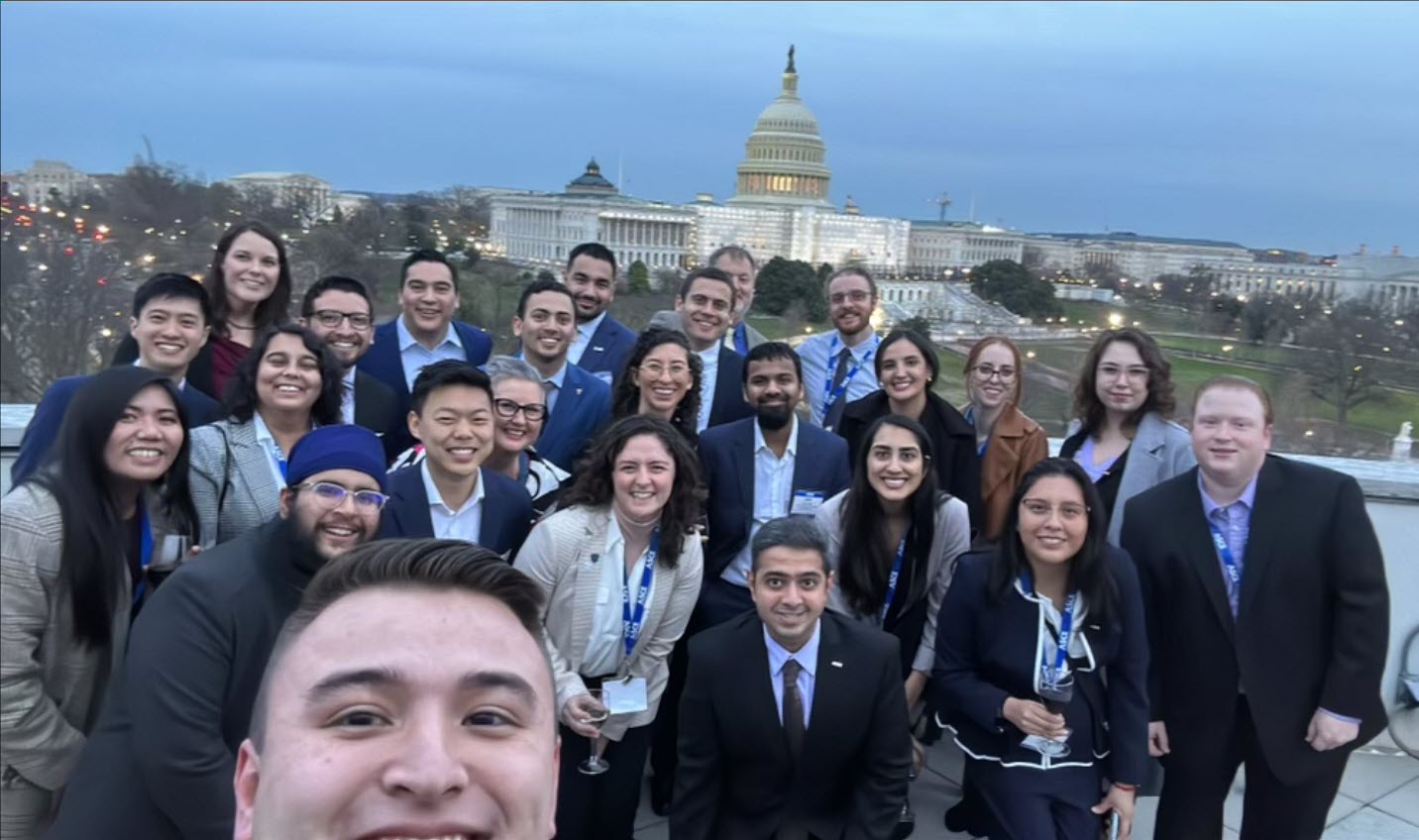 The list of recent ASCE legislative wins is impressive.
The $1.2 trillion Infrastructure Investment and Jobs Act, also known as the bipartisan infrastructure law, is of course the headliner, but the FY23 Omnibus Spending Bill, Inflation Reduction Act, CHIPS and Science Act, Water Resources Development Act, and the FLOODS Act each also make major investments toward solutions addressed in the 2021 ASCE Report Card for America's Infrastructure.
So it's fair game for ASCE's advocacy efforts to rest on its collective laurels for a little bit now, right?
Not even close.
The 2023 ASCE Legislative Fly-In convened in Washington, D.C., this week with approximately 280 Society members traveling from 47 states, the District of Columbia and Puerto Rico to meet with members of Congress and their staffs to continue urging investment in infrastructure.
It was the first fly-in since before the pandemic to take place entirely in person, and that in-person influence made a difference. "It's been excellent to be back in the Capitol seeing people face-to-face after the three years we've been through," said 2023 ASCE President Maria Lehman.
With the Infrastructure Investment and Jobs Act mountain climbed, ASCE advocacy attention now turns to implementation – making sure all levels of government work together to optimize the investment.
As they fanned out to offices across Capitol Hill, attendees of this year's Fly-In focused on four key legislative priorities for 2023:
Fully fund investment levels set by the IIJA as well as the CHIPS and Science Act.

Reauthorize the Federal Aviation Administration's programs before they expire Sept. 30.

Prioritize investments and policies that support resilient infrastructure.

Reauthorize the National Dam Safety Program and the National Earthquake Hazards Reduction Program.
Most fly-in attendees were seasoned hands at the public policy and advocacy gathering, but for many of the ASCE members, the 2023 fly-in was their first experience.
Vittorio M. Anepete, P.E., M.ASCE, came from Mount Laurel, New Jersey, where he is the manager of transportation engineering at McCormick Taylor. "I wanted to see what the legislative process is like," said Anepete, who's also involved in the regulating process at a lower level as secretary of the planning board in Medford, New Jersey.
His experience meeting with a Congress member's staff was a bit last-minute but not atypical. "We got a call about an hour before that they were willing to meet. When we got there, we had a good 10-15 minutes in the hall outside his office." The time with Sen. Cory Booker's team may have seemed brief, but it was productive, and they were receptive. "They said we informed them about things they didn't know about," Anepete said.
Another first-timer to the fly-in made the trip from Juneau, Alaska. Alexander Li, E.I.T., A.M.ASCE, a staff engineer with PND Engineers, was eager to help make a difference.
"The world is really changing rapidly nowadays with climate change. Civil engineers have an important role in policymaking," Li said. At his congressional meeting, he got to drive a point home about how vital aviation investment is to Alaskans. "About 80% of Alaska communities are completely reliant on air service for everything from trips to the grocery store to appointments with doctors."
Anepete and Li were equally enthusiastic about returning to the nation's capital for future fly-ins.
Passage of the infrastructure investment bills has made a difference in how lawmakers regard ASCE and its influence, one that could be seen at this year's fly-in, Lehman said. "Remember the old commercial, 'when E.F. Hutton talks, people listen?' It is so refreshing that our 'brand' is recognized. We're pushing, not pulling."