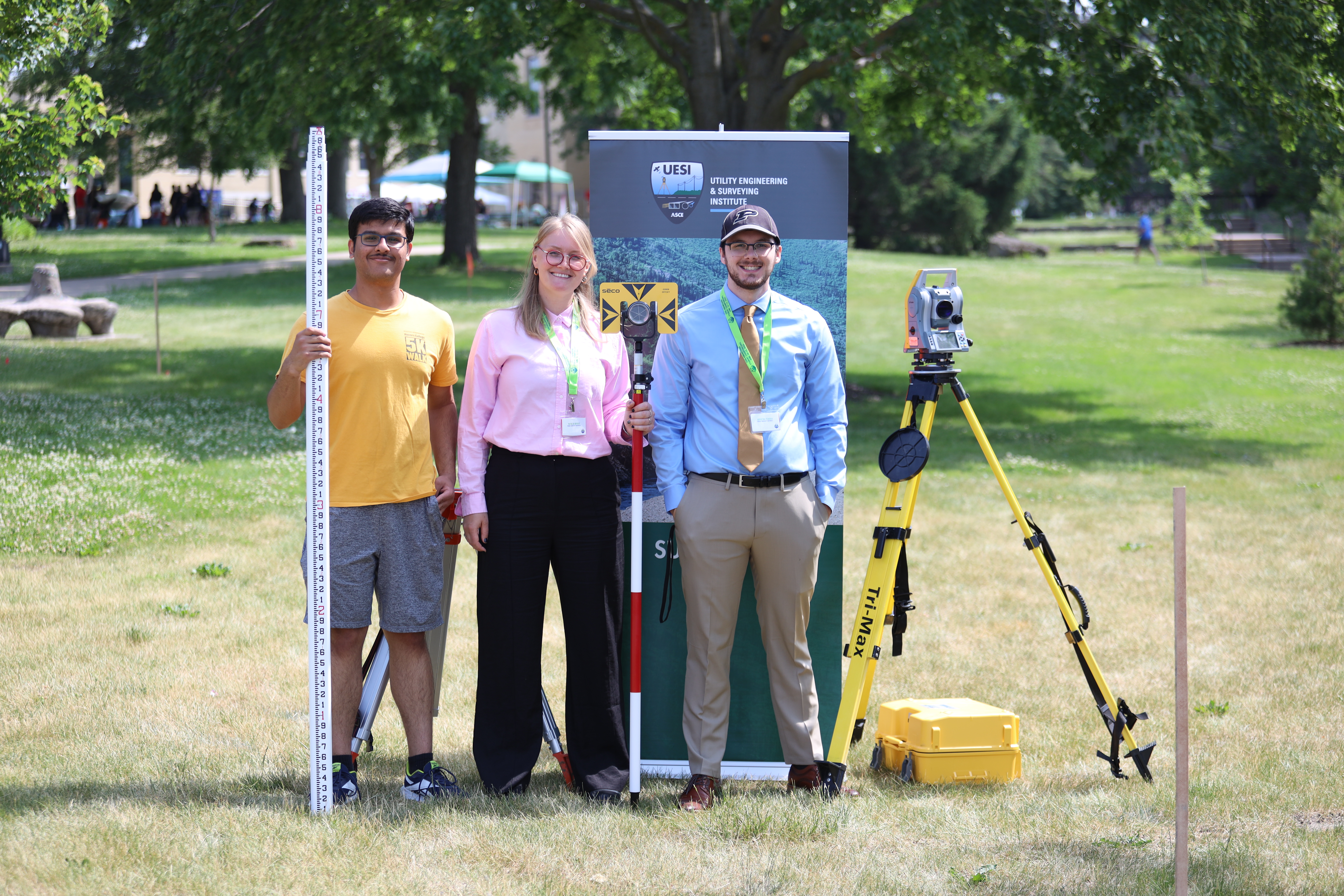 The Purdue University Northwest surveying team may have been small, but they proved to be a force to be reckoned with.
The smallest student team with only three members, PNW earned first place overall at the 2023 ASCE Utility Engineering and Surveying Institute Surveying Competition. The competition was part of the first ASCE Civil Engineering Student Championships, hosted by the University of Wisconsin–Platteville, June 10-12.
"No matter how small the team you have, even if it's only a few people, as long as you have teamwork, dedication, and you just work your ass off, this is completely possible," said Quinton Pender, surveying team captain.
Following PNW in the final overall standings was Utah State University in second and Oregon State University in third.
The ASCE UESI Surveying Competition was designed to help civil engineering students hone basic surveying skills in civil engineering projects. After competing at various ASCE student symposia throughout the spring, 16 teams qualified for the Society-wide finals at UW–Platteville.
But only one team could take home the championship title.
For the PNW team, it all came down to "teamwork, teamwork, teamwork. We spread our work between team members, and we were on top of everything," said Natalia Briggs.
"Trying to be as precise as possible was everything. We tried to double-check our numbers. We took our time. But we tried to be precise with everything."
And precision and accuracy are just some of the critical skills civil engineers need to be successful. The competition also tests students' aptitude with other useful surveying skills. It consists of five main tasks: a topographic mapping project that each team created and presented on, and four field events.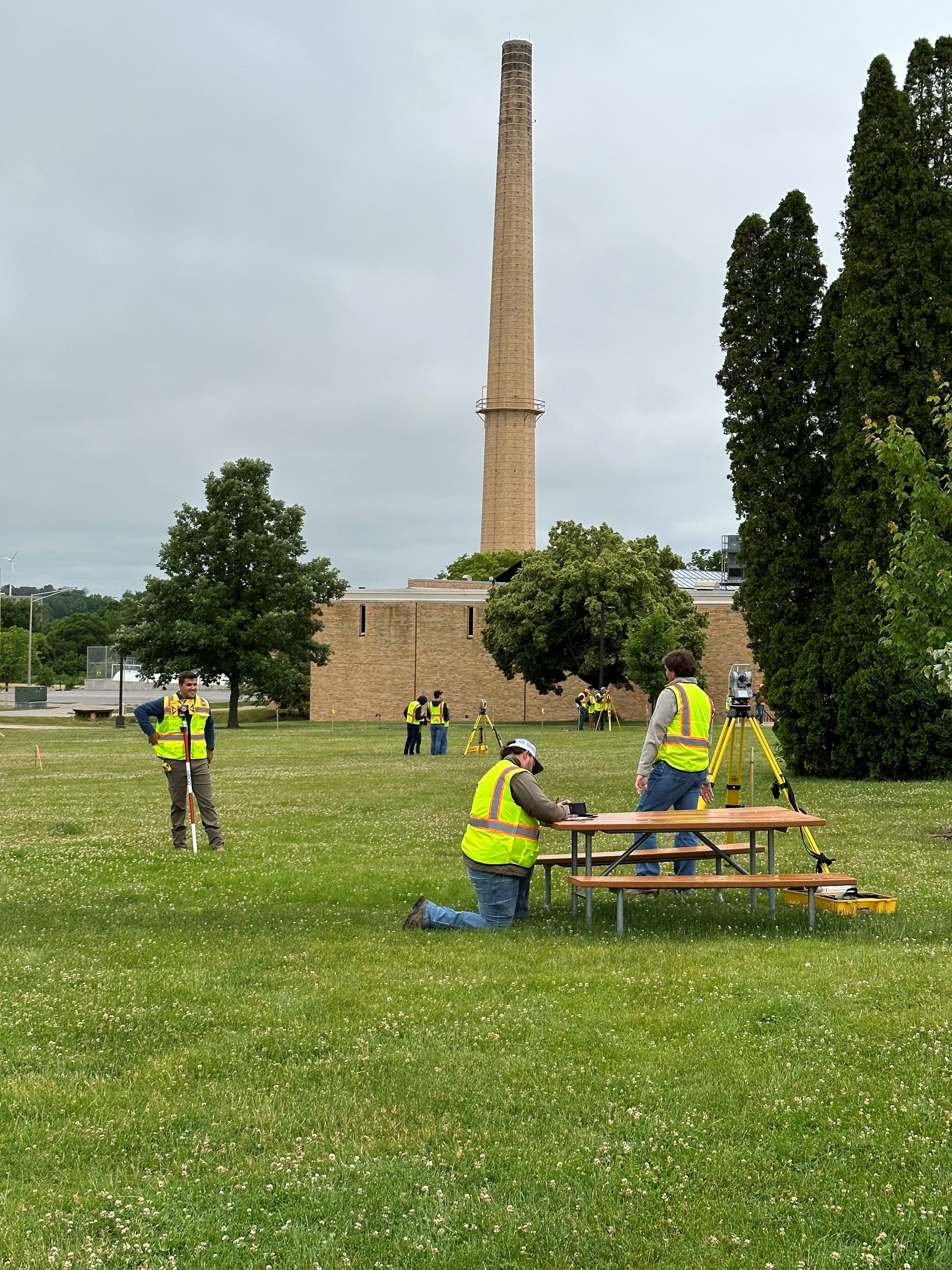 Penn State University Park finished first in the topographic map standings, followed by Utah State University in second, and California State Polytechnic University, Pomona in third.
The field events assessed teams' skills in pacing, differential leveling, building stakeout, and determining the depth of a proposed sewer line and the cut at each station.
Along with their overall win, PNW placed first in the field surveying category. Utah State University came in second, and Oregon State University in third.
The PNW students were in good spirits after their victory was announced. They laughed, attributing their success in this category to team member Krish Zalavadia. They nicknamed him "The Foot," thanks to the innovative way he completed the pacing field task, which assessed the team's methods of measuring distance.
"We discovered that my boot was exactly a foot long, and that's how we took on pacing," said Zalavadia. "It was slow and steady, but the turtle always gets there."
With the UESI Surveying Competition being one of the newer ASCE student competitions, Purdue University Northwest has the honor of being the first ASCE Region 4 team to win the finals. And for the school, which has only officially been known as Purdue University Northwest since 2016, this victory is especially remarkable.
"It was completely unexpected. This is kind of like our regionals. We got first overall. We were surprised then, and man, are we surprised now. I was hoping for top 10. Then after the competition, I was hoping and feeling maybe top five. But first in two categories, it's amazing," said Pender. "We were sent with a lot of high hopes from our group. And I'm glad we were able to live up to their expectations."