ASCE UESI Surveying Competition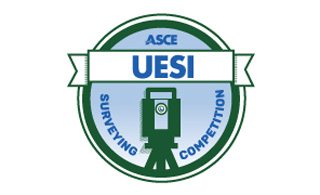 About the Competition
The ASCE UESI Surveying Competition's educational and professional goals include a recognition of the importance of basic surveying principles to all civil engineering projects. Students will be required to use standard field and office equipment and procedures to solve common problems encountered in industry. A clear understanding of and ability to apply basic surveying principles will assist the graduate civil engineer in communicating and working with the surveying professionals on the job site and during the design process.
Rules and RFIs
The ASCE UESI Surveying Competition virtual rules describe two tasks: a topographic mapping project and differential and profile leveling with engineering design. Student teams should read these rules thoroughly and seek clarifications as necessary.
The competition provides a "Requests for Information (RFI)" period so that student teams can ask questions about the rules. See the rules document for where and when to send RFIs as well as how to access the responses.
Society-wide Finals
June 3–5, 2022
Louisiana Tech University
Congratulations to the Winners of the 2021 ASCE UESI Surveying Finals Competition!
First Place
University of Puerto Rico, Mayaguez
Second Place
Cincinnati State and Technical Community College
Third Place
Bradley University
California State Polytechnic University, Pomona
Eligibility for Society-wide Competitions
Review the qualifications required of all ASCE Student Chapters in order to participate in an ASCE-sponsored Society-wide Competition.
Learn more