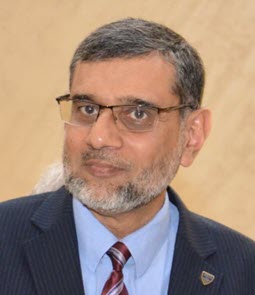 Muhammad Tariq Amin Chaudhary, Ph.D., P.E., P.Eng, F.ASCE, director of academic assessment in the College of Engineering and Petroleum at Kuwait University, has been named a fellow by the ASCE Board of Direction.
Chaudhary has a cumulative history of experience in industry, academia, and research spanning over 30 years. He has been involved in academia for the past 13 years and was the founding member in establishing the department of Civil Engineering at Al Imam University, Riyadh, Saudi Arabia.
In his current position Chaudhary is responsible for streamlining the academic assessment and evaluation processes for continuously improving the academic standards and maintaining ABET accreditation for seven engineering programs in the College. He is an active ABET program evaluator (PEV) and serves as a mentor for assessment coordinators in the seven departments of the College.
His research expertise is in vibration-based structural identification, structural health monitoring, soil-structure interaction, and seismic analysis and design. He has authored/co-authored more than 50 peer-reviewed journal articles and conference papers.
Chaudhary received the best researcher's award in the College of Engineering of Al Imam University in 2014 and received the excellent research project report award from the Research Sector of Kuwait University in 2016 and 2018.
His involvement with ASCE dates to 1991 as a student member, and from 2012 onward he has led ASCE's Saudi Arabia Section and the ASCE Kuwait International Group in various leadership positions. He is also a fellow of the Institution of Engineers, Pakistan.
Chaudhary worked as a design engineer and project manager before joining academia. His projects have been in the Midwest, Southeast, and New England regions of the United States and the province of Ontario in Canada, as well as in Japan, Pakistan, Dubai, Oman, Saudi Arabia, and Kuwait. He has experience in structural design of ultra-large (> 50 million gallon) reinforced concrete tanks for LNG storage, all facets of design and construction management of highway bridges, high-rise buildings, and large industrial facilities including foundations for vibration sensitive equipment, and retrofit and rehabilitation of existing structures, as well as sustainable design through LEED.
He is a registered professional engineer in Oregon, Michigan, and Alberta and Ontario in Canada as well as a LEED AP BD+C since 2009. He earned his bachelor and master's degrees in civil engineering from the University of Engineering & Technology, Lahore, Pakistan, and the University at Buffalo, New York, respectively, and his doctorate from the University of Tokyo under ADB-Japan scholarship.