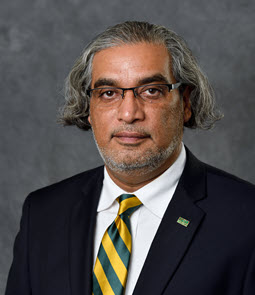 Syed Waqar Haider, Ph.D., P.E., F.ASCE, an associate professor in the Civil and Environmental Engineering Department at Michigan State University, has been named a fellow by the ASCE Board of Direction.
Haider has over 30 years of diverse professional, research, outreach, and teaching experience developing state-of-the-art methods and practical applications in statistical quality assurance process, material characterization, pavement performance modeling and analysis, asset management systems, and preservation.
His research experience includes work on system evaluations, risk analysis, reliability-based designs, quality assurance in road construction, pavement management systems, LTPP data analysis, sustainable pavement rehabilitation, material characterization, mechanistic-empirical pavement analysis, design procedures, local calibrations of performance models, axle load characterization, WIM data accuracy, and nondestructive pavement evaluations.
Haider has supervised several M.S. and Ph.D.-level students. He has led several sponsored research studies worth over $15 million at international, national, and state levels. The sponsoring agencies include the U.S. Department of Transportation (USDOT), the National Academy of Sciences (NAS), the National Cooperative Highway Research Program (NCHRP), the Federal Highway Administration (FHWA), Michigan Department of Transportation (MDOT), and Minnesota Department of Transportation (MnDOT). He has authored and co-authored over 150 technical publications (54 peer-reviewed journals, over 106 peer-reviewed conference proceedings and presentations, and over 25 reports). Nationally, he is active in NCHRP, TRB, ASCE, and IJPE. He is a registered professional engineer in Michigan.
Haider has developed and taught several short courses and workshops for practitioners from highway agencies, consultants, and contractors. These training sessions include asphalt pavement recycling, pavement management systems, mechanistic pavement analysis & design, construction quality control, and assurance. Over the last 15 years, Haider has developed and taught different undergraduate and graduate classes (including risk analysis in civil engineering, probability and statistics, engineering economics, statics, surveying, pavement design and rehabilitation, engineering materials, soil mechanics, reliability-based designs, and pavement management) in the CEE Department at MSU.
He holds a bachelor of science (Honors, 1989) in civil engineering from the University of Engineering and Technology (UET), Lahore, Pakistan, an M.Eng (1993) in transportation and geotechnical engineering from the Asian Institute of Technology (AIT), Thailand, and a doctoral degree (2004) in civil engineering from MSU.