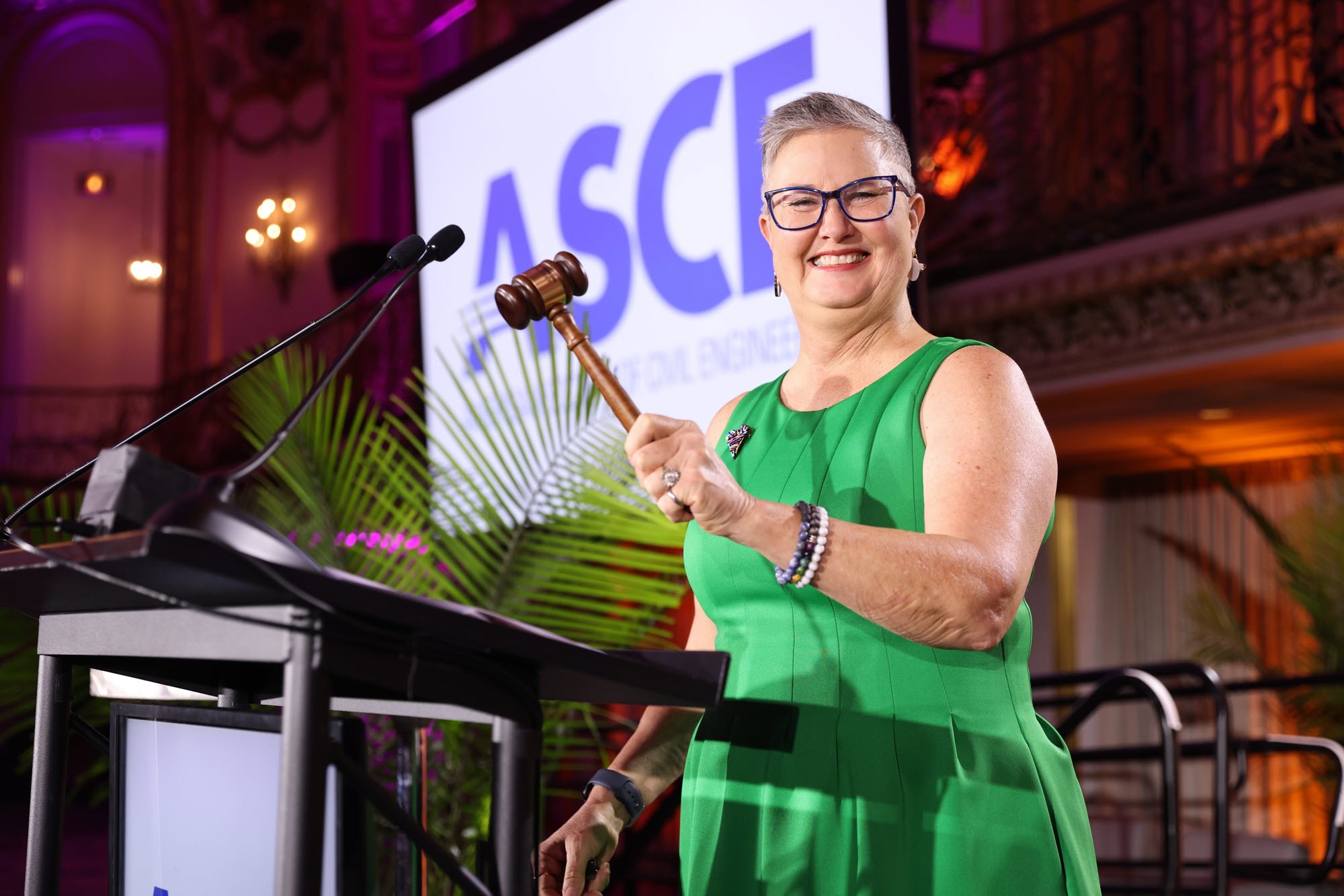 ASCE has always walked the talk, as the saying goes.
It's never maybe done that walking in bright green Chuck Taylors with flowers embroidered on them, though.
Welcome to 2024.
Marsia Geldert-Murphey, P.E., F.ASCE, took the stage – yes, wearing green Chucks – Friday morning, inducted as the 2024 Society president during the annual business meeting at the ASCE 2023 Convention in Chicago.
"It's almost overwhelming because I understand the responsibility that I've taken on," said Geldert-Murphey, whose ASCE story began in her undergraduate days at South Dakota State University.
"I take it so seriously. ASCE has meant the world to me my entire career. It helped me to get where I am. So I feel a great deal of responsibility to make sure that we have the ASCE that I had during my career for everyone else moving forward."
Geldert-Murphey works as the region director for Missouri and Illinois for the Lochmueller Group Inc., specializing in transportation and geotechnical engineering. She previously served on ASCE's Board of Direction as the Region 7 director, 2016-2019.
Geldert-Murphey celebrated the occasion surrounded by family. Her son Foster provided opening remarks, sharing childhood memories of skipping school to watch bridge demolitions and a mother full of inspiring passion, energy, and support.
"She, more than anyone I've ever met, really strives to make what she does fun," Foster told the convention audience.
"I think that's clear also in the way she dresses to everybody's who's met her. She's always got something new and exciting and bright and colorful.
"And I am really excited to see what she's going to do as president. I'm really proud of her. And I'm excited that she's going to bring that much enthusiasm and excitement and love for the field into this position because I think it's really admirable. And I hope that someday when I settle into a career that I love it as much as she does."
Geldert-Murphey assumes the role from 2023 Society President Maria Lehman, who handed over the presidential gavel during the ceremony. Lehman will now serve as the 2024 past president.
The business meeting also included the induction of seven new members of the ASCE Board of Direction:
2024 President-Elect Feniosky A. Peña-Mora
Region 1 Director Bradley A. Kubiak
Region 4 Director Christina LaVaughan Ammens
Region 5 Director Sarah L. Matin
Region 9 Director Yazdan T. Emrani
Technical Region Director LeAnne Napolillo
At-Large Director Isamar Escobar
For the first time in Society history, the board will include more women than men.
It's a fact not lost on Geldert-Murphey as she dives into her presidential year, focused on mentoring, youth, and diversity.
"We recognize the need to incorporate the next generation – our students and our younger members – in shaping what our organization looks like moving forward," Geldert-Murphey said.
"There is an energy. There is a recognition that we do have to have this diversity that represents the communities that we serve. And we're not only talking. We're walking the talk.
"I am so excited that we're about doing, we're not just about talking."