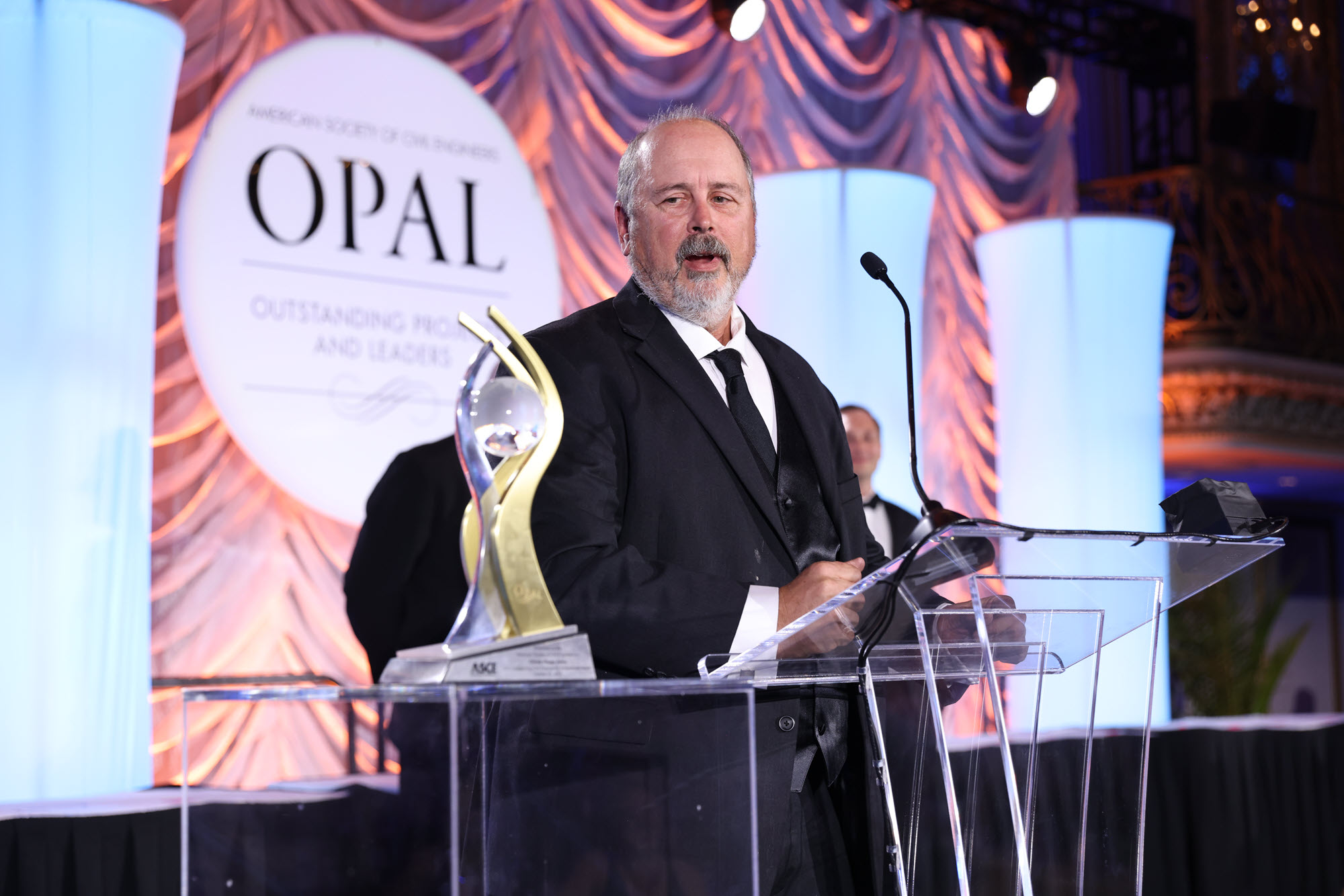 ASCE recognized the Climate Pledge Arena in Seattle with the 2023 Outstanding Civil Engineering Achievement Award as the best project of the year at the OPAL Gala, Friday night in Chicago.
The arena is an 800,000-square-foot venue, holding more than 17,000 fans for hockey, basketball, concerts, and other events, built on the same site as the historic KeyArena, even retaining its iconic roof.
"Incredible project; incredibly proud of our team and our technical accomplishments, the architect's contribution to the city of Seattle, and the owner's vision," told Steve Hofmeister, Thornton Tomasetti's principal-in-charge, to the gala crowd as he accepted the OCEA Award on behalf of the project team.
"But, overall, the thing that I take away from this project the most: it's a case study in teamwork – the teamwork between the architect, the owner, the construction manager, all of the trades contractors.
"We went from breaking ground to a Foo Fighters concert in under 30 months."
Established in 1960, the OCEA honors the project that best illustrates superior civil engineering skills and represents a significant contribution to civil engineering progress and society.
ASCE saluted 11 OCEA Honor Award projects in all at the OPAL Gala. The OCEA Silver Award went to SoFi Stadium in Inglewood, California, while Rockefeller Refuge Gulf Shoreline Stabilization (ME-0018) in Grand Chenier, Louisiana, earned the OCEA Bronze.
Other OCEA Honor Award recipients:
Ager Road, Green-Complete Streets Project, Hyattsville, Maryland.
C-44 Reservoir and Stormwater Treatment Area, Indiantown, Florida.
Council Bluffs Interstate System Dual, Divided Freeway, Council Bluffs, Iowa.
Delta Air Lines Terminal C, Queens, New York.
Hugh K. Leatherman Terminal Phase 1, Charleston, South Carolina.
I-579 Urban Open Space Cap, Pittsburgh.
Mukilteo Multimodal Ferry Terminal, Mukilteo, Washington.
The Pavilion at the Hospital of the University of Pennsylvania, Philadelphia.
While the OCEAs honored projects, the OPAL Awards recognize the career accomplishments of five esteemed civil engineers. This year's winners:
Construction: James E. Rowings Jr., Ph.D., P.E., NAC, F.ASCE, professional development director, Kiewit University – for innovation and excellence in construction of civil engineering projects and programs.
Design: Edward M. DePaola, P.E., F.SEI, M.ASCE, president and CEO, Severud Associates – for innovation and excellence in civil engineering design.
Education: Kumares C. Sinha, Ph.D., P.E., NAE, Hon.M.ASCE, the Edgar B. and Hedwig M. Olson Distinguished Professor of Civil Engineering, Purdue University – for demonstrated excellence in furthering civil engineering education.
Government: Karen Durham-Aguilera, P.E., M.ASCE, executive director of Army National Military Cemeteries and Arlington National Cemetery – for demonstrated leadership of public sector projects and programs.
Management: Mary Ellen Bruce Large, P.E., D.GE, M.ASCE, client care manager, Nicholson Construction Co. – for exceptional management skills in her professional career.
Additionally, Construction-Scale 3D Printing by Contour Crafting Corporation earned the Charles Pankow Award for Innovation; Ron Klemencic received the Henry L. Michel Award for Industry Advancement of Research; and Caroline Cummings brought home the ASCE Excellence in Journalism Award.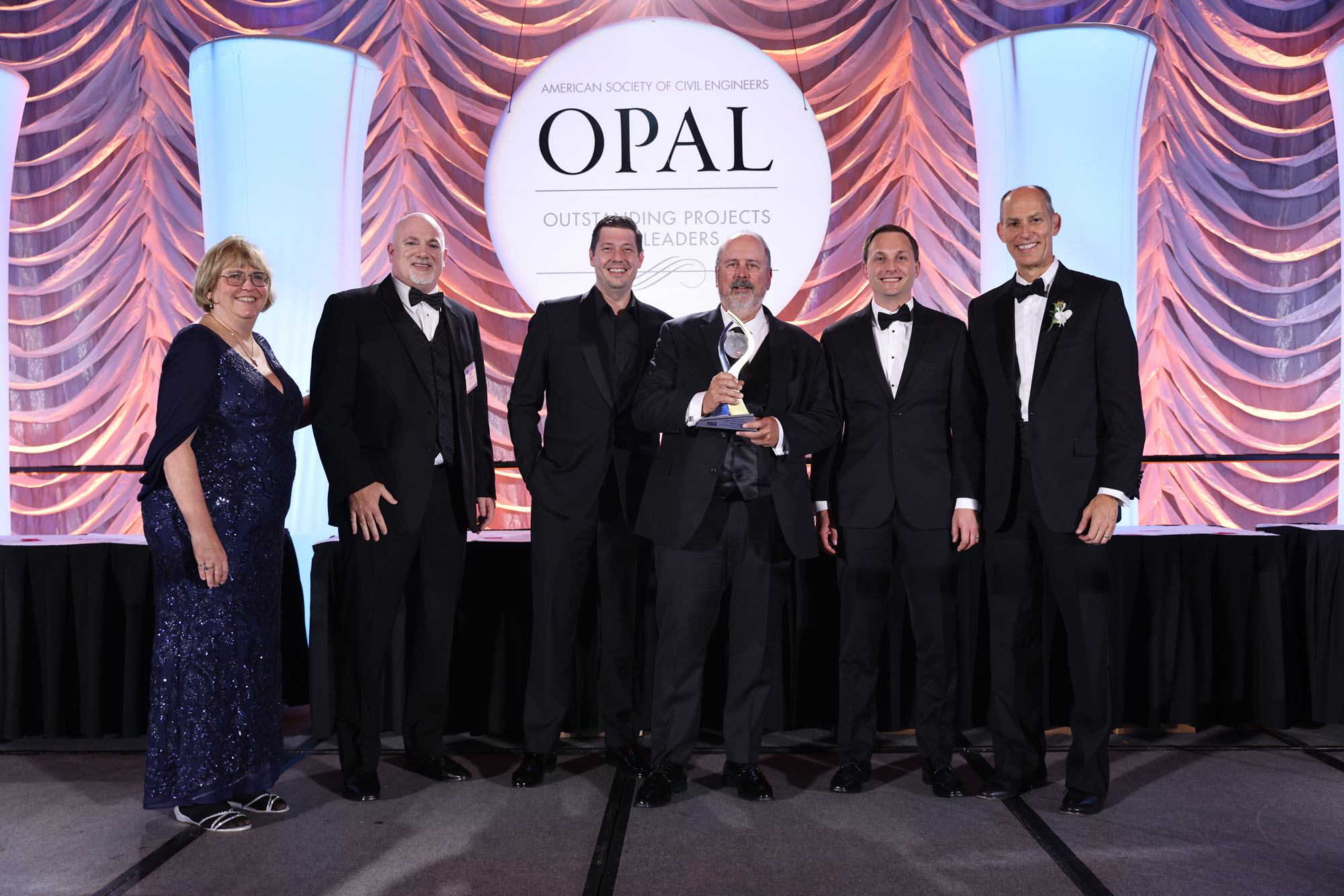 Read more about the Climate Pledge Arena in Civil Engineering magazine.