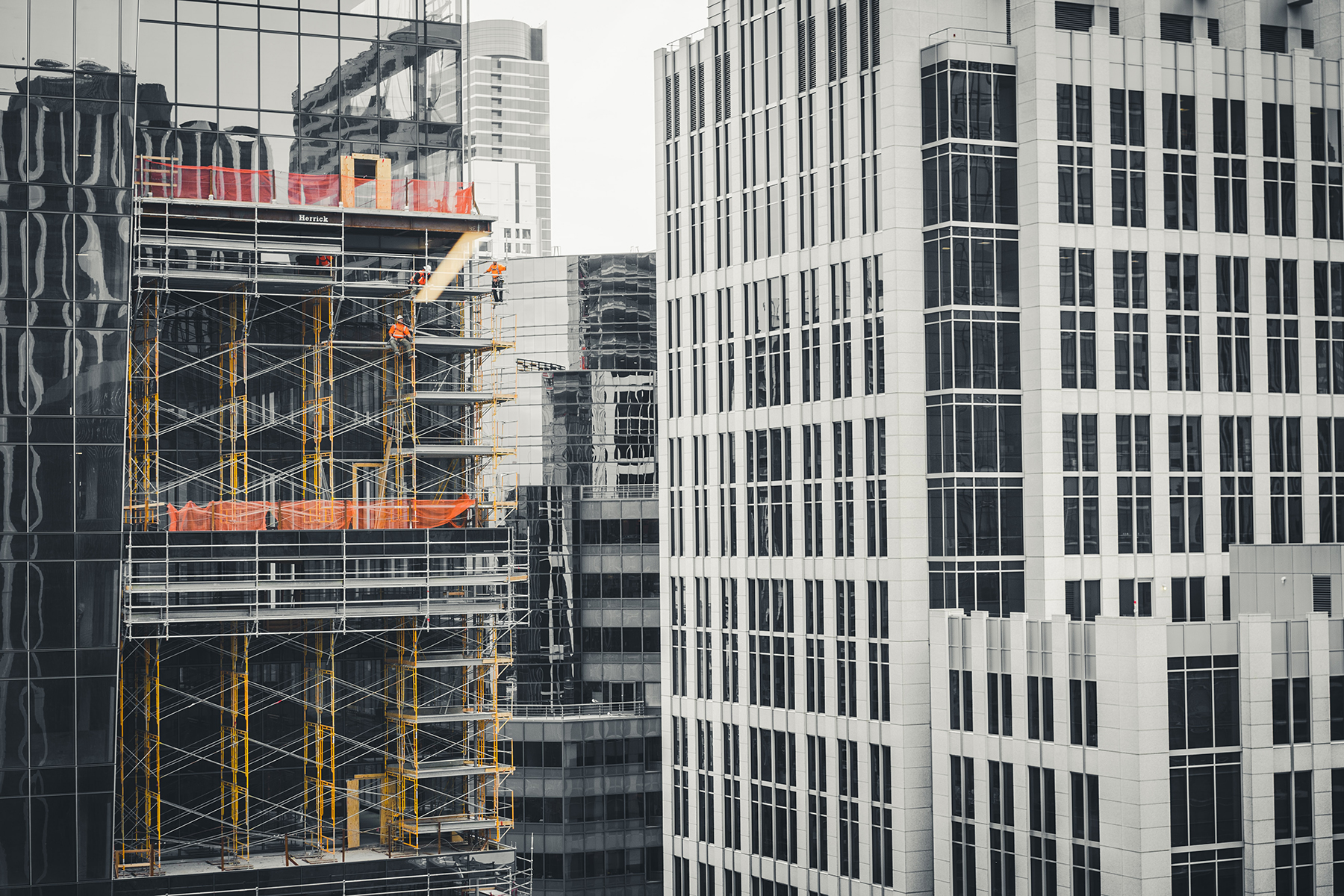 While most industries continue to suffer severe economic consequences resulting from the COVID-19 pandemic, the architecture, engineering, and construction industry appears to be in recovery mode, according to a survey conducted by PSMJ Resources Inc., headquartered in Newton, Massachusetts. The firm's Quarterly Market Forecast survey of 300 industry leaders shows upticks in hiring and proposal activity for the third quarter as well as specific market opportunities that are showing growth. "The AEC industry has fared much better than most," says David Burstein, P.E., senior principal at PSMJ.
The most notable data from the survey show a lack of expansive staff layoffs. Less than 5 percent of those surveyed said that their firms had suffered "significant" staff reductions. Overall, less than 5 percent of the total AEC workforce, or 1.5 million employees, lost their jobs this year, mostly during the early stages of the pandemic, according to Burstein. "Five percent is not a huge impact compared to the last recession (of 2008-09), where we (were) down like 20 to 25 percent," Burstein says, adding that about half the employees who lost jobs in 2020 have been rehired.
Burstein also notes an increase in hourly wage statistics for engineers and architects. Citing U.S. Bureau of Labor Statistics data, Burstein says that wages since April 2020 have been "higher than ever." The relatively low layoff rate and the increase in hourly wage averages for architects and engineers are results of the "severe labor shortage" before the pandemic, Burstein says.
PSMJ's survey computes a net plus/minus index, or NPMI, by subtracting the number of negative responses from the number of positive responses and computing a percentage of the survey's respondents. The survey, which has been conducted quarterly for 17 years, addresses 12 major markets and 58 submarkets. The proposal activity for the third quarter resulted in an NPMI of 10 percent, meaning more firms saw increases in proposal activity than decreases. The NPMI in April 2020 for proposal activity was negative 41 percent. Activity in the Northeast and the Midwest is rebounding nicely, with a 14 percent and 10 percent NPMI, respectively. Proposal activity in the Mountain and West regions continues to decline at minus 12 percent each.
As the AEC industry begins to recover, Burstein advises his clients to change their strategic plans to focus on specific markets that are showing improvement. For example, such markets as hotels, retail, and office buildings are down significantly, with a minus 50 percent NPMI or more for the first three quarters of 2020, and are not expected to recover soon. Education also is down consistently for the year, ending the third quarter with an NPMI of minus 36 percent.
On the other hand, the survey notes that some markets are "going gangbusters," Burstein says. Water and wastewater projects show significant increases in the NPMI during the third quarter, and proposals are nearly back to prepandemic levels, according to the survey. One surprise outlined in the survey is the housing market, which has an NPMI value of 38 percent and has been steadily climbing since its low of minus 27 percent in April.
The recovery of the AEC industry, and more specifically certain AEC markets, will be significantly affected by the lack of additional federal stimulus packages for local and state governments. Markets that rely on local tax revenue for funding are expected to suffer in the near term, according to Burstein. Projects, such as those involving water and wastewater, that rely on user fees for funding will continue to carry the load for the industry until the federal government provides some relief, Burstein says.
In addition to adjusting to market trends, Burstein says, firms need to look at their internal operations. Most firms will not require their employees to report to the office five days a week. The PSMJ survey revealed that nearly 40 percent of the firms surveyed would not need as much office space going forward. The work-at-home model appears to be well-suited for architecture and engineering firms, Burstein says, although larger firms are having much more success managing projects while operating under this model than firms with less than 200 employees.
In a separate survey by PSMJ, which asked roughly 140 employees at firms about working conditions, more than half said that the ability to work at least part time from home once the pandemic is over would be a "major consideration" regarding whether they stayed with the firm.
"Employees are not going to want to go back to the office," Burstein says, "especially in places … where you fight rush-hour traffic."