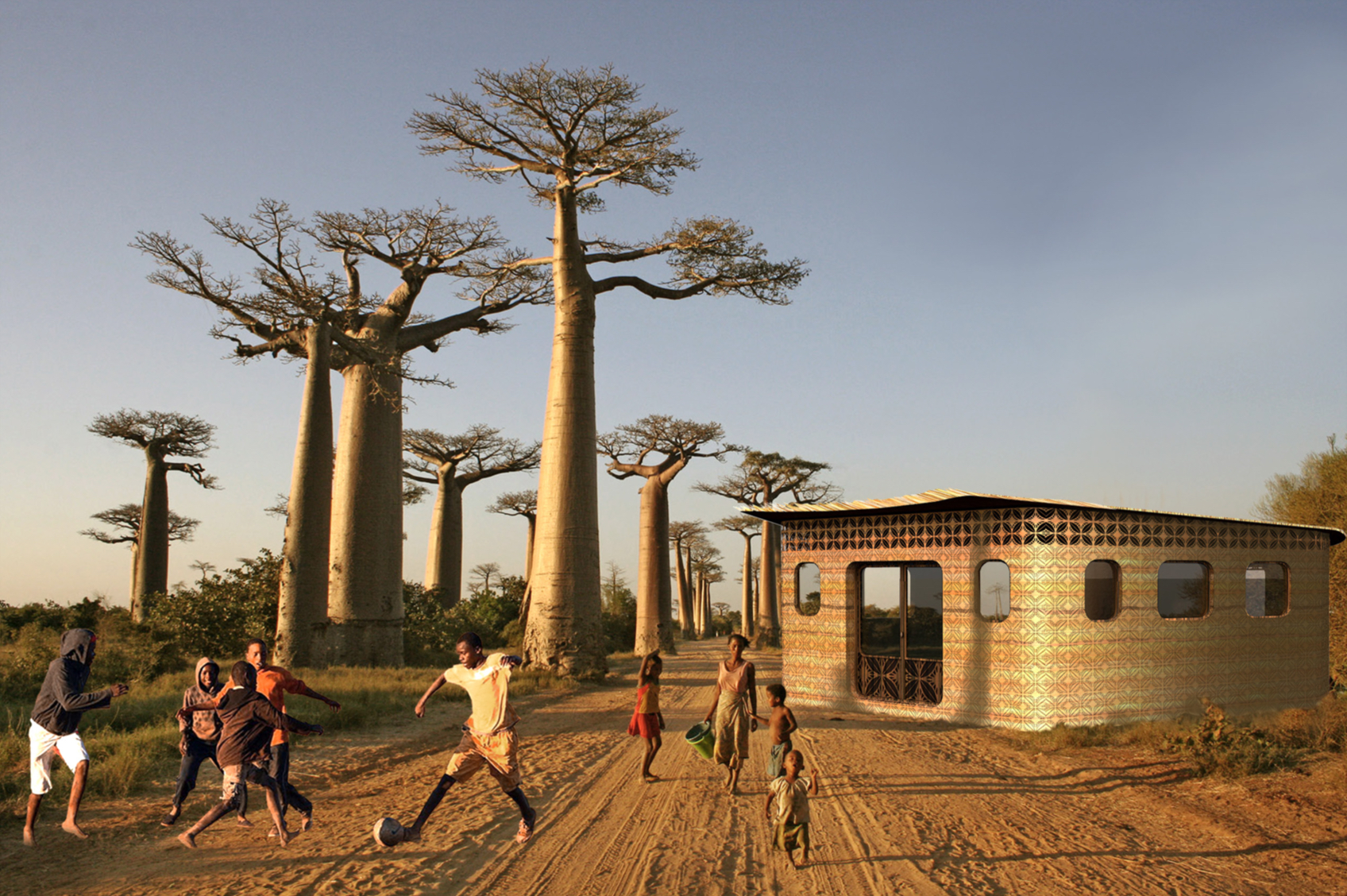 Maggie Grout was born in a rural village in China, adopted as a baby, and raised in the United States. She appreciates the "stark contrast" between her current life and how it could have turned out if she hadn't received the educational opportunities that she did.
So she founded a nonprofit, Thinking Huts, in 2015, while still a high school student in Broomfield, Colorado. Her goal is to build inexpensive schools quickly with 3D-printing technology to help poor, rural students around the world. "Those are the people who need schools the most," she says.

Later this year the nonprofit plans to build a prototype in Madagascar — what it says will be the world's first 3D-printed school. The island nation of 27 million, off the coast of East Africa, faces a severe shortage of schools: 60% of the 1.3 million primary-age students are not enrolled in school due to overcrowding. The country needs 22,000 classrooms.

The first school module, or hut, will be built on the campus of the Ecole de Management et d'Innovation Technologique in the city of Fianarantsoa, located in the south-central portion of the island country. This will allow Thinking Huts to iron out the construction and supply chain details before taking its concept to more logistically challenging rural areas. The prototype school will likely be used by engineering students at EMIT.
3D-printing a sense of place
For the design, Grout wanted her schools to be different. She wanted them to be structures that respected local culture and felt authentic to the place, rather than just being a "rectangle that doesn't fit." She turned to Studio Mortazavi, based in Lisbon, Portugal; San Francisco; and Paris, to design the prototype. The company created one in a matter of weeks in fall 2020.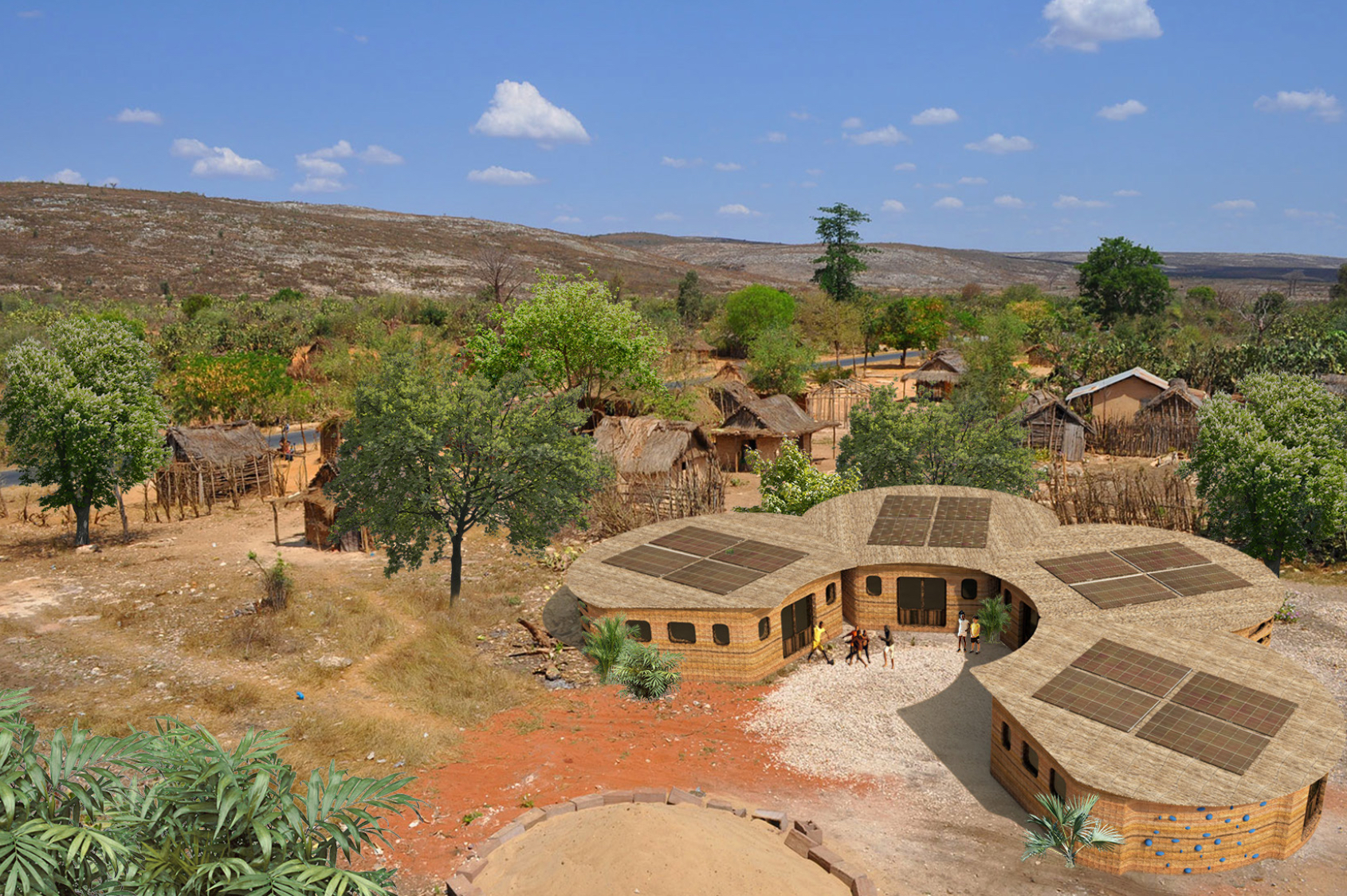 "The shape of the hut is one which creates an easily combinable modular building," says Amir Mortazavi, the founder and lead designer of Studio Mortazavi. The individual circular huts can be combined together in a variety of layouts, depending on the site conditions and facilities needed for a school.
"We wanted to create something where we can have this circular community. Instead of spreading out in a long rectangle, we can create (a modular design) in a square or a circle and bring people together within a central courtyard for serendipitous and organized activities," Mortazavi says.
Each individual 765 sq ft hut contains a classroom along with a bathroom, sink, and projector screen. The space can be modified for many uses: a computer lab, science lab, music room, physical recreation space, or even housing. "The options are truly endless," he says. "It's quite simple to modify the plans, plug in the (computer-aided design) file into the printer software, and the printer will print it, and off we go." He says modifying the plans for different sites should take a day or less.

The 1.2-ton 3D printer, made by Finnish company Hyperion Robotics, will print two exterior walls that are 3 cm thick, joined together with a 15-25 cm gap of spiderweb lattice, where plumbing and electrical conduits and other systems can be threaded.

The whole building can be printed in two days, Mortazavi estimates, with just a few people needed on-site during the process; a similarly sized structure built of concrete blocks would take those same people weeks to build.
Of course, the hut will still require traditional techniques to install the plumbing, electrical, heating, and ventilation systems as well as the insulation and roof. Still, the whole project could be completed in just two to three weeks if efficiently managed.

The building material is a recycled concrete aggregate. This cement mixture is designed to cure within 24 hours to half its maximum strength of 50 MPa and is projected to last anywhere from 50 to 100 years. To the aggregate designers can add pigments to create different looks or mimic different styles — striations, for instance, would give the exterior walls a rammed-earth quality.
Mortazavi found a traditional Malagasy textile pattern and incorporated it into the relief pattern of the walls. "What I'm most excited about is the ability to curve and create patterns," he says, noting that curving walls in traditional construction is difficult, requiring complex form work and skilled carpenters. "It's what can be done easily and inexpensively. The cost savings and speed is a great additional benefit."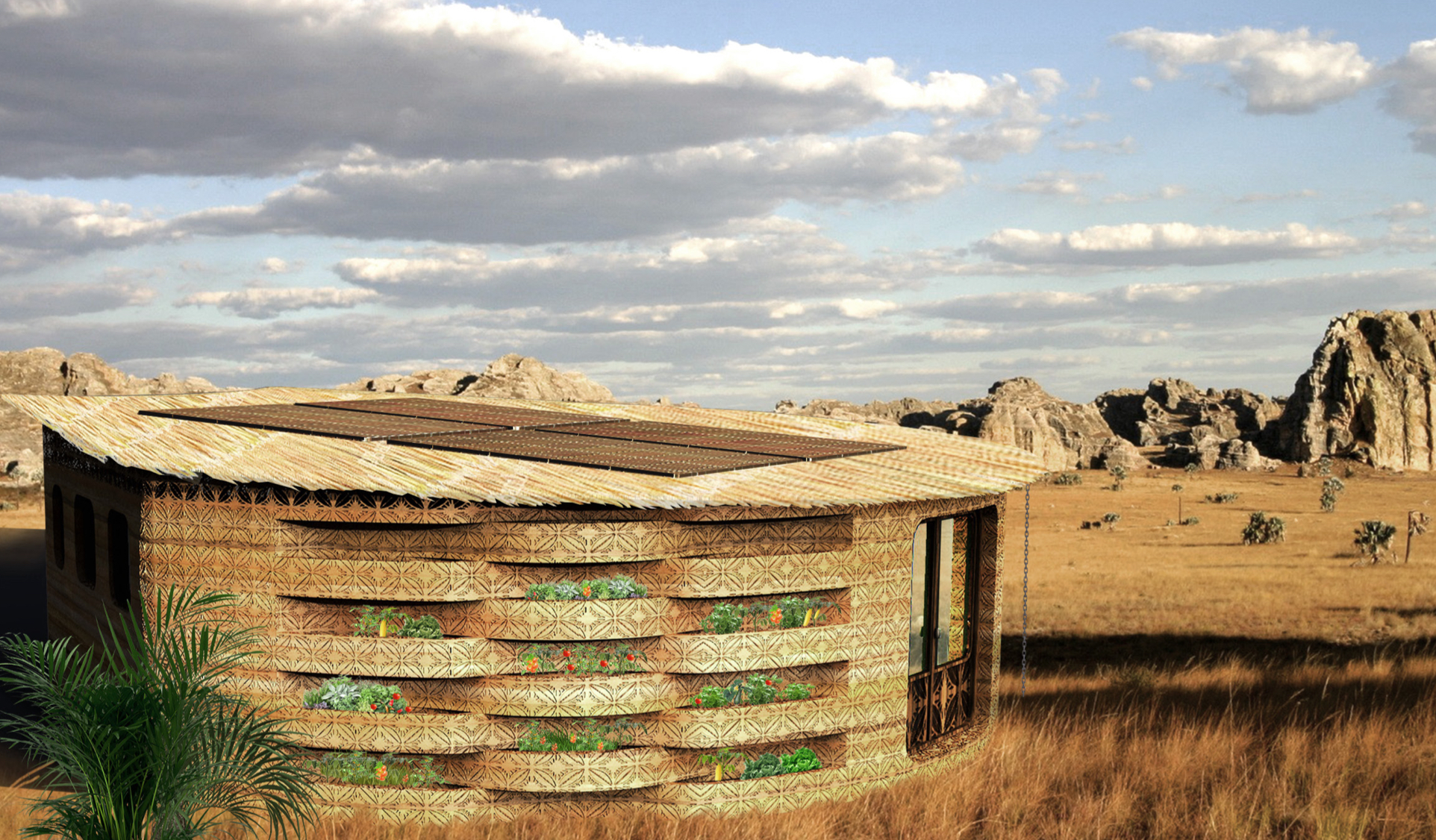 Though less labor would be required to build any one hut, Thinking Huts believes the speed and efficiency of its construction model will likely yield a net gain in labor once a number of units are being simultaneously produced because a steady stream of increasingly skilled workers would be required to do so.
Big picture
The budget for the initial project is $350,000 — enough to provide a buffer for unknown expenses, including transportation and import duties. (The printer must be shipped from Finland to Madagascar.) The goal is to bring the cost of future schools closer to $20,000 or less. "Some 3D-printed houses have revealed they cost less than $10,000 to build," Grout notes. "That's what we are aiming for."

The nonprofit has raised half the money it needs. "People think we've built a hundred of them," she says, "but we're still trying to do the first one."

Thinking Huts hopes to begin construction by the end of summer. From there, Grout wants to add two more pods to the EMIT site to showcase the design's expandability, and then build three schools in the small town of Ibity, in a rural farming region of Madagascar. From there, the sky's the limit. She says she has already received interest from other parts of Africa, including Zimbabwe and a refugee camp in Malawi.
Grout envisions other ways 3D printing can make an impact in under-resourced communities: housing, bathrooms, and even hospitals as well as plants that could produce solar energy or purify water.
And the 21-year-old has done all this while in college; she graduates this spring with a degree in business management from the University of Colorado Boulder. She even gave a TED Talk in March that will air April 11. "A lot of people didn't take me seriously because of my age. Continuing to persevere is how I've gotten here today," Grout says.