Retired teacher Daris Garnes had lived in Brooklyn her whole life, but when she moved to the Rockaways 11 years ago, she fell in love with the scenic oceanside atmosphere of the small community at the far edge of New York City.

But when 2012's Hurricane Sandy barreled through the 11 mi long peninsula, situated between Jamaica Bay and the Atlantic Ocean, the Rockaways was turned upside down; more than 1,000 buildings were destroyed. "We were so disconnected for months," Garnes says. "It was devastating to the community. It looked like a war zone here." Pieces of the boardwalk ended up in the streets. Garnes' fence blew away. The sand blew so high it covered fire hydrants. Electricity was out. Flooding caused people to lose their homes. Garnes' home was looted. "It was a difficult time to go through here," she says.

In all, the 2012 storm did $19 billion of damage in New York City and led to a reassessment of infrastructure on the peninsula.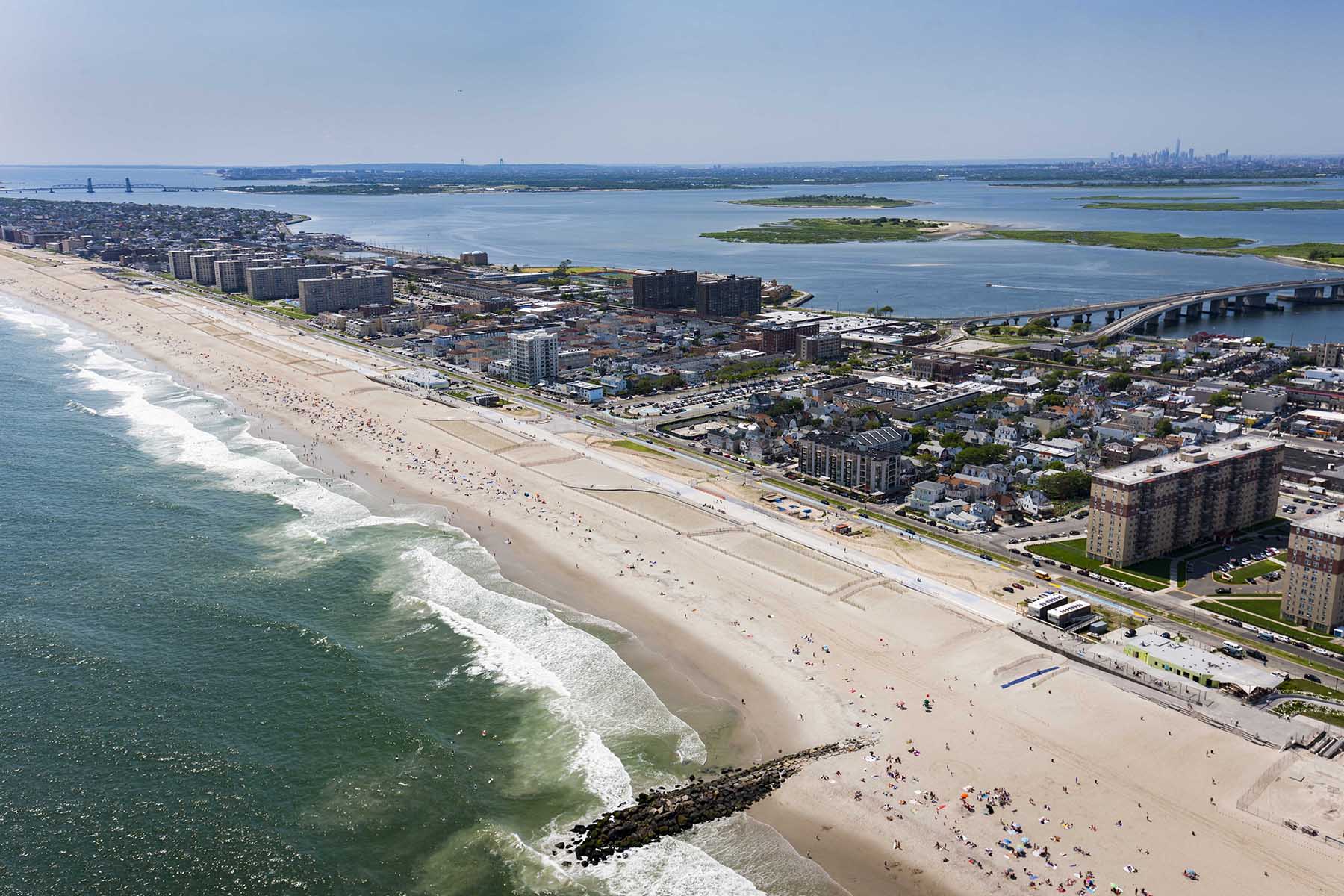 Prior to Hurricane Sandy, the U.S. Army Corps of Engineers had been working on beach fill projects for the Rockaways since the 1960s. A series of storms, including Hurricane Donna in 1960 and a nor'easter in 1962, caused an "exceptional amount of damage," says Daniel Falt, a project manager for the Corps' New York District. After these caused extensive storm damage and beach erosion, Congress authorized a hurricane barrier in 1965 at the mouth of the Jamaica Bay inlet as well as a series of flood walls and beach fill. However, only the beach fill was ultimately placed, and not until 1974. Instead of the original plan, the Corps had been renourishing the beach with new sand every couple of years from the 1970s until the 2000s, when congressional authorization ended.
Shoreline protection
After Sandy hit, Congress passed the Hurricane Sandy relief bill, which authorized the Corps to consider a broad reformulation of the original shoreline protection efforts. The Corps studied the entire peninsula and recommended a pair of key interventions.

The first project, currently underway, is adding or extending a total of 19 groins — stone structures meant to slow natural beach erosion — on the waterfront to control erosion. Then the Corps will roll out a new concept — building a 5 mi long dune atop an underlying structure, which Falt likens to a "a sand dune with a skeleton inside."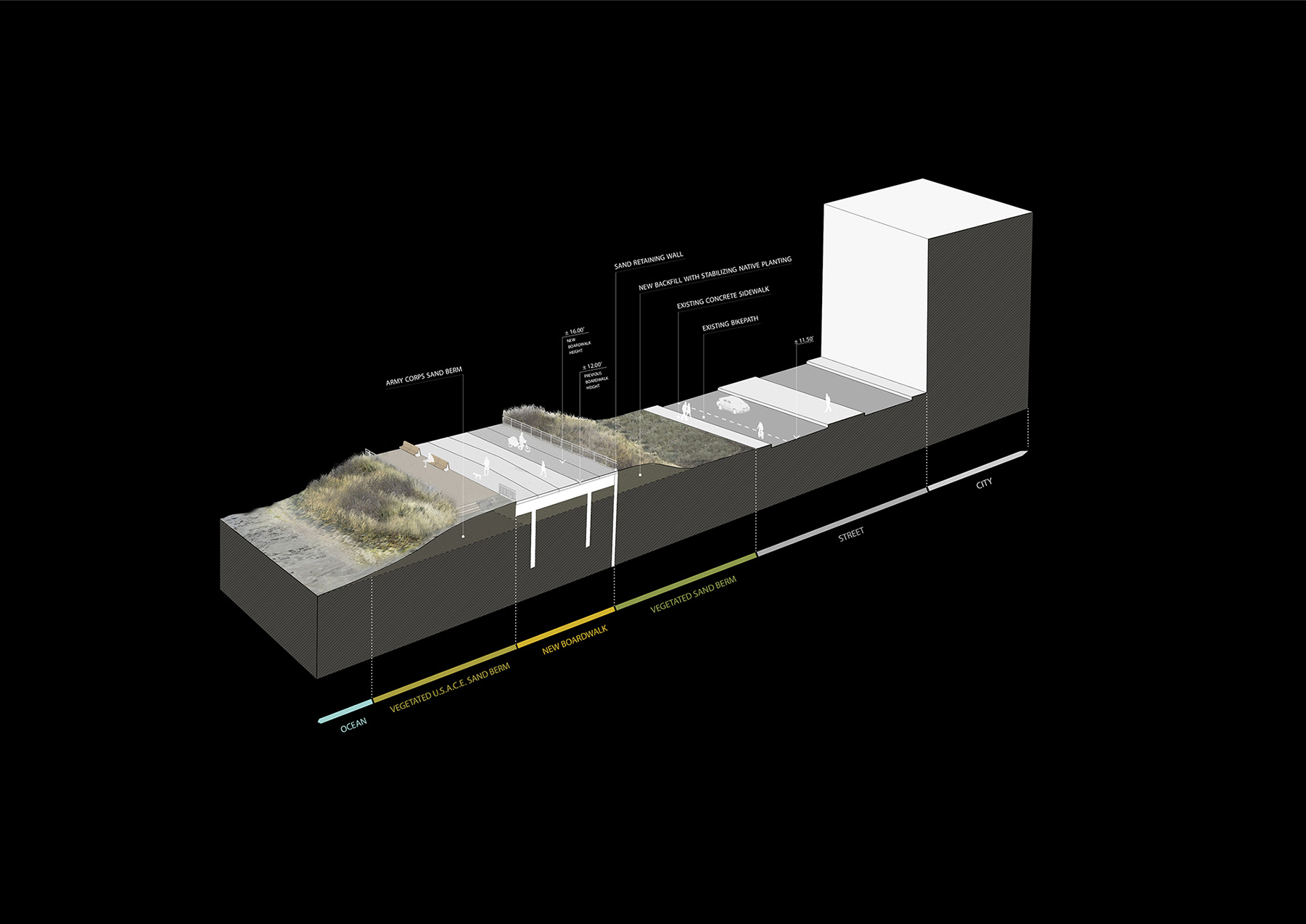 This dune, which will begin construction at the end of this year, will comprise a 30 ft steel sheet pile wall that will extend 14 ft into the ground and be capped with a 4 ft square piece of concrete, Falt says. In front of that structure will be 30 ft of 5-ton armor stone placed in two layers.
It's basically a sea wall, but it won't look like one. Almost 2 million cu yd of sand will be shipped in to create a line of sand dunes atop the structure. Then the Corps will plant about 70 acres of plants on the dunes. "If you wanted to invent out of nothing an excellent system of holding sand in place, you would invent the root structure of beach grasses," says Falt. "The roots are so prolific and involved in the sand dune that it really holds the sand in place.

The Atlantic shoreline work will cost about $250 million, paid for by the Sandy relief bill; construction will begin at the end of the year and is scheduled to last four years.

"It's so important when you're working in these neighborhoods to understand the history of what engineers did in New York City," says Eric Rothstein, a managing partner at eDesign Dynamics, a water resources engineering firm. "In the Rockaways you're talking about (late New York City public official) Robert Moses." Historically, the projects he implemented involved heavy-handed, gray infrastructure with no regards for the community. "That's the history that we're butting up against every time we go into a community to do nature-based solutions," Rothstein says. "(But) it's still imposing something on a community if you don't involve the community."

In other words — even if engineers are planning progressive, nature-based green infrastructure, if they aren't soliciting community engagement, they aren't doing much better than previous infrastructure projects that did not prioritize nature-based solutions.

Community resiliency
The Corps seems to understand that. The Corps is working with numerous community stakeholders on the project, including the Rockaway Initiative for Sustainability and Equity, which is developing its own resiliency plan. "We want to make sure our work fits in with that vision, so that we have a unified dune system for the entire peninsula," says Falt.

In the case of RISE, it has brought together stakeholders across the Rockaway Peninsula to develop what it calls the Greater Rockaway Community & Shoreline Enhancement Plan. The plan's purpose is to "actively engage the community in long-term planning and protection of the shoreline through planning, civic engagement, job training and long-term maintenance," says Jeanne DuPont, the founder and executive director of RISE. The nonprofit is partnering with eDesign Dynamics, WXY Studio, and Ana Fisyak Consulting through a grant from the National Fish and Wildlife Foundation's National Coastal Resilience Fund.

On the one hand, this is a plan to further improve the shoreline's resiliency by planting a variety of plants facing the neighborhoods north of the boardwalk, including coastal scrub shrubs such as switch grass, goldenrods, and a variety of sumacs.
On the other hand, RISE's efforts on the shoreline are also about improving the lives of people across its racially and economically diverse community. As Rothstein puts it, storm surge protection is important, but the "co-benefits" are just as critical; these include mitigating the urban heat island effect, providing habitat for native fauna, carbon sequestration, and community benefits such as educational opportunities and providing green jobs.
Equity and engagement

To that end, RISE and its partners have held a series of community meetings to gauge new ideas to bring equity and jobs around shoreline resiliency and ecology. Some of these ideas include establishing a nursery that can provide plants for the dunes and local jobs, a community stewardship program, and an education and awareness program. Other ideas under consideration include a history and ecology education center and a proposal to employ young people as history and nature tour guides for visitors to the area.

The goal is to link together economic development, equity, and environmental stewardship. "These programs are doing the work of connecting employment equity in terms of who's getting employed and the outcome of improving and stewarding the environment," says Cara Michell, a senior urban planner and an associate at WXY.

This is also a push to encourage community residents to take active roles in maintaining their own infrastructure. Ana Fisyak, the principal of Ana Fisyak Consulting, a planning firm that ensures New York City neighborhoods and their community-based organizations are empowered to take action for a more equitable and climate-resilient city, says nature-based infrastructure can't work in an outdated mindset of building infrastructure and forgetting about it until it breaks. Instead, she says, "you really have to think about how you are able to maintain it, monitor it, and protect it. It's malleable; it's changeable. You have to have the local community involved in the process."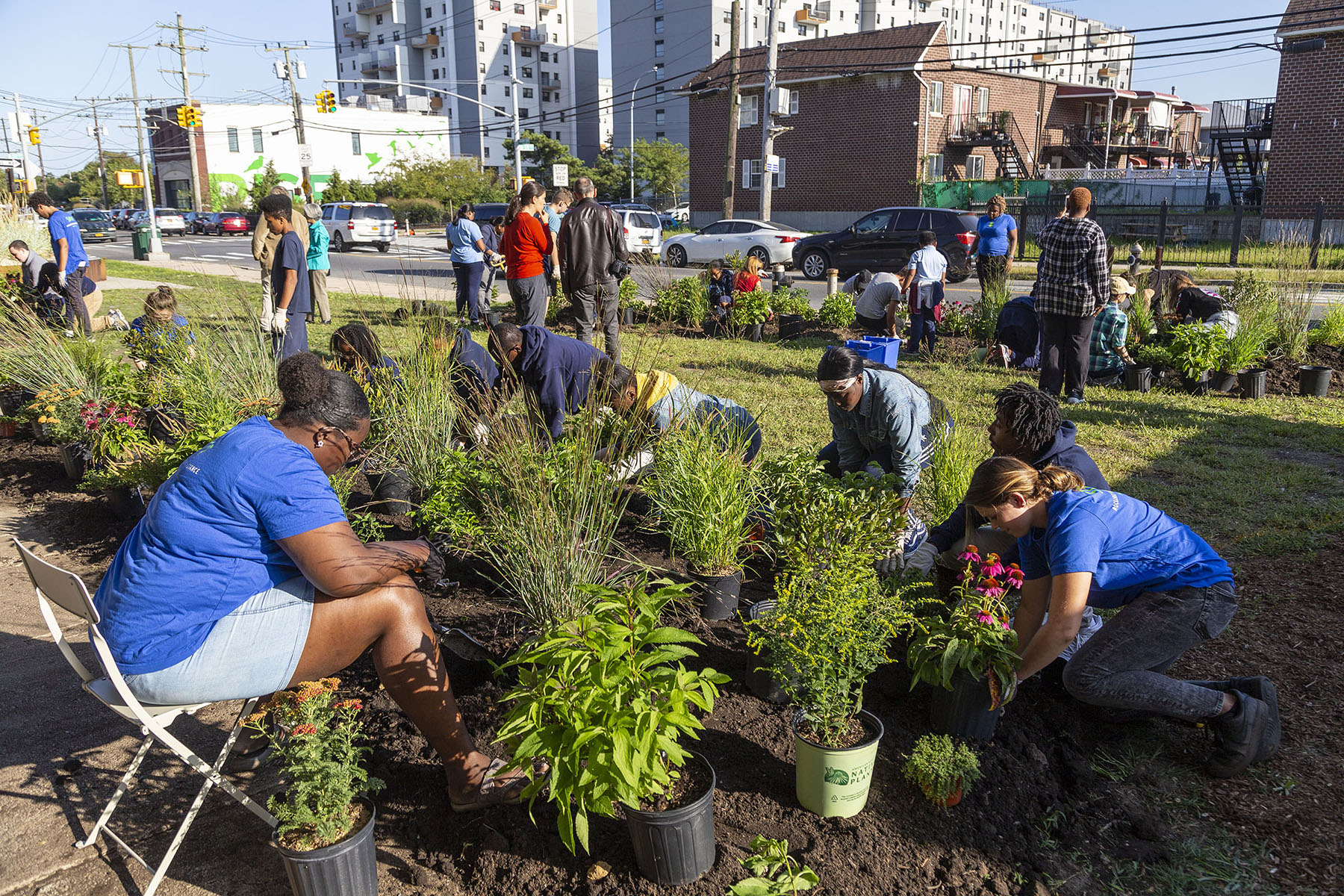 The Rockaways, home to about 150,000 full-time residents, is racially and socioeconomically diverse. The east end of the peninsula has a higher number of lower-income residents and people of color. The west end is whiter and wealthier, with a more developed tourism infrastructure. "From Beach 19th Street to Beach 90th Street, you will definitely see the disparity in the communities. It's so visual," opines RISE volunteer Eden Chan, a college student who has worked with the group since high school.
Garnes, Chan, and another volunteer, Brianna Francis, have benefited from RISE's community empowerment and hands-on engagement with ecology. Garnes is a volunteer with RISE. Francis will be studying cellular molecular biology and behavioral biology this fall at Johns Hopkins University in Baltimore, and Chan is a student at Macaulay Honors College, in New York City, studying chemical engineering with an environmental focus.

"I think RISE did make an impact," says Francis. Referencing herself and Chan, she notes "We're both people of color from disadvantaged communities, so to speak, and we're doing really well. I feel like RISE has opened the door to so many opportunities."