By Robert L. Reid
A trio of design and construction firms in California has launched a new prefabricated school building product that combines mass timber framing, an attractive interior learning environment, and a fast-paced construction schedule. The result: new classrooms that can be erected within a matter of weeks rather than the year or so typically required for a traditional school building, says Doug Robertson, P.E., S.E., the founding partner of Daedalus Structural Engineering, of Saratoga, California.
Daedalus is working with general contractor XL Construction, of Milpitas, California, and Aedis Architects, of San Jose, California, on the new mass timber classroom spaces, which are known by the trademarked name TimberQuest.
Prefabbed product
XL Construction, which has extensive experience in school construction and the use of mass timber, developed the idea of combining the two fields to create a prefabbed product that would better meet the needs of California's public school districts, explains Matt Larson, XL Construction's director of preconstruction.
Often, Larson says, California school systems do not finalize their enrollment plans for the next school year until sometime in the spring, which makes it quite challenging to erect new classroom spaces in time for the start of that new school session. Consequently, school districts relied on portable trailers or modular structures that are neither permanent buildings nor especially attractive or conducive to an ideal learning environment, Larson says.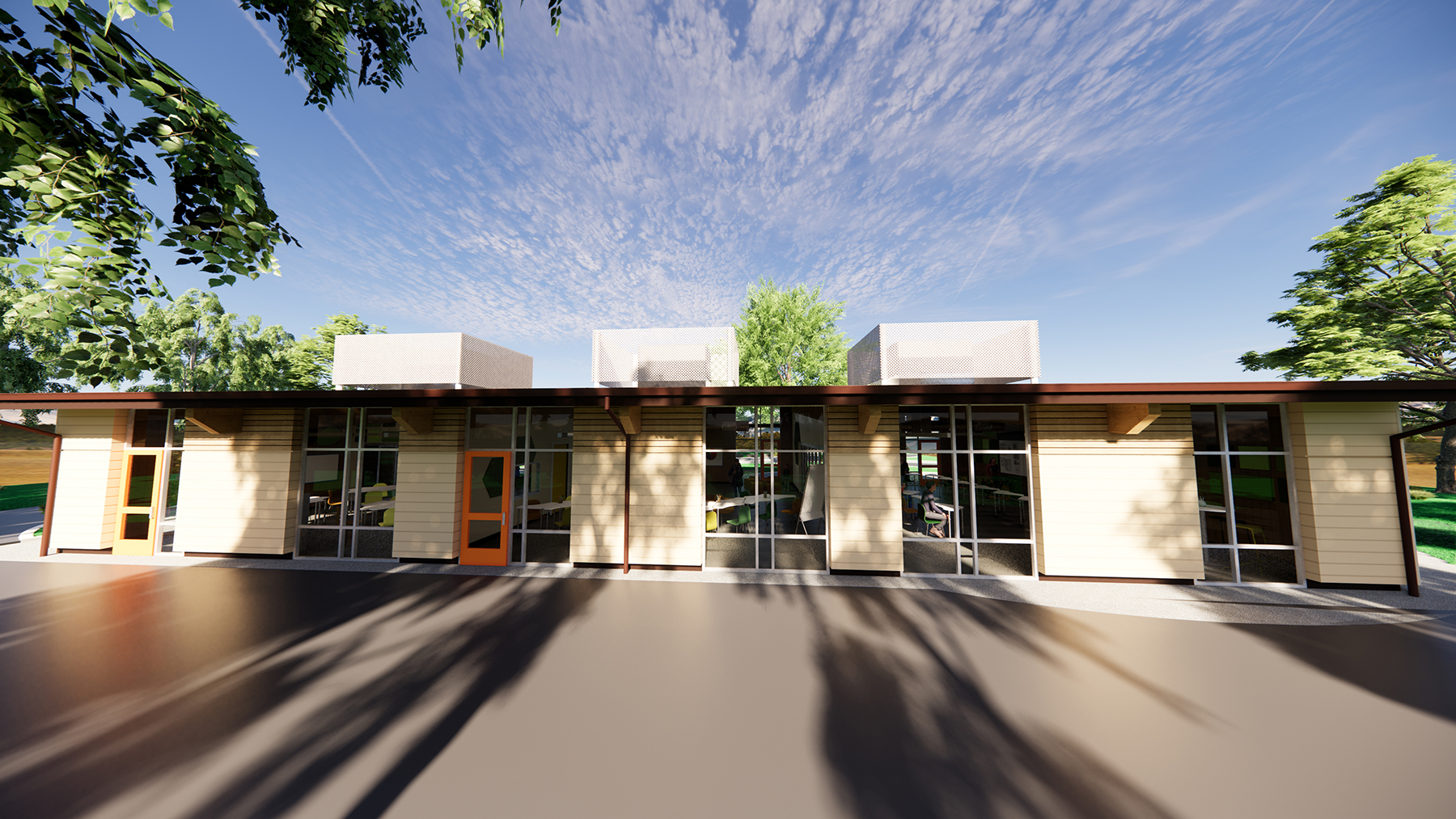 "Time after time, we saw schools forced into those two decisions that were not what the school would do if they really had enough time to do a better building," Larson explains. "That was the reason for developing (TimberQuest), because our clients had this need that wasn't really being fulfilled in the marketplace."
Preapproved product
Designed specifically for the public school market in California, the building system was recently preapproved by California's Division of the State Architect, which provides "design and construction oversight for K-12 schools, community colleges, and various other state-owned and leased facilities," explains the DSA website.
The DSA permitting process is normally quite strict, prohibiting anything that is not in the state building code, adds Robertson. By obtaining preapproved status, individual projects will be able to complete their permitting process in a single day rather than the six months required for typical construction, Larson says.
The construction schedule for the prefabbed structures will then require only about 10 weeks to complete — making it possible to erect new classrooms over a summer break.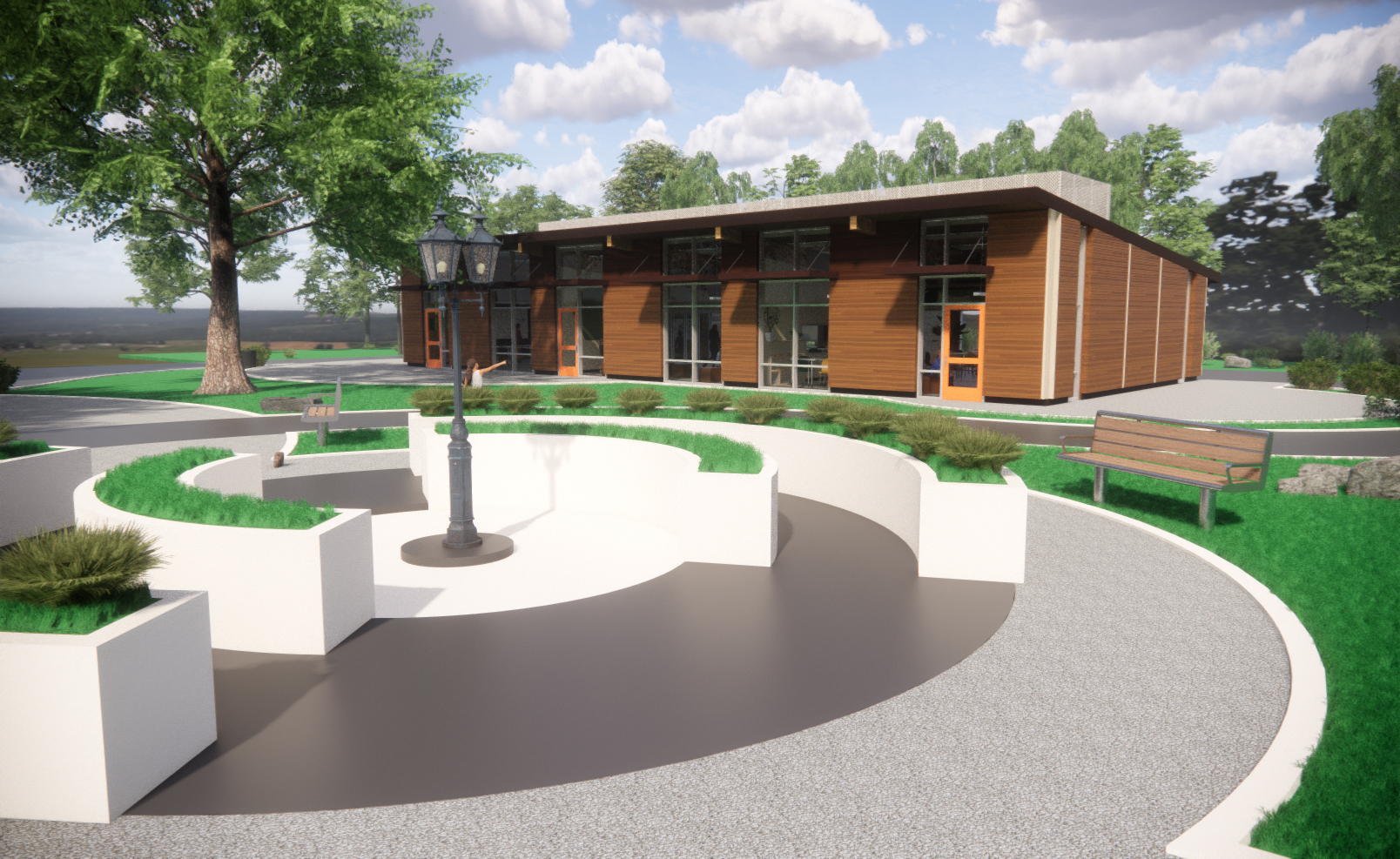 The buildings are expected to last at least 50 years and will be available in various sizes, from 3,000 to 9,000 sq ft, accommodating three to nine classrooms. The one-level interior layouts can accommodate kindergarten spaces, standard or large classrooms, office and conference room spaces, and even science classrooms with laboratory equipment and ventilation for exhaust fumes, Larson says. Several restroom options are available, including restrooms incorporated into the kindergarten classrooms or attached at the ends of the building for other types of classroom layouts, Robertson notes.
Although designed as stand-alone structures to complement existing school buildings, the buildings can also be grouped together to create a courtyard space or an entirely new campus, Robertson says.
From the foundations up
The school buildings will be founded on reinforced-concrete slabs with spread footings. The design is expected to work at most schools throughout California, although site-specific conditions will need to be evaluated, says Mae Kawamoto, P.E., S.E., M.ASCE, an associate structural engineer at Daedalus. Some sites close to faults or with particularly poor soil conditions may require supplemental permitting, Kawamoto adds.
The schools are designed to withstand lateral forces specific to the site's proximity to a fault, as specified in the building codes. The soil types and the building structure type are also considered, Kawamoto says.
The buildings' walls will be made from cross-laminated timber panels supplemented with a half-inch thick layer of plywood to provide shear-wall behavior to address seismic concerns, Robertson says.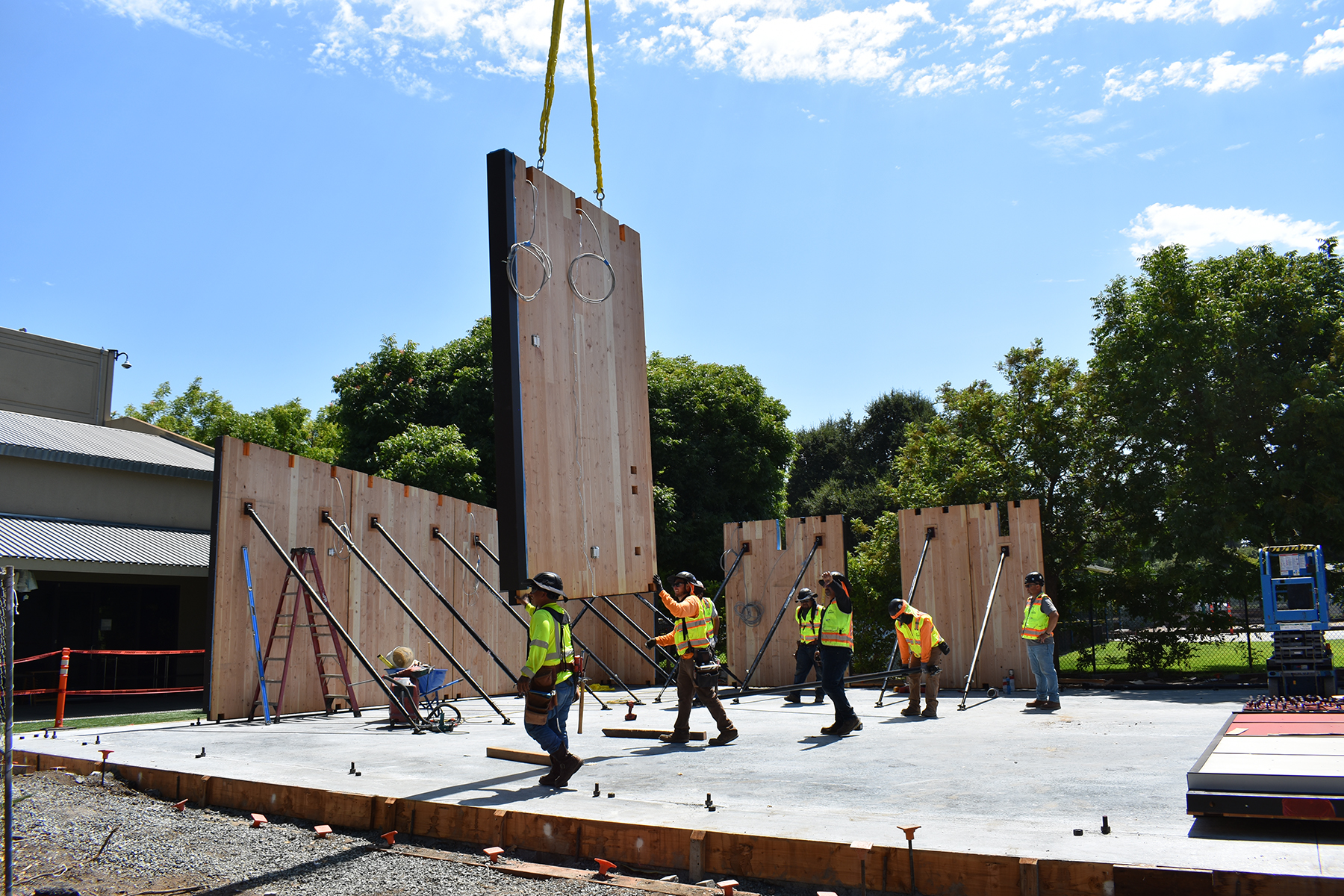 The roof structure will feature glue-laminated timber beams spaced 13 ft, 4 in. on center supporting cross-laminated timber panels, a layer of plywood for shear, as well as a 5 in. thick layer of insulation and a single-ply roof membrane, says Larson. The roof will also support mechanical equipment packages — including heat pumps as part of the system's all-electric design — and can accommodate solar panels. Locating all the mechanical systems on the roof helps avoid the need to install potentially noisy mechanical closets within the footprint of the classrooms, as many modular spaces require, Larson adds.
The basic building will measure 37 ft deep, with a 4 ft long overhang at the front and back of the roof. The roof itself will slope from roughly 13 ft tall at the front of the building to 11 ft tall at the rear. The minimum building length will be roughly 80 ft long — to house the three standard classrooms — and can be expanded up to 240 ft to accommodate the nine-classroom layout, Larson says.
Sustainable values
A combination of the high ceilings, exposed timber framing within the classrooms, and floor-to-ceiling glazing at the front and back of the buildings will provide attractive learning environments for students, Larson notes. Designed for maximum sustainability, the classrooms are expected to exceed by 35-60% the minimum requirements for energy efficiency in school buildings under California's Title 24 standards.
The buildings can accommodate most types of climates found in California but currently are not designed for desert conditions or snow loads, Larson notes.
Earlier this year, while design team members awaited DSA approval for public schools, they started work on their first project — for a private school that is not subject to DSA regulation. At publication time, a new kindergarten classroom was nearing completion on the 63-acre campus of Sacred Heart Schools, in Atherton, California. Previously, the kindergarten students had to share a building with preschoolers.
In a TimberQuest press release, Michael Dwyer, the school's director of operations, praised the design's use of natural lighting "combined with the exposed wood interior that makes the classroom very pleasant and appealing." Moreover, the building's energy efficiency "supports our sustainability philosophy and stands as a shining example of these values we teach to our students," Dwyer concluded.