By Brian Fortner
Recent economic data from the construction industry depict an upswing from the fiscal downfalls associated with the pandemic, but those numbers are being skewed by specific construction sectors that have exploded in the last year. Single-family residential, warehouse, and data center construction have shown meteoric growth, while nearly all other sectors have declined and are only recently showing signs of recovery.
'Moving sideways'
According to the third-quarter construction outlook released in late August by Dodge Data & Analytics of Hamilton, New Jersey, the economy — at least for the construction industry — is "moving sideways." Steady growth is being hampered by skyrocketing material prices, shortages of skilled labor, the threat of runaway inflation, and a surge in the delta variant of the coronavirus.
Dodge predicts a 7% increase in total construction spending, totaling $855 billion by year's end, which would be similar to pre-pandemic totals in 2019. However, Dodge chief economist Richard Branch notes that if residential construction data were removed from the total, "we are looking at another year, potentially two years, before nonresidential building is back to its 2019 peak."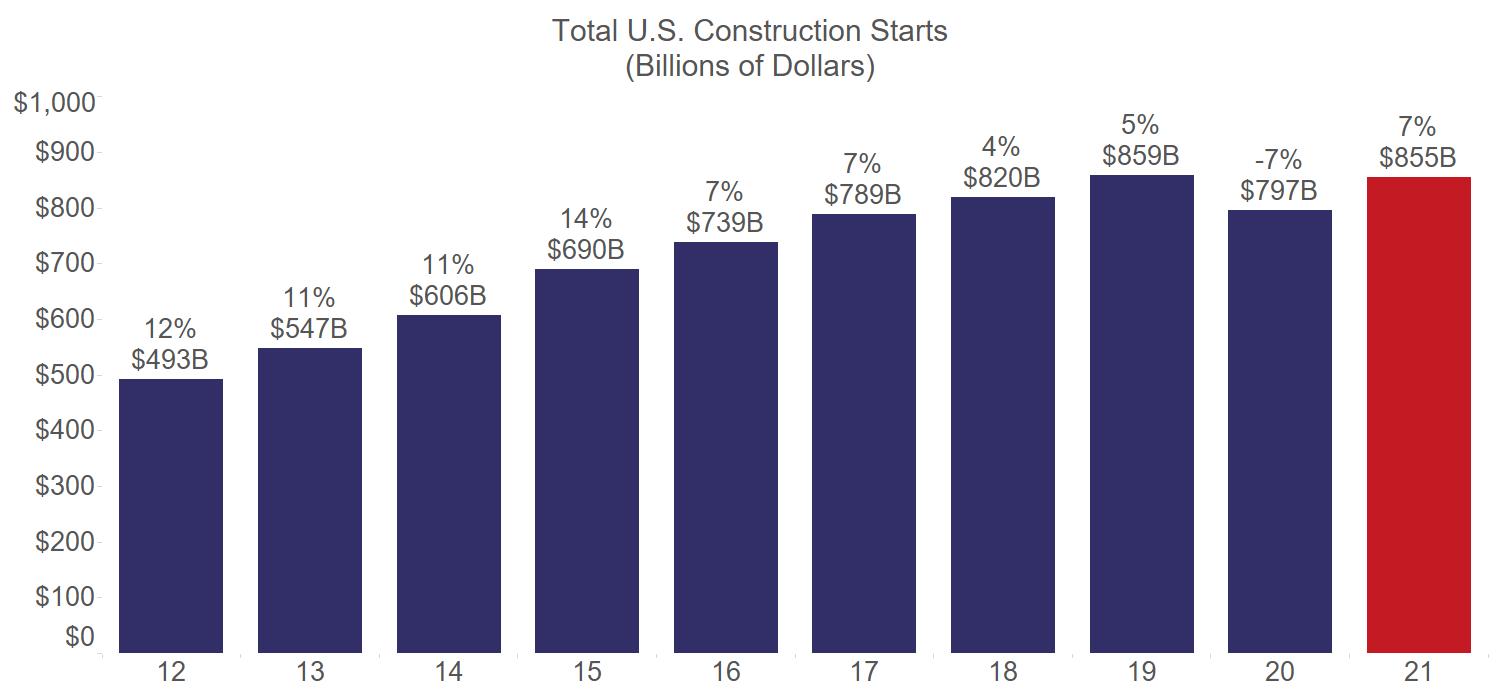 The good news is that most analysts predict a surge in spending in the coming months. "Projects entering the planning stage remain at levels not seen in several years," Branch says, "and forward progress on an infrastructure program and the federal budget provides hope that brighter days are ahead." The infrastructure bill, which includes $550 billion in new spending, continues to move through Congress, but Dodge has not included the bill in this year's forecast for total construction spending.
The importance of the five-year infrastructure bill cannot be overemphasized. "Our models are suggesting that thanks to the $550 billion infrastructure package, the total nonbuilding starts will increase by 34% from 2021 till the end of our forecast window in 2026," Branch says. "If we pull the $550 billion out, the total growth rate is 15%, which is a pretty weak rate of growth over a five-year period," he adds.
Pent-up demand
The numbers this year remain sluggish, but eight construction economists from varying investment and consulting firms that make up the Washington, D.C.-based American Institute of Architects' midyear Consensus Construction Forecast panel predict a 4.6% increase in nonresidential construction spending in 2022, compared with a decrease of 3.9% this year.
"Pent-up demand from the pandemic is creating a general spending surge that is helping to improve the outlook on construction spending over the next two years," according to AIA's report.
AIA's forecast originally predicted a much higher 5.7% decline in nonresidential construction spending this year. In addition, "virtually all the nonresidential building sectors are expected to see healthy growth" in 2022, according to the report. The forecast remains sluggish for office construction next year, but AIA predicts a roughly 5% increase in construction dollars for each of the commercial, industrial, and institutional sectors.
Single-family residential construction continues to pull the construction economy into positive numbers for the year. According to Dodge, new single-family units will top 1 million this year, which hasn't occurred since 2006 and will result in a 9% increase in 2021. In addition, multifamily residential construction should see a 5% increase this year. When the residential construction dollars are removed from total construction spending, however, the numbers remain flat.
"Progress has slowed recently due to the emergence of the delta variant and the fact that businesses are struggling to add capacity due to the lack of available labor," Branch says. In general, the overall U.S. economy is still about 8% below where it was in February 2020, just prior to the pandemic, according to Branch.
Some good news has come from the International Monetary Fund, which recently announced that it expects a 7% increase in gross domestic product for the U.S. for all of 2021, which is more than double its January 2021 estimate of a 3.1% GDP increase. On a more regional level, the economies in seven states — Idaho, Montana, Nebraska, Rhode Island, South Dakota, West Virginia, and Wyoming — have recovered to pre-pandemic levels, according to Branch.
Conversely, New York, New Jersey, and Pennsylvania lag well behind the rest of the country, Branch adds. For the construction industry, the economic recovery in the mid-Atlantic region will continue to be tenuous. Branch adds that most regions in the country are still in the recovery stage, with the exception of the Pacific Northwest, which is "flirting with starts that are higher than they were in 2019."
Material costs
The rising cost of construction materials threatens to stagnate construction spending throughout the U.S. in the coming months. In general, construction material costs have risen more than 33% in the last year, according to data from the U.S. Bureau of Labor Statistics.
Branch says that recent data suggest that lumber prices are beginning to stabilize and even slightly decline, but the cost of other materials like metals and plastics continues to rise dramatically.
When it comes to material prices, Branch notes that "we are starting to see at least a twinkle of a light at the end of the tunnel," adding that the "tunnel that we are in for material price inflation is very long, and we are likely to see escalated prices at least till the midpoint of 2022." This will continue to exert downward pressure on construction starts, according to Branch.
Growth patterns
As the overall picture of the construction industry economy depicts a sluggish recovery, Branch says that "significant dollars in the pipeline gives us hope that construction starts will begin to post more modest and broad-based growth patterns as we transition from 2021 into 2022."
For commercial building starts, Dodge predicts a 9% growth rate for 2021, led by the warehouse subcategory. "I have run out of superlatives to discuss the warehouse market," Branch says. "We are looking at another smashed record in warehouse construction in terms of the dollar value as well as square footage." If the warehouse category is removed from the commercial construction starts data, growth in 2021 becomes just 2% for the year.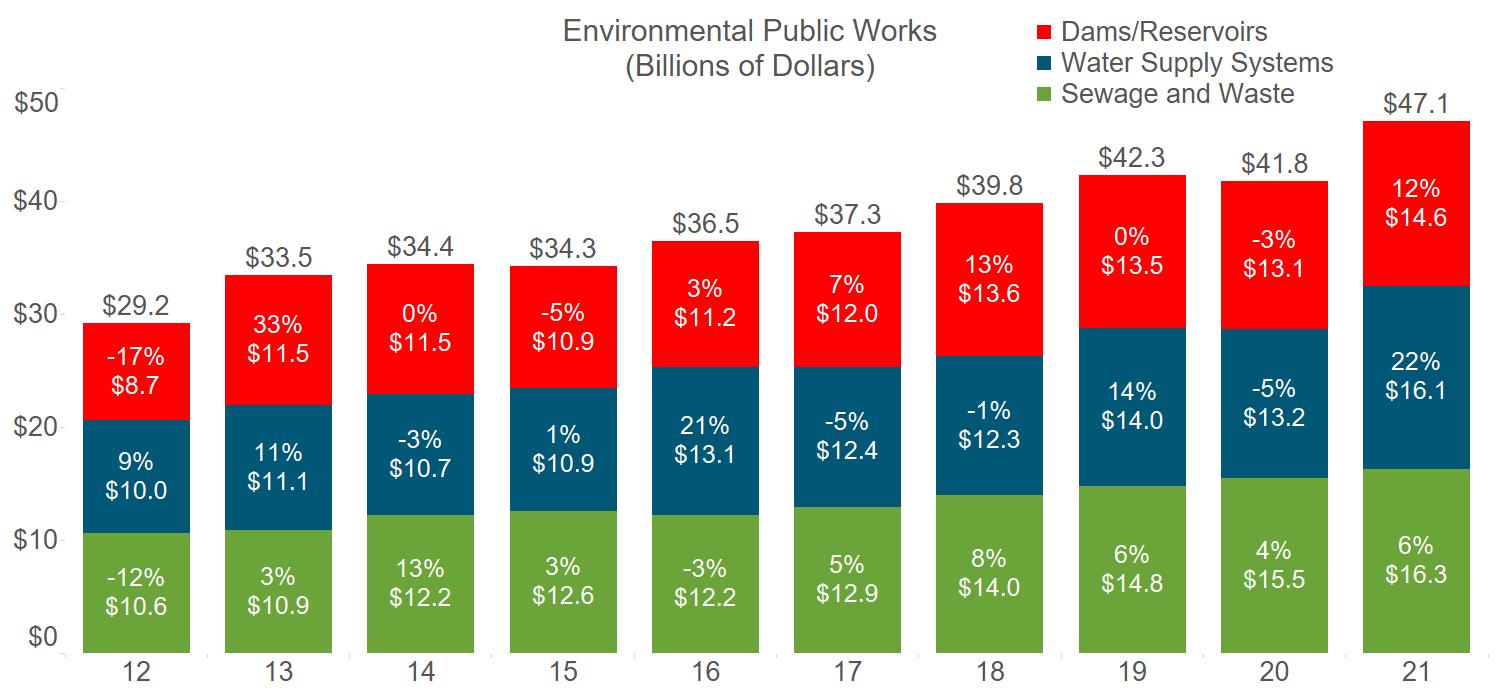 Office building starts, led by one sector — data centers — will be up 4% this year. New data center construction will increase 17% this year to a total of $7.4 billion and account for 16% of office construction activity, according to Dodge. Growth for the office sector in dollars would be reduced to only 2% without data centers.
Institutional building starts are expected to remain flat this year, as many public projects often lag behind an economic recovery, according to Branch. One bright spot in the institutional category is health care, which is poised to grow 7% this year. Education will see a 3% decline, and transportation will get a paltry 2% increase in construction starts this year, according to Dodge.
Another bright spot for the year is in the environmental public works sector. Water supply systems will be up 22% this year, while dams and reservoirs will see a 12% increase in spending, and waste and sewage projects will increase by 6%, Dodge reports.
"Despite the lingering pandemic and elevated materials prices, the demand for construction services remains high," says Anirban Basu, chief economist for Associated Builders and Contractors Inc., of Washington, D.C. "But this lofty demand is failing to translate into construction spending growth because the available capacity to supply services is so constrained, especially by the expanding skills shortages."
---