By Jay Landers
A new public art installation in Denver is part skate park, part community gathering place, and part stormwater management feature. By combining all these elements, the project achieves the goals of a new campaign by Region 8 of the U.S. Federal Emergency Management Agency to use art to raise awareness regarding flood hazards and methods for reducing flood hazard risks.
Communicating differently
FEMA Region 8 oversees federal emergency management efforts in Colorado, Montana, North Dakota, South Dakota, Utah, and Wyoming. In 2018, Region 8 estimated that only 7.5% of structures in Region 8 that were located in high hazard flood areas carried flood insurance, says Margaret Doherty, a risk mapping, assessment, and planning specialist for the region. When faced with these disappointing numbers, Doherty concluded that FEMA Region 8 had "to communicate differently," she says.
Part of the problem is that FEMA's traditional method for persuading people to buy flood insurance has relied mainly on financial or engineering data, says Anne Kuechenmeister, a planning manager at the engineering and consulting firm Michael Baker International. (In 2015, Michael Baker and the public relations firm Ogilvy formed a joint venture, known as Resilience Action Partners, to assist FEMA with risk communication and mitigation planning services.) "The data hasn't gotten FEMA to where it wants to be as far as getting individuals and communities to understand and own their risk," Kuechenmeister says.
In 2019, FEMA released its National Mitigation Investment Strategy, which seeks to improve the coordination and effectiveness of efforts to mitigate risks from natural hazards. In part, the strategy calls for increasing local investment in mitigation by relying on the insights of behavioral scientists, Doherty says. Such experts informed the agency that property owners are more likely to buy flood insurance if someone they know personally recommends it, rather than due to facts and figures provided by FEMA. "We could send you all sorts of postcards about your flood risk," Doherty says. "But if your neighbor said, 'I just bought flood insurance, and I'm excited about it,' that's what's going to make a difference."
Such insights prompted FEMA Region 8 to launch ArtWorks, an initiative aimed at creating eye-catching, interactive art that tells a story while communicating an awareness of flood risks and the importance of mitigation, Doherty says. To kick off the ArtWorks initiative, FEMA Region 8 and the RedLine Contemporary Art Center — a nonprofit arts organization in Denver — sought proposals from artists for projects intended to raise risk awareness and promote risk-reduction activities through art.
Permanent installation
In September 2020, FEMA and RedLine selected a proposal from Black Cube — a nonprofit nomadic art museum that produces site specific art installations around the world — to become the pilot project for the ArtWorks initiative. Artist Matt Barton is Black Cube's 2021 artist fellow. Opened in late May, the project, titled Community Forms, is a permanent outdoor sculptural installation consisting of concrete earthwork. The effort was developed by Black Cube and Barton in collaboration with the Birdseed Collective, a nonprofit organization that uses the arts and humanities to improve socioeconomic conditions in Denver.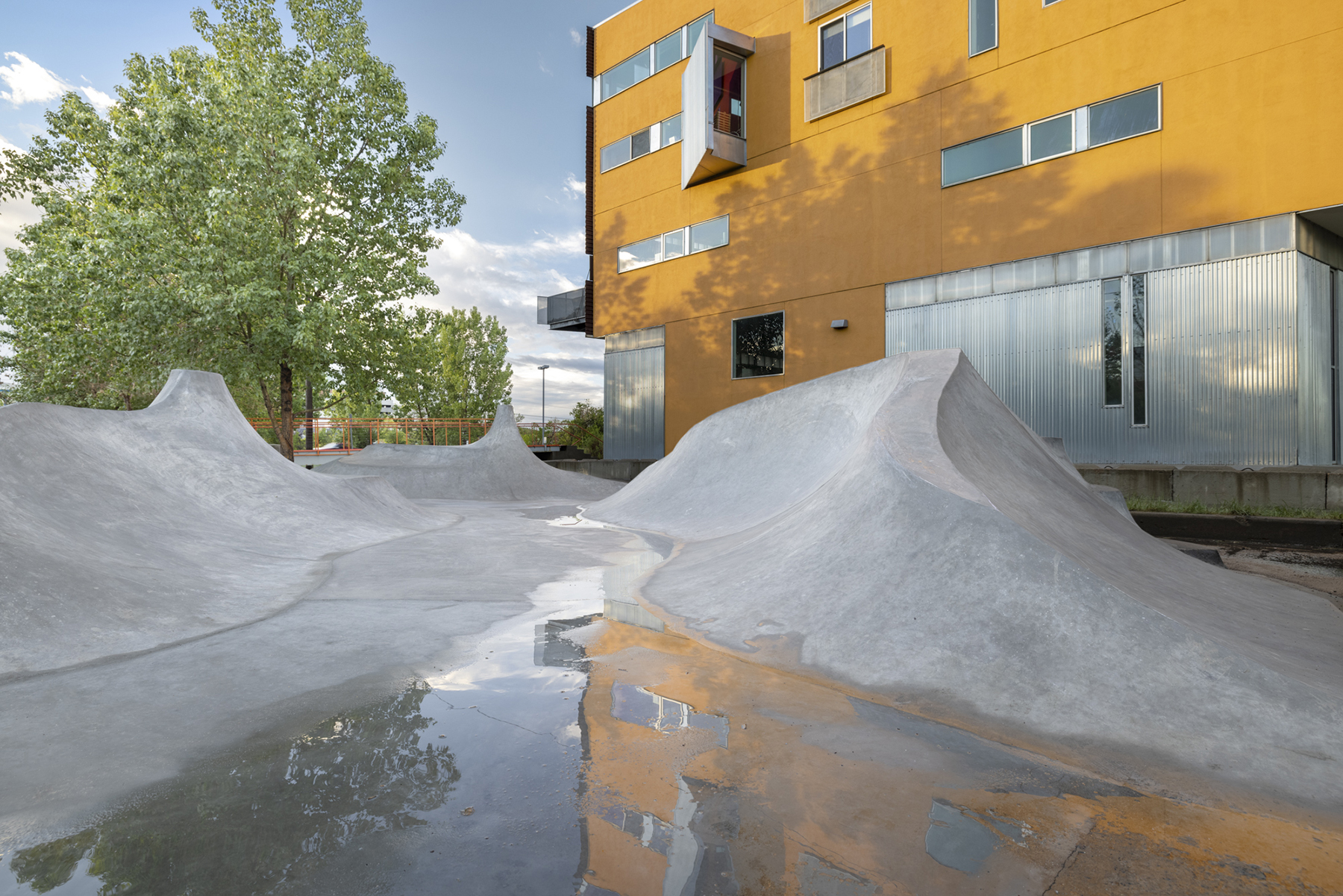 Comprising formed earth and asphalt from the site that were covered by concrete, the 3,430 sq ft installation is situated within the Taxi campus, a 28-acre, mixed-use development located on the former site of Denver's Yellow Cab Depot. A remediated brownfield site, the Taxi campus is located in the Globeville neighborhood, a low-income area that historically has experienced environmental justice concerns. A roadway separates the campus from the South Platte River, which receives stormwater runoff from the development.
Gathering space
A longtime skateboarder who has experience building concrete skating features, Barton says that he was inspired to apply similar construction techniques and materials as part of an art project that also would serve as a public plaza. "The concrete has the potential to introduce different forms to that public art conversation," Barton says. "It's very curvilinear and flowy, as opposed to a lot of construction methods that are more geometric."
Engaging public participation with the installation was a key focus of the project, Barton says.
"Using concrete building techniques, you can create forms that invite people to physically engage with a gathering space," he says. With their various tiers and slopes, the curvy forms that constitute the installation encourage such activities as skateboarding and parkour as well as more passive uses. "You can find your own comfortable way to sit and lounge on the forms," Barton says. "There's places where it invites reclining, and there are other places that are almost bleacher seating."
"The artwork is intentionally open and abstract," says Cortney Lane Stell, the executive director and chief curator for Black Cube. "It combines inspiration from many places, ranging from earthworks to skate parks to natural landscapes to infrastructure," she says. "The main core of the work is to be a gathering space for all types of people to engage in creative recreation."
Art as amenity
At the same time, Community Forms functions as an integral component of the site's stormwater management system. A downspout from an adjacent building directs stormwater to the installation. From there, the runoff flows through the channellike center of the forms before emptying to a concrete basin. The basin connects to a vegetated swale that ultimately drains to the South Platte River.
Previously, stormwater ponded at the site that is now occupied by the artwork, says Chris Woldum, LEED AP, the vice president of finance and development for Zeppelin Development. The project "eliminated standing water on the site and provided a more natural conveyance path for the runoff while also providing an amenity at the same time," he says.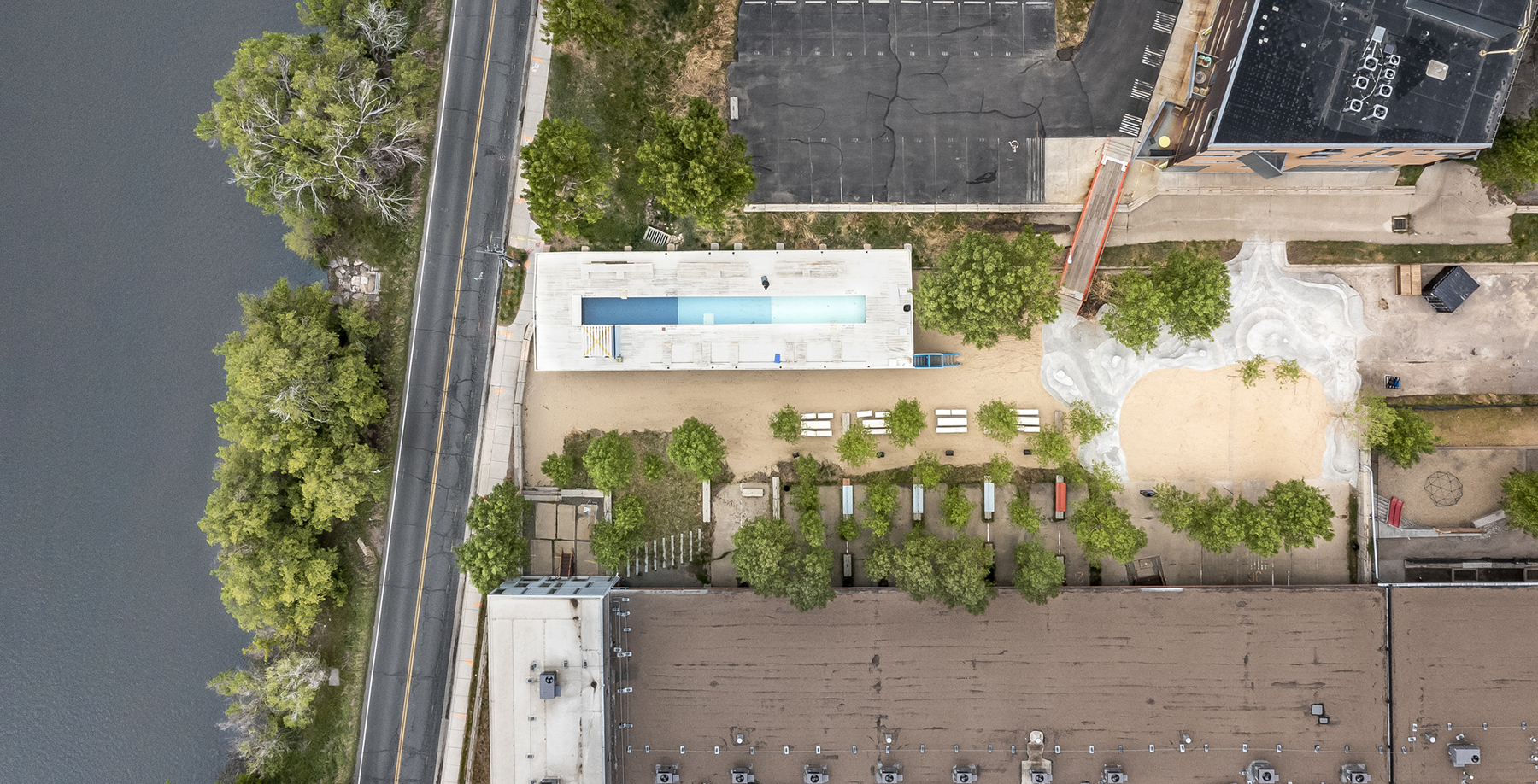 Zeppelin Development agreed to host Community Forms on its Taxi campus because the installation is a "natural fit for our style of development," Woldum says. "We try to collaborate between the technical side of site development as well as the artistic, functional, and programmatic side as well," he notes. "It's trying to deal with the necessity of stormwater management while providing an amenity and a space that's programmable."
Additional context
Interpretive signage provided by FEMA and included as part of the project provides additional context for interested members of the public. For example, the signs note that the project area experienced severe flooding in 1965, and they direct viewers to FEMA's website so that they can assess their own flood risk.
The signs help the public make the connection between the ideas raised by Community Forms and the broader subject of flood hazards, says Kristin Cypher, an urban planner for Michael Baker. "It's a very open-ended site that invites a lot of interpretation, exploration, and discovery," Cypher says. "It raises questions. The signs provide some answers." Their message is "directly linked to the goal of daylighting FEMA's message about the hazards and mitigation efforts that you can take as an individual to reduce your risk," she says.
All told, Community Forms cost $152,000 to prepare and execute. Funding for the project was provided by FEMA, Zeppelin Development, and the David and Laura Merage Foundation.
As for additional ArtWorks projects, FEMA Region 8 is working toward the goal of installing another art project in 2022 in a different Denver neighborhood that also has a history of flooding and low rates of flood insurance. More broadly, FEMA is developing a "toolkit of documents" to be used to promote the deployment of ArtWorks projects throughout Region 8, Doherty says.
This article has been updated to clarify information about Black Cube museum.