By Laurie A. Shuster
Matthew Jacobson, EIT, ENV SP, A.M.ASCE, graduated this year from California State Polytechnic University, Pomona with a bachelor's degree in civil engineering. During college he had two internships with the consulting engineering firm Kimley-Horn, and in September he began a full-time job with the company as a civil analyst working in the Los Angeles office. Having served as president of the university's student chapter of ASCE, Jacobson advises getting involved in membership organizations that help you grow your network, keeping your connections current, and upholding your ethical principles — even when others push back.
Civil Engineering: How did you first become interested in civil engineering?
MJ: When I was in fourth grade, my family, like many others, lost our house to the housing market crash in 2008. We had to move in with my grandparents. My dad worked to create an addition to the house, which my great-grandfather had built. Being the oldest, I saw it as my responsibility to help my dad build the addition to the house. I remember helping him put up the wood studs, run the electrical lines, hang the drywall, and paint the room.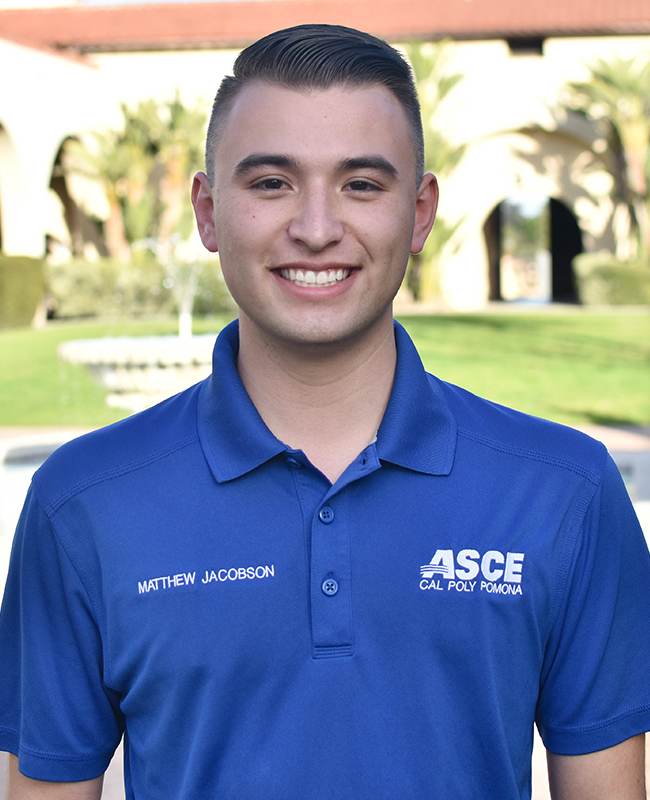 At the end of that project, my grandmother told my dad and me that we were problem-solvers who saw a need for our family and turned it into a reality. She explained that engineers work to create our future built environment. Ever since then, I have set my mind on engineering to create a better way of life for others — just like I did with my dad for my family.
What were your favorite courses at university?
Surveying, transportation, and my senior project. For the senior project, we worked with California Department of Transportation engineers, who chose a problem they knew would need to be addressed in the foreseeable future. They picked State Route 79 in Beaumont, California, which long term will need to be converted from an expressway to a freeway. We designed two interchanges and tied them into the existing infrastructure.
I was a co-project manager with my friend Nicole (Aquino, ENV SP, A.M.ASCE). Throughout our senior year, we managed the team, which included 20 students, two faculty advisers, and three Caltrans engineers. And because of the pandemic, it was all virtual. We held weekly team meetings, at which we would present updates on what the students had worked on, and Caltrans would do technical presentations. They taught us how to do things like a PEAR, which stands for preliminary environmental assessment report, as well as geometric approval drawings, construction staging, and cost estimates.
At the end we presented our solutions to the college of engineering for our grade and also to Caltrans' District 8 management. Hopefully Caltrans can use what we did as a baseline.
How did you get your internship?
I first learned about Kimley-Horn through an ASCE meeting during my freshman year. During my sophomore year, they presented at ASCE again, and they attended our career fair, where I was able to talk with their recruiter about internships.
How did you prepare for the interview for your first internship?
I attended a professional development workshop hosted by ASCE on campus, which helped with resume review, mock interviews, and LinkedIn branding. The workshop helped me prepare and feel confident for my interview.
What did you learn from that process?
Professional interviews can seem intimidating at first. But after you have demonstrated your technical competence, interviewers also want to make sure you are a good fit for the team. Engineers are people too, and we often have similar interests, like travel or having fun on the weekends. Discussing those things can help you better connect with professionals before, during, and after the formal interview, and that can help you land the job.
What did you do during your internships?
In 2019, I interned in the company's Riverside office, working on small-site retail, some commercial and industrial projects, and some single-family home due diligence reports. Then last summer, because of the pandemic, they did a virtual internship, and I was asked to come back. I worked with the LA team on a design challenge project centered around the Olympics. We designed a mixed-use building as if it was part of the Olympic Village; it included shopping, dining, housing, and office space. We worked with others from around the region.
How did you turn your second internship into a full-time position?
Kimley-Horn is really intentional about converting their interns into full-time employees. The time from the interview process for the internship right through the internship itself is like one long interview for a full-time position. You're being evaluated for a number of things, including how well you fit with the team and the company culture. We were a good fit for one another, so at the end of my second internship in August 2020, they made me an offer and I accepted.
How did what you worked on as an intern relate to what you work on now?
I am still part of the development services team, so I am doing small-site retail again, and we are also kicking off some single-family and multifamily housing projects. And then this past week I was working on a submittal for an industrial complex in the Twin Cities in Minnesota. We worked with their office on that.
How has your job compared with what you expected?
Everything from the culture to the projects to the company's core values has been a great experience, and I look forward to continuing to grow with the company. I have been able to witness the company using its resources toward its core purpose of providing an environment for people to flourish.
What role would you see yourself working toward next?
My next big professional goal is to obtain my P.E. license. In California, this will mean taking the eight-hour P.E. exam followed by seismic and surveying exams. This will be something that I work toward over the next two years.
What advice do you have for those graduating today and starting to look for their first jobs?
Connections are important. Having a connection helps you go a lot further than just submitting your resume on a website. It's also good to have a network of people who want to help you and a professional mentor or maybe an alumnus that you were close to.
And those connections should go both ways. One of my friends wasn't able to convert her internship into a full-time job, because the company had a hiring freeze, so I helped her. She told me what kinds of work she was interested in and what geographical areas she was interested in, and I knew some people at different companies whom I was able to connect her with.
What nontechnical skills help you in your job?
I credit ASCE for how I have developed professionally. I learned how to schedule, coordinate, and run meetings; develop minutes quickly; and use other nontechnical skills that you don't necessarily learn in the classroom but that are important as you transition to working full time.
Also, the external networking with ASCE was helpful. I was doing a submittal last week, and my teammates went out to get coffee, and they ran into some people who work for HNTB whom I knew from ASCE. It's cool to know more people in the profession in the LA area than just those I work directly with.
You and I had to postpone our first appointment when something urgent came up for you at work. What was that?
We have a national, private client, and the Riverside office was working on a project for them. It had to be approved by the county department of public health. They submitted the plans with revisions and a comment-and-response letter that addressed the plan checker's concerns with it. I reviewed it and made sure everything looked right, and then I took the package to the county department. There, the plan checker wanted me to write certain things from the letter explicitly on the plans. But the plans were drawn up by the architect, who was a subcontractor of ours. They were signed and sealed plans, and I believed I couldn't edit them.
This was a Friday, and the project was planned to start construction on Monday. So I got my contact from Riverside on the phone and explained the situation. He agreed we couldn't change the plans. The overall project manager sits in San Diego, so we called him. He came up with rebuttals to the plan checker because everything was there; it just wasn't written on the plan itself. So we developed a game plan and went back to the plan checker. She was not budging. She said, 'It's this easy,' and then she wrote on the plans what she wanted to see!
There were three copies, and she said that if I copied what she had done onto the other copies, she would sign and approve them. I still didn't think I should do that.
So I called my contact at Riverside again, and they reached out to the architect. The architect approved us to write it all in, and we got the plans approved. And we got written confirmation from the architect approving those changes.
My supervisors told me I did the right thing. That was a real lesson to me as a younger engineer, to still follow the ethical guidelines, even when there is a deadline and you need to get things approved quickly.