By Brian Fortner
Urban design projects often overlook social equity. Going forward, designers must better understand the needs of communities to provide equitable, just, and inclusive projects, according to panelists at the Pennsylvania State University virtual symposium, "Design Consequences: Taking Responsibility for Our Ideas" held in late September.
The event addressed topics that ranged from historical perspectives of urban high-rise housing projects to real-time, street-level, community-involved project planning using mapping and social media technologies.
The symposium focused on ways to improve urban project planning and design to address social equity — that is, the social inequities that design has historically brought to communities — and how designers can better serve marginalized neighborhoods and cultural groups. "We need to explore different ways of generating knowledge and asking questions because the old, established ways are failing us," said Alexandra Staub, the symposium's organizer and a professor of architecture and affiliate member of the Rock Ethics Institute at Penn State, during the symposium.
The fair and just access to opportunities and resources for all citizens — commonly referred to as equity — has not always been prominent in the design environment. "Architects and designers in related disciplines are trained to seek solutions to problems that are largely defined through the values and demands of their clients," Staub said. "The needs of additional stakeholders — especially members of marginalized communities — are typically not considered during the design process."
The lack of available data and the realization that designers have little knowledge of what the occupants and users of the built environment want or need have hampered social equity practices. "We often struggle to get data about real-life situations and about the people who we are actually designing for," Staub said. "The people with the most complex needs are the people we have the least access to," she added.
Design history
According to architecture historian Ife Salema Vanable, when urban designers do not consider the needs of vulnerable citizens or cultural groups, citizens are left to live in an environment created by people who have no ties to the community. This can create a sense that these residents are "living inside someone else's imagination," Vanable said during the symposium. There is a "tendency of architecture to operate in terms of problems and solutions rather than to begin to operate in modes that are more interrogative."
Vanable is a Ph.D. candidate in architectural history and theory at Columbia University's Graduate School of Architecture, Planning, and Preservation. She has extensively studied the social impacts of high-rise housing developments in New York City and despite the urban design issues that exist, she resists "the narrative that urban housing in high-rise form is inherently problematic."
For example, the high-rise housing projects built in the 1960s and '70s in New York City moved people away from street-level living spaces while providing public open spaces for use when residents did leave their dwellings. The problem was not urban design in this case, she argued, but other cultural, racial, social, and governmental policies in place in the U.S. and particularly New York City at the time.
A 'techquity' approach
One method to better engage communities and marginalized residents during the urban planning and design process is by taking advantage of technology. Antwi Akom, Ph.D., is the founding director of the Social Innovation and Universal Opportunity Lab — a joint research lab between the University of California San Francisco and San Francisco State University. He is also the co-founder of StreetWyze a mobile, mapping, and short message service platform that enables real-time, community-generated data to be integrated with predictive analytics to improve participatory opportunities for stakeholders to "make communities smarter, more equitable, just, and sustainable," as he explained it during the symposium.
According to Akom, who describes himself as an urban technologist, designers need to move away from the top-down, technical approaches used in the past and move toward a more bottom-up, community-based approach to urban design. This bottom-up approach requires identifying and engaging with vulnerable populations that have historically been overlooked during the urban planning and design process.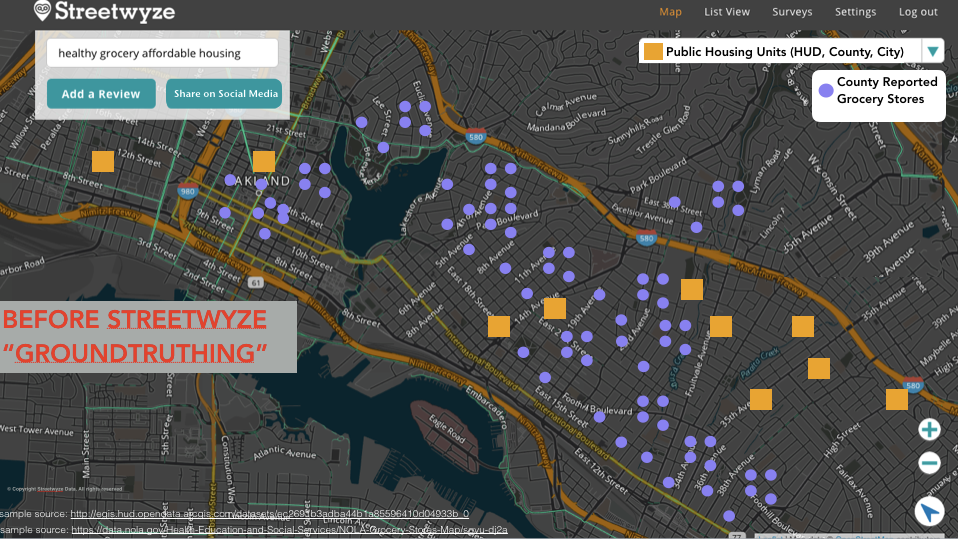 "We think the missing link is something we call 'techquity,'" Akom says. "People-powered place-making, or real-time two-way communication with everyday people so they can participate in the design solutions that meet their everyday needs." Akom's StreetWyze platform is being used, he said, to show "how architecture, technology, and community informatics can help dismantle racism, design for equity, and build more just, equitable, diverse, and inclusive age-friendly livable communities for all."
Many designers, architects, planners, and engineers have become frustrated in their "inability to make a real difference in the lives of vulnerable populations," Akom said. "Architecture, much like race, is personal; it's local; its immediate." One of the limitations of big data, according to Akom, is that it often misses what's happening on the ground level, and secondary data is not always accurate at the street level. One example Akon uses to tell how community engagement works with StreetWyze involves comparing government data and maps listing dozens of "grocery stores" in a neighborhood in East Oakland, California. Despite the listings, nearly all the grocery stores cited were actually corner convenience stores or liquor stores with little or no healthy food choices. In addition to helping better identify the availability of grocery stores through what it refers to as "groundtruthing," the platform also allows residents to comment on such things as which neighborhood parks are the safest or whether play sets are functional.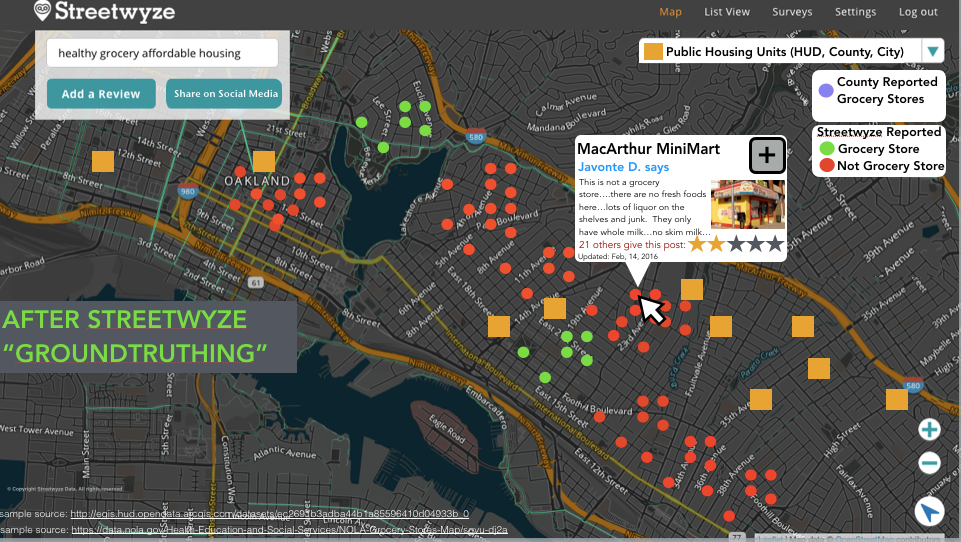 Design research
This street-level data collection and community involvement has been the strategy of cityLAB at UCLA, a design research center focused on urban spatial justice. CityLAB's associate director Rayne Laborde explained during the symposium, "We have a tendency to not believe things until we can see them. That's where we see this exceptional power of design." Even at times when design is a "little bit goofy" or completely unexpected, it's a way to reorient perspectives and really show "the possibilities that are hidden in plain sight," she said.
Laborde cited a cityLAB project that encouraged California school districts to build houses for teachers and support staff on underused school property to combat teacher shortages and provide affordable housing. Laborde also addressed how the concept of crime prevention through environmental design is really crime prevention through exclusionary design. For example, making park benches uncomfortable to discourage unhoused citizens — who might potentially commit crimes — to loiter in parks at the same time discourages all citizens from using benches.
"Design research has the capacity to get everything and everyone on the same page and to explore less easily seen connections and to tease out hidden narratives and to piece it all back together anew," Laborde said. Design equity must involve what Laborde calls "commoning," or reinstating the ability of all citizens to change their city through radical reclamation of space, sharing of resources, and building social connections with the housed, unhoused, and business owners in the community.
In the end, design equity must come from the community. Designers must allow that to happen and embrace a new process to make it possible. "We need to address how we design and build if we wish to create environments that serve all members of a community, rather than simply those whose financial means put them at an advantage," Penn State's Staub says. "Designers are powerful thinkers, and we need to tap into that potential to help promote social equity."