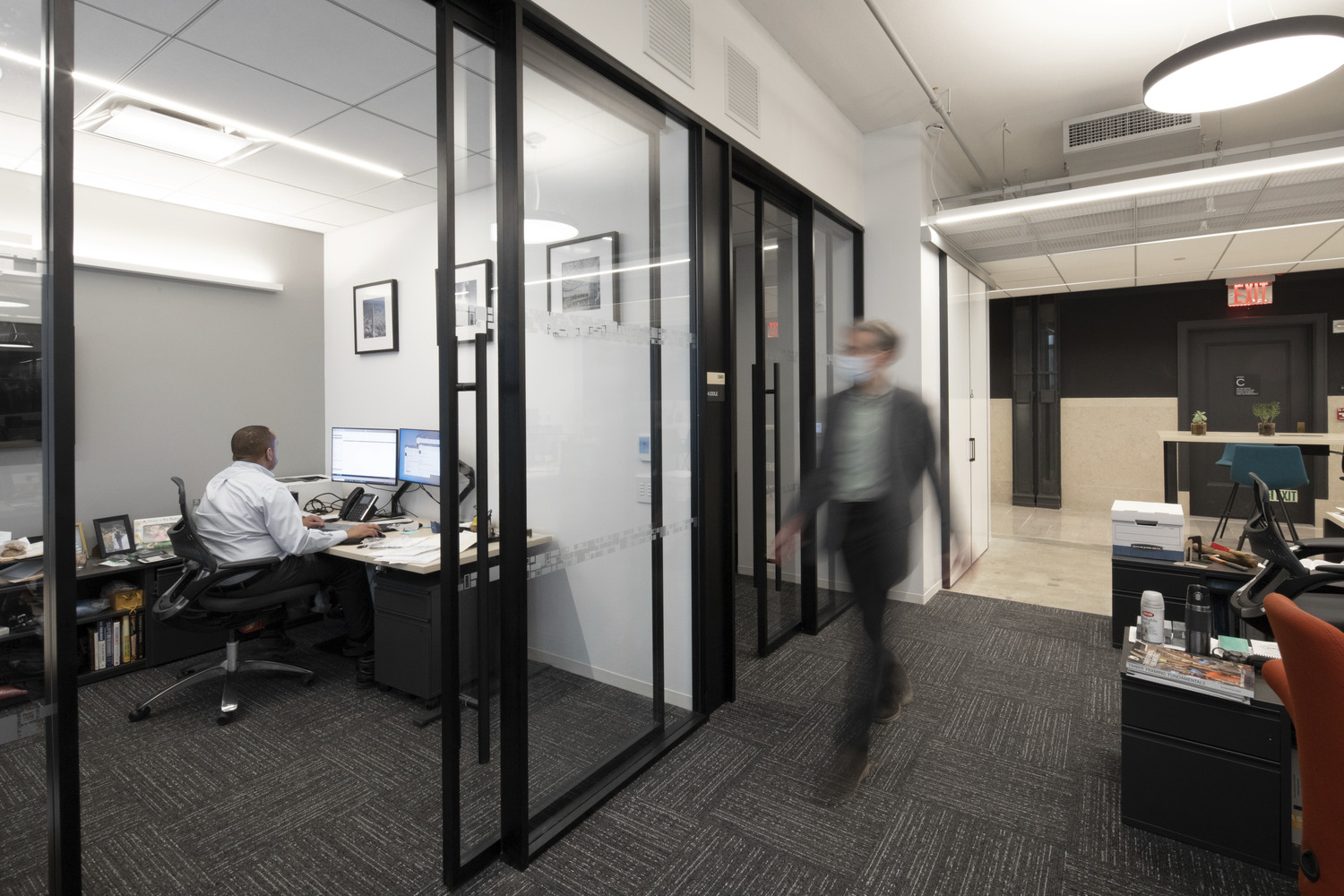 By T.R. Witcher
Though the COVID-19 pandemic continues to persist, most of the staff at the firms Civil Engineering spoke with for its two-part series about navigating the pandemic lockdowns and post-pandemic reopenings — including Magnusson Klemencic Associates, Thornton Tomasetti, Bechtel, WSP USA, and Arup — have returned to work. But, as our second story will point out, the nature of the working environment they're returning to may be changing for good.
New policies
The firms we interviewed are currently requiring social distancing and mask wearing as are many — but by no means all — jurisdictions throughout the United States. Thornton Tomasetti is leaving those decisions up to the leaders of its local offices. WSP employees are asked to compete a self-assessment via an in-house app before they start work. If the assessment indicates any risk of COVID-19, the employee is instructed to stay home.
The biggest pending policy change concerns vaccines. In September, President Joe Biden issued an executive order requiring that employees for firms that do business with the federal government be vaccinated by Dec. 8. That has subsequently been pushed back to Jan. 18, and the order is being challenged in court. Firms that do a lot of work with the federal government are complying with the mandate — all say they are either evaluating their approach to exemptions or allowing medical and/or religious exemptions.
"In some ways (the mandate) makes it easier because we don't have to talk about (how vaccination)… is what we feel is best," says Andy Fry, P.E., S.E., LEEDAP, the chief operating officer of MKA. "It takes that debate away, (and) we (can) say, 'Hey, this is what we are now obligated to do.'"
Welcome back
Richard Driggs, the chief operating officer for WSP USA, notes that many colleagues have welcomed the opportunity to return to work, while others feel more comfortable working from home. "There's not much that beats face-to-face collaboration," he says, "but our top priority is giving our employees what they need to be successful; one of those things is being able to work in a place where (employees) feel safe and healthy, and for some people that means working from the environment they can create for themselves at home."
Driggs adds that the firm hasn't yet required employees to return to the office and it is evaluating current rates of COVID cases before it makes a final determination.
MKA's workers have all returned to their Seattle and Chicago offices, and Fry says he has heard a wide variety of responses among staff about how they felt about returning, from "'I was so thrilled to be coming (back),' to 'I can't believe my employers dragged me back to risk my life for their profit,' and everything in between."
MKA was fortunate, Fry adds, that workers returned over the summer at, coincidentally, the same time the firm was hosting a community-building fundraising event, which featured a trivia night, board game competitions, and other fun (if masked) activities that reinforced bonds of collegiality and friendship.
Hybrid is the new normal
What seems clear is that, even when the pandemic winds down, firms will not be returning to business as usual, circa February 2020. The hybrid model of workers splitting time between the office and home is probably here to stay. Firms have different feelings about what hybrid work will look like, however, and how effective it will be.
Leo Argiris, P.E., LEED AP, the chief operating officer for Arup's Americas Region, argues that "firms will lose out on opportunities for hiring new talent or winning new client work if they do not embrace hybrid working to some extent. Firms now need to take a step back and review their current requirements with an eye towards the future to make sure they are making wise decisions."
WSP also has moved to a hybrid approach, which is "tailored to meet the needs of the business and provide its employees with scheduling flexibility," says Driggs. "Some have chosen to continue working from home exclusively, while several of our workers are spending two to three days per week in the office." Still others have chosen to work in the office every day. Regardless, "we encourage teams to come in at the same time so they can gain value out of face-to-face collaboration," Driggs says.
Michael Squarzini, P.E., LEED AP, co-CEO of Thornton Tomasetti, contends that remote work is here to stay — and should be. "It works for us, thanks to our distributed leadership model and our culture of trust," he says. "We have set a philosophy of having the majority or our staff in the office the majority of the time because we recognize the value of being together and that we are better when we are." But, he says, the firm encouraged more than 1,000 conversations with project leaders about what level of flexibility works for each person at each stage of their career and responsibilities.
As recently as October, Thornton Tomasetti had on average about 40% of its people in its offices on any given day — a figure that varies by region and location but is closely correlated to commute times and modes of transportation.
But MKA's Fry is more skeptical of the hybrid approach. "Staying connected as a team was incredibly difficult until we were fully back together. When people were in/out of the office on different schedules, we often defaulted to a virtual conversation rather than bother to try to see if a more effective in-person conversation could occur," Fry says.
Fry also contends that a model where different teams come in at different times can create issues because it "doesn't reflect a healthy organization. That reflects teams getting teams' work done. But a lot of times my team supports your team and vice versa, so if we're not in the same office on the same day we might as well be working for different companies in different states."
Bechtel is trying to address one of those challenges. Brian Hartman, P.E., the manager of corporate engineering and technology at the firm, says, "We are in the process of classifying all positions in the company as full-time telework, part-time telework, or full-time office/site. That way it is easy for all colleagues to understand where they are with regards to telework. We have also allowed some flexibility for the leadership teams and supervisors as they implement telework within the policy framework while also allowing for work and/or customer requirements."
As for workspaces, Arup's Argiris contends that companies should refrain from making drastic changes. He says that around the workplace, easier solutions such as "better signage for public health, including clear protocols for social distancing and sanitation, should be implemented as permanent shifts in health and safety practices." Sensors and other technologies connected to the internet may be able to measure indoor environmental quality. "These tools will be able to report real-time data surrounding health and wellness, such as temperature, air quality, and occupancy data, which will give staff confidence in the systems in place to maintain a safe workplace."
But firms are just at the beginning of figuring out how to maximize the benefits of working collegially in an office with the work-life convenience of working from home. "I think it is also important that we as organizations recognize and treat this as an iterative process," says Argiris. "The right solution hasn't emerged and settled yet, and it would be premature to think that we already know how to do the hybrid workspace. By being nimble, we will ultimately transition into the right solution that works with the nature of the organization."
Read part one of the series, "How did engineering firms navigate the pandemic lockdowns successfully?"