By T.R. Witcher
Florida Avenue has always been something of a difficult case in the complex road network of Washington, D.C. According to a 1993 Historic American Buildings Survey report written by National Park Service historian Elizabeth Barthold, the current, diagonally oriented avenue was part of the original Washington boundary plans drawn up by Pierre L'Enfant and Andrew Ellicott in the late 18th century.
Originally, the young city's northern boundary zigzagged from Rock Creek to today's 15th Street NE with diagonal grand avenues extending outward from the city. However, "neither L'Enfant nor Ellicott indicated that an avenue was to follow the city boundary," Barthold writes. On the other hand, L'Enfant did envision "special landscape features" whenever an avenue crossed or ended at the boundary to serve as a gateway into the core city.
But the original plans are vague about what the particular intersection that became known as Dave Thomas Circle would look like.
Eventually a road did develop along the city's boundary — dubbed Boundary Street and eventually renamed Florida Avenue in the 1890s — and New York Avenue was one of the principal arterials that intersected Florida, bringing travelers into and out of the district.
Initially a dirt track, the boundary road was developed into a busy arterial over time. According to a 2019 technical report by the Urban Land Institute, New York Avenue at that point carried about 50,000 vehicles a day and Florida Avenue carried another 20,000.
The junction of these two diagonal avenues is further complicated by several adjacent streets, including Eckington Place NE and First Street NE as well as nearby O Street NE. It is, as the ULI report put it, "a virtually indecipherable tangle that (mis)manages traffic from the two major arterials."
Where's the beef?
At the center of this tangle was a triangular plot of land that — until a few months ago — was the home of a Wendy's restaurant. The fast-food spot had been there since the 1980s, according to a Washington Post account. Far from a novel gateway into the nation's capital, as had been part of the original Washington, plan, the Wendy's became an auto-heavy eyesore that earned the intersection the dubious moniker Dave Thomas Circle, after the founder of the chain.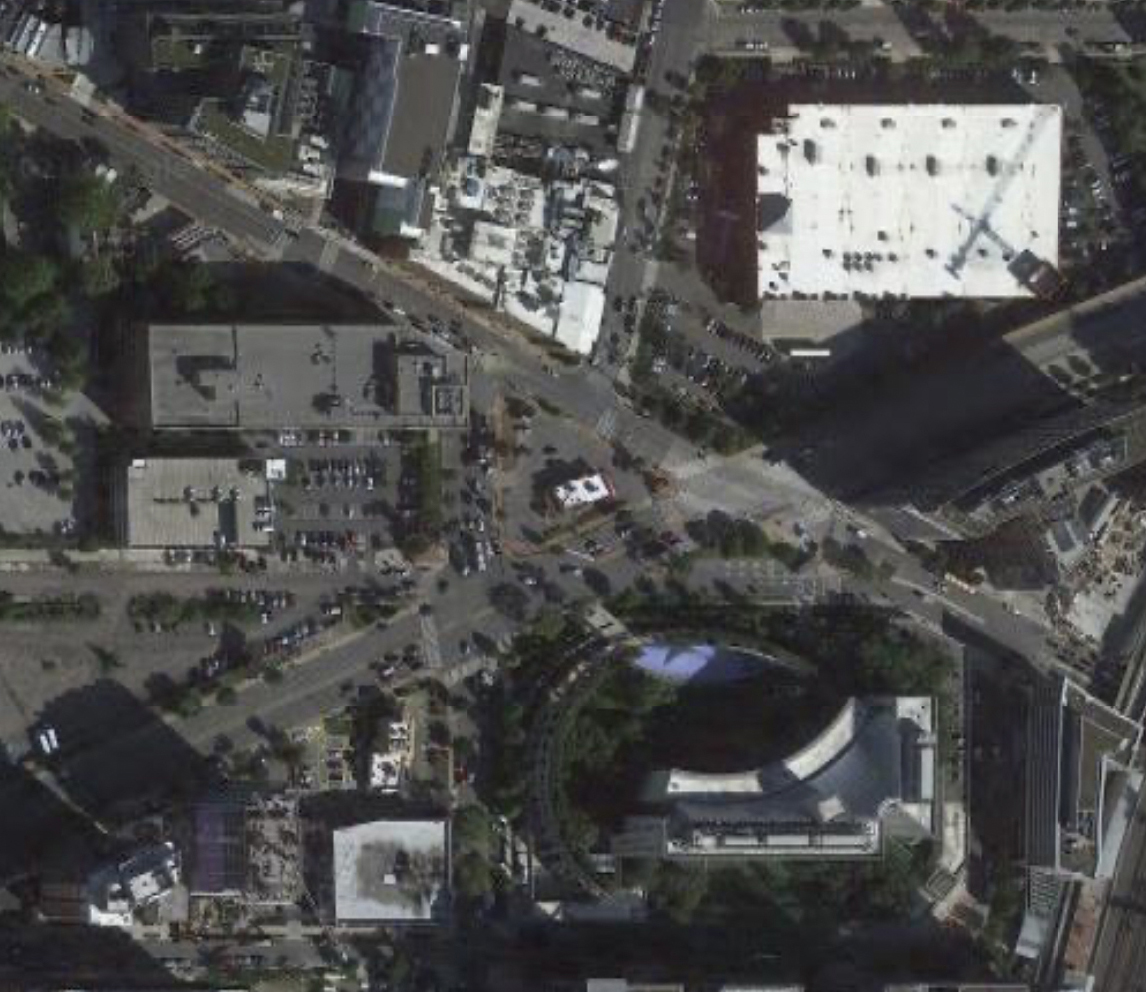 As early as 2010, traffic engineers converted the streets around the Wendy's triangle into one-way traffic in an attempt to mimic the flow of a traffic circle. But this did not prove to be an efficient or safe solution. A 2015 study of traffic safety found that the intersection of New York and Florida avenues saw 160 crashes between 2010 and 2012, 43 of them causing injuries. Almost 400 more crashes occurred within a few blocks of the intersection in the same time frame. Meanwhile, 85% of motorists drove faster than the 25-mph posted speed limit.
The intersection has ranked in the top 10 in the district in terms of total number of crashes. "Eighty percent are side swipes or rear ends consistent with driver confusion and lane changing," says Everett Lott, the interim director of the District Department of Transportation.
The intersection is dangerous for bicyclists and pedestrians too. For one, there's no bicycle lanes on Florida Avenue, pushing cyclists onto narrow or nonexistent sidewalks and into potential conflicts with pedestrians. Further, pedestrians and bicyclists using Florida Avenue or its sidewalks must cross several high-volume intersections. More than two dozen crashes involving bicyclists and/or pedestrians occurred during that same three-year period.
"This (intersection) has been on our radar for years, but we started the real design work about 18 months ago," says Lott. After extensive planning and community involvement, DDOT released plans in November to begin a massive overhaul of the troubled corridor.
"The new design will realign and add two-way traffic to First Street NE and restore two-way traffic on Florida Ave NE. It will add protected bicycle lanes and cycle tracks, and it will add other improvements that will benefit the safety for all modes of travel along that corridor," explains Lott.
The redesign
The Wendy's, which DDOT acquired through eminent domain, closed in September and will be demolished next year. The reconfigured intersection will curve First Street NE to join Eckington Place NE at Florida Avenue. This will simultaneously reduce the footprint of the existing triangle-shaped "circle" (where the vacant Wendy's sits) and increase the footprint of land immediately west of First Street.
Both spaces will be redeveloped into small, pedestrian-friendly public parks. In addition, a "slip" lane at O Street — just south of the avenues' intersection and in front of the headquarters of the U.S. Bureau of Alcohol, Tobacco, Firearms and Explosives — will be removed. New turn lanes will be added on New York and Florida avenues, and a third piece of land, in front of the ATF building, will be turned over to park space as well.
Other safety features include upgraded curbs, Americans with Disabilities Act-compliant curb ramps, and new traffic controls and signals. Street lamps will also be replaced and new trees planted. In total, the number of intersections around the circle will be reduced from five to three.
"We're excited about the future," says Lott. "It's going to eliminate confusion. It's going to provide clear direction for all modes to be able to safely travel."