Edited by Laurie A. Shuster
Wakil Pranto, EIT, A.M.ASCE, graduated from the University at Buffalo in 2020 with a bachelor's degree in civil engineering and in 2021 with a master's degree in structural engineering. He was a member of his student chapter of ASCE and interned with WSP and catena consulting engineers. As he approached graduation, he pursued his job search with engineerlike precision, and his preparation paid off with what he considers his dream job as a graduate structural engineer, focused on bridges, at Dewberry in the New York metro region.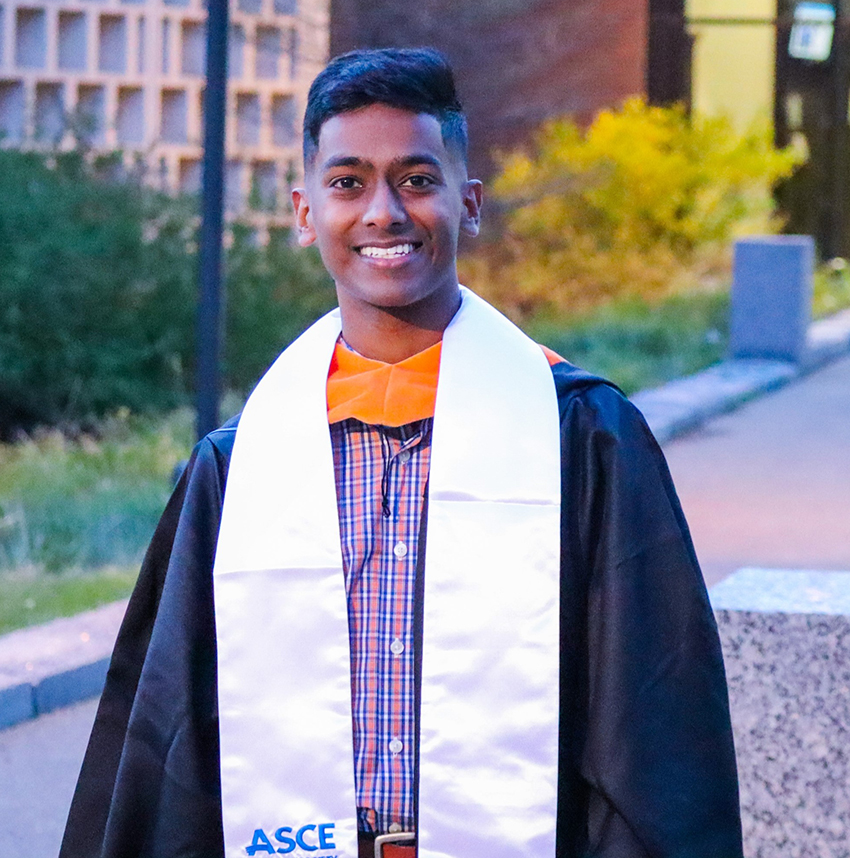 Civil Engineering: How did you first become interested in civil engineering?
WP: My father demonstrated the importance of a formal education by teaching me higher-level mathematics at an early age. That combined with my love of problem solving and self-motivation to result in an interest in engineering.
While a career in the medical field would have been ideal in my parents' eyes, I compared doctors to civil engineers with regard to human health and service and showed them that they were remarkably similar.
What were your favorite courses at the University at Buffalo?
During undergrad, I enjoyed statics; it was my first true taste of civil engineering. Seeing how the calculations behind simple diagrams and shapes represent the physics of Newton's third law was truly remarkable. It was also rewarding to witness how statics was a building block for the upper-level structural engineering classes in concrete and steel that I took.
During grad school, my favorite courses were wood design and steel bridge design. These courses were outside of the norm of a typical civil engineering curriculum, and it was inspiring to learn how fun structural engineering principles can be.
How did you conduct your job search?
My search began as my last year of school began, in August 2020 — in the heart of the pandemic. I created an Excel spreadsheet to keep track of all the companies I was interested in, whether I had applied yet, and what stage of the hiring process I was in. I strongly believe having an organizer like this is crucial during the application process because most of the time you won't hear back for a while after you apply. I treated my job application process as another course that required consistent attention every day.
I also used my university's annual career fair; those are an excellent resource for applications because the employers are coming to you instead of vice versa!
How did you become aware of the opening at Dewberry?
I'd routinely shuffle through job listings on Google, LinkedIn, Handshake, and Indeed. Dewberry does a stellar job at recruiting online. I saw an entry-level position that seemed like the job description was catered to my exact situation.
The company provided an anticipated start date, expected graduation date, years of experience (which in this case was zero, which was realistic), and the specific type of civil engineering the candidate would work on. They also listed their preferred education level and preference for an EIT, which is very important to me because it means the company thinks highly of credentials.
Seeing how perfect this job posting was to my career aspirations and how much time and effort they put toward the entry-level hiring process, I made sure to prioritize Dewberry in my job hunt.
What was the application and interview process like?
I tailored my application to showcase that I was a prime candidate for the position. Doing so shows hiring managers that you're truly looking to grow your career within their company and that you're not just looking for any job.
I emphasized my senior capstone design project, which was entirely focused on structural engineering, as well as my construction management internship experience in transportation projects.
Eventually a recruiter offered me an interview with three department heads at my current office. I knew this was my opportunity to prepare well and nail the interview.
How did you prepare for the interview?
I prepared by diving deep into Dewberry. I thought it was important to know which markets the firm works in, like transportation, energy, education, and so on. I also took a look at their project portfolio and saw a couple bridge projects that I was already familiar with.
Once I knew the names of my interviewers, I did a bit of LinkedIn searching to learn their backgrounds and how their prior experiences related to mine. It turned out that one of them is a fellow University at Buffalo alumnus; that was an excellent conversation starter for the interview!
And I made sure to practice talking about my internship and project experiences and to tailor the dialogue to the job I was interviewing for. For instance, one of my internships was as a construction inspector for a highway project. Once given the chance to speak about that experience, I answered in a way that identified the highway bridges that Dewberry works on and how I have experience with inspecting and reading plan sets with guide rails, horizontal and vertical geometry, work-zone traffic control, and so on.
What did you learn from that process?
It demonstrated to me that interviewers have been in your shoes before. They know you will be nervous and that you have been working extremely hard to get to the job interview stage. Their intent is to not test you on your qualifications for the job; your resume, transcript, and cover letter speak to that. They want to get to know you as a human being and determine how you may fit within their team.
How did the job offer compare to what you expected?
I heard back a lot sooner than I expected. The regional recruiter called me to tell me the good news. It was a feeling I can't describe; the culmination of what I was working toward for the past four years.
When she sent me the offer letter and benefits package, that was the cherry on top. I was extremely pleased with what Dewberry offered, which goes to show how well they treat their young engineers.
How has the job so far compared with what you expected?
Six months into the job, I can confirm my love of bridges! I hadn't realized how many moving pieces are involved in a bridge project, such as roadway, drainage, lighting, geotechnical, and environmental engineering. And because Dewberry is a multidisciplinary engineering firm, I can collaborate with engineers in those other departments and see their side of things, which in turn makes me a more well-rounded engineer.
What role would you see yourself working toward next?
My next milestone is to gain enough professional experience to sit for the professional engineer exam and become a registered P.E. in New York and New Jersey. And I'm planning to remain in, and become even more involved with, my local chapters of ASCE and the American Council of Engineering Companies.
What advice do you have for graduating students to help make their job searches successful?
Get involved with your student ASCE chapter. The success I have had so far has been a testament to the skills, projects, and connections that ASCE provided over the last few years.
As for the job search, it's a grind — there's no denying that. But focus on the quality of your applications versus quantity. Remember that you're competing with hundreds of other applications for a chance to interview, so you should look for ways to stand out. For instance, an employee referral is outside of the norm, as are cold emails and LinkedIn messages. I promise that if you word your message briefly, powerfully, and with an eagerness to pursue your career, people will listen.
Lastly, once that interview arrives, be passionate and confident. Nerves are normal, but practice in a way that demonstrates to your interviewers that they would be the ones missing out if you were to walk away.