By T.R. Witcher
When Fran Dixon graduated from high school in 2020, in the teeth of the COVID-19 pandemic, work was hard to find. Dixon, who uses they pronouns, was working in a restaurant but was looking for something more solid. Initially they wanted a job in a field related to design. They came across a Camden, New Jersey-based jobs training nonprofit called Hopeworks and found an unexpected path to employment — water infrastructure.
In November, Congress passed a $1.2 trillion infrastructure bill that could generate roughly 800,000 jobs by the middle of the decade. Part of the challenge of filling those jobs is letting a generation of young workers know the jobs exist and helping prepare them to do the work.
One organization that is doing that is Hopeworks, which trains young adults for careers in technology fields. The goal is to help young adults ages 17 to 26, who "come in to Hopeworks unemployed, and when they walk out the door in nine to 12 months, they're making on average about $43,000 a year," says Dan Rhoton, the executive director at Hopeworks.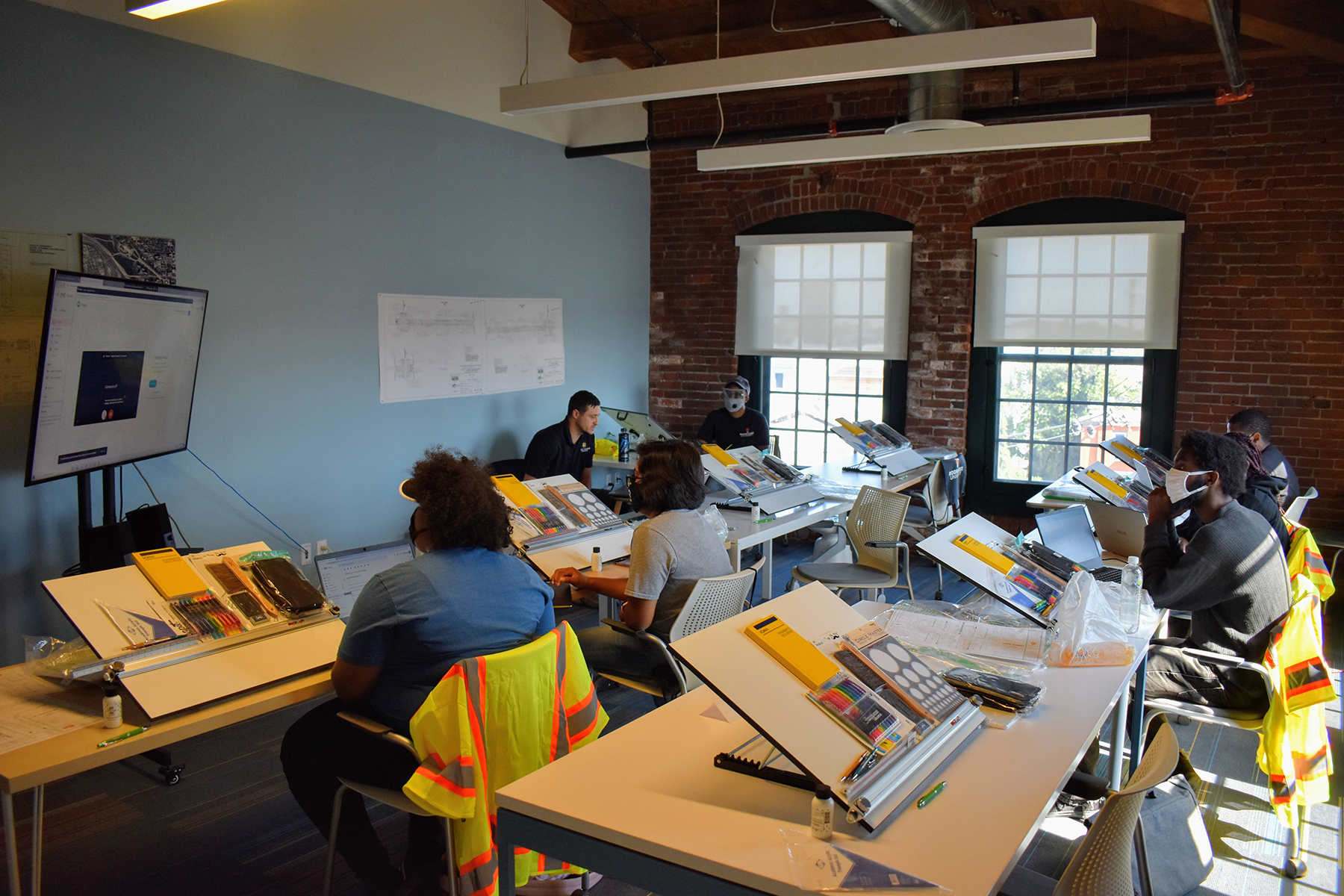 Rhoton says 90% of young adults who come to Hopeworks come through referral from alumni and other participants. Typically, they are placed in a two- to three-month self-paced training in core technology skills and career readiness. Staff can also provide support and referrals to those who need housing or mental health services, two issues that can create barriers to successful employment.
At the end of the training, Hopeworks hires the trainees to give them practical experience that they can put on their resumes, and then connects them to employers. According to Rhoton, 88% of Hopeworks graduates are still working 12 months later.
About 85% of the young people who begin the training finish it and find jobs. This typically means an average of 100 people a year. Almost all the young adults are classified as low income; 97% are minorities. "It's important to engage diverse candidates who have traditionally been cut out of infrastructure and engineering fields," says Rhoton.
He believes programs like his are models for employers all over the region or maybe the country. "It's not just getting a job; it's getting them the right job and a job they can stay in. As we've built out this program, we are not a tech training organization; we are a poverty-elimination organization."
An engineer steps in
According to Rhoton, infrastructure marked a "huge untapped opportunity for some of our young adults to earn a living wage and change their lives."
Enter Lou Rodriguez, P.E., the president of Rodriguez Consulting in Philadelphia, who is a civil engineer who got his start designing water and sewer mains for the Philadelphia Water Department. He also was the first manager of that department's geographic information system office. (GIS software is used to map and provide data about the city's thousands of miles of water mains.)
At the beginning of his career, Rodriguez worked in a design group that comprised three sections: administrative professionals, licensed and degreed engineers, and non-degreed support engineering professionals, that is, staffers who did work like drafting, inspection, and land surveying.
Over the years, after he set up his own consulting company, Rodriguez noticed that this third category of workers was dwindling. There were a lot of vacant seats at the PWD and local engineering firms. "These types of careers and jobs — for some reason people were not pursuing them," he says, "even though the positions were available, (and) these weren't minimum wage jobs. The lowest salary might be in the $17- to $25-an-hour range."
Mapping utilities using GIS and computer-aided design software doesn't require a degree or license. There were good jobs if he could just find motivated people to fill them. "What if a for-profit company led by a professional partnered up with a nonprofit with access to labor, and we jointly pursued some opportunities in the water infrastructure space?" Rodriguez asks.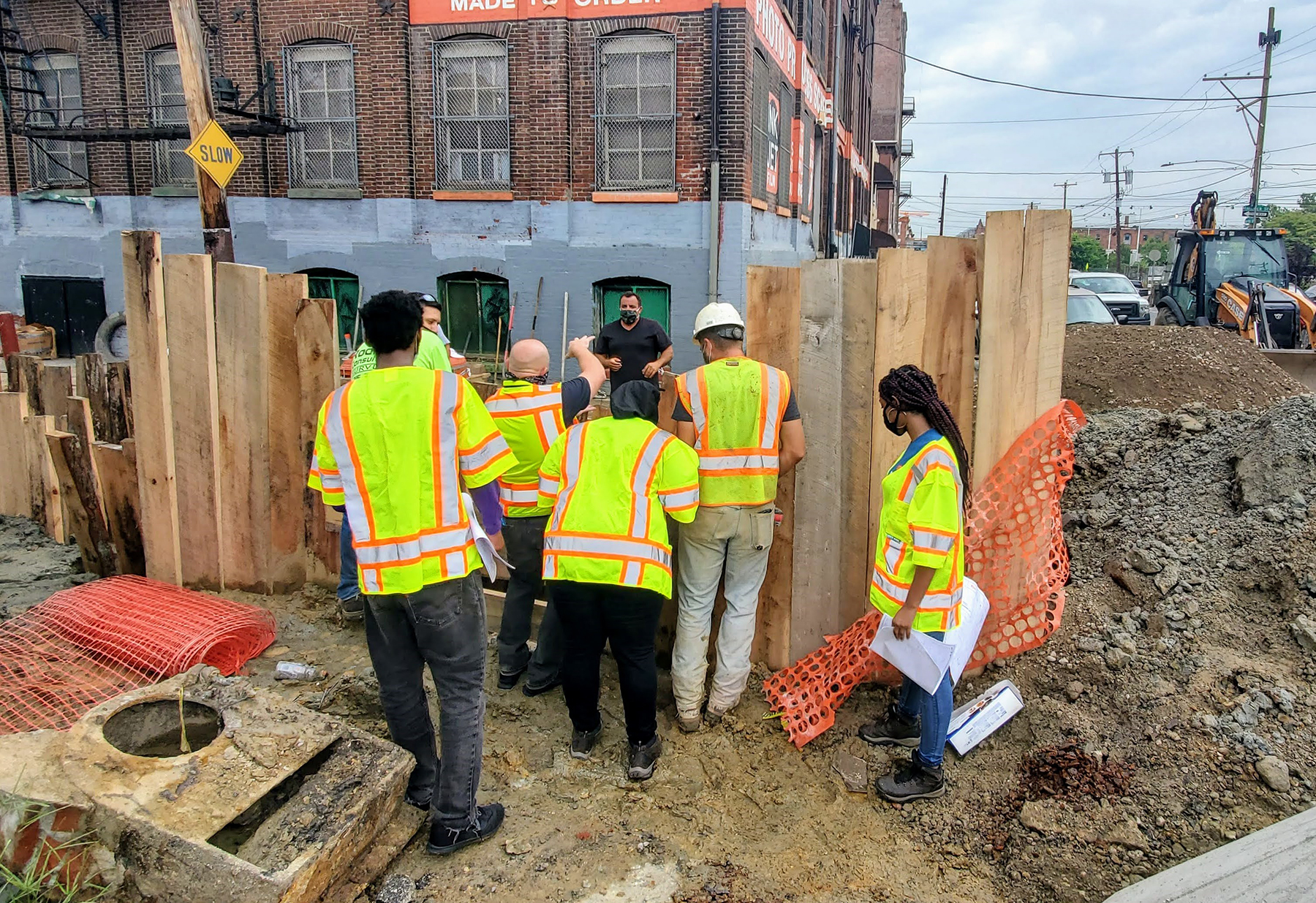 Rodriguez knew about Hopeworks, and when he got in touch with Rhoton, they developed a program that could leverage both organizations' skill sets. Rodriguez would train the young workers that Hopeworks would provide, and Hopeworks would bring in philanthropic dollars to make it possible.
Hopeworks obtained $100,000 in funding to launch the program, which it dubbed Rodriguez University, in 2020. Rodriguez's goal was laser-focused — train workers to enter the PWD as engineering aides, all-purpose workers who could handle a variety of tasks. His initial 2020 cohort of six trainees learned utility coordination, land surveying and mapping, and CAD drafting, both in the field and the office. Rodriguez also taught life skills and brought in Matthew Sherwood, a captain in the United States Army Reserve and a senior engineer at the company, to teach leadership skills.
All six graduates wound up with jobs, including four in the city of Philadelphia's Community Apprentice Program, which provides a paid apprenticeship to prepare workers to become full-time civil service employees.
Six more went through the program in 2021 and are starting the process of looking for work — and one has already been accepted into the civil service program.
Hopeworks and another Philadelphia-area nonprofit, PowerCorpsPHL, provided trainees to the program developed with Rodriguez. After the first year, PowercorpsPHL took the lead in obtaining funding, which came in the form of a grant from Microsoft that runs through 2023. The program with Rodriguez will be recruiting a new cohort of fellows this spring to start training this summer.
"The goal," Rodriguez says, "is to get everyone placed at a job in the infrastructure field, assuming that the participants want to work in the field after learning about infrastructure."
Art plus science
At first glance, an interest in art might not seem to have anything to do with mapping water mains for a major city. But Dixon had done animation in high school and had an understanding of spatial design. They were familiar with Autodesk products and had taken plenty of math and science courses. "I was really interested in seeing what this program was about. I didn't really grow up knowing much about infrastructure, what that industry looked like. It was eye-opening, understanding the city's underground."
Dixon picked up AutoCAD pretty fast — they had prior experience with Autodesk Maya, a 3D visual effects software, and found the similarities "pretty shocking." After finishing the program in 2021, they became an intern at Hopeworks, building websites for clients. And they have just been accepted into the city's Community Apprentice Program.
"I feel like I've gained a lot of confidence and growth in ways I never imagined," says Dixon. "When I graduated in 2020, (it) felt a little bleak. Being where I am now, I have a lot more confidence and hope for the future. I have a larger perspective on where I can go in my next step of life."