By T.R. Witcher
At the edge of the Bronx in New York City sits the Hunts Point neighborhood, famous for its massive, 1 million sq ft produce market and for the Hunts Point Cooperative Market next door, a 60-acre meat processing and distribution center that purports to be the largest in the world. Just a few blocks away, however, the neighborhood was also formerly home to a site far less positive: the Spofford Juvenile Detention Center, a facility notorious for housing and poorly treating a disproportionate number of New York's young people of color.
Spofford, built in 1957, was operated by the New York City Department of Juvenile Justice. The facility detained kids under age 15 who were awaiting trial or placement in other facilities. According to an article on New York University's website. Spofford held "an average of 289 young people at a time, 95% of Spofford's juvenile detainees were African-American or Latino, and 54% of detainees came from the same 15 low-income, majority people of color neighborhoods." The facility had a reputation for abusing its detainees. The site was "traumatic for many people in the Bronx and their families," says Victor F. Body-Lawson, FAIA, a principal at Body Lawson Associates Architects and Planners.
In 2011 the facility was shuttered, and in 2014 the nonprofit New York City Economic Development Corp. took over the site. Over the ensuing years it put together an ambitious plan to redevelop Spofford into an affordable mixed-use project that aimed to heal old wounds in the neighborhood and connect a new generation of Bronx residents back to Hunts Point's rich food production heritage.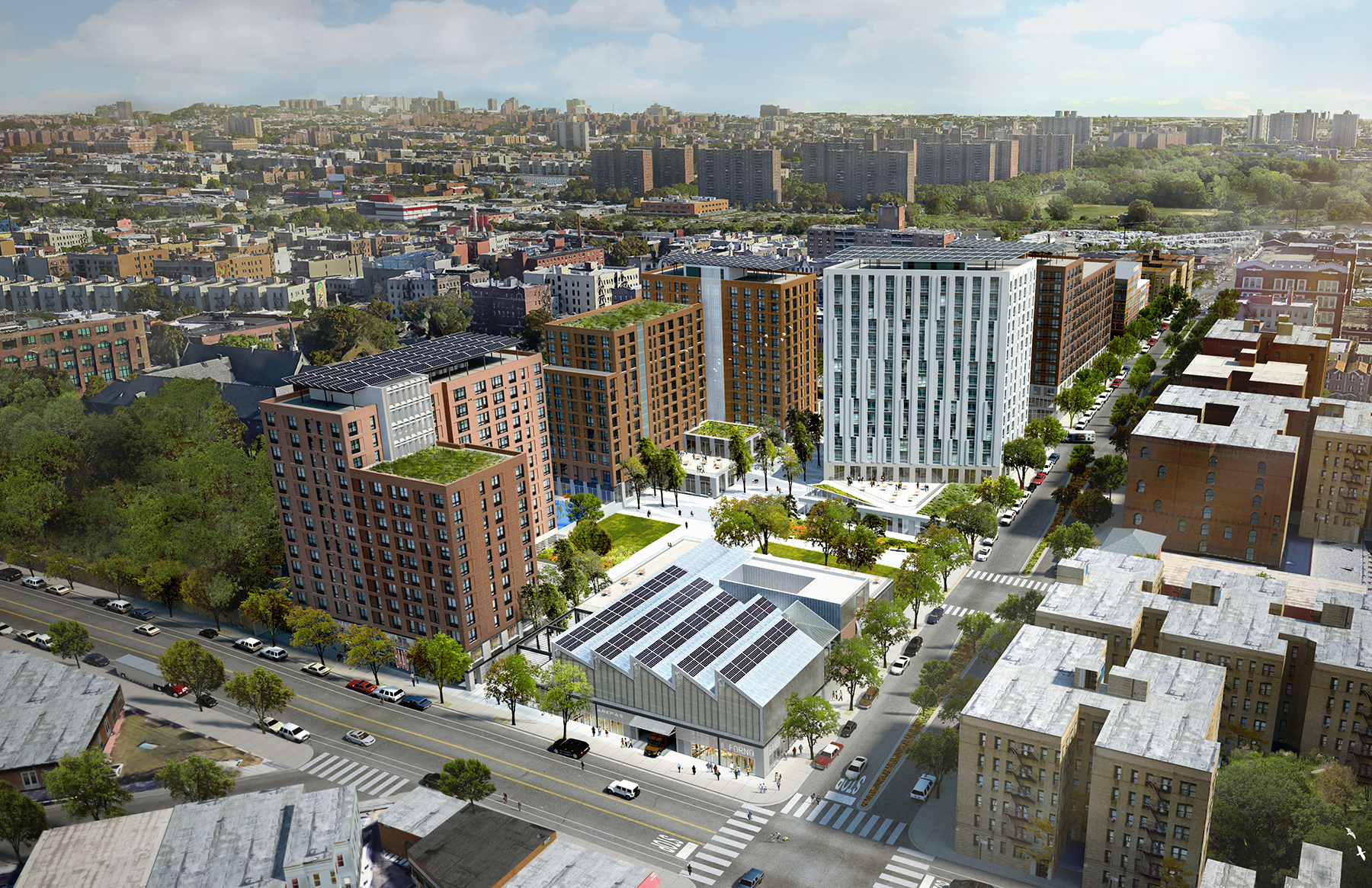 The new project, named La Peninsula in honor of an existing day care facility that will be incorporated into the new development, consists of four residential buildings and a light industrial building.
The 5-acre, mixed-use development will create, according to the EDC, 740 units of affordable housing — with 10% set aside for formerly homeless individuals — along with approximately 52,000 sq ft of publicly accessible open space and 56,000 sq ft of light industrial space, including a space for food business entrepreneurs. A day care, artist workspaces, and wellness spaces are also planned.
Reconnecting to the city
The first phase, a light industrial building, was completed at the end of last year. The second phase, a 13-story residential building, will be completed in May. Two more phases are planned — including three new residential buildings — and are expected to be completed in 2023 and 2025.
The EDC team includes developers Gilbane Development Co., Hudson Cos., and MHANY Management Inc.; architecture firms WXY and Body Lawson; and several engineering firms, including Gedeon GRC Consulting and Christie Engineering.
Despite the site's square footprint, it is a tricky one. It sits at the intersection of two city grids with slightly different orientations. It rises in grade nearly 50 ft from east to west. And it sits close to the Hunts Point markets, which means truck traffic is common on its western edge, Tiffany Street.
"This used to be a detention center, and it was insular," says Body-Lawson. "It was an island in the community, totally separate because of its function. So by doing the absolute opposite, which is what we're doing, we're using this community, this campus to connect the various streets together."
Body-Lawson and Claire Weisz, FAIA, a founding principal of WXY, considered saving the main detention building and repurposing it but learned in meetings with community members that there was too much trauma associated with the building. In addition, it wasn't big enough to create the housing units they needed.
So, in the new plan, the former juvenile center building has been demolished. New construction will flank the edges of the site around a central plaza. A below-grade parking garage will be added to the site. Most of the residential buildings are south facing to bring more "eyes on the street" for families to watch over kids playing in the plaza. And bisecting the site from east to west will be a series of steps that take advantage of the change in elevation and provide pedestrians an inviting way into the center of the new development.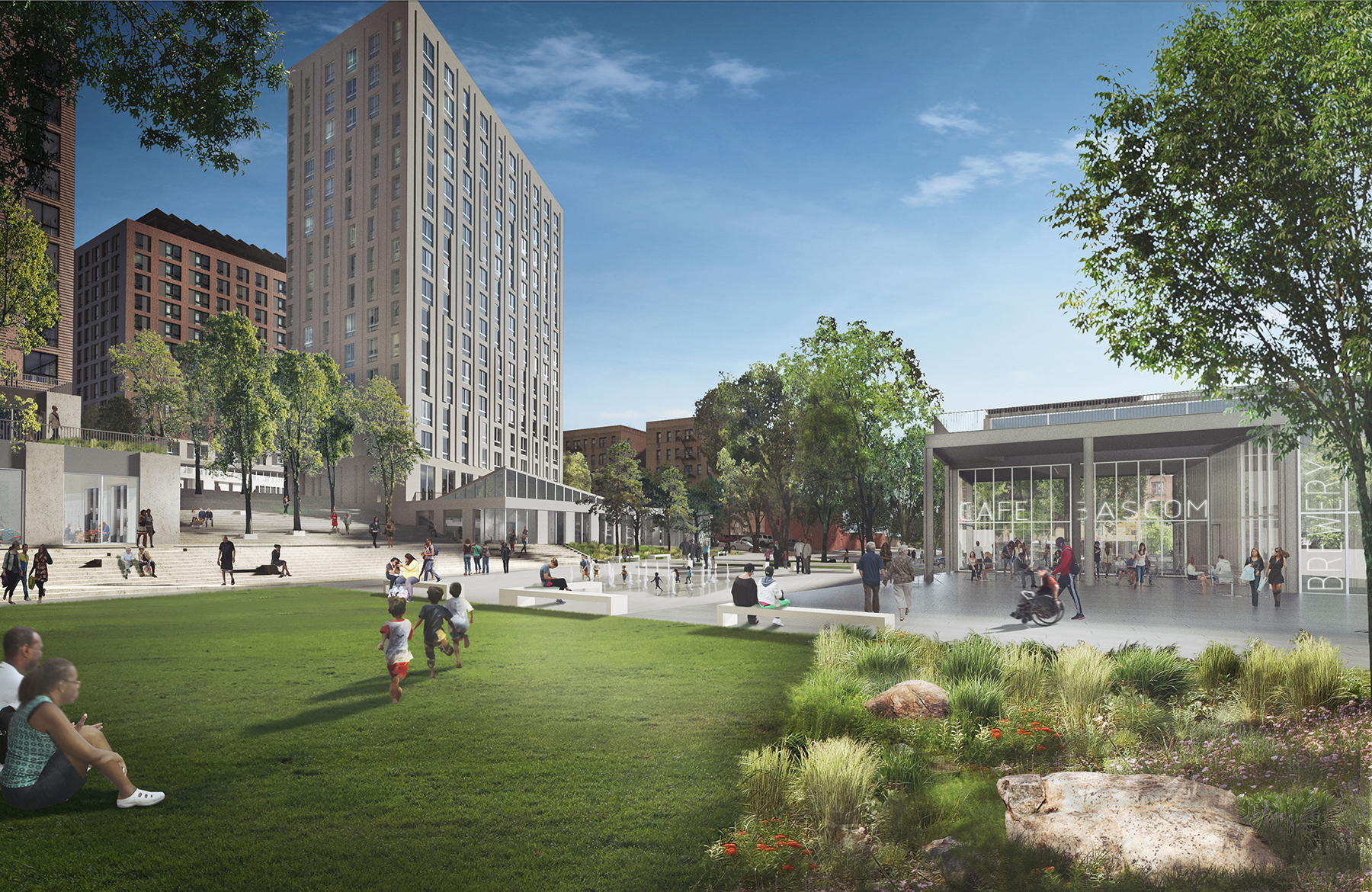 Architects strove to clad the buildings in a rich array of materials to reflect the organic and eclectic qualities of New York's built environment, from industrial brick with metal to glass-reinforced composite panels. The two-story industrial building is the first to be completed and comprises concrete, metal panels, and Bendheim Architectural Glass. "Most manufacturing buildings are blank walls," says Weisz. Instead, this building will have "a way to let people know what's going on inside."
The industrial building's roof contains five sawtooth-shaped clerestory windows of subtly varying heights and angles and is supported by five trusses, spanning 72 ft across and ranging in height from around 5 ft to 13 ft. "The variation of the sawtooth roof has given the building its own unique character," says Melbourne Garber, CSEng, F.ASCE, FIStructE, FSLIE, the structural engineer on the industrial building and the director of building for Gedeon, the engineering firm of record for that building.
On the adjacent 13-story residential building, the building's engineer of record, Christie Engineering, is using a structural system comprising primarily load-bearing concrete masonry unit walls supporting hollow-core precast concrete plank floors to provide a durable structure that is familiar to local construction trades for this type of building.
Water issues
Building around the location of the old detention center has created geotechnical challenges. "The way water moves around the site is different from when the original building was built," Body-Lawson says.
The site slopes from the northeast to the southwest, where the light industrial building stands. Prior to construction, initial analysis of the site conditions indicated that water levels in the soil at that corner of the site wouldn't be significant, so the team planned a design based on individual spread footings and a waterproofed slab on grade. Once construction started, however, water wasn't dissipating as quickly as anticipated due to the existence of a perched water table. So the design had to be adapted to account for this hydrostatic pressure.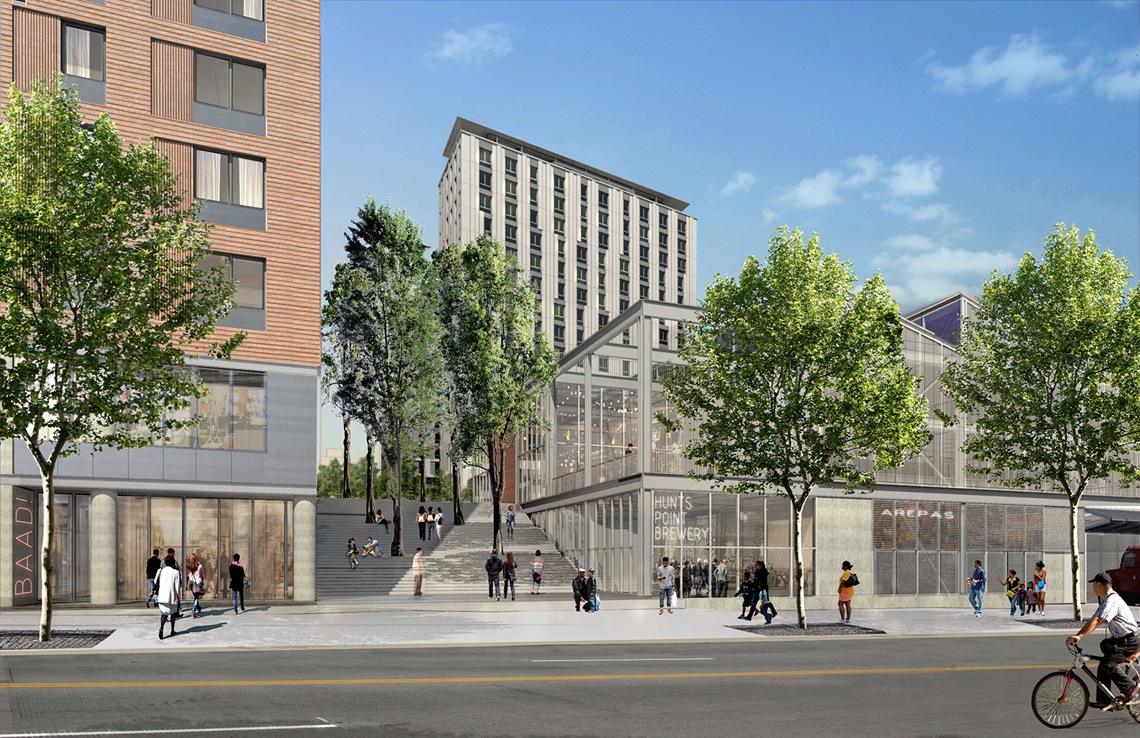 Once this issue was identified, Garber says he and his engineering colleagues considered redesigning the cellar slab as a hydrostatic slab, but it would have needed to be 18-24 in. thick to resist the hydrostatic pressure (typical slab on grades are around 5 in.). Instead, based on a recommendation from the geotechnical consultant, they opted for a French drain — a perforated pipe surrounded by gravel — around the base of the retaining walls, which would carry excess water out to an ejection point.
Meanwhile, on the residential building next door because of the "displacement of water on the site and (its) hilly nature … we're having to rethink how we approach the foundations of the building," says Body-Lawson. The engineers have opted for a mat foundation instead of a spread foundation, which will be designed to resist hydrostatic pressure.
A new investment
Affordable housing is in high demand. Body-Lawson says it's not uncommon in the city for projects with a few hundred units to receive more than 50,000 applications. Body-Lawson notes that the apartment units are meant to feel like high-quality, market-rate units with stone countertops, stainless steel appliances, and amenities like a gym and day care facility. "When these people get into this building, we want them to feel like they are a part of a community," he says.
"Part of this project is to demonstrate the importance of good design for investments in affordable housing and affordable community," says Weisz. "It shouldn't be cookie-cutter. Everybody feels like there's an investment in the community."