By T.R. Witcher
Nine years ago, billionaire philanthropist Roger De Haan set out to revitalize his hometown, Folkestone, a seaside resort and port town of about 50,000 on the southeastern tip of England. In 1951, De Haan's family founded Saga, a travel and vacation firm aimed at seniors. "If you live in Folkestone and you don't work for Saga, you're unemployed," says Guy Hollaway, founder and principal of United Kingdom architecture firm Hollaway Studio. "We're talking 2,500-3,000 workers."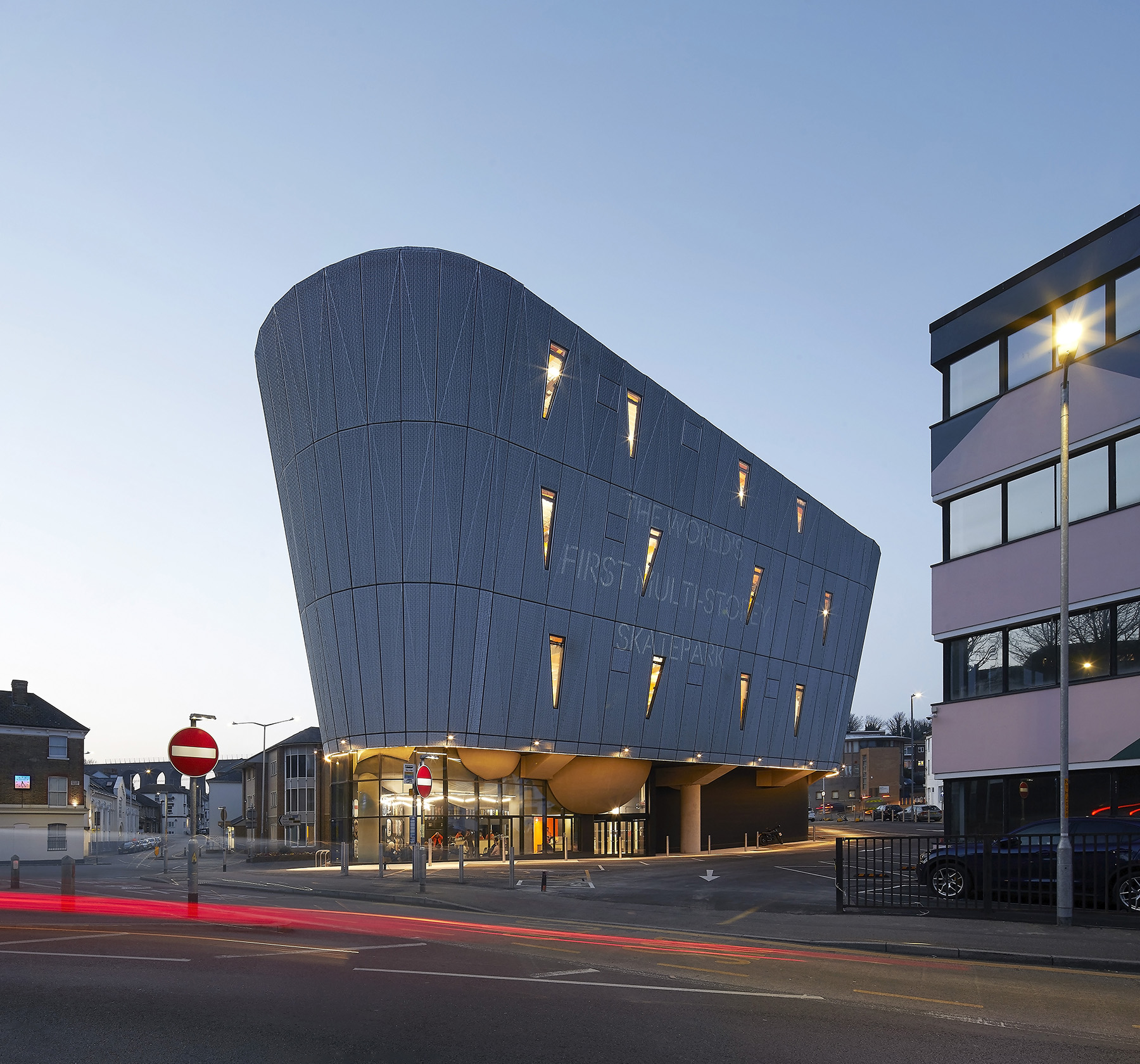 But Folkestone was like a lot of formerly lively coastal towns in England, says Hollaway — many had not seen much investment since the Victorian and Edwardian eras. The vision of the Roger De Haan Charitable Trust, which De Haan founded in 1978, was to revitalize the town by investing in young people through education, the arts, and sports. As part of this effort, Hollaway Studio and the trust developed a vision of a new building in the center of Folkestone that evolved from an initial, abandoned concept of a parking garage to something more visionary and technically demanding — a skate park.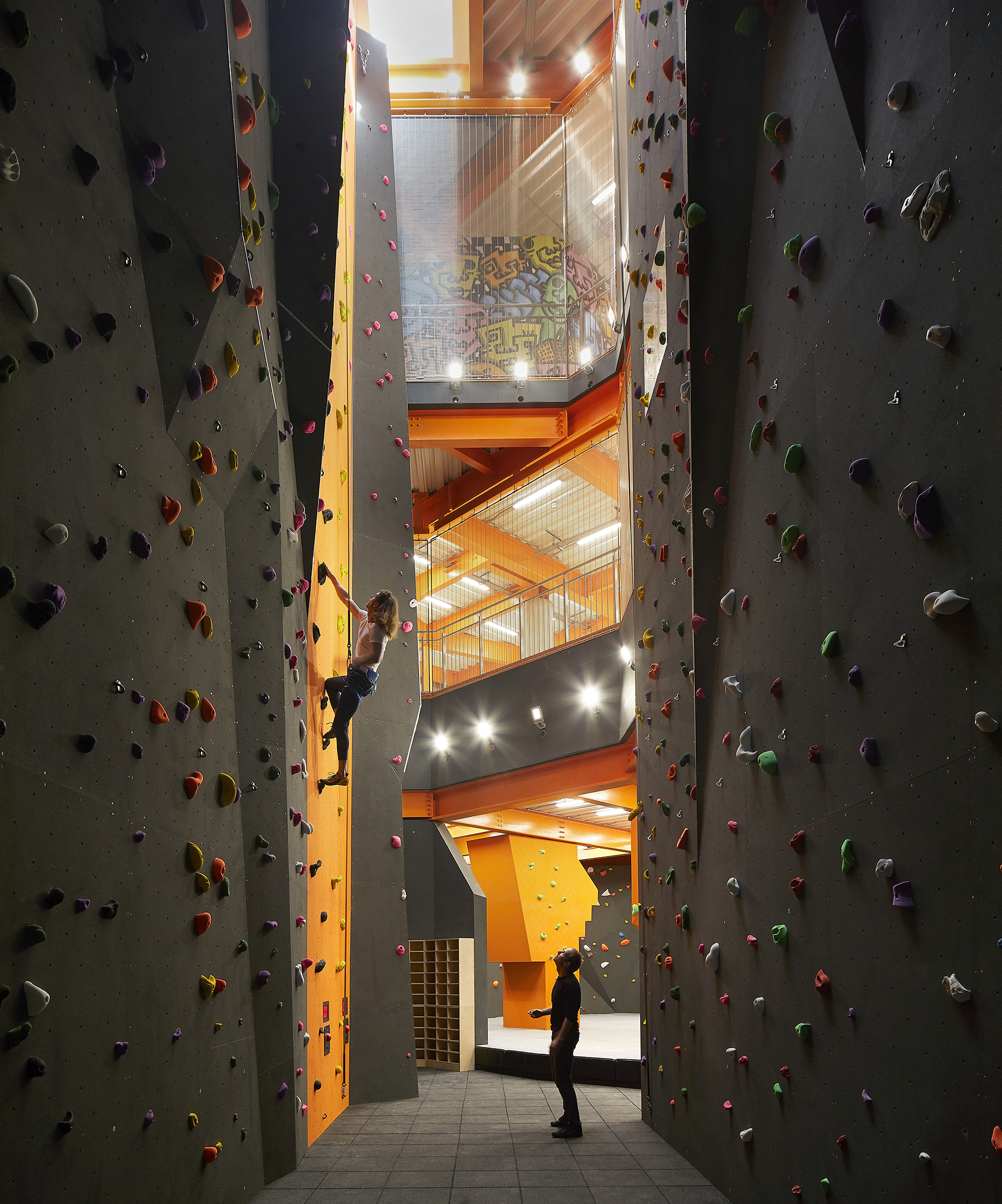 Skate parks are ubiquitous recreational amenities, often placed along waterfronts or under freeways or viaducts. To Hollaway's knowledge, nobody had ever attempted to design a purpose-built multistory skate park. But the advantages were immediate. One, you could mitigate weather, especially in a rainy country like England, where even a little rain can make the concrete bowls of a skate park slippery and unsafe for skaters. And secondly, skate parks are usually situated outside of town centers; placing one in a central location would make it easier for young people to access.
"Could we create a building that was cool, edgy, where young people could take ownership over and it could become theirs," says Hollaway, "but do it in a way that is safe and accessible and young kids could get to easily?"
The answer to that question was answered earlier this year with the opening of F51, billed as the world's first purpose-built multistory skate park. Named as a reference to Folkestone and the skate park's street address, the building not only contains 1,800 sq m of skating parks but also houses a 15 m tall climbing wall, a boxing gym, and a ground level cafe.
Degrees of difficulty
Hollaway's design features skating environments on three floors.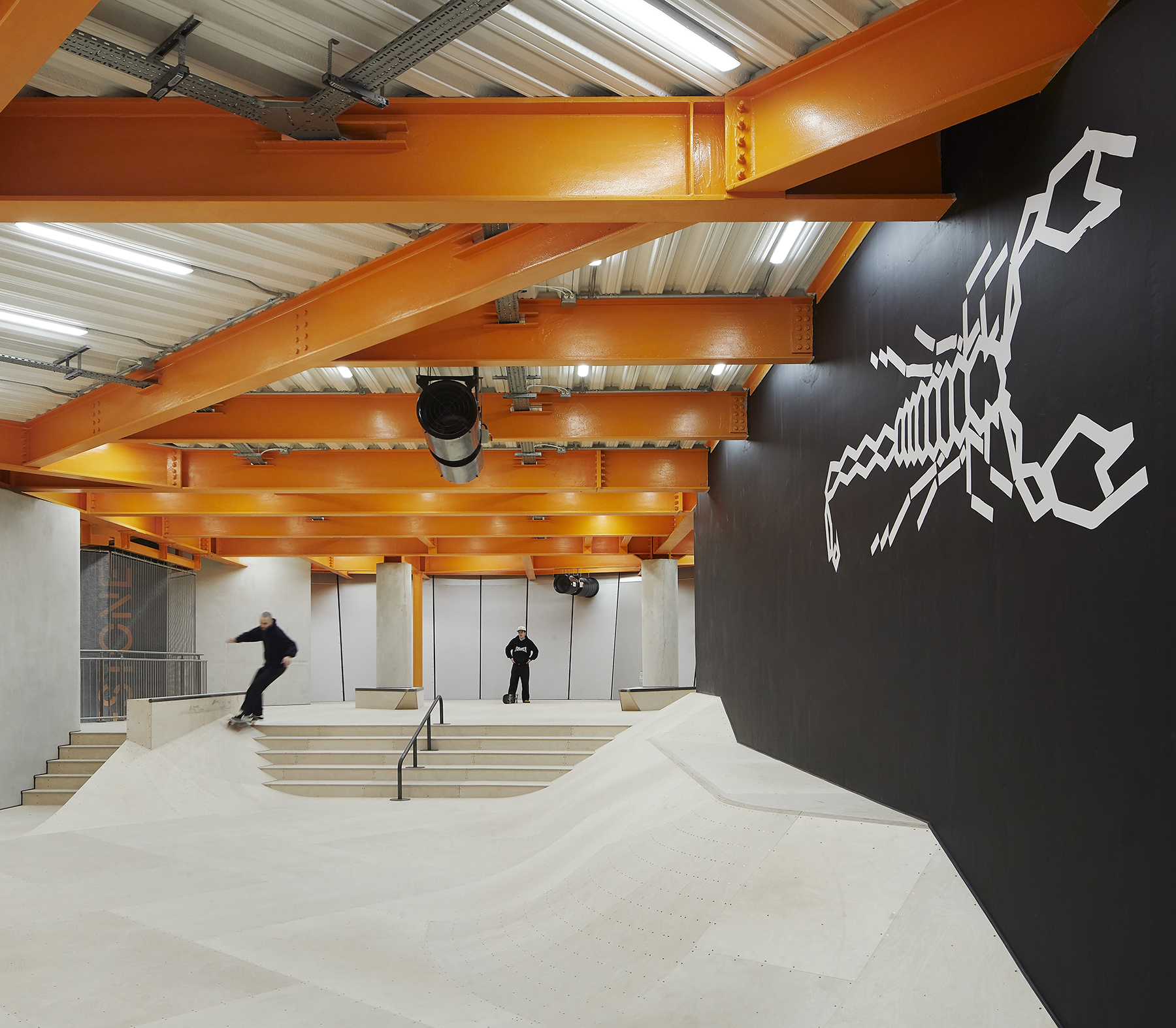 The topmost "street" park emulates the skating environment of a street and features staircases, walkways, and benches.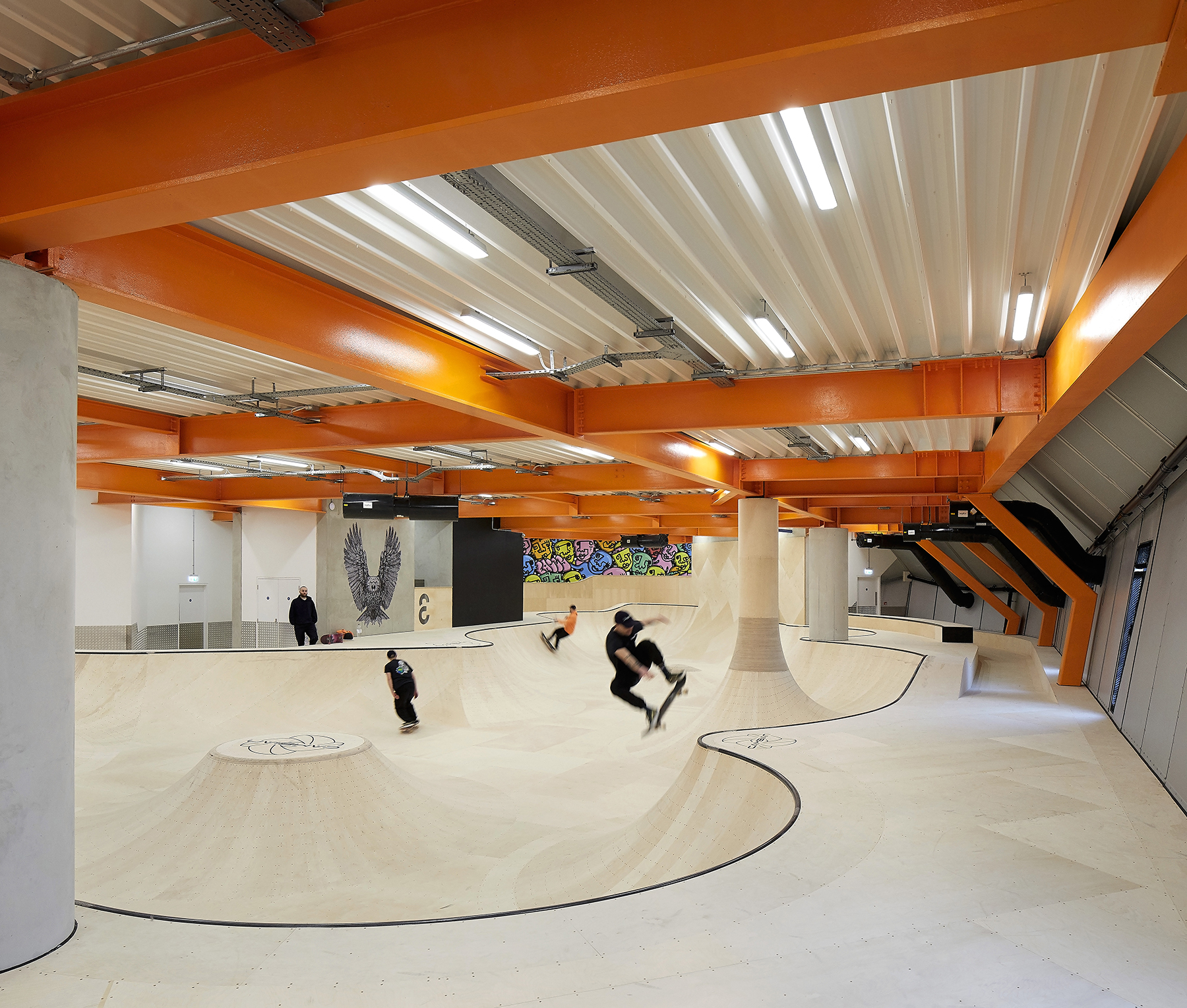 One floor down, a "flow" park features gently curving forms.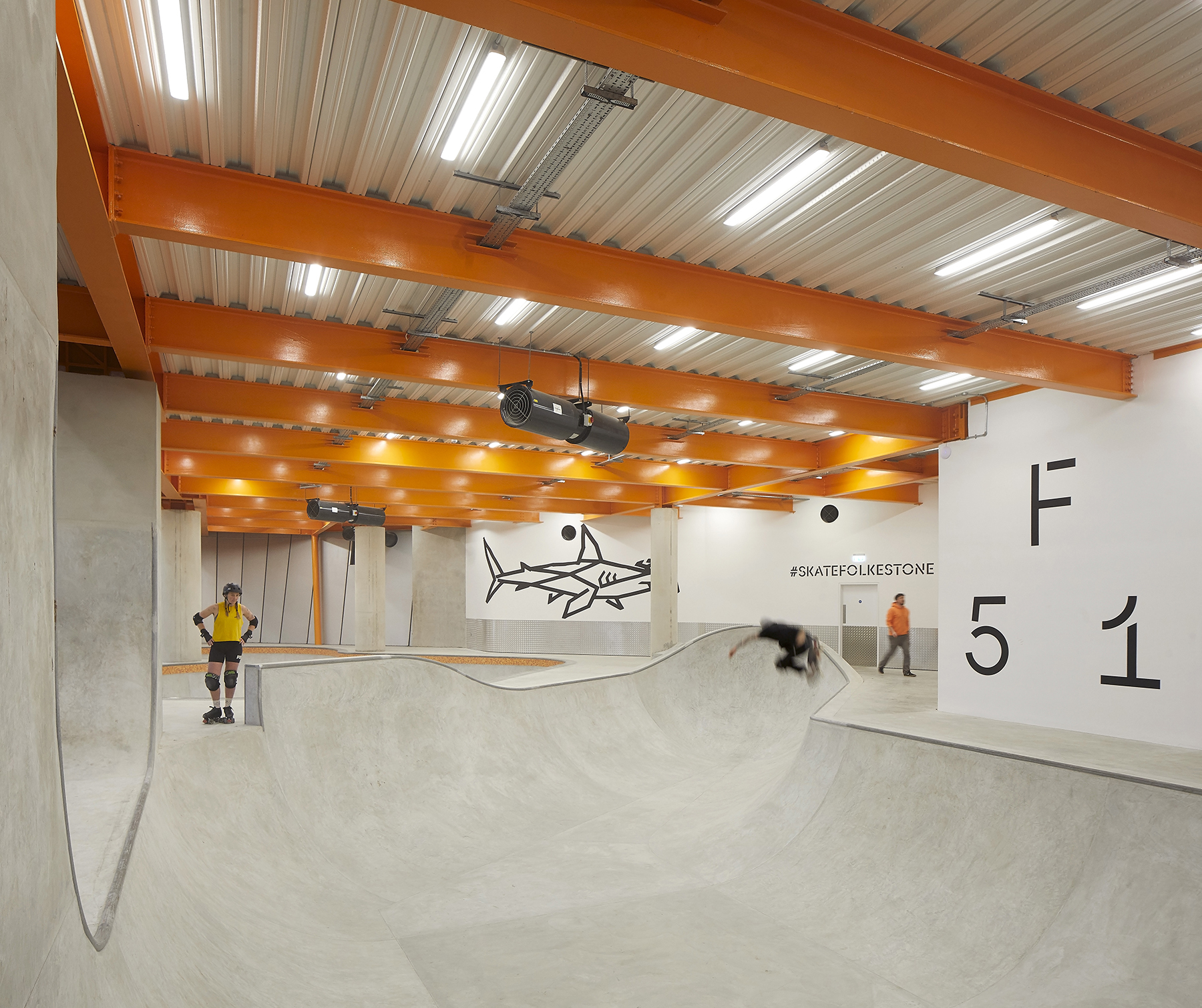 The floor beneath, contains steeper bowls for skateboarders comfortable with "vert" (or vertical) skateboarding, the acrobatic form that developed out of Southern California's skate culture in the 1970s, when skateboarders would fling themselves down the steep sides of empty backyard swimming pools.
In short, the building becomes more challenging for skaters as they descend the three floors. It turns out this was much the same for the building's engineers too — particularly due to the method in which the vert skateboarding bowl is engineered.
"We needed a really clever engineer to help us," says Hollaway. "Because what I'm asking this engineer (to do) is to put a bowl in the air, and not only to suspend it in the air but (then have) each of those floors (above it) be cantilevered out, so the park gets bigger and bigger as it goes up."
So, four years ago, Hollaway Studio turned to Ramboll UK Ltd. According to Ramboll's project engineer, Gediminas Jakutavicius, CEng, MIStructE, the original plan for the skate park building was to use concrete throughout its structure, but the prohibitive cost threatened to bring the project to a dead end. The foundations and support points had already been built when Hollaway asked Ramboll to find a way to bring the costs down without sacrificing F51's design ambition.
An earlier plan had called for concrete bowls to be built into two floor slabs. That was reduced to one floor — the vert level — while the upper floors of the building were instead constructed with composite steel beams and decking. The skate elements on the street and flow parks were manufactured with timber by designed by Cambian Engineering Solutions.
These changes in material drove down the building's weight and cost — and allowed for the upper floor skating surfaces to be potentially refurbished and changed over time. The building's remaining concrete, on the lower floor, utilized a cement replacement derived from a byproduct of steel manufacturing, which further reduced the building's embodied carbon. (F51 contains no insulation or heating, so its energy footprint was designed to be small.)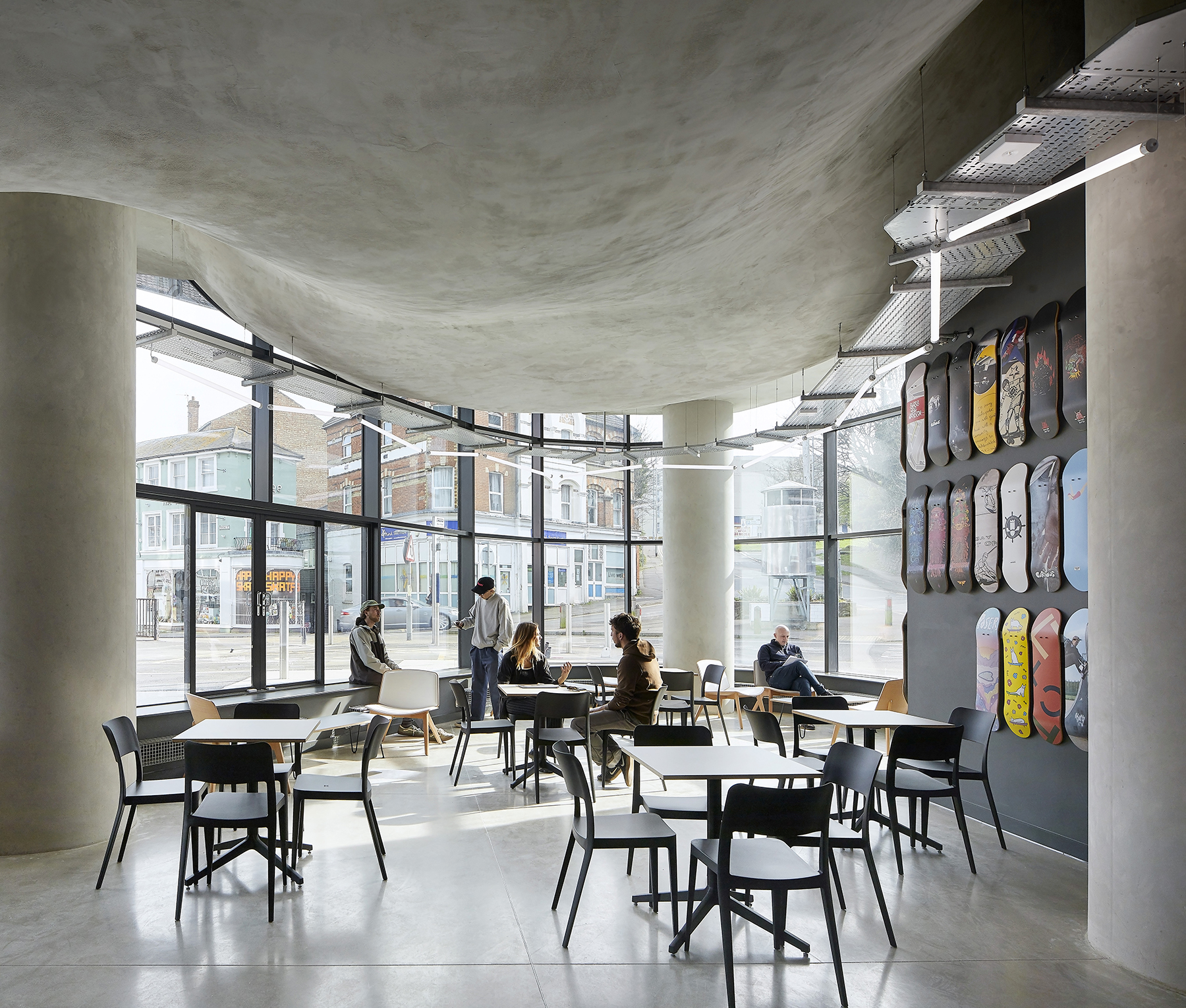 But the building would not work architecturally unless engineers could find a way to build the dramatic concrete vert bowls into F51's concrete slab itself, visible not only to skaters but to visitors one floor below, where their exposed concrete soffit formed the ceiling. Engineers had to suspend a slab, half a meter thick, with a dip of nearly 3 m. Further, Hollaway wanted to remove columns on the ground floor to open that space for cafe users. "Little did we know how complicated it would be to build those curved concrete slabs," Jakutavicius says.
Shaping concrete
There were two principal challenges. The first was how to reinforce a complex, curving slab. Ramboll didn't design the actual shapes of the curving bowls — that was left to skate park designers Maverick Skateparks. But it was Ramboll's job to take those forms and figure out how to integrate them into the structure of the building. Ramboll engineers developed a specific parametric algorithm to determine the proper amount and shape of reinforcing needed for the slab.
For bowl slab construction, Ramboll engineers ended up with reinforcement density of 183 kg per cu m of concrete. Jakutavicius says that the individual bars came to the site already labeled and bent into their proper, curving forms; he visited the site weekly to ensure the reinforcement was being laid correctly. The reinforcement, he says, "follows the curve wherever it needs to be. As long we got enough reinforcement area through the cross section, we're OK." Some of the rebar pieces were as thick as 32 mm in diameter, a size more typically seen in bridge construction.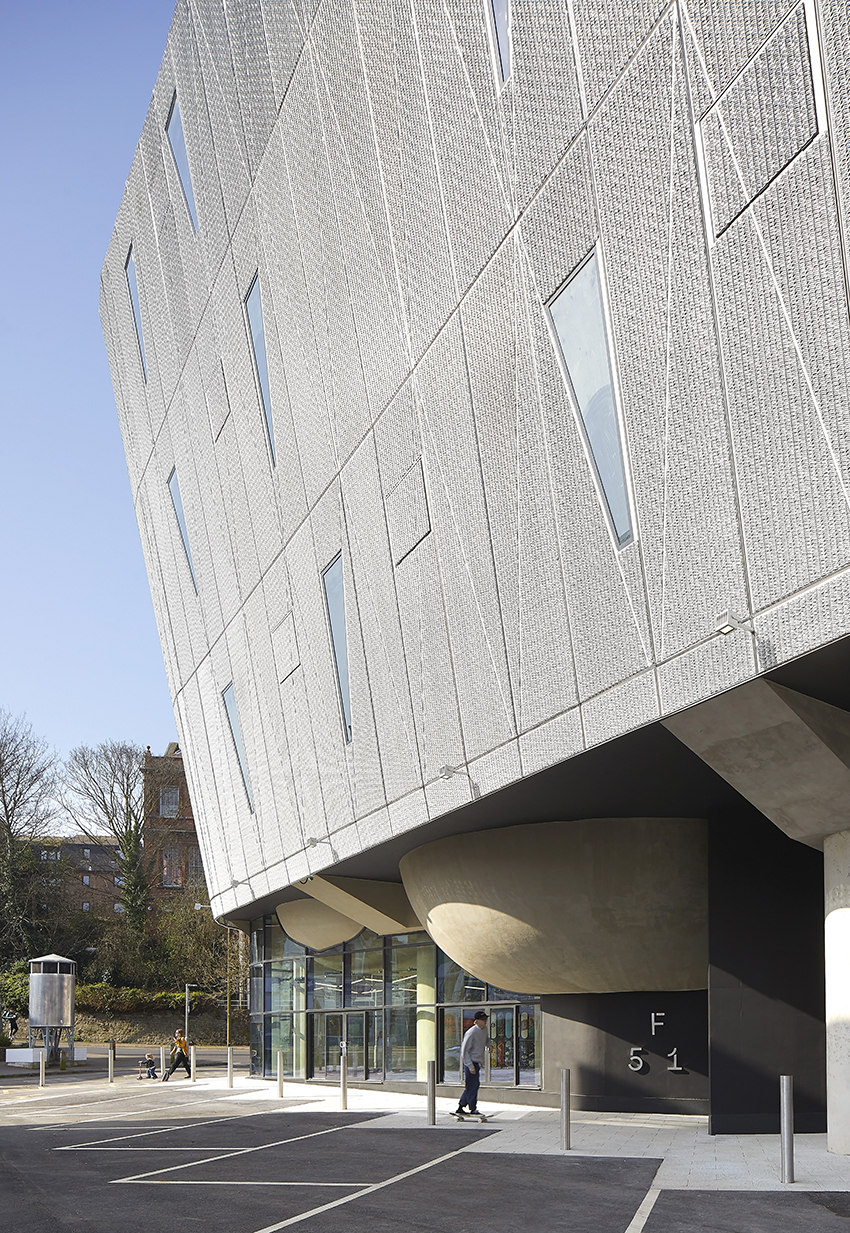 The second challenge, of course, was the construction itself. "You can design it, but if you can't build it practically, it defeats the purpose," says Jakutavicius. To build it, Ramboll used a complex array of rigid foam insulation — expanded polystyrene — assembled from five-axis, computer numerical control-cut pieces like a jigsaw puzzle. Concrete was then sprayed on, in two layers, rather than poured; otherwise it would have flowed too rapidly to the bottom of the bowls. Concrete surface retarder was sprayed on the formwork before the concrete was placed to allow it to be pulled off after the concrete had cured.
The result is that the ceiling of the building's ground floor is the curvy concrete underside of the vert bowls. "We wanted to see the underbelly so as you come into the building, you're aware of the weight and the structure of the bowl above your head," says Hollaway. "That is a really powerful thing. You can just hear the very faint sounds of skateboards skating above your head."
Finally, the vert slab also connects to the transfer beams on the first floor, carrying the load from the steel beams above down to the foundation. "It's the first time we've ever seen architecture, skate, and engineering come together to make one building park solution," says Hollaway. Fluted columns on the upper floors and curving, skateable columns on the vert floor blur the line between where the building's structure stops and its skating surfaces begin.
A community beacon
F51's exterior form boasts curved corners that Hollaway likens to a skateboard, though he says the association was not intentional but a response to tight site conditions. The facade comprises 400 triangular panels of crushed aluminum. Triangular windows — with points facing down — let in light. Inside, the window openings are protected by a mesh to prevent skaters from crashing into the glazing.
After four years of construction that was delayed by the pandemic, the 17 million British pound (about $21 million) building finally opened in April. It is meant to be fully accessible to all: Local kids whose schools have partnered with The Sports Trust, the charity running F51, can skate Monday-Thursday from 4-6p.m. during the school year for just 1 British pound a month. It's the building's ambition to communicate to young people in Folkestone that "you're the most important people in this town because you're the future of this town," says Hollaway. "This is saying exactly that to them."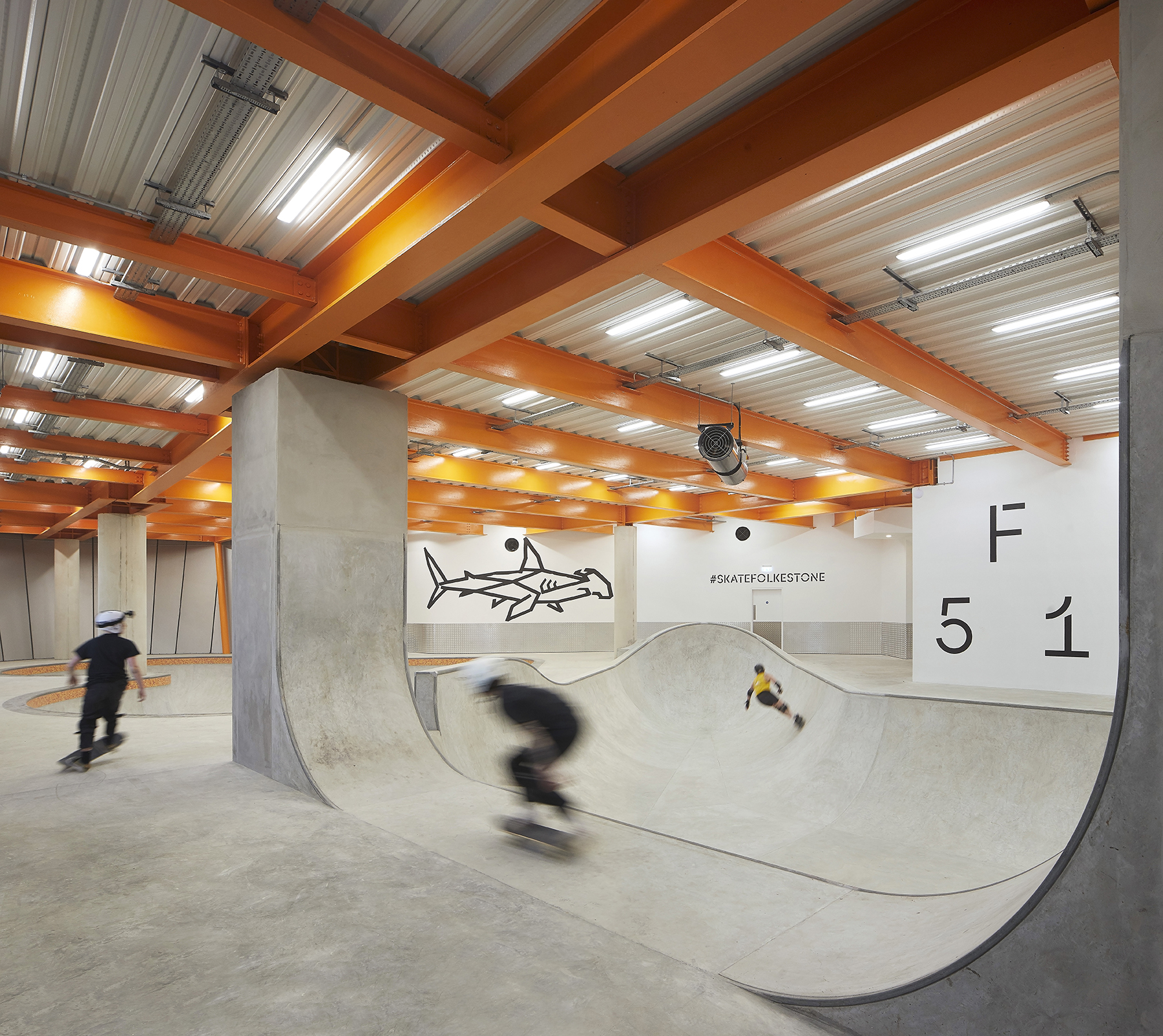 Hollaway hopes the building, which features local artists' work, inspires a future generation of skaters, architects, engineers, and artists. Though F51 is meant to bring renewed life back to the community, Hollaway points out that its principal activities — skating, climbing, and boxing — are solitary pursuits that allow participants to progress on their own terms and at their own paces. "It's about growing yourself as a person and finding your limits," says Hollaway.