By Catherine A. Cardno, Ph.D.
The winning proposal for a new Dock A, a replacement terminal, at the international Zurich Airport will comprise predominantly solid regional wood. The sustainable design seeks to strengthen the airport's international renown as the gateway of Switzerland, and its structural system and finishes embrace the local tradition of wood construction, according to information from the design team.
The project was designed by design architect BIG-Bjarke Ingels Group, aviation architect HOK, local architect 10:8 Architekten, structural engineer Buro Happold, structural timber expert Pirmin Jung, and aviation consultant NACO.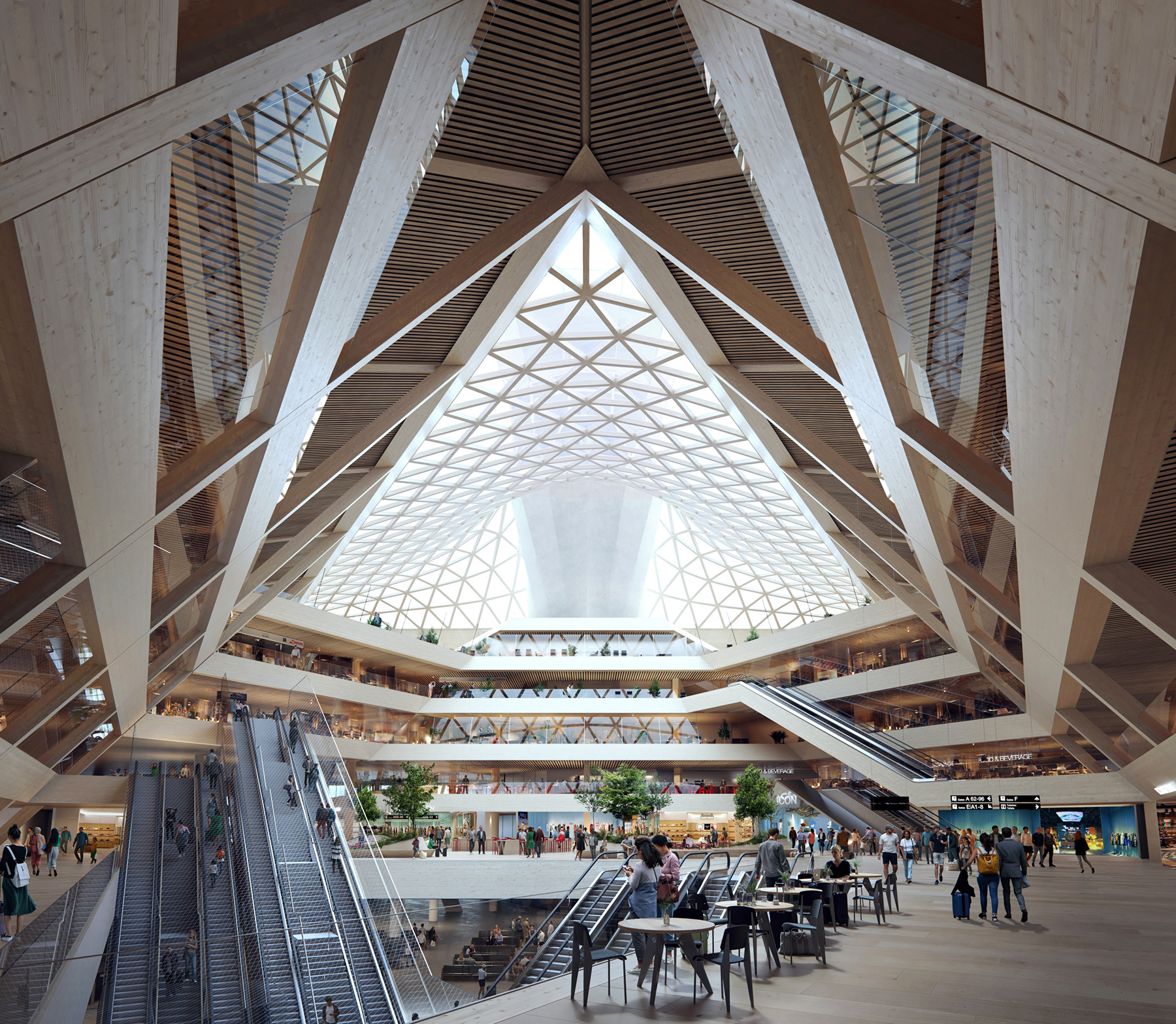 Zurich Airport — known locally as Flughafen Zurich — opened in the 1950s and has since become an important European aviation hub. Dock A will include a multilevel central hub area with an atrium as well as a pier where the gates will be located.
Space and structure are integrated to create a highly functional and flexible design that revives sustainable wood construction for monumental infrastructure projects, according to Harry Gugger, the chair of the jury that selected the winning design.
"The backbone of the project is formed by a structure that is not just load bearing but defines and adapts the space, creates a unique atmosphere, and provides a distinctive identity true to its place and era," Gugger is quoted as saying in material about the competition.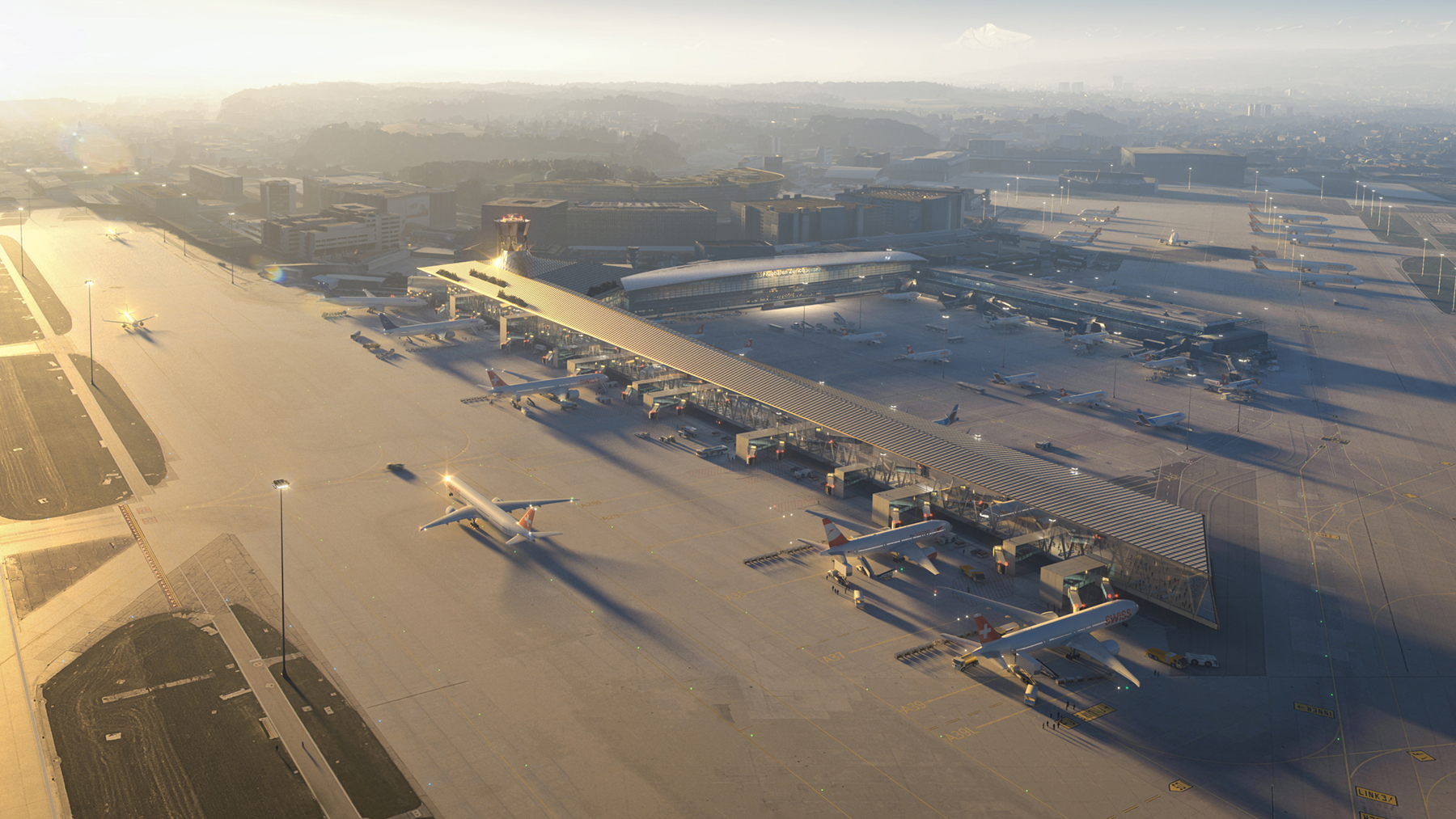 The building will include Schengen and non-Schengen gates (that is, gates that are for passengers traveling within the 26 European countries that are part of the Schengen Area, originally formed through a 1985 agreement to allow movement without border control checks, and those that are not). The project will also include a central hub area for passengers, vertical circulation across seven levels, airside retail shopping and top-floor lounge areas, airport services for arriving and departing passengers, an extension of an underground immigration hall, and offices.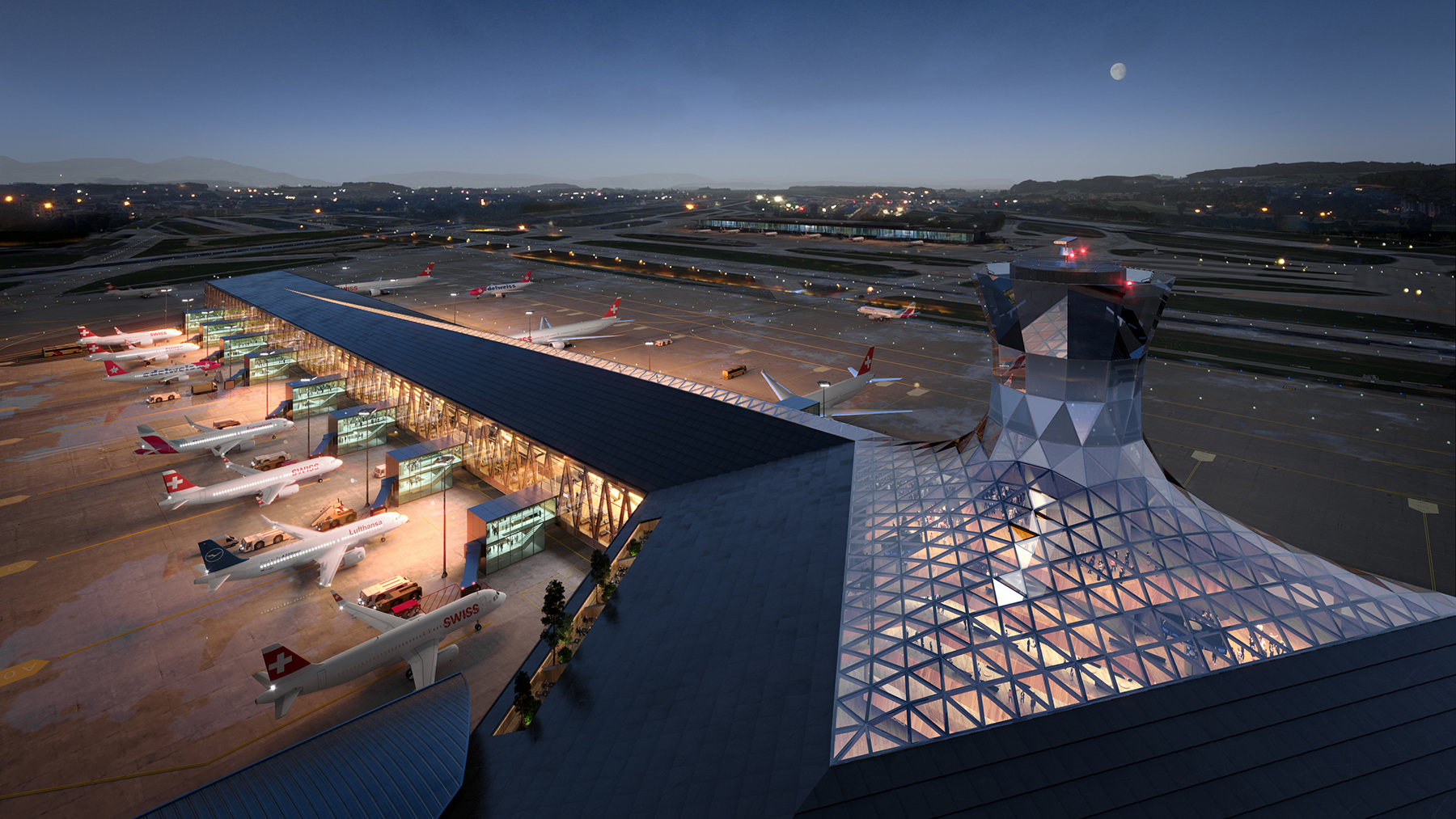 A new air traffic control tower will also be included in the design and located atop the central hub.
"As airports grow and evolve and as international guidelines and safety requirements change, airports tend to become more and more complex: Frankensteins of interconnected elements, patches, and extensions," noted Bjarke Ingels, the founder and creative director of BIG, in material distributed about the competition.
"For the new main terminal of Zurich Airport, we have attempted to answer this complex challenge with the simplest possible response: a mass timber space frame that is structural design, spatial experience, architectural finish, and organizational principle in one," Ingels said.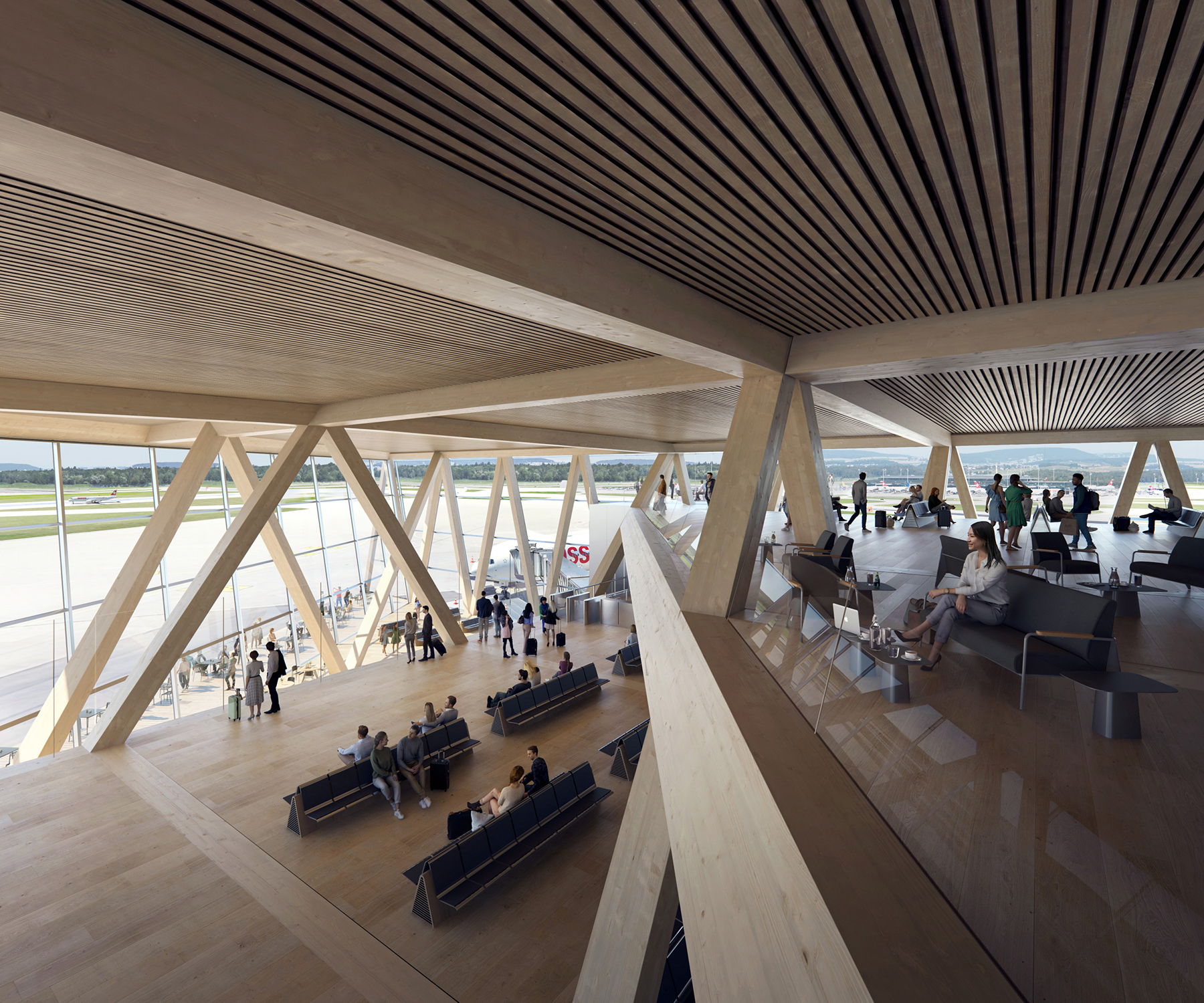 Timber will be used for the structure, floors, and ceilings of the new dock. Glass walls along either side of the pier will provide expansive views for travelers.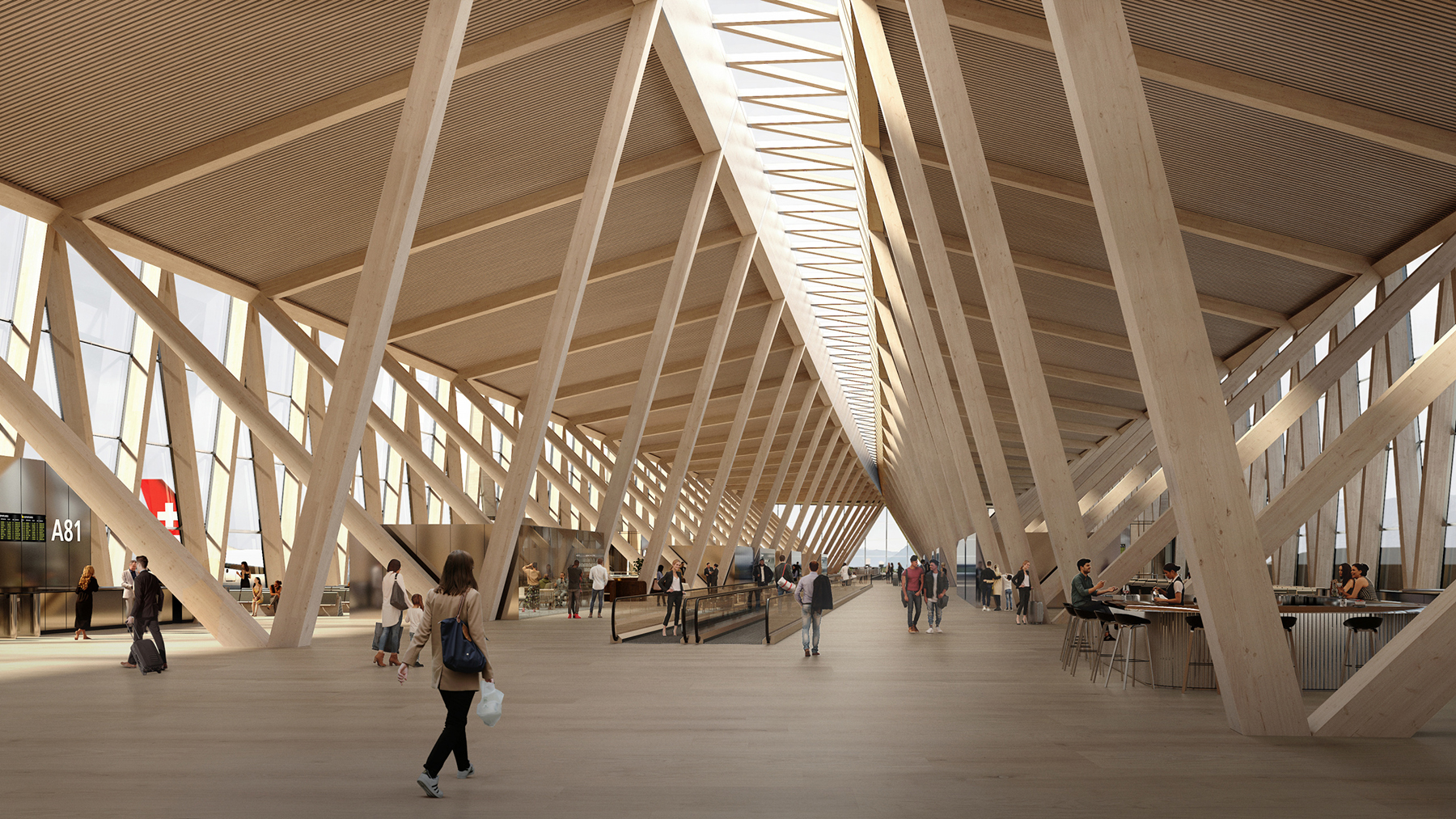 A linear skylight will become wider toward the terminal's central circulation hub, opening up at its atrium, where departing, arriving, and transferring passengers will pass.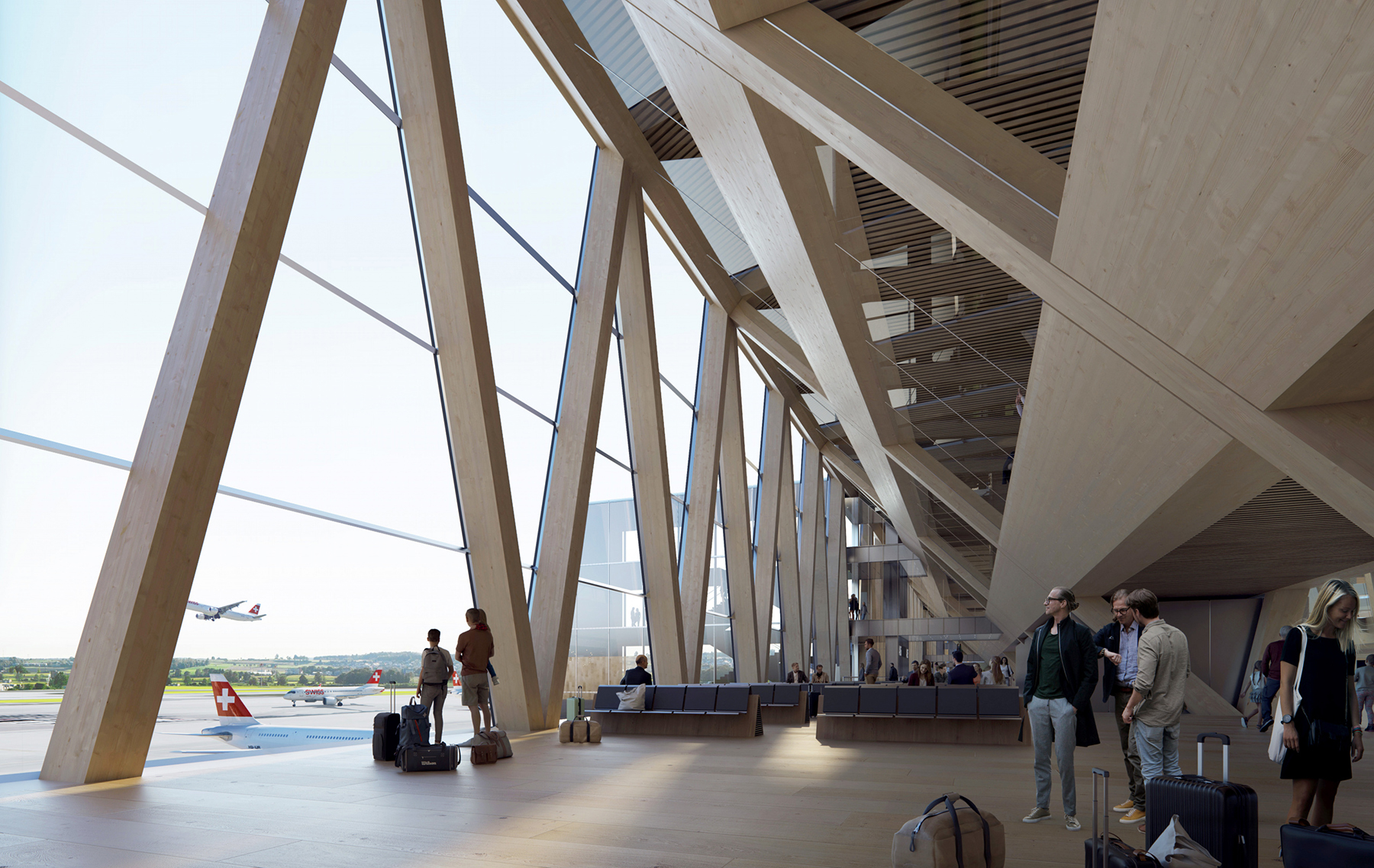 The building's main load-bearing system will be based on V-shaped structural timber columns that will also act a reference to the Swiss Alpine landscape and traditional pitched roofs.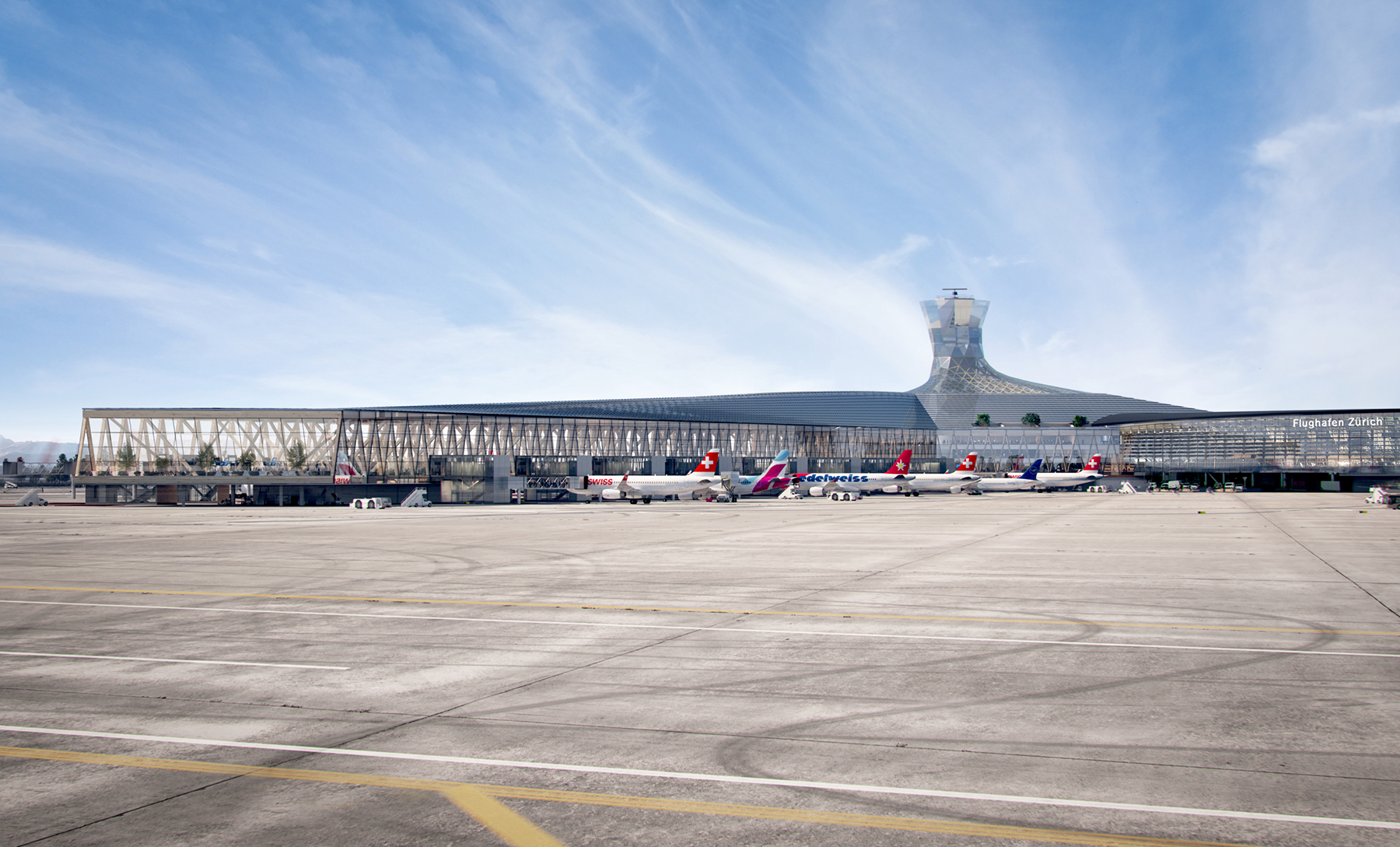 Photovoltaic panels will top the roof, and integrated shading will reduce solar heat gain within the building's interior.
Mechanical engineer Haerter & Partner AG, electrical engineer TLP, construction and building information modeling management firm B+P Baurealisation, fire protection engineer BIQS, retail strategist Pragma, retail consultant The Design Solution, and visual experts Bucharest Studio and IMIGO are also involved with the project.
The new Dock A is expected to open by 2032.